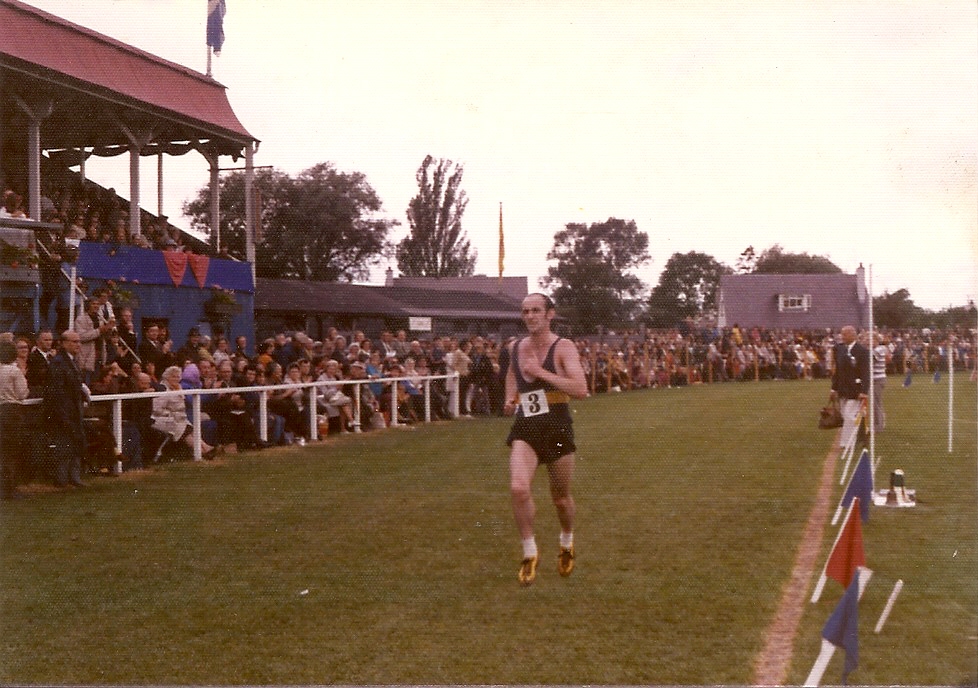 Willie Day (Falkirk Victoria Harriers) winning at Strathallan in 1973
When I first ran at Strathallan it was one of the Scottish Marathon Club's races that counted towards the championship and was held over a course that was advertised as 20 miles. The reality was that the entry form said 20 miles, the programme said 21 miles and when you ran it it, it felt like 22! It started in the Games Park in Bridge of Allan and went out via Forglen Road onto the main road through Causewayhead and straight on until the right turn up to Tillicoultry where it turned left and went back along the Hillfoots through Alva, Menstrie and Blairlogie before turning down (there is now a roundabout there) to join the main road (there's another roundabout there too) and turning right and back through Causewayhead to Bridge of Allan.
The Park was one of the best tended in Scotland with a very smooth surface and with a large stand – pictured above but no longer with us – and clearly laid out for all the track races. It claimed to be the longest running of all the Highland Gatherings (dating back to 1453) and had started life as a professional meeting which had turned amateur after the War in 1945 or thereabouts. One of the more expensive for spectators I always advised parents of young runners to enter something and get a free ticket for the ground – much less expensive! However, you do get more for your money than is usual – the sports covered include athletics, cycling, wrestling, pipe bands and highland dancing. There is also a kind of cross between a farmers market and Scottish Souvenir collection of stalls plus an army recruiting caravan. Next door there is a genuine country fair with dodg'ems, roll the ball and all the other fairground attractions. And at the end of the afternoon, the bookies set up their stands for the evening's pony-trotting races! Despite the myriad attractions, the site isn't cramped and there is always plenty of room in the ground.
I ran there quite often – on the track in handicaps as well as on the road. It is still well supported by runners and by the public although the road race dropped to 14 miles and is now down at 10K unfortunately. What makes a race a classic? Many things but one of main things for me is the absence of the bear suits. The race has to be a genuine race embracing a range of abilities among the athletes competing: the quality of the field is more important than the size of the field. This is a race for stars and club runners. What I liked about it was the actual context in which the race was set, the course itself was attractive to me given the almost total absence of hills of any consequence, what I didn't like about it were the long straights on the way out and the even longer ones on the way back – the hills were always on the right, the road stretched away in front of you, villages were dotted at regular two-mile intervals and the second ten miles were longer than the first ten! Given how few would tackle twenty miles and how small fields were generally, it was at times a lonely race and that old cliché of Allan Sillitoe's about the loneliness of the long distance runner was a description of the physical nature of the Strathallan 20. But it was a good race and we kept going back. Below is the back cover of the Marathon Club fixture list for 1962 – the 20 mile standards were for the Strathallan Race.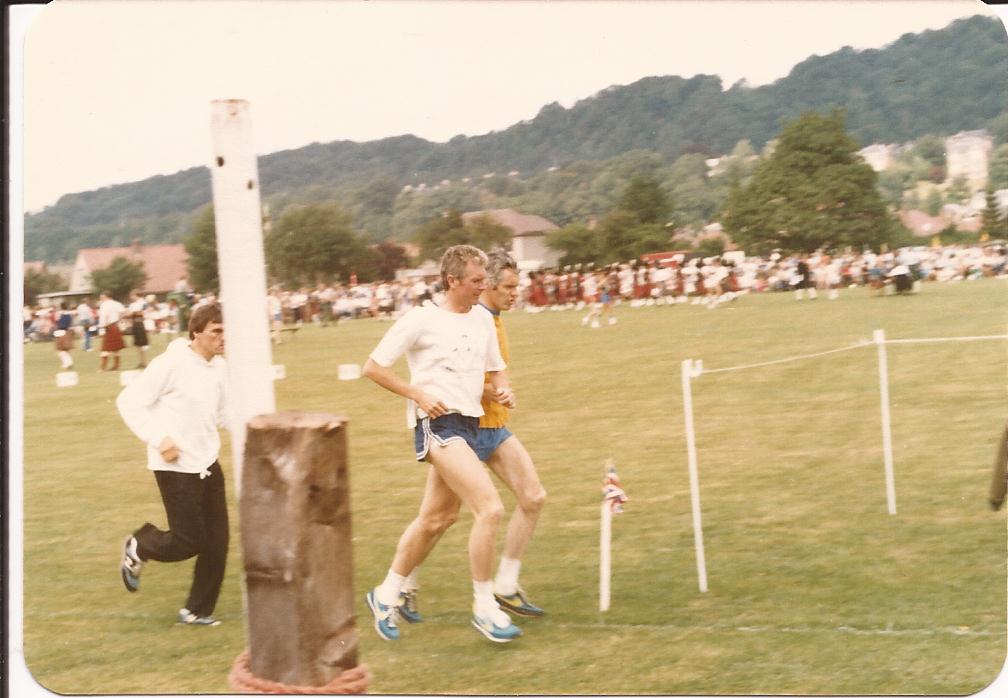 Tony McCall (in white) and Bill Scally (in yellow) warming up at Strathallan
The Scottish Marathon Minute Books have reports on many races in the Fifties and Sixties from which the following results and comments are taken.
Bridge of Allan Highland Games, Strathallan 20 mile road race.
2nd August 1958: won by Alec McDougall (Vale of Leven AAC) in 1:56:33 from Jackie Foster (ESH) in 1:57:42.
1st August 1959 (For the Dr Welsh Cup): won by Gordon Eadie (Cambuslang) in 1:54:29, from John Kerr (Aurdrie) in 1:54:31 and Jackie Foster third in 1:57:16.
3rd August 1963: won by Norman Ross (ESH) in 1:51:18 after a fast start and then a real battle with Gordon Eadie (1:52:32) and Ian Harris (Beith) in 1:56:07:
5th August 1967: won by Gordon Eadie in 1:56:25 from Brian Goodwin (Bellahouston Harriers) in 1:59:12 and Alex Brown (Motherwell YMCA) in 2:01:57. Gordon always started steadily, caught the leaders, kept going sensibly and then usually finished most strongly.
3rd August 1968: Over 21 miles, won by John Linaker (Pitreavie) in 2:02:18, well clear of Hughie Mitchell (Shettleston) 2:09:57 and Willie Russell (Monkland Harriers) in 2:12:38.
*
Colin Youngson was one of the newer fellows and he raced it when it was a 14 miler: his account is below.
"On Saturday 5th August 1978 I tackled another well-known event – the Strathallan Highland Games Road Race. This used to be 21 miles long, but the distance had been reduced to around 14 miles. In 1976 Jim Dingwall had set an inaugural record of 1:14:37 and had won this race again in 1977. Luckily for the rest of us he was running in the Commonwealth Games in Canada! The SMC magazine reports: 'A leading group comprising Youngson, Wiseman, Keith, Gunstone and Day were soon in control of the race. First Day and then Gunstone were dropped. It was then left to the other three to battle out the honours over the last two miles. And what a race they had. In a tremendous finish Youngson was the victor chopping 68 seconds off Jim's course record.' Well, inside my head it was less convincing. It was a warm day and I had a little leg trouble but just 'sat'. Tommy Wiseman the rising star had a real go on the flat section. the older pair refused to drop. As we passed the Wallace Arms on the edge of Bridge of Allan I went hard up a long hill and dropped Sandy Keith. Tommy caught me and two more 'breaks' were required before I got a fifty yard lead and just managed to struggle home on the grass track. Positions: 1 C Youngson 1:13:29; 2 T Wiseman 1:13:40; 3. S Keith 1:13:50."
It must have been some race with all of the first three inside the former record. Colin and Sandy appear elsewhere on the website but Tommy Wiseman is another interesting character. A member of Garscube Harriers for many years from Senior Boy right up to Senior athlete, he was undoubtedly a top class runner. He won many of the top summer road races, including the Shotts 14 where one of the prizes was a groat (an old Scots coin worth 4 pence in old money – about 2p these days) which was a real prize that couldn't be duplicated anywhere else. Unfortunately he never came right at the right time to win a major championship: for instance when Graham Laing won the SAAA marathon from all the top Scottish runners of the day, Tommy dropped out with blistered feet at about 10 miles.
However that may be, Strathallan has had a memorable history and to me, it would help Scottish running were it to go back to twenty miles: I think the only 20 miler at present (2011) is the Edinburgh to North Berwick and at least the distance will not bee reduced to threaten that one! The Games website is at www.bofagames.com
Road Race winners between 1957 and 1980 can be seen at this link .