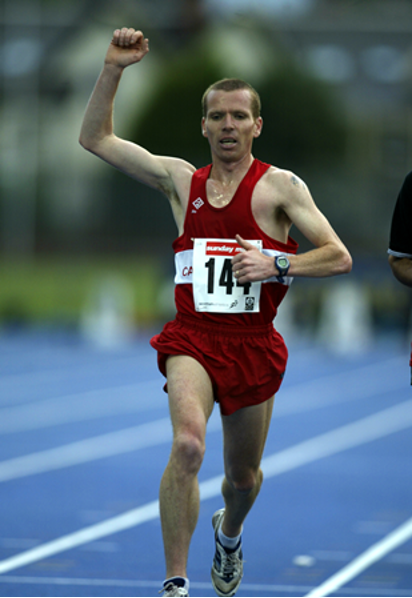 Stephen Wylie has been one of the best and most consistent runners in Scotland over a career that so far has covered more than 30 years. He's still picking up more than his share of medals and first places so it seemed only right that we should look at his career in some depth. He agreed to fill in the questionnaire and his replies are below.
Name: Stevie Wylie
Date of Birth: 12/11/1971
Club/s: Hamilton Harriers, Cambuslang Harriers, Girvan AC
Occupation: Vending Operator
How did you get into the sport initially: I started running with my dad Frank back in the early 80's during the marathon boom; trained with him. Joined him in a few half marathons and even a 15 miles race at the age of 11. I ran over 25 half marathons by the age of 14, running without being officially entered as was too young to compete.
Personal Bests?
800m: 1:59; 1500m: 3:59; 3000m 8:06; 5000m: 14:25; 10000m: 29:08;
10 Miles: 47:29' Half marathon: 64:50; Marathon: 2 hours 30 min.
Has any individual or group had a marked effect on your attitude to the sport, or to your performances? Some of the guys I trained with, like Charlie Thomson, Allan Adams, Jamie Reid, Alex Robertson were all great training partners. Alastair Macfarlane was my first coach and he had a really good group of runners at the time and was great to have standing at the side of the track and selecting the sessions. I always looked up to, and took a lot from, Tommy Murray who came froma similar background to me, and was always a good guy to talk to. I learned a lot from Tommy and we became rivals and good friends.
What exactly did you get out of the sport? I had always been competitive and hate losing, so I knew it was the kind of sport where if you are not naturally talented you can work hard and get results. Also made friends for life through running.
Can you describe your attitude to the sport? Don't like getting beaten but I respect everyone's efforts as I know how much work they put in. I just like to end a session knowing I have given it everything on that day no matter my fitness.
What do you consider your best ever performance? The Dunky Wright Road Race, 1990's sticks out as it was stacked with all the top runners of the day: Adrian Callan, Allister Hutton, Alan Puckrin, Eddie Stewart and many more. I felt really easy that day and felt as if I could run away from them at any point in the race. After a mile Hutton and I broke away and I had so much respect for him that I almost felt that I could not run away from him but I felt good that day. In the end we came into the last 200m together and I went away to win by, I think, 4 seconds. A couple of weeks later I watched in awe as Hutton won the London Marathon.
Another one that gave me satisfaction was winning the reserve race at the first European Cross-Country Championships as I should have been in the team as I finished fourth in the trial and first four were meant to be selected. Anyway, back then each team had two reserves and 48 of us lines up immediately after the main race to run the same course. I won the race by over a minute and my time was quicker than two of the counting GB team in the main race. They actually gave me a European team gold medal as GB were the first team, but it means nothing to me and I don't even think I brought it home.
And your worst? Edinburgh Marathon. It was a scorching day and I was injured, hadn't been able to train but I thought I would run. Walked and jogged in agony to the finish. I think I ended up in 2:48 but I was in agony. I have never stopped out of a race, no matter how bad I felt.
What goals do you have that have not been achieved yet? I still want to compete well for my club and carry on winning medals on the scene. Andy McLindon is from my town and I have known Andy for 30 odd years Great inspiration, running great times for his age He's a great guy and I admire him a lot.
What has running brought you that you would not have wanted to miss? With a club like Cambuslang, there is great team spirit and competition for places on teams whether it's Senior Men or Masters. I like the fact that you can't just walk into the Cambuslang first team, you have to fight for your place. When I moved to Girvan, I met Kerry Liam Wilson who I know won't mind my saying he was a jogger at the time. Training with him and seeing how he progressed has been great to watch. He is a guy who puts the work in and I like to think I helped instil that in him.
Can you give some details of your training? Typical Week:
Monday: 16 – 20 x 300m [100 jog]
Tuesday: 8 – 10 miles steady [6:25/mile pace]
Wednesday: Tempo run or long reps.
Thursday: 8 0 miles [8:10/mile pace]
Friday: 5 Miles [7 min/mile pace]
Saturday: Race or Session
Sunday: 12 – 16 Miles [6:00 tp 6:30/Mile pace]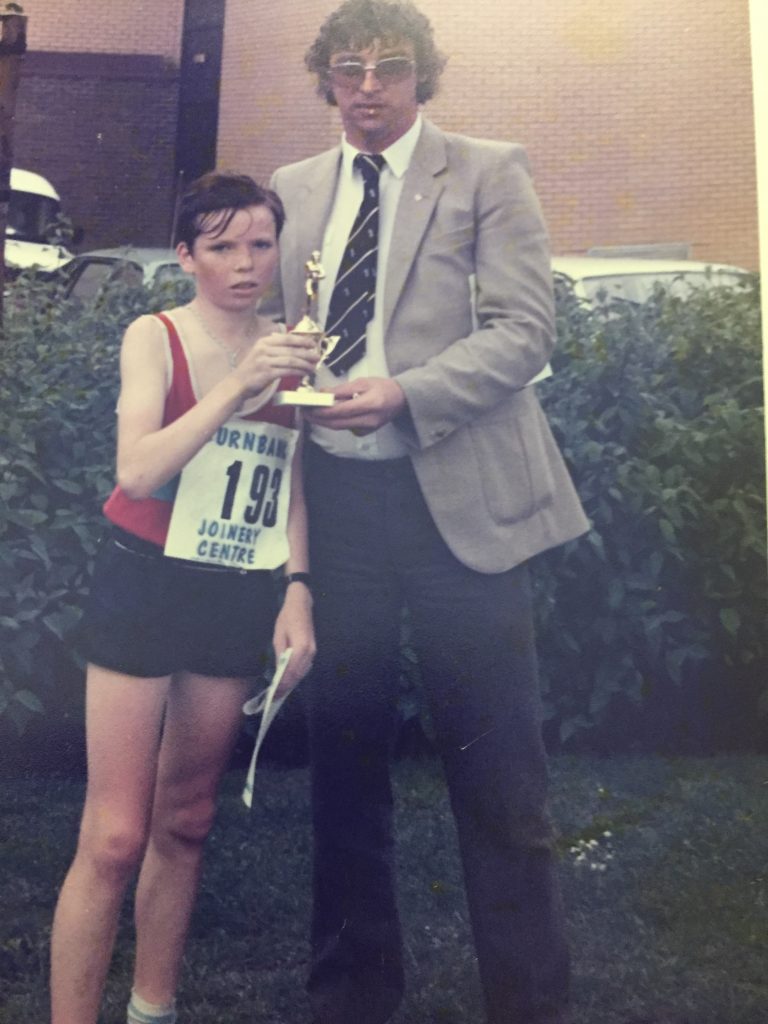 Stephen (left) receives his first prize.
Having read that he ran his first half marathon when he was a boy, it was natural to want to follow up on it and Stephen was happy to elaborate on the subject: "I ran my first half marathon at age 11 and ran at least another 20 half's before the age of 14 running with my dad without being officially entered as I was too young. I'm still running and have picked up British medals as a vet and led cambuslang home last May (2018) with the quickest time of the team and 4th fasted overall on the day. .i have loads of stories such as running for my first two seasons doing cross-country wearing football boots as I could not afford spikes till my neighbour saw me running round the local football park and gave me an old pair he had in his shed ."
*
Given his level of performance, Stephen naturally appeared in the national ranking lists for a range of distances and over a number of years. The following list has come from the www.scotstats.net website.
1991 10000m 32.22.8 36
1992 10000 32.37.7 32
1993 3000 8.15.3 7; 5000 14.43.5 21; 10000 30.42.51 7
1994 5000 14.25.7 8
1995 3000 .28.2 13; 5000 14.38.7 15
1996 5000 14.38.0 14
2003 5000 14.32.59 6; 10000 31.34.6 7
2006 Mar 2.30.0 7
2009 Mar 2.34.47 12
His championship record at standard distances is also impressive: National champion at 5000 in 2003, and at 10000m in the same year, and 3rd in the Marathon in 2006. Many think that Stephen was at his best on the roads although it's a tight call. They have a good case as can be seen from the following:
1994 -10 mile national road race 1st; 1994-Half marathon national road race 1st; 2003 -5k national track 1st; 2003-10k National track 1st; 2003-Half marathon champs 1st; 2004-Half marathon champs Gold 3rd overall; ("two non Scots beat me but I got awarded Scottish title"). We'll come to the cross-country individual and team races as we look through his career in chronological order.
We can start in 1992 when he was ranked at 32:37.7 when he finished fourth at Crown Point in June. The first championship of winter 1992/93 was the District Relay Championships at Rouken Glen in Glasgow where Cambuslang finished second with a team of Gormley, Wylie, Runcieman and Murray. This was followed later in the month by the national cross-country relay championships at Cumnock. This time Cambuslang, with Stephen running first for the team of himself, Croll, Runcieman and Murray. The climax of the relay season was the Edinburgh-Glasgow eight man relay with Stephen running on the third stage. He not only picked up from third to second, he also had the third fastest time of the day for his stage. Not bad for his first E-G race with the team finishing fourth. The District Championships were held at Kirkintilloch in January 1993 and Stephen was fourth and second finisher for the winning Cambuslang team (Tommy Murray was first). In the National Championships at Callander Park in Falkirk, Stephen ran an excellent race to finish sixth and be second counter for the winning Cambuslang team. They had beaten Racing Club from Edinburgh by 48 points to 74. Racing Club had their revenge however in the six stage road relays in March when they won by three minutes from Cambuslang for whom Stephen ran second, pulling the team from 18th to sixth with the sixth fastest time of the afternoon. It was then into the track season of 1993.
Tommy Murray had defeated Stephen every time that they had met over the country, but at the end of the summer, the positions were reversed with Stephen seventh with a time of 8:15.3 for 3000m while Tommy was eighth with 8:17.3. Tommy's was run indoors at the Kelvin Hall track and he won many track titles over that distance indoors over the years. Stephen's 3K time ranked him 72nd in Britain. At 5000m Stephen was ranked 21st with his time of 14:43.5 when he won at Crown Point on 15th August, but Tommy was one of the 20 ahead of him with a time of 14: 08.83 to be third ranked. In the 10000m he was seventh with his time of 30:42.51 run at Linwood on 24th July. This was the first year that the Athletics Yearbook had road rankings and Stephen was ranked in the 10,000m at seventh, 52nd in Britain, with a time of 29:49, and at 10 miles he topped the rankings with 47:29, This 10 miles time was the one he recorded at Inverness on 19th September when he won his first Scottish title from Charlie Thomson and John Mackay. All three were covered by 4 seconds. 1993 was also the year when he won the Tom Scott 10 miles road race for the first time – he was to win it again 10 years later. Time difference? 47:29 in 93 and 48:20 in 2003. He had a notion to win it ten years later to make it three wins in three separate decades but the Eritrean asylum seekers were running for Shettleston by that time so the dream never materialised.
It was now into the winter of 1993/94 and the first championship as usual was the West District Cross Country Relays. It was a poor start for Cambuslang who finished in sixth, well out of the medals but they were back in form by the time of the national relays. Stephen had a superb run this time turning in the fastest lap ahead of Quinn, Robison, Murray, Croll, Cavers, Callan and all the rest as his team finished second, eleven seconds behind Leslie Deans RC, formerly Racing Club. The big one was next: the E-G. This year Cambuslang was third – and largely due to Stephen Wylie's excellent run on the last leg. He pulled the team from sixth to third in the fastest time of the day, 47 seconds faster than Peter Fleming who had left Bellahouston to run for Leslie Deans. By the time of the West Districts, Tommy Murray was running for IBM Spango Valley and Stephen in fifh place for the winning Cambuslang team with Shettleston second and Clydesdale third. In the National, Stephen was down in 15th place, fourth Cambuslang Harrier to cross the line, and the team was first with 92 points to Leslie Deans 122 points. At Irvine on 27th March, 1994, in the Celtic/Five Nations International Stephen won the Under 23 race in 40:06 from Mark Steinle of England on 40:14. He was the only Scottish winner that day.
Into summer 1994 and Stephen was ranked again in several events. On the track, in the 5000m he was eighth (81st in Britain) after winning at Linwood in 14:25.7, and on the road, he was sixth in the 10K with 29:49 after beating Peter Wilkinson of Leslie Deans by three seconds at Cumbernauld with Brian Kirkwood and Charlie Thomson third and fourth, and in the half marathon a time of 67:19 when he was fourth at Dunfermline in June. The summer season had started well for him with a victory in the Scottish 10K Road Championship at Aberdeen on 22nd May when he won in 30:17 from Charlie Reid of Peterhead who was timed at 31:14, His half marathon time was run in the national championship.
*
Winter championships in 1994/95 started with the District Relays held at Lenzie and the Cambuslang squad of Fleming, Wylie, Coyle and Runcieman was fourth with Stephen running the third fastest time of the day. Second team in the four man national relays, Cambuslang went into battle on the 13th November in the eight man E-G relay. Stephen was on the fifth stage this time and ran the fastest time of the day (16 seconds faster than Olympian Tom Hanlon and pulled his team from fourth to third, which is where they finished. Stephen was eleventh in the National cross-country championship in 1995, just in front of Alaister Russell, David Ross, Terry Mitchell and Eddie Stewart – not a bad group in its own right. Cambuslang won the title with 55 points, Leslie Deans was on 100 points for second place. The winter season ended as always with the six stage road relays which were held at Kirkintilloch on 19th March. This time the gold medals went to Les;ie Deans with Cambuslang second. Stephen was on the last stage and pulled the team from third into second, just in front of Shettleston. His team on that occasion was Fleming, Croll, Robertson, Runcieman, McTaggart and Stephen himself.
That summer (1995) he was ranked 29:47 for 10K on the road at Cumbernauld in May when he finished third between Bobby Quinn and Alaister Russell; seventh in the 10 miles with 49:12 which he ran at Carlisle in mid-November and fifth in the half marathon after running 66:27 at Alloa on 26th May. On the track, he was 13th ranked in the 3000m with his best time of 8:28.2 at Wishaw on 18th June, and 15th with 14:38.7 for 5000m when he won at Crown Point on 11th June.
The winter of 1995/96 started with the District Relay Championships where Cambuslang were out of the medals but in the National relay at Prestonpans at the end of October, they were third with Stephen running the last stage after Robertson, Thomson and Croll . In the Edinburgh to Glasgow at the end of November Cambuslang was second behind Leslie Deans. Stephen did his usual sterling job and towed the team from seventh to third when running on the third stage: he again had fastest time of the day. At the end of the year, in the International and Inter District cross-country match run at Cumbernauld, Stephen was third behind Mowbrey and Robison. Unfortunately, there was no Stephen Wylie in action at the West District championship, the National Championship or the Six Stage Road Relays. Reason? He had moved to live on the Isle of Man.
On his first day there, he noticed a 10 mile road race from Douglas to Castletown for the Manx Championship. He entered and won in 48:30. He lived there for seven years during which he continued to train but he didn't race again until he returned to Scotland in 2003.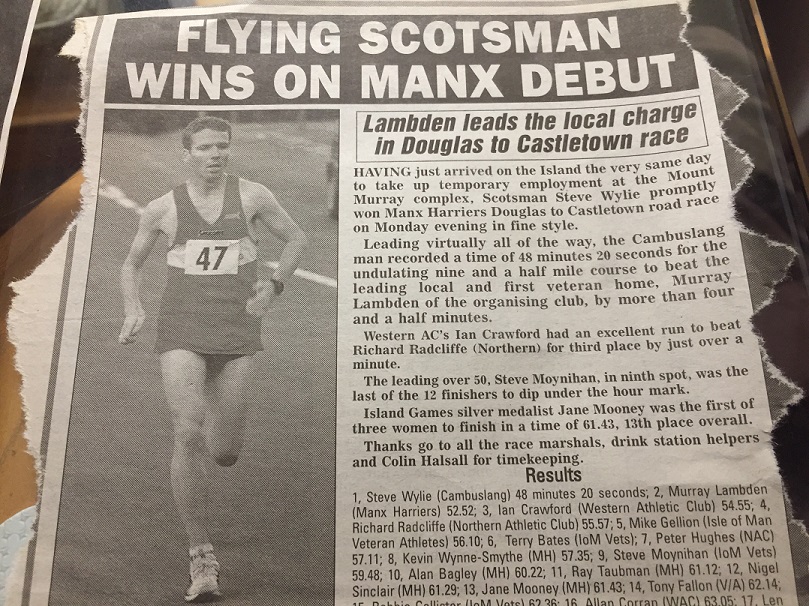 Stephen was back in summer 2002 and winning races too. He won at Blackburn on 8th June over 10K in 31:12, then at Beith on 16th June over 4 miles in 20:47; at Perth, also over 10K on 25th August in 32:21. The next win was well into the cross-country season when he won at East Kilbride on 7th December over 10K in 31:12. He had had some good races and he was ranked on the road at 5K with his time of 15:03 at Glasgow on 21st December, at 10K with 30:48 at Edinburgh on 22nd September, and in the half-marathon with 67:28 in Glasgow on 8th September. There were no track times ranked at all that summer.
Winter 2002/03 and Stephen Wylie was back in action. In the West Relays he was in the first team that finished second – slowest of the four he was still among the quickest on the day. Came the national relays and he was second fastest Cambuslang man round the course for the team that finished second. On 24th November he ran on the third stage of the Edinburgh to Glasgow and brought the team, which finished fourth, up from sixth to third. He didn't seem to be firing on all cylinders yet but came the 11th January, 2003, and he won the West District Championships by 50 seconds from his old rival Tommy Murray. The team won with 79 points from Shettleston Harriers (136 points). The national short course cross-country championship was held on 26th January at Bellahouston Park and Stephen was just out of the medals in fourth place but he was only 10 seconds behind the winner, Steve Cairns of Hunters Bog Trotters. In 2003 the national championships were held at Linwood and w ere won by Graeme Reid of Clydesdale Harriers with Stephen in second place The end of the season meant the six stage road relays and Cambuslanag was second to Racing Club: Stephen was on the last stage and he was unfortunate to drop one place to an in-form Glen Stewart. A good winter for the first winter back and it was straight into the summer of 2003.
The track rankings tell us that he was top of the rankings for 5000m with his time of 14:32.59 – it was the time recorded when he won the Scottish 5000m championship from Jamie Reid of Cambuslang (14:37.71). He went on to win the 10000m championship in 31:34.6 from Neil Wilkinson (32:31.1), which time placed him seventh in the lists. In that situation, the time is secondary to the gold medal and to win both 5000m and 10000m championships in the one season is pretty good! His summer on the roads showed what the Scottish scene had missed in his absence. He won 13 races in total, they were, in order –
4th January, 2003: Nigel Barge, Maryhill, Glasgow: 4.8 miles 25:17
1st March: Stranraer Half Marathon 68:35
22nd March: Dunky Wright Memorial: Clydebank. 5K 14:42
23rd March: Alloa Half marathon 67:11
6th April: Tom Scott 10 miles 48:25
16th April: Irvine 5 miles 24:11
21st April: Ormidale 10K 30:48
23rd May: Polaroid Helensburgh 10K 30:22
29th May: Polaroid Clydebank 10K 30:35
1st June: Carluke Dev Trust 10K 31:44
5th June: Polaroid Dumbarton 10K 29:55
15th June: East Kilbride Half marathon 68:17
27th August: JW Kilmarnock 10K 31:49
13 races at four different distances all over the country and over a spell of eight months. Not too bad and he was nationally ranked as follows: 5K: 3rd (14:42), 5 miles 9th (24:45), 10K 3rd (29:55), 10 miles 1st (48:25), half marathon 3rd (66:50).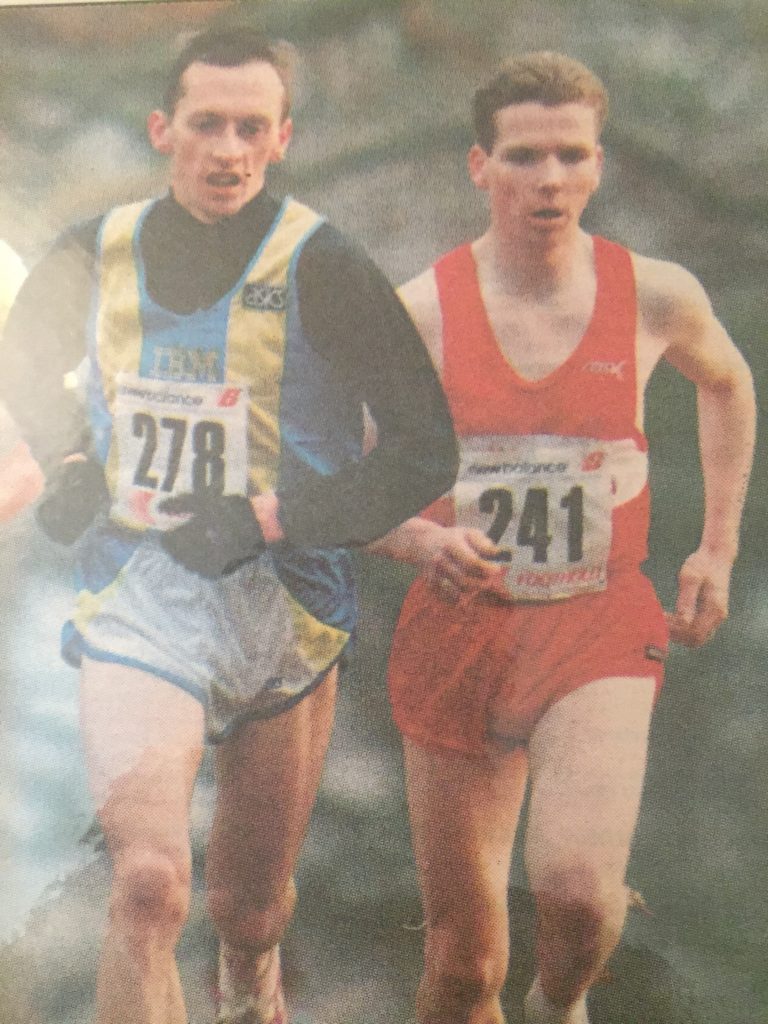 Stephen ran the last leg of the District relays in October 2003 and held on to first spot to see the club home first. Then on 6th December he ran on the second stage of the national relays and again the team won. There was no E-G any more so the next big race was the West District and Stephen did not run but in February he was 15th in the national. If summer 2003 had been good, then 2004 at least matched it. On the roads there were victories at Glasgow Caledonian, Barrhead (both 5K), Kinross High School, Troon Tortoises, Polaroid Helensburgh, Carluke Dev Trust, Polaroid Dumbarton, Stranraer (all 10K), Dunfermline, Monklands and East Kilbride (both half marathons). The quality of the opposition was usually quite high, reflecting the standard in the country at the time. The Dunfermline half marathon was the Scottish championship. As far as times were concerned Stephen was 13th for 5K, 4th for 10K, and 5th for the half marathon. On the track, he was not ranked at all and it may be that he was now a confirmed road runner.
In the winter season 2004/05 and he was absent from the two championship relays in October and the national short course cross-country championship in January. Nor was he to be seen at the District or national championships, or even the six-stage road relay. Not a good winter for Stephen at all. He seldom raced the following summer either – unranked at 5K, 5 miles, 10 miles or half marathon in summer 2005, his sole appearance in the rankings was at 10K where he was ranked 18th for his 31:32 time at Auchencruive in February. He won only two road races in 2005 – at Dundonald in August over 10.5 K (33:48) and at the end of December when he won the Turkey Trot at Ayr in 32:03 for 10K. The clue to some of the absences was maybe to be found in his club affiliation for the races mentioned – he was 'S Wylie (Girvan AC)'. Would the change in affiliation hold good for 2005/06?
The District Relays of 2005/06 were held at Dam Park in Ayr on 8th October and there was no Stephen Wylie to be seen. Nor was he in the District or National cross-country championships. BUT —
at the start of October 2006 in the District Relays at Irvine Stephen was on the second stage for Cambuslang for the team that finished third. Two weeks later in the national relays he was last stage runner and picked up a place but the club could do no better than fourth. In the West District Championships, Stephen finished third behind McNulty (Kilbarchan) and Pollard (Inverclyde) to lead the Cambuslang team home in first place. The national was held at Falkirk in early February 2007 and Stephen was tenth, the club was second to Hunters Bog Trotters. In the season's finale – the six stage road relay – Stephen was on the fourth leg for his club and held the lead which the team held to the end. He had second fastest time on the stage. In the questionnaire, Stephen said that his birthday was in November 1971 – which meant that he became a V35 in November 2006.
On the roads in 2006, Stephen was ranked 12th for the 10K with his time of 31:12 from the Ayr Turkey Trot in December and the initials V35 appeared for the first time. Before that however he had ranked 22nd for the half marathon in 2006 with 71:19 recorded in the Glasgow Marathon on 3rd September and, a first, seventh for the marathon itself with the time (2:30:09) that he recorded when finishing third in the Scottish Marathon Championship in Inverness behind Simon Pride and Jamie Reid. His race wins that year were few: the 10K at Stranraer on 4th November in 31:57, the Hugh Wilson 10K in East Kilbride on 3rd December in 32:23 and the Turkey Trot in Ayr in the colours of Girvan AC.
In the Spring 2021 SVHC Newsletter, Paul Thompson wrote the following about Stephen Wylie:
Stephen has enjoyed a stellar athletic career as a senior which has resulted in 20 National gold medals, 13 team and 7 individual. His form has continued into his master years with continued accumulation of gold medals both team (8) and individual (2) to date. Stevie turns 50 in November no doubt he will continue to add to his tally. Much has been written about Stephen (see Scottish Distance Running History) but he entertained over 50 participants at an online question and answer zoom presentation organised by Iain Reid of Cambuslang Harriers on the evening of Friday 19 February. The following is a summary of what he had to say.
Stephen explained that he started running around the age of 13 after a thwarted career in football when he couldn't get a regular game for the team. At the time his Dad travelled throughout Scotland on his motorbike running half marathons etc. Stephen joined him competing unofficially by peeling off before the finish line. On the way home he was regularly tied onto his Dad with a piece of rope so that he didn't fall off the back of the motorbike when tired!
Stephen's first club was Hamilton Harriers which he joined at the age of 14 where he was inspired by the likes of Andy McLinden and Brian Campbell senior. Whilst running the streets of South Glasgow Robert Anderson from Cambuslang Harriers spotted Stephen and persuaded him to move clubs with the promise of a few shifts in his coal merchant business. Stephen's athletic career blossomed unlike his budding career as a coal merchant. That lasted a matter of days. Stephen went on to explain that his running really came on at Cambuslang with the help of structured training sessions alongside the likes of Jamie Reid, Alex Robertson, Robert Gilroy and Charlie Thomson. Indeed, Charlie and Stephen were regular training partners running together daily for the best part of 15 years. Stephen was largely self-coached although he took note of what other runners did especially the ones he admired and incorporated aspects of their training into his own. He regularly trained with runners from other clubs such as Allan Adams from Clydesdale becoming friendly rivals. He was also a member of Alastair MacFarlane's excellent group that met at Crown Point around that time.
Over a 37 year period Stephen thinks he ran in over 1000 races. He reckoned he peaked during the period 1997-2006 (age 26 to 35) and after a bit of a lay off again from 2010 for a few more years. Iain encouraged him to recall his best race. Stephen felt that was the 1990 Dunky Wright 5-mile road race (now a 5k). A month earlier he had come in 5th in the National XC but the field for the Dunky Wright was better and included the likes of Allister Hutton, Alan Puckrin and Eddie Stewart. By the first mile (reached in 4:45) Allister and Stephen had pulled away from the field. Stephen went on to win by 4 seconds-his breakthrough victory on the Scottish running scene. Four weeks later Allister went on to win the London marathon in 2 hours 10 minutes 10 seconds.
Regarding his consistency over the years consider the fact that Stephen won the Tom Scott 10-mile Road Race in 1993 in 47:29 and again in 2003 in 48:20.
Iain asked Stephen about his international career. He represented Scotland over 35 times but surprisingly never represented GB. He came close on one occasion which he went on to describe. One year he was third in the trial race in Margate, Kent for the European XC Championships that year which should have led to automatic selection as the top 4 were to comprise the team. Subsequently an official phoned Stephen up saying he wasn't selected but was 1st reserve. He never got to run in the International but he had the satisfaction of winning the subsequent race comprising the 48 reserves (2 per country) by over a minute with a time faster than 2 of the counters in the GB team. It could have been Stephen's breakthrough into the international scene but it wasn't to be. Other Scottish athletes have suffered a similar fate over a skewed selection policy.
Cambuslang sends a team to the Armagh International 5k race every year where the field is top notch. Stephen has competed there a number of times but on his first appearance he was an unknown particularly to the commentator who called him 'the pocket rocket'. He came in 2nd, 1 second behind the winner, NI and UK internationalist Bobby Farren. The nickname stuck and the next year the 'pocket rocket' won.
Personally, I like the anecdote of the time Stephen moved to live and work in the Isle of Man in 1996. He alighted from the Liverpool to Douglas ferry, signed up for a road race that evening, won it, was in the local newspaper the next day and straightway had a social network. Class.
Despite excelling on the road Stephen's preferred surface was XC although he regretted never winning the National XC probably the Holy Grail for most elite club runners. His best position was 2nd in 2003 when it was held on a flat course at Linwood. Cambuslang won the National team event on 8 consecutive years with Stephen being one of the 6 counters in 3 of those before going onto win 3 more team gold medals in later years. In fact, around that time being outside the top 20 generally meant not being a counter for the team. There were successes too in the National XC relays with Stephen recording the fastest time on 4 occasions.
Although never a hill runner he was game for most things including agreeing to be in the team for the West Highland Way Relay Race in 2018 with disastrous personal consequences. Iain Reid was on the first leg and handed over to Stephen for the Glencoe-Kinlochleven leg with a 7-minute lead. As is fairly typical for a road runner Stephen had on his racing shoes, vest and shorts. On top of the Devil's staircase, it was down to -10 degrees centigrade with heavy snow. He slipped and fell several metres dislocating his shoulder. Despite trying to continue running it was impossible so the lead soon disappeared as Stephen walked the final 5 miles. As one would expect from a committed team member, he was more put out by handing over to Tony McCutcheon well down the field rather than his medical predicament. By the time he was taken to Belfort Hospital in Fort William he was severely hypothermic. Once warmed up he was given a general anaesthetic and his shoulder was put back in place. Predictably he was back running a few days later.
Stephen explained that unlike some of his peers who ran up to 120 miles a week he typically stuck to around 80 miles per week. A typical week consisted of daily runs but 3 decent sessions and a long weekend run of about 15 miles. The latter was done at 5:50-6:00 mile pace. A favourite session was 16 x 350m on the track with a 50m recovery. The club 4-mile tempo run often ended up an eyeballs-out race due to the quality of the runners and the friendly but competitive ethos. Indeed, Stephen said that the pressure was less intense at actual races.
Stephen described having few regrets on how his athletics career has panned out. He has preferred concentrating on the club scene where he has obtained his inspiration. Indeed, it is from this scene where his idols originate such as Tommy Murray, Charlie Thomson and Robert Quinn to name just a few. Stephen himself is a runner who has and continues to inspire newcomers to the sport and can truly be regarded as a 'runner's runner'. There is no finer accolade than that.
Personal Bests
800m: 1:59; 1500m: 3:59; 3000m 8:06; 5000m: 14:25; 10K: 29:08; 10 Miles: 47:29; Half marathon: 64:50; Marathon: 2 hours 30 min. 7 secs.
Thanks to David Cooney for additional information.
Stephen was now a veteran and entitled to race in all their championships and internationals as well as the full race programme for senior men. We will look at that part of his career up to 2018 on a separate page.