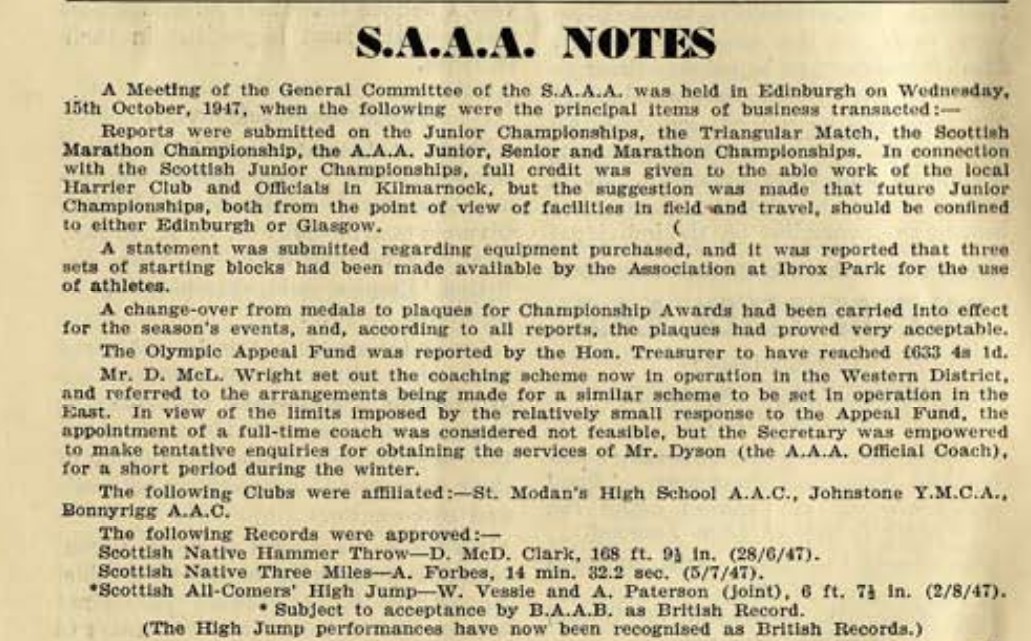 The above information comes from the Scots Athlete" of October/November 1947 and notes the first affiliation of St Modan's AAC, noted as St Modan's High School AAC. St Modan's High School was located in Stirling and the all-ages club affiliated in 1947 would produce many very good athletes as a school but also as a separate club within the SAAA fold. Names Like Joe McGhee, Mike Ryan and Allan Faulds would wear the club vest with distinction.
However St Modan's AAC had been founded in 1933 by, among others, the highly respected and well liked Joe Walker and entered teams from the high school thereafter. It would seem to have been a school club only since only teams in the Youths (Under 17) age group were entered. eg at National Championship level, there were no teams in any age group entered in 1934, '35 or '36 and a team (J Doran 28, P Donnelly 41, P Cafferty 51 and W Power 55) from 'St Modan's School' finished 13th in the Youths race. In 1938 only two boys ran in the same age group – J Docherty 59th and P Donnelly 82nd.
That the club in 1947 was well organised can be seen from some of the first results – we can look at some championship races over the first few years in the following tables. Midland District Relays first
| | | | | | |
| --- | --- | --- | --- | --- | --- |
| 1947/48 | Venue: Stirling | Seniors | A Crawford, M Kaney, J Wilson, D Clelland | 16th | Crawford 8th fastest |
| 1948/49 | | Seniors | A Crawford, A McHugh, J Wilson, D Clelland | 8th | – |
| 1949/50 | Coatbridge | Seniors | A Crawford, A McHugh, J Wilson, D Clelland | 8th | – |
| 1950/51 | Stepps | Seniors | A McHugh, A Galbraith, M Kaney, D Clelland | 16th | – |
| 1951/52 | Stepps | Seniors | D Clelland, J McGhee, J Lynn, M Kaney | 12th | – |
Midland District Championships
| | | | | |
| --- | --- | --- | --- | --- |
| 1947/48 | Senior | 23 D Clelland, 89 P Donnelly | No Team | |
| | Youths | 1st C Hogan, 12 M Kaney, 16 C Girvan, 17 J Quinn | Team 2nd | First two medals: 1st Individual + 2nd team |
| 1948/49 | Youths | 7 M Kaney 18 A Lafferty | No Team | – |
| 1949/50 | Youths | 1st W Fleming, 2nd M Ryan, 24 H Gourlay | Team 2nd | Two of Scotland's best with Ryan medalling in the Olympics |
| 1950/51 | Senior | 25 D Clelland, 49 M Kaney | No Team | – |
| | Youth | 12 A Galbraith 17 C Meldrum, 27 C Gray, 29 K Murie | Team 5th | – |
| 1951/52 | Youth | 2nd C Meldrum, 6 D Kaney, 19 C Gray | Team 3rd | One senior, D Clelland, ran and was 81st |
Among the names mentioned above, Charles Meldrum would become one of the real club stalwarts – a good runner, he was an excellent administrator and committee man and a well known starter at races all over the country. Mike Ryan would win medals in every national championships at every age group until he emigrated to New Zealand in whose colours he won third place medal at the Mexico Olympics in the marathon.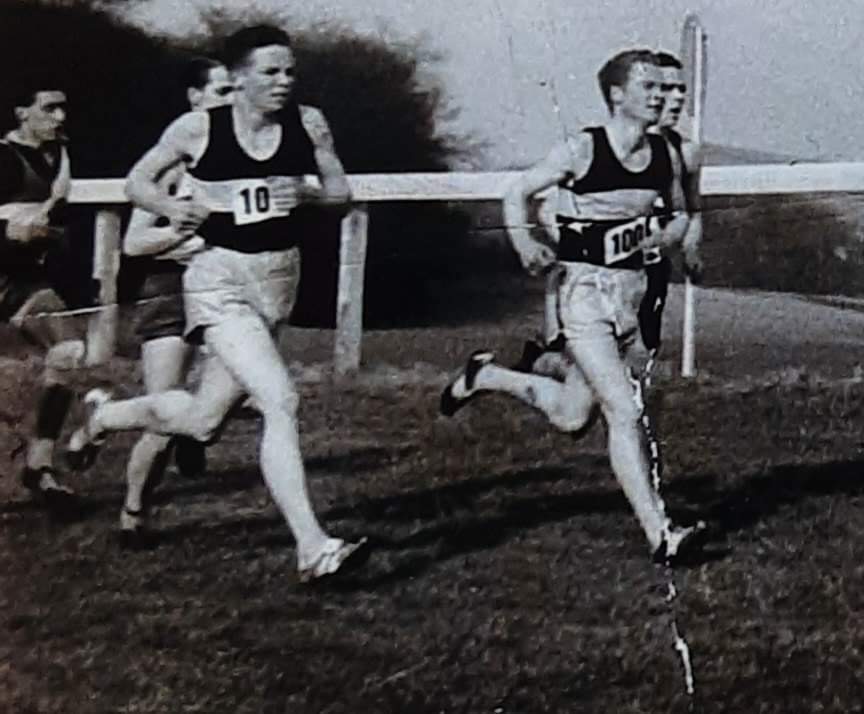 1950: Hamilton: SCCU Championship: Willie Fleming in front with Mile Ryan behind
Photo from Willie Fleming
It can be noted that the despite the fact that the school/club only officially registered with the SAAA in October 1947, 17 year old Stewart Petty won the SAAA Junior 880 yards championship at Rugby Park in Kilmarnock on 28th June, before only about 100 spectators. James Logan, writing in the 'Scots Athlete' remarked that he won in the 'very moderate' time of 2 min 11.8 sec but he 'has since proved his ability to beat this time by at least 11 seconds.'
If we go back to the beginning with the 1947/48 cross-country season we see that the first mention of the new club was when C Girvan (St Modan's AC) ran in the Clydesdale Harriers Youths two and a half mile road race on 8th November where he finished eighth of the 74 runners. The first championship held that winter was the Scottish Novice Championship at Pollok Estate on 22nd November, 1947. Held over 5 miles in 'adverse weather conditions' and won by Joe Duffy of Garscube Harriers, G Pollock of St Modan's AAC was 127th but there was no team from the club. The Midland District Senior Relay Championships were held on 6th December at Dalziel Estate, Motherwell and there was a team from the club running; unfortunately three teams including St Modan's AAC and Victoria Park AAC C teams went off the trail 'in the dusk' on the third stage and turned up near the finish ay almost the same time as the winning Shettleston team. The Midland Youths and Juniors title races were held at the start of February and 'the Scots Athlete' reported on a good day for the club as follows. "The Midland District Junior Championship and two and a half miles Youths race were held at Pollok Estate on 7th Feb., 1948. The 9 teams and 14 individuals in the Youths race were sent off first by starter Mr D Corbet into a strong wind and uphill over a rain-soaked course. In 15 minutes the leader came in sight, rather a surprise to most, in the person of newcomer C Hogan of St Modan's, followed by RF McLean (Springburn) and E Bannon (Shettleston). Bannon, however, led his clubmates Birt, Scoular and Chisholm to victory in the team race with a total of 40 points, with St Modan's second, 46 points, and Bellahouston 3rd, 55 points."
There was only one Junior from the club running and D Clelland finished 23rd. The victory led Emmet Farrell writing his preview for the National Championships to say – "After his win in the Midland race the St Modan's boy, C Hogan, will be the popular fancy for the Youths title, though placed men, R McLean (Springburn) and E Bannon (Shettleston) with W McKay (Victoria Park) must still come into the reckoning. These boys will have keen rivals in Armstrong of Greenock Glenpark, pint-sized Harry Fenion of Lochwinnoch, Ian Ross of Glasgow YMCA, Lockhart of Castlehill, whom enthusiastic Jas. Watson of Carluke thinks will ultimately develop over the longer stretches, and last but by no means least, the fair-headed youth from West Kilbride, J. Adamson."
Unfortunately the race did not go entirely to plan for Hogan but the team did finish among the medals – second team with 88 points they had six running. The scoring runners were Hogan (9th), Girvan (20th), J Quinn (29th) and G Pollok (30th) behind Kirkcaldy YMCA. Their two non-scoring athletes were J Mallor (32nd) and M Kaney (56th). D Clelland was again their only senior competing and he finished 77th.
The club showed their determination to assert themselves in Scottish athletics at the start of the 1948 summer season when they advertised a sports meeting in Stirling.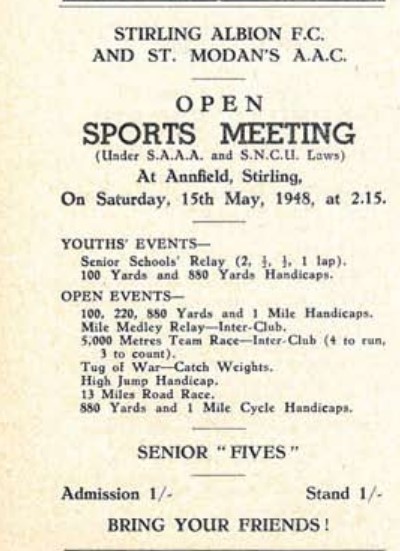 The meeting went well with several of the country's best men taking part. This report is from 'The Scotsman'. You will note the name of J S Petty in the winner's list again along with SAAA champions like Emmet Farrell, Andy Forbes, McLennan and McLean. It had all the ingredients for a successful meeting: a schools race (it is well known that one school pupil runing brings two parents, probably a sibling or two and maybe an auntie oir uncle as well to swell the takings), a 5 a side football tourney (featuring the local side against one of the country's top and best supported sides), champion track and field men plus a road race.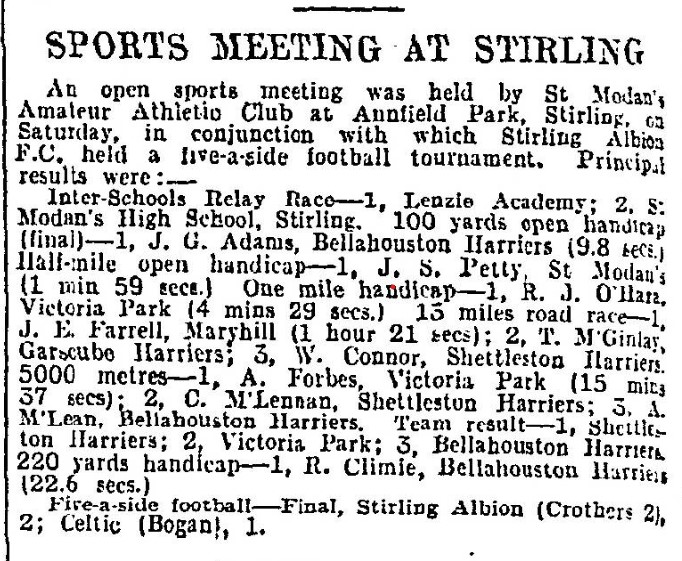 Petty was running very well as a first year senior , born in 1929 he was still only 19, and mixing it with the top Scottish half-milers. But although he did not run as well as expected in the Scottish championships in June, 1948, Emmet Farrell had this to say of his performance. "JS Smart (Edin. Southern) had a merited and easy win in the half-mile. There was a surprise in the heats when JS Petty (St Modan's) the most highly thought of youth, only qualified by being fastest third. He was even less impressive in the final. There is no doubt of his sterling class, but was he past his peak or was he too youthful to stand the nervous strain of the scratch championship running? His form was hard to understand though to our mindhe is still Scotland's most promising half-miler."
Although he had failed to get a medal domestically, he did get a bronze in the AAA's Junior championships to go with the one he had obtained in 1947. To show that he was still the country's most promising half-miler, if any more proof were needed, was shown in this report from the 'Scotsman' of Monday, September 6th, 1948 –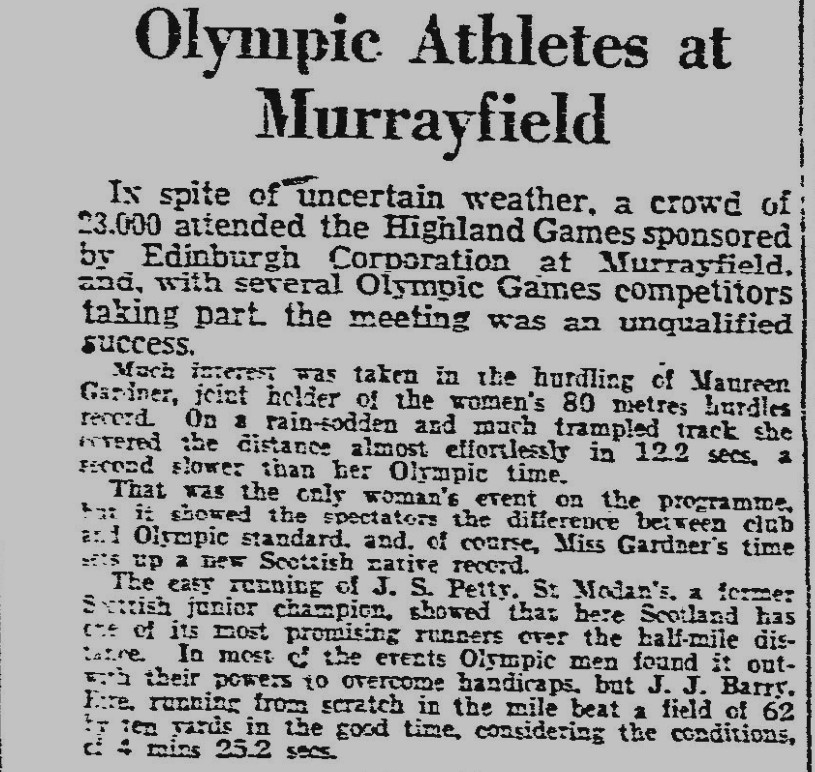 The winter season of 1948/49 began as usual in October and the club was keen to continue where they left off the previous winter. On the first Saturday of October the club had two teams out in the Victoria Park McAndrew Relay at Scotstoun – the first team was 21st out of 41 complete teams to finish with the second team being 39th. The National Novice Championship was held over Hamilton Racecourse on a two lap, 5 mile trail. St Modan's entered a good team which finished ninth of the 35 which had entered (31 finished). Five men from the club took part – the first four being counting runners for the team:- A Crawford 26th, M Kaney 33rd, G McCracken 58th, P Donnelly 95th, A Lafferty 109th 155, 176. This was followed by the Midland District Relay Championship, held at Stirling on 4th December, 1948. Even though it was on a home trail, St Modan's first runner captured significant inches in the national press. 'The Scots Athlete' for instance covered his run in these words.
"It was a dry and clear day favouring the runners and spectators both. Internationalist G Craig of Shettleston Harriers ran a nice race to hand over a lead to his clubmate at the end of the first lap but honours of the first lap really went to practically unknown C Crawford of St Modan's AAC (Stirling) who finished a very strong second ahead of A Kidd Garscube) who was second" The club inevitably fell away against such strong clubs as Shettleston, Victoria Park, Bellahouston and Garscube to finish 16th of the 26 competing teams. Runners this time were Crawford (whose 15:10 was eight fastest of the day – one place ahead of Jim Flockhart), M Kaney (17:15), J Wilson (16:21) and D Clelland (15:28). Flockhart's time was 15:13 with Bellahouston's Bob Climie 10th fastest on 15:14.
If we move on to the Midland District Championships, we see that there were Seniors on the programme but there were none who actually ran in the race. The Youths team however had M Kaney in 7th position, and A Lafferty 18th, both running as individuals. As a matter of interest, they had six Youths entered – Kaney, Lafferty, J Quinn, J Kilgannon, J McCracken, C Girvan and G Shearer and C McGhee were listed as reserves. The senior squad entered consisted of D Clelland, M McGurr, JF Walker, J Wilson, J Kerr, P Donnelly and A Crawford. Note the name of JF Walker – that would be Joe Walker who started the whole St Modan's High School ball rolling and who would play a big part in Scottish athletics for decades to come. The club had the numbers but not enough prepared to travel to Hamilton for the championships.
Came the National on 5th March 1949 at Ayr Racecourse and the club had six youths entered but only tow seniors – Clelland and Donnelly. The Youths team of McCafferty 9th, M Kaney 30th, G McDonald 41st, J Quinn 52nd was seventh with A Lafferty 57th and J Brown 79th as non-scoring runners. Clelland was 19th in the Senior race, one place behind W Gallacher (Vale of Leven) and ahead of CD Robertson (Dundee Thistle), AC Gibson of Hamilton, J Ellis (VPAAC), T Tracey (Springburn) and H Howard of Shettleston. Transport was not easy in those post-war days and in addition most men worked on Saturday mornings. They were probably contributory factors to the small turn out of seniors, just not for St Modan's alone.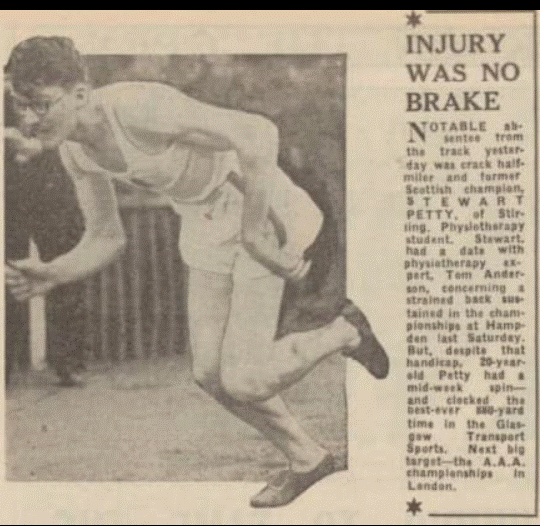 In Summer 1949 Stewart Petty was again the top name for the club in track athletics and as a club they held their open meeting on 14th May, 1949. The star of the afternoon was Ireland's JJ Barry. Lots of Scottish internationalists turned out and performed to their abilities – Donnie McDonald won the sprints, Petty won the half mile, Chick Robertson won the Road Race – to make the day a success. To cap it all, there were two club successes – in addition to the half-mile, the club's representative, A McLaren, won the high jump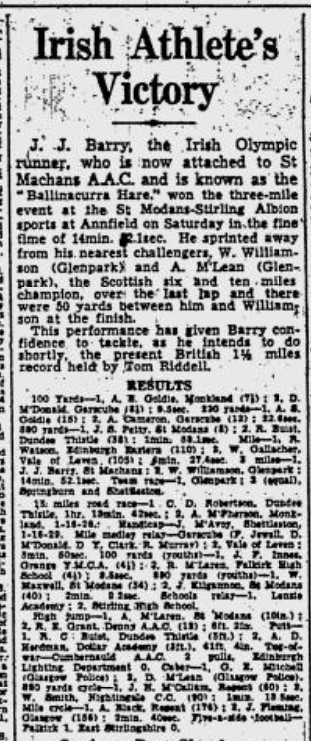 Two weeks later on 23rd May at Ibrox in a really top class meeting with athletes like Olympian Tom Richards competing the report referred to Petty's "excellent time for the half-mile" but didn't say what it was. It was Glasgow's first ever Highland Games and the handicap 880 was won by J Reid of Victoria Park from a mark of 40 yards in one minute 55 seconds. One week later on 30th May he ran in the Gala Sports where the report read "JS Petty (St Modan's) last year's Scottish half mile champion, ran a splendid race in the event at the Gala Harriers and Gala Cycling Club's meeting. "Running from scratch he overtook all but D Dick (Edinburgh Northern) whop had an allowance of 32 yards, and was beaten by only 3 yards in 2 min 1.5." There was a rare defeat for Petty on 11th June when in the Glasgow Police Sports at Hampden Park he was second to T Begg (Glasgow University) in the invitation 880 yards handicap race. Running from the 36 yards mark (Begg was off 40) he defeated Boysen of Norway who started from 18 yards. The SAAA Championships of 1949 were also held at Hampden Park on 27th June when running from scratrch of course he won the title in 1 min 56 sec from the same T Begg with J Smart in third. Of this race, Emmet Farrell commented on "The darting, quicksilver finish of JS Petty in winning the 880 yards."
A few words about Petty are in order. He was born Joshua Stewart Petty in Stirling in 1929 he died 2010 in Dunfermline. His national rankings were as follows.
1949: 880y 1:56.0, 1950 880y 1:55.3, 800m 1:54.6. 1953 1:59.0 est 880y. 1954 60.5 440yH.
Later in his career Petty went on to run for BellahoustonAlready noted are his two SAAA 880 titles as a Junior and as a Senior as well as his two bronze AAA medals..
If we go back to the 1949 championships, the club was also represented in the Junior championship by T Smith who won the Shot Putt with a istance of 41′ 6 3/4″, and was second in the Discus. It was not a one man club but the name Petty keeps coming up. The Rangers Sports were held on the first Saturday in August and in 1949 there were approx 60,000 spectators who saw top class sport from athletes from the USA as well as from all the home countries. There was even a story attached to this win. The report in the 'Glasgow Herald' told us all about it. "GW Nankeville, who was to have run in the mile, responded to the appeal of the English team manager and ran in the "half" instead because of the absence of CT White. Nankeville shaped well for a lap but the Scottish champion JS Petty, and a former champion, J Smart, running off12 and 18 yards respectively, resisted the challenge. Petty with a superb effort, caught Smart on the finishing line and won in 1 min 55.9 sec which is probably one of the best performances ever by the St Modan's youth. Nankeville faded before the finish."
PETTY'S SEASON WASN'T OVER YET THOUGH. He was given two different names on the same page in the 'Scots Athlete' of August 1949. The first was with reference to the Open and Invitation Floodlight Meeting at Ibrox when the report said that "Stewart Petty confirmed his recent great improvement by clocking 1 min 55.8 sec off 8 yards for the half-mile." In the very next column the reference was to the triangular international in Belfast when it said "Joshua Petty ran a fine race for Scotland and finished a good third."
The opening race of winter 1949/50 was the McAndrew four man Relay at Whiteinch in Glasgow and there was only one team entered instead of two as in the year before. The quality was higher this time though. The team of A Crawford, A McHugh, T McGhee and D Clelland was seventh in afield of 43 teams. The younger athletes were not forgotten either – on 3rd December 1949 at King's Park, Stirling with 24 teams and 20 individuals competing. They did not perform as well as might have been expected on what was basically their home territory. The team was 20th of the 20 teams to finish with T McCracken (87th), A Galbraith (93rd), M Kelly (94th) and M Foxworthy (113rd) being the runners.
There was no National Novice Championship in 1949 – the event was discontinued after the 1948 race. However the Midland District Relay was also held on 3rd December at the Inveresk Pavilion of Monkland Harriers in Coatbridge with a record entry of 37 teams. The St Modan's team was eighth – A Crawford (14:53), A McHugh (15:40), J Wilson (15:34) and D Clelland (14:44) were the club's men this time. The District Championships were held on 5th February, 1950, at Motherwell and were won by Walter Lennie of Vale of Leven from Tommy Tracey of Springburn. The first St Modan's runner was D Clelland who was 20th. Clelland had been a very good club man having run in relays, open races and championships over all distances since the club was formed, often enough as the only club runner toeing the starting line. He was accompanied by A Crawford in 36th, A McHugh 75th, J Wilson 106th, P Donnelly 122nd and J Keilt 136th. The club was 12th out of the 19 entered teams. Crawford is another interesting individual in that he ran well in relays year after year but seemed to fight shy of the longer cross-country races. This is the first note of him in a long team event. The other runners on the day were all good regular club servants who helped keep the club going. There were 12 teams entered in the Youths race and St Modan's was 10th finishing club. They were represented by A Lafferty 35th, A Galbraith 41st, M Kelly 45th, and T McCracken 53rd with A McGhee as a non-scoring runner in 58th. The local convener was JF Walker, making one of his first steps towards what would be a very good career in which he would give much to the sport.
The senior and junior national championships were held at Hamilton on 4th March. St Modan's Seniors were again scarce on the ground with D Clelland firts club man across the finishing line in 25th place followed for the club by J Wilson 90th – and that was it. The Junior team was very interesting –

Unfortunately none of them ran. The first name is maybe significant – the first entry of Joe McGhee in the National. It had been a good year for the club but when it came to the National championships, there were two seniors, no juniors and the Youths team finished 20th out of 20.
What would the summer of 1950 bring? On 27th May in the Glasgow Highland Games there were several of the club taking prizes home to Stirling. JS Woods showed his versatility by having two third places – in the 220 yards and then in the 880 yards and A McHugh was second in the Mile. When it came to the SAAA Championships on 24th/25th June at Hampden however, Petty made the Final where he was unplaced after a controversial race – "The half was an unfortunate affair. At the first bend Hugh Hatrick was tripped (no, of course not deliberately, but tripped all the same) and stumbled. It seems that the holder, Stewart Petty strained himself having a hasty look round and in any case had to retire to leave the others to fight it out. Ex champ Jim Smart tried a jump on the back straight but hadn't the strength of Tom Begg who raced powerfully home in 1 min 57.1 secs. Though feeling sorry for Stewart (we don't think Hugh would have been "in at the death") let's not detract from Tom's grand win." There was a medal for the club however when Dave Clelland took second place in the steeplechase behind Burns of Kilmarnock and just in front ot Lamb of Bellahouston. Petty was back in action soon and was third in the Invitation Hal-Mile at Rangers Sports on the first Saturfay in August behind Mal Whitfield who set an all-comers record, and Jim Smart. Then in the Triangular match against England & Wales, and Ireland, Petty was third again in the half-mile with Smart in fourth place. the race being won by Arthur Wint (1:52.4) from Roger Bannister (1:54.5) .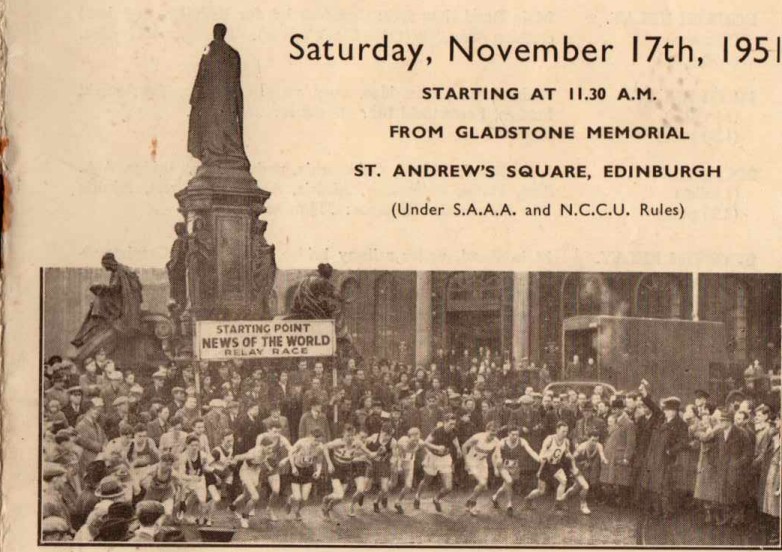 Above: The start of the 1950 Edinburgh to Glasgow Relay as shown on the cover of the programme for the 1951 race
The winter season of 1950/51 started with the McAndrew Relay where St Modan's finished eighth of 49 teams completing the course. Runners were McHugh 16:28, Kaney 16:43, Clelland 17:04 and J McGhee 17:04. There was also a B team which finished 42nd with 'that man again' on the first stage – JS Petty in 18:00, then A Galbraith in 17:41, P Donnelly 17:45 and C Girvan 17:19. The reason for two teams became clear in November when, on the 18th of the month, the club took part in the prestigious eight man Edinburgh to Glasgow Relay. There were 13 runners listed on the programme which is listed below. The names are all familiar to us by now and it is well known that competing clubs allused the short relays such as the McAndrew to prepare their potential team for the News of the World sponsored race.

The runners in order were A McHugh who was 11th on the first stage before handing over to Joe McGhee on the very difficult second and who pulled the club from11th to 9th running the tenth fastest time on the stage. J Wilson ran third and dropped to 12th before passing the baton to A Galbraith on the fourth stage and at halfway the club was running 12th. It should be pointed out that for a club as young as St Modan's running for the first time in the biggest winter race of the year in the cut-throat rivalry, this was not a bad position to be in. P Donnelly was next runner on the exposed fifth stage and he dropped to 17th before Dave Clelland faced the really competitive sixth stage racing against some of the biggest guns in the race. For instance Cick Robertson started the stage in 18th and finished the stage in 18th with Dave fending him off and running an excellent 6th fastest time of the day. The club stayed in 17th all the way to the end with the last two runners being M Kaney and J Walker. Would that J Walker be the Joe Walker who was such an important figure in Scottish athletics official and administrative circles for decades to come? Almost certainly.
The Inter-Counties Championship was held at Stirling on 16th December and there were several St Modan's men in the Stirlingshire team – D Clelland was rewarded for his superb running in the E-G and led the team home in 5th place with Joe McGhee in tenth, M Kaney 15th and A Galbraith 21st. The team finished third. The 'Scots Athlete published a list of the top Scots track and field athletes for the 1950 season and the top five were all fields events men, with JS Petty at number nine because of two half-mile times – 1:54.6 in England and 1:55.4 in Scotland. Unfortunately the venues and dates were not included in the review.
The Nigel Barge road race took place as usual on the first Saturday of the New Year at Maryhill in Glasgow and there was a St Modan's team aming the 17 taking part. D Clelland was 21st, M Kaney 32nd, A Galbraith 50th, J Lynn 54th and J McCracken 65th. In the February, 1951 issue of the 'Scots Athlete' magazine a letter was published from club captain David Clelland which highlighted two things – the need for coaching to spread further, faster through the country, and the difficulties of travel at the time. HAL Chapman had been appointed national coach a year or so before the letter which read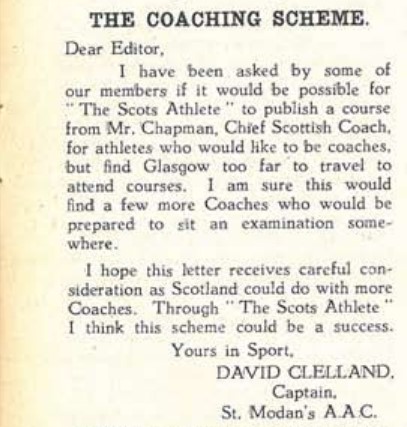 It's not clear whether it was in response to the letter, but National Coach Chapman held a coaching day in Falkirk later that month. The District Championships themselves were held at Stepps Stadium on 4th February 1951. In the Youths race, the club was fifth of eight, with A Galbraith first man home in 12th followed by C Meldrum in 17th, G Gray 27th and K Murie 29th. There were again very few senior men in action, possibly because of the travel difficulties in the country at the time – D Clelland was 23rd and M Kaney 49th were the only finishers. The National was held at Hamilton again on 3rd March 1951. Joe McGhee was first club man in 25th, David Clelland was 22nd and that was it for the Seniors. For the Juniors J McCracken was 49th, J Lynn was 77th and B Maxwell 83rd. The Youths race H Galbraith was 24th and C Meldrum 40th. The season was now over and like other clubs, St Modan's headed for the track.
The club was still holding its meeting at Annfield in Stirling but reports on it are difficult to find in papers that at the time were down to 10, 8 or even 6 pages at times. We do know that there was a medal for the club in the SAAA Championships at Hampden on 23rd June – but this time it was not JS Petty but a man who repeated his run of the previous year. – Emmet Farrell describes the race thus. "Bob Climie (Bellahouston) is a sporting athlete who is game for a race, be it a "220" to 10 miles cross-country was a sporting winner of the steeplechase. He was just too strong for another "game" runner in Dave Clelland (St Modan's) who made the pace most of the way. The St Modan's boy was runner-up also last year." The result was Climie first in 11:02.4, Clelland second in 11:05..4 and John Stevenson of Springburn in 11:11.0.
We have mentioned Joe McGhee running for the club on the road and over the country but that he was destined for great things on the road as was shown on 25th August when he ran in the Perth to Dundee 22 miles road race, where he finished sixth in a very good field including Chick Robertson (Dundee Thistle), Harry Howard (Shettleston), RW McMinnis (Sutton), A Arbuckle (Monkland) and Alex Kidd of Garscube Harriers. His time of 2:09:41 was less than 8 minutes behind Robertson. He also ran in the City of Edinburgh Marathon where again he finished sixth – and again behind Alex Kidd – in 2:48:19.
The Winter 1951/52 McAndrew was held on 6th October with 55 teams entered. The St Modan's team finished 17th with Clelland on the first stage recprdong 16:31 followed by A Galbraith who ran 17:41, then McGhee on 1643 and J Lynn (17:23). In the Midland Relays on 3rd November at Stepps, St Modan's team was led off by Clelland in 15:03 who then handed over to McGhee (14:48 who was followed by J Lynn (16:08) and M Kaney (15:53) for the team to be 12th out of 26 finishers. With no team from the club in the E-G relay, it was on to the Nigel Barge Road Race at Martyhill at the start of January where Joe McGhee finished 8th to lead the team of himself, J McCracken 20th and J Lynn 37th to sixth place – only two pojnts ahead of the Greenock Wellpark team of the Stevenson brothers and George King. The Midland Championships were held at Lenzie on 2nd February, 1952 and run in atrocious weather conditions. Nevertheless the day got off to a good start for the Stirling club when the Youths team finished in second place behind Cambuslang and Bellahouston – it was a very close run thing with the points being 24, 25 and 27! The heroes were C Medlrum 2, D Kaney y6 and C Gray 9. There were only two seniors who finished the course for the club – Dave Clelland, club captain and double SAAA track medallist, who was pretty well and ever present in championship racing, finished 81st in dreadful, wet and muddy weather and Joe McGhee who was sixth finisher. What company was he keeping? the first five were Eddie Bannon, Dave Nelson, Andy Forbes, Bob Climie and Tommy Tracey. Emmet Farrell remarked that his sixth place underlined once more that he is one of Scotland's most improved runners. He went on in the same issue of the magazine to note him as a challenger for international honours after the upcoming national championship. Unfortunately, the results of the National at Hamilton that year, as published in 'The Scots Athlete' did not have a single runner from St Modan's in any of the three races – Youths, Juniors or Seniors. Rather surprising given the talent already displayed previously that winter.
Jim Peters set anew world record of 2:20:42.2 for the marathon in 1952 in the AAA's championship with several Scots in the field and doing well. One of them was Joe McGhee who finished 16th in 2:39:29. Came the SAAA's championship and Dave Clelland again picked up a medal – bronze this time in 11:05.6. The SAAA marathon championship on 6th August was held on the Methven to Dundee course and was won by local man Chick Robertson in 2:38:07 from Duffy of Hadleigh in 2:38:32 with Emmet Farrell 3rd and Jack Paterson 4th. Joe McGhee was fifth in 2:44:46 which was three minutes up on Alex Kidd of Garscube. He had been with the leading pack almost all the way through the race – leading at 5 miles in 29:50 and splits of 57:28 for 10 miles, 1:26:30 at 15 and 2:00:34 for 20.
St Modan's AC 1952 – '59 St Modan's AC 1960 – '65