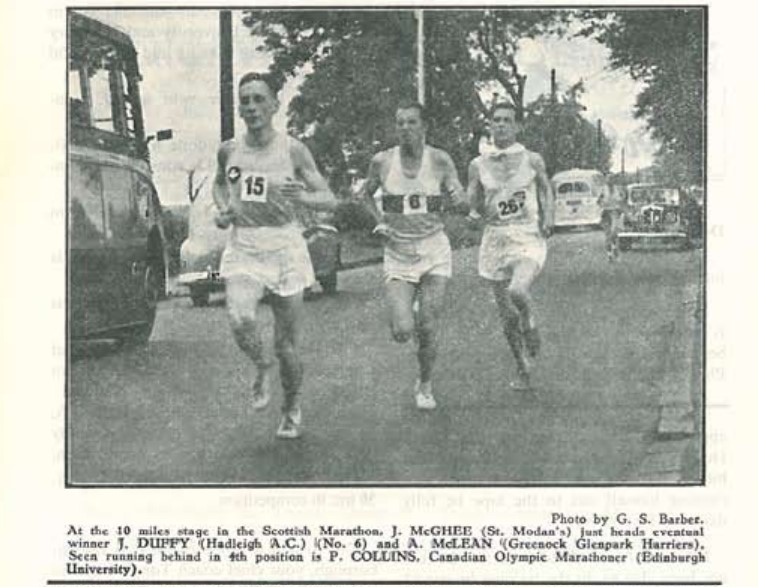 Above: The 1953 SAAA Marathon
Although the 1952 – 60 period started fairly well with the club with Joe McGhee being one of the best in Scotland, the decade as a whole was a poor one with the club losing their three best athletes over the period – Stewart Petty joined Bellahouston Harriers, Joe McGhee left for Shettleston and club captain Dave Clelland joined Falkirk Victoria Harriers in 1954. Others were at institutions of further education such as Glasgow University or teacher training college. Petty joined Edinburgh Southern Harriers and was a member when Ian McKenzie joined in 1952. Ian comments, "he was in Southern when I joined in 1952 and he remained a member for at least the next 40 years. He also married a fellow ESH member, living in Edinburgh for many years before moving to Dunfermline. When he finished his career as a half miler he took to running cross country for enjoyment rather than as a serious competitor, he established a group of fellow runners which he called "the scrubbers". He was also a great supporter of SVHC, running in most club races, especially the Xmas handicap at Bishopbriggs which I don't think he ever missed. In the summer he competed at the vets champs usually throwing the discus until well into his 50's., such was his love of the sport." The club seemed depressed thereafter but things started to look up when Charles Meldrum really started working for the club. A teacher who temporarily ran summer seasons for the training college, he was a good runner, a good club administrator and a very busy starter at sports meetings.
Unfortunately the club championships and domestic races have not been recorded in the popular Press: paper was scarce, coverage of athletics was scanty and the only club championships covered were of the older established and successful clubs such as Shettleston Harriers, Victoria Park, Bellahouston Harriers and when it came to Stirlingshire, Falkirk Victoria Harriers got the coverage. The pattern of the decade was (a) a promising start; (b) a disappointing meddle and (c) a really upbeat end to the decade wit District and National medals being won. For this section we have to rely mainly on what can be gleaned from the pages of the 'Scots Athlete' and the 'Glasgow Herald' as well as the official Scottish Athletics historical archive at
http://www.salroadrunningandcrosscountrymedalists.co.uk/Archive/index.html
1952/53 started off with the McAndrew Relays organised by Victoria Park AAC at Scotstoun in Glasgow. Held on 4th October, there were 27 teams entered and the St Modan's team finished 16th with the runners being J McCracken (16:47), A Galbraith (17:41), J McGhee (16:11) and D Clelland (16:49). McGhee's summer marathons had not blunted his speed but rather seemed to have enhanced it. The annual Clydesdale Harriers Youth Ballot Team Race was on 1st November and was won by G Tierney of Cambuslang with St Modan's being represented by D Kaney who finished 15th of the 47 runners and as part of the second placed Ballot team (the others were J McGregor of Greenock Wellpark in fourth and G Wallace of Shettleston in 18th). One week later the Midland District 4-man relay took place at Stepps and Joe McGhee was on the first stage where he finished second to D Kennedy of Bellahouston in 13:24 before sending D Kaney (15:52) off on the second stage. J Murray was next up (14:54) followed by J Kielt (15:14) to bring the team home. McGhee had fourth fastest time of the day behind Bannon of Shettleston, Kennedy of Bellahouston and Calderwood of Victoria Park, and Harry Fenion of Bellahouston was fifth. He was starting to be noticed by the athletics community at large – his opponents had already seen enough to convince them of his class.
The Midland District championship were held at Lenzie on 31st January, 1953, and McGhee did indeed have a high place – fourth behind Bannon, Breckenridge and Fenion – unfortunately the St Modan's team failed to finish the requisite number of runners for a place in the team competition. The runners who did finish were A Galbraith 59, A Kielt 73, D Clelland 76 and P Donnelly 85.. Clelland was not displaying his usual high standard of running and the impression is that he was injured or could not get the appropriate training done. Either way, it was unfortunate for the club. In the Youths race there was only one finisher – FD Kaney was 23rd.
Emmet Farrell in the February, 1953 ,issue of 'The Scots Athlete' had this to say in the course of his predictions for the national cross-country: "McGHEE HAS STAMINA AND USEFUL PACE. That promising young marathoner, Joe McGhee of St Modan's may win his first International vest. He has consistently taken high places in comparatively short distance events demonstrating that he does not lack speed, and the extra mileage of the National should suit a runner with his marathon background." The National was held on 28th February at Hamilton and in the Senior 9 Miles Race McGhee had a disappointing run to finish in 11th place and fail to make the team. It must have been disappointing for him to be the only St Modan's runner to turn out in the Senior National. Farrell in his post race comments revealed that McGhee, who was doing his National Service in the RAF, had raced mid-week in a services race and that that had maybe affected his performance. There were no club runners in the Junior race, and only one in the Youths event – D Kaney, who was 23rd.
St Modan's were still holding their annual open sports meeting and it was on 2nd May in 1953. The first open sports meeting in the west of Scotland it attracted a large and high quality entry. Their own runner Joe McGhee won the 15 mile road race in 90:49 from Harry Howard of Shettleston and Alex McLean of Glenpark. A raw nerve may have been touched when JS Petty turned out for the winning Bellahouston relay team. A note of the main event winners indicates the standard of the meeting.
100: JF McLaughlin (Bellahouston) 10.7 sec; 220: R Mill (VPAAC) 23.7 seconds; 880 yards: RM Leslie (Tayside) 2 minutes.
Mile: F Scally (Shettleston) 4:27; Two Miles: A Breckenrdige (VPAAC) 9:43.9; Team race: VPAAC 7 points.
Women: 100 yards: E Hay (Q Club) 12.0; 220 yards: SS Turner (Bellahouston) 27.7; Relay: Ardeer Recreation Club.
On June 6th, McGhee travelled to Dundee and won the 15 miles round the city road race in 78:13 from Chick Robertson.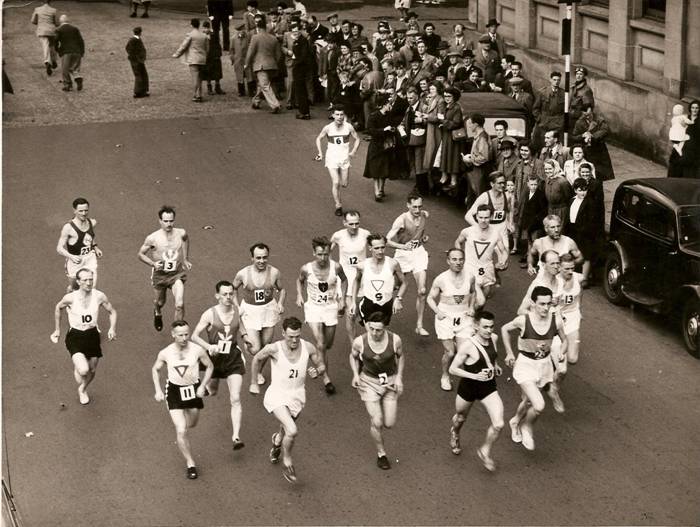 A Young Joe McGhee, front, right, starting in the Perth to Dundee Road RaceI
Picture from Bob Donald
In his preview of the SAAA Championships to be held in June, Farrell told us that JS Petty was in good form but that he was now a member of Bellahouston Harriers. In his predictions for the marathon he forecast that it would fall to CD Robertson of Dundee Thistle although if there had to be a surprise, then it would probably come from J McGhee of St Modan's 'whose current form has been so good.' The race was held on 27th June, 1953, and run from Laurieston (Falkirk) to New Meadowbank. Always up with the leaders – Duffy of Hadleigh, McLean of Greenock Glenpark, P Collins of Edinburgh University – McGhee led at 5 miles in 28:20. "The pace was a cracker and of the leaders McLean looked the fittest. Duffy always gave the impression that he was punishing himself although he looked very sun bronzed and fit. Joe McGhee looked his usual self. At the 10 miles watering point McGhee still led by a few yards from Duffy with McLean training along." By 15 miles Duffy led in 1:25:09 with McGhee and McLean in close attendance. McLean went in front at 18 miles and at 20 miles he led in 1:55.1, Duffy was on 1:55:50 with McGhee dropped to 1:57.0. At 24 miles it was McLean 2:20:57, Duffy 2:22:05 , and McGhee "running well" in 2:23:32. McLean unfortunately faltered and eventually, almost within sight of the stadium, started to walk. Duffy passed him with a mile to go and won by 43 seconds with McGhee only 19 seconds further back. A medal for McGhee but the feeling at the time was that if he had punished himself a bit more, he could have won the title.
McGhee was in long distance action again on 29th August when he took part in the Perth – Dundee Road Race. In a very competitive race he was second in 2:01:32 behind EI Smith of Leeds Harehills (2:01:13) and ahead of A Lawton, also Leeds Harehills, (2:02:40). The first two were inside the previous best time for the course.
The Midland District relays were held at Millerston as usual on 7th November and the St Modan's team, minus the top runners of recent years, was ninth of the 26 teams in the race with A McHugh (14:58), D Kaney (15:28), J Murray (15:24) and J Kielt (15:25). It was a more evenly balanced team with all runners contributing an even share of the work. The 'Scots Athlete' of February 1954 forecast that J McGhee would finish fifth in the National Cross-Country – running in the colours of Shettleston Harriers. A huge blow to any club to lose such a talented athlete but McGhee had been coached by Allan Scally of Shettleston for some time and felt that he should join his club. In the Midland Championship at Lenzie on 6th February, McGhee ran well enough to be fourth for his new club but could not count in the team race as his change of club had been so recent. There was no St Modan's team in the event. In the National Championships at Hamilton, there was only one from the club in the Senior race – J Lynn who was 65th – and one more J Murray, ran in the Junior race where he finished 36th.
With no one running in the finals of the SAAA Championships of 1954, it was down to the Junior SAAA event and there J Irvine was third in the 440 yards in 54.3 seconds. Although there were many open meetings across the country – amateur highland games, sports meetings such as Babcock and Wilcox, Singer's, etc, although sports clubs promoted their own events, coverage at the time was scanty and so tracing the activities of individuals in an individual sport is difficult. In the course of just over a year, St Modan's had lost Stewart Petty to Bellahouston and Joe McGhee to Shettleston. They had been far and away the best runners the club had produced and among the best in the country and their loss must have depressed the club somewhat.
Into winter 1954/55 and there was no St Modan's team among the 29 in the McAndrew Relay. The Midland relay also came and went without a club team being forward. By the Midland Championship at Lenzie on 29th January 1955, St Modan's were back in action. In the Senior race, C Meldrum was12th finisher – a very good run at a time when the standard was high, followed by J Lynn in 109th. In the Youths race, T Gunning was 18th. In the National on 25th February, Lynn was the only senior in action and he was 115th. T Gunning was the sole representative in the Youths race, finishing 41st. Note that the Falkirk Victoria senior team was led home by a D Clelland in 15th with the team sixth.
There was an interesting finalist in the 1955 SAAA steeplechase – CM Meldrum of Jordanhill Training College finished fifth in 9:59.9. This was the same CM Meldrum that had been racing for St Modan's for several years – he still kept the club membership but while at the college took part in summer competition under their colours. Numbers competing were still small and it is a tribute that the club continued to work as well as it did through these difficult times. There was no club team in the McAndrew relay in October, nor was there among the 32 teams in the Midland District relay, there was one runner in the Clydesdale Harriers Youths race where M Roy finished 36th. The next appearance by club members in a championship race came in the District Championships at Lenzie on 28th January, 1956. In the senior race, entered as individuals, were Charles Meldrum in 28th, J Murray 71st and J Kielt 100th. In the Youths race, joint sixth team with Glasgow University was the St Modan's trio of A Gunning 17th, A Roy 23rd and DM Flaherty 30th. Unfortunately in the National at Hamilton, there were no seniors entered although A Galbraith ran for Glasgow University and in the Youths race there were two runners – PM Flaherty in 50th and A Roy 59th.
In the Youths Kingsway Relay Race at Dundee in October 1956, the St Modan's quartet was seventh with AT Roy recording 8:04, M Conlon 8:22, GG Pearson 8:44 and PM Flaherty 9:07. It was first time for the race and the team was 3 seconds behind the home team (Dundee Hawkhill) and exactly one minute behind the winners. Then at Stepps on 3rd November in the Midland District relay, the team finished 15th with JH Murray on the first stage running 15:42, Charlie Meldrum being next up in 14:49, J McCracken 15:16 and JJ Kielt 15:58. In the National, Meldrum was 67th while Dave Clelland was 46th for FVH. In the Youths race, the club was fifth out of 15 teams – GM Dewar 13th, AT Roy 27th, GG Pearson 49, Millar 38th (the scoring quartet), JA Turpie 62nd and TG Harrower 97th. The team was again one place behind Dundee Hawkhill (3 points), one place ahead of Falkirk Victoria.
There were several small clubs in and around Stirling in the 1950's and in the SAAA Youths championships on 6th July 1957 there were athletes who had already represented St Modan's turning out for smaller clubs. In the half mile championship for instance the winner was GM Dewar and second was GG Pearson. They were both representing Tillicoultry & Hillfoots AC and the race was won in 2:05.7. Other than the Scottish championships, the biggest track and field meeting in Scotland at the time was the Rangers Sports. The standard of competition was high, the numbers of competitors was also high. Held on the first Saturday in August every year, this was the year that Charlie Meldrum of St Modan's won the handicap steeplechase held over 8 laps of the track. Running from a mark of 230 yards he won in a time of 10:00.2. The last meeting of the season was a local meeting for the club and the Dunblane Highland Games were held on 14th September. The only club winner was G MacLachlan who won the 100 yards from a mark of 5 1/2 yards in 10.0 seconds. 1956/57 had been a good year for the club, but better was to come in the near future.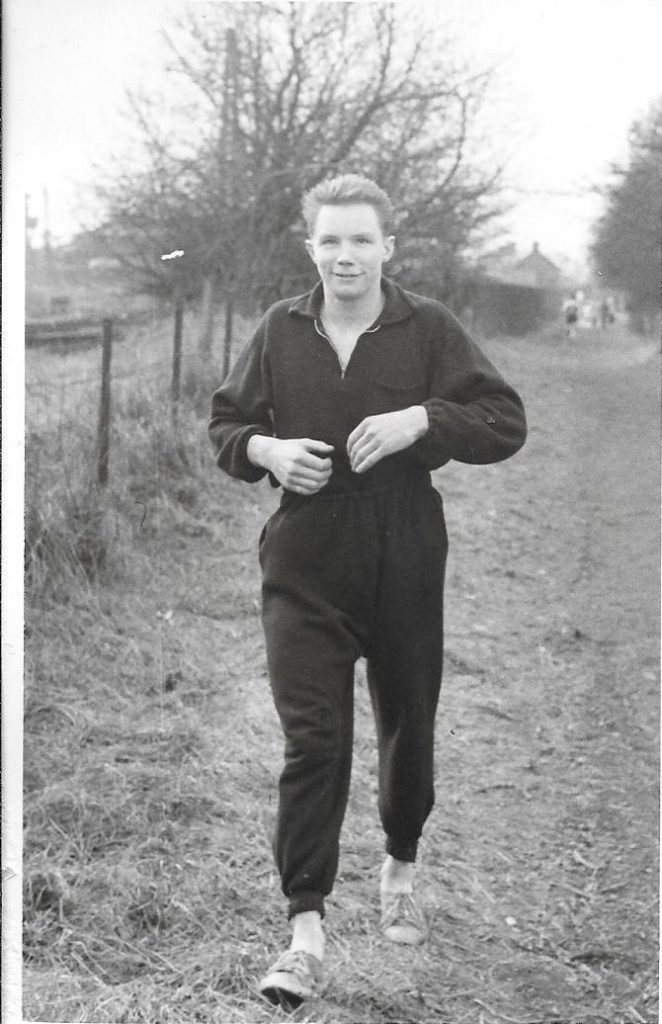 A Young Mike Ryan preparing to run at Springburn
Photo from Bobby Mills
1957/58 was the season when Mike Ryan started to show his ability as a distance runner with a series of good performances. on 28th December in Pollok Estate he won the won the Richmond Trophy two mile event beating Lachie Stewart by 200 yards. The 'Glasgow Herald' named hio as favourite for the Midland title at this point.
In the Midland Championships on 25th January, 1958 the Youths team was third behind Shettleston and Springburn Harriers and ahead of Victoria Park AAC. The runners were led home by GM Dewar in sixth place. In the Boys race Mike Ryan was first club man home in third place and the team second. Two sets of team medals plus one individual. The best club performance in a major championship for several years. The National at Hamilton would be even better.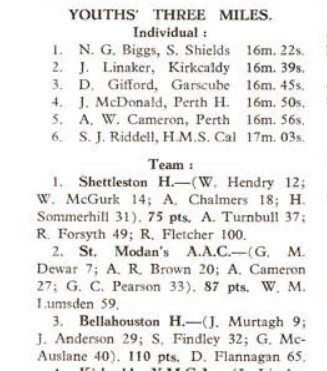 National Youths results, March 1958
In March 1958 the signs of the upturn in the club's fortunes became really clear when, on the first of the month in the National cross-country championships at Hamilton, there was another St Modan's team competing which won medals in the nationals. If we go through the age groups in order we see that C Meldrum in the Senior ace was 31st, with J Murray 56th; then in the Junior race, AT Roy ran as an individual and finished 70th. and then came the breakthrough. The Youths team finished second only 13 points behind Shettleston. The runners were GM Dewar 7th, AR Brown 20th, A Cameron 27th and GC Pearson 33rd forming the team and WM Lumsden 59th as back-up. There were over 100 runners. For the first time ever there was a race for Boys under 15 in the National and there was a St Modan's team out in it. Mike Ryan was second, T Lavin tenth, F Simpson 19th, R Rutherford 20th for a team total of 51 points and second team behind George Heriot's School. The back-up runners were R Ross 52nd, J Howden 64th and J Ward 75th. The club had been represented in all four races and won two team silvers and one individual silver too. Far and away the best club performance up to that point.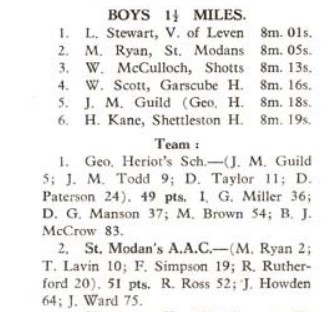 If winter '57/'58 was good, '58/'59 was almost but not quite as good. In the Midland Relay at Stepps on 1st November there was a St Modan's senior/junior men's team of C Meldrum, (13:41), A Roy (14:03), J Murray (14:47) and G Dewar (14:45) which finished 15th of 33 starting teams. In the actual championship, held in JamuaryRobin Gourlay was third in the Under 13 boys race and Willie Fleming was second behind Glasgow University's Jim Bogan, in the Under 17 Men's race leading the team to third place with 42 points behind Bellahouston's 31 and the winning team (Vale of Leven) which had 23 points. Detailed results for Senior and Junior races are not available. In the National at Hamilton there were no seniors in action, but AT Roy turned out in the Junior Men's race finishing 60th. The Youths team was led home by Willie Fleming who won from Jim Johnston of Monkland Harriers but there were only three seconds in it. The team was eighth of 16 starting teams and had five runners, Fleming was first, Rutherford was 30th, AR Brown 47th, R Curran 67th and J Howden 71st. There was also a team in the Boys race – and a total of 4 runners from the club. They were R Gourlay 16th, R Ross 53rd, S Drummond 58th and B Lauder 62nd for the team to be eighth of 20. There was however a rather ominous sign in the summer of 1959 when GM Dewar won the SAAA Junior 440 yards title in 51.2 seconds – but he was representing Shettleston Harriers at the time. The good news from the same championship meeting was that a St Modan's member won the Junior high jump with a 5′ 7″ clearance and his name was I Campbell. Graham McDonald has the programme for the Dunblane Highland Games in 1959 and there were several club men entered there.
L Y Robertson –
100 yards
handicap running from 6 yards &
220 yards from
13 yards
A A Kerr
100 yards
handicap off 5 yards &
220 yards
off 14 yards
T. Harrower
800yds
Junior off 38 yards
A.Roy and Charlie Meldrum 1 mile handicap both off 100yds.
The club was still entering meetings in reasonable numbers. There were no field eventers at Dunblane that year but there were at other meetings and they continued to do so.
What would the Sixties bring for St Modan's AAC?
St Modan's AAC 1947 – 1952 St Modan's 1960 – 66