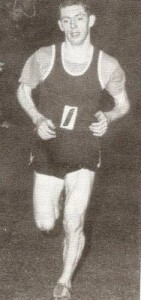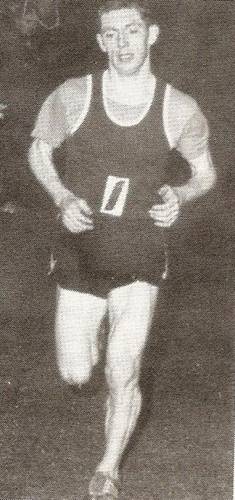 Andy Brown (Motherwell YMCA) winner of the first two Shettleston Marathons
At one point there were no fewer than 14 marathons in one year in Scotland. Of these the most prestigious by far was the SAAA Championship where all the very best men raced each other annually over the full standard marathon distance. The others mainly had very high standards at the front end with international challenges being incorporated into the race. The Scottish Championship has been demeaned by having it included into a mass participation event with the championship itself a mere additional attraction to a massive People's Race. We still have the Moray and Lochaber Marathons and there is an Edinburgh Marathon organised on what seems to this writer an opportunistic and ad hoc fashion – it's certainly not part of a Marathon Development Programme. It is still possible to access the results of the more significant of these races – I refer to the Moray, Lochaber, Loch Rannoch and Shettleston events. Just go to the wonderful American website arrs.net at www.arrs.net/HPr_Ma.htm That should take you to a page of marathon results in every country in the world. Just scroll down to the 'Scotland' section and there you are. If the link doesn't work – and at times they do not – just go to the www.arrs.net page, click on 'Marathon Race Histories' and that's your page!
This page will deal with one of the older ones – the Shettleston Marathon which ran from 1961 to 1971 and you can already see from the date that this was not an attempt to jump on to a 'running boom' bandwagon. It was organised by the Shettleston Harriers club as a serious venture as will be seen from the results and had fields which were typical of the time. In other words, a few dozen runners, all club men, not all from Scotland, running hard over a course that had not been specially tailored for fast times. That fast times were run on the course is down to the quality of the runners and the nature of the racing. It started at the almost-circular track at Barrachnie in Shettleston and took in two laps of the East End of Glasgow. Joe Small has put the results together for us – a sterling job given the lack of specialist Scottish athletics magazines of the time.
Brown's Marathon Win:
16th September, 1961.
AH Brown (Motherwell YMCA), who recently won the Shotts Highland Games 14 miles road race, won Shettleston Harriers open marathon race at Barrachnie in 2:40:04, beating W McBrinn (Monkland Harriers) by 600 yards. J Jarvie (St Modan's) was third.
Marathon Win For Brown:
26th May, 1962
AH Brown (Motherwell YMCA) won Shettleston Harriers Marathon race in the fine time of 2:25:58. Second and third were JM Kerr (Airdrie Harriers) and Clark Wallace (Shettleston H). C Fleming (Cambuslang Harriers) was the winner of the handicap event.
Wood's Marathon Win:
18th May, 1963
A Wood (Aberdeen AAC) won Shettleston Harriers marathon race at Barrachnie. The weather took its toll of the competitors for only nine out of eighteen starters completed the course. Results:
1. AJ Wood (Aberdeen AAC) 2:25:56); 2. G Eadie (Cambuslang Harriers) 2:34:40; 3. HK Mitchell (Shettleston Harriers) 2:41:13; 4. RC Wallace (Shettleston Harriers) 2:42:50; 5. IC Donald (Shettleston) 2:50:53; 6. J Foster (Edinburgh AC) 2:53:16.
Wood Wins Marathon:
16th May, 1964.
Shettleston Harriers open marathon race at Barrachnie attracted 23 starters but only eight completed the course. AJ Wood (Aberdeen AAC), the holder, won convincingly in 2:23:16, more than eight minutes faster than I Harris the Scottish marathon title holder. D Simpson (Motherwell) was third in 2:48:16, R Coleman (Dundee Hawkhill) fourth in 2:50:04 and veteran Andy Forbes (Victoria Park) fifth in 2:51:51.
Marathon Win By Murray
15th May 1965
Shettleston Harriers open marathon attracted the Scottish three- and six-mile champion, AF Murray (Edinburgh University who ran out the winner in an excellent time of 2:18:30, four minutes forty six seconds improvement on last year's best time for the course by AJ Wood (Aberdeen AAC). Wood showed his best time for the distance (2:19:03) in finishing second, further evidence of the value of keener competition in such events. R Donkin (Sunderland) was third in 2:30:11. Other positions were4. HK Mitchell (Shettleston) 2:31:50; 5. C McAlinden (Babcock and Wilcox) 2:34:33; 6. RC Calderwood (Victoria Park) 2:42:04. Handicap: R Donkin (22:06) 2:08:05; 2. J Harkins (Shettleston) (31:12) 2:22:44; 3. HK Mitchell (5:12) 2:26:38.
Wood's Marathon Victory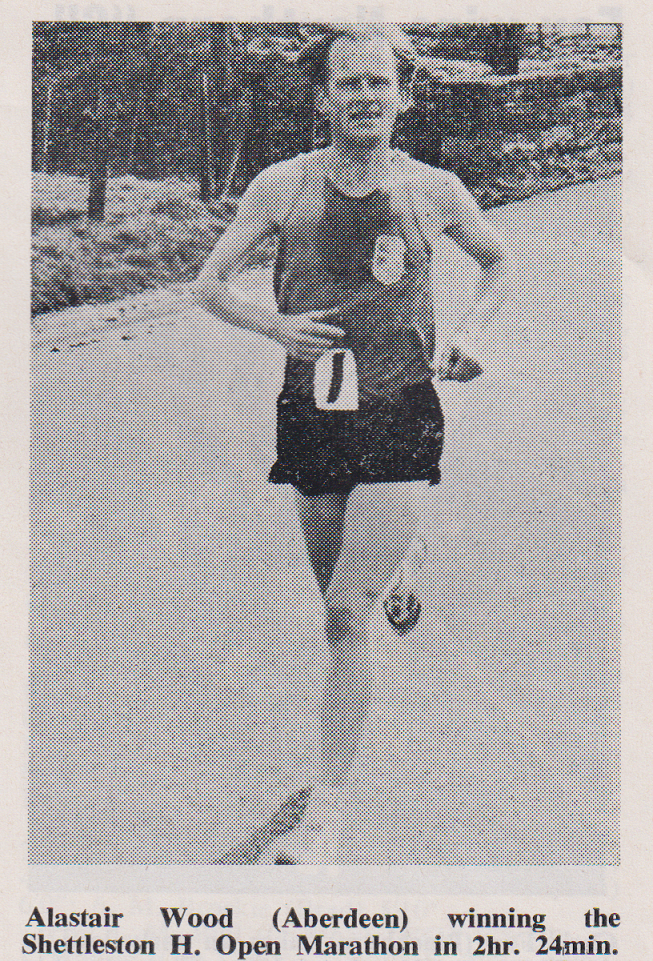 23rd April 1966
Ten of the twenty one starters in Shettleston Harriers' Open Marathon survived the 26 miles 385 yards of Lanarkshire roadway, but for one of those who gave up before the end, the outcome was particularly disappointing. C McAlinden (Babcock and Wilcox) a hardy competitor in road races throughout Scotland for years, was forced to admit defeat to cramp after having completed about 23 miles. To that point he had been well in contention for third place although from about 16 miles onward he was obviously losing his grip of HV Mitchell (Shettleston) the second man.
AJ Wood, the winner, has always been a gritty performer and Saturday's run was won in that mould. He had company for the first quarter of the journey, but it is significant that his two companions, McAlinden and W Lyle (Edinburgh Southern Harriers) never reached the finish. By the time 15 miles had been run, Wood was more than two minutes ahead of Mitchell and there was little sign of fatigue threatening to put him out of the contest. At the finish he had built up a ;ead of 8:30, one which must be considered staggering even for a marathon. Results:-
1. AJ Wood (Aberdeen AAC) 2:24:00; 2. HV Mitchell (Shettleston) 2:32:37; 3. J Donkin (Sunderland) 2:34:36; 4. J Heggie (Edinburgh SH) 2:42:46; 5. D Ritchie (Aberdeen AAC) 2:43:25; 6. A Matson (Edinburgh University) 2:44:22; 7. RC Wallace (Shettleston) 2:45:39; 8. G Porteous (Maryhill) 2:49:28; 9. E Beard (Leeds) 2:53:16; 10 A Meehan (South London Harriers) 3:13:05.
Fourth Victory For Wood
13th May 1967
AJ Wood (Aberdeen AAC) won Shettleston Harriers open marathon for the fourth time on Saturday in the creditable time of 2:23:02. His superiority was such that the runner-up HK Mitchell (Shettleston) finished half a mile behind. Wood's clubmate D Ritchie finished third and won the handicap section. With an allowance of 19:30 he had a net time of 2:10:29. Of the 19 starters eleven finished the course. Result:-
1. AJ Wood 2:23:02; 2. HK Mitchell 2:26:11; 3. D Ritchie 2:29:59; 4. AG Matson (Edinburgh SH) 2:30:40; 5. P Duffy (Motherwell) 2:35:33; 6. R Jenner (Aberdeen University) 2:38:11.
Wood's Marathon Victory
11th May 1968
AJ Wood (Aberdeen AC) won the Shettleston Harriers marathon race on Saturday in 2:25:27. G Eadie (Cambuslang Harriers) was second in 2:34:04 and DA Ritchie (Aberdeen AC) third in 2:34:13.
Unknown Outsider Wins Shettleston Marathon
10th May 1969
An unknown outsider, Alex Keith (RAF Huntingdon) won Shettleston Harriers open 26 mile marathon on Saturday, beating J Craven (Rowntrees AC) by over 100 yards in 2:29:22. HK Mitchell (Shettleston Harriers) was third 55 seconds behind Craven. After five miles, AG Matson (Edinburgh Southern) headed a group who included W Stoddart (Wellpark Harriers), A Keith, R Wedlock and HK Mitchell. Stoddart and Wedlock were in front after ten miles in 52:44 with Matson and Keith 15 and 34 seconds behind respectively. Stoddart still held the lead after 20 miles in 1:48:36 but Wedlock dropped out of the picture. This was not surprising for it was his first attempt at the distance. The vital last six miles found Stoddart unable to stay in front and Keith moved to the front followed by Craven and Mitchell. Result:-
1. A Keith (RAF Huntingdon) 2:29:22; 2. J C Raven (Rowntrees AC) 2;29:39; 3. HK Mitchell (Shettleston) 2:30:34; 4. G Eadie (Cambuslang) 2:31:07; 5. W Stoddart (Wellpark) 2:32:38; 6. AG Matson (Edinburgh Southern) 2:33:12
Maclagan's Late Spurt For Win
11th April 1970
Pat Maclagan (Victoria Park) burst into action in the final stage of Shettleston Harriers open marathon on Saturday and won in the excellent time of 2:22:03. Maclagan lay second to A Reid (Glasgow University) after five miles but R Calvert (Small Heath Harriers) had taken over the lead at 10 miles with Maclagan retaining his second place. Alex Wight (Edinburgh AC) then transformed the situation over the third stage taking a short lead from Douglas ? Ritchie (Aberdeen AAC) with Maclagan third, two seconds behind. Wight steadily increased his lead and by the 20 mile mark, which he reached in 1:48:50, was half a minute ahead of Maclagan with Ritchie third, but Maclagan put on a sudden spurtr, quickly over took Wight and went on to win comfortably from Ritchie with Wight third. Results:-
1. P Maclagan 2:22:03; 2. DS Ritchie 2:25:44; 3. A Wight 2:27:12; 4. HK Mitchell 2:30:05; 5. J Taylor (Edinburgh University) 2:40:12; 6. I Leggett (Clydesdale) 2:44:05.
Taylor's Six Second Win In Marathon
8th May 1971
Steve Taylor (Aberdeen AAC) beat his clubmate Donald Ritchie by only 35 seconds after a gruelling marathon in Shettleston Harriers open Contest from Barrachnie Playing Fields on Saturday. Taylor's time was 2:23:25 and D Wyper (West of Scotland) was third a further 8:26 behind the winner. Taylor, Ritchie, Wyper and Dick Wedlock were together after five miles in 28:18. The same four passed the ten mile point together in 56:20 with Ken Bannatyne (Springburn) and M Logie (East Kilbride) next in 57:58. Taylor and Ritchie passed the fifteen mile point in 1:23:10, Wedlock dropped out, and Wyper was next, 1:16 behind the leaders. The Aberdeen pair remained shoulder to shoulder and only after 25 miles did Taylor pull ahead and win by six seconds. Results:-
1. S Taylor 2:23:25; 2. 2. D Ritchie 2:23:31; 3. D Wyper 2:31:57; 4. W Russell (Shettleston) 2:33:29; 5. A Faulds (Clydesdale) 2:41:28; 6. I Mitchell (Strathclyde University) 2:42:42
And that's where the race ended. As a matter of interest, the last race had 36 starters – not a bad field for such a race. The trail for the race went round where the new M8 and its various flyovers was being built on the way to Mount Vernon and the works were well advanced at the time of the 1971 race. That is probably why the race ended. You can see that the standard was high – among the SAAA champions who contested the race were A Wood, P Maclagan, A Brown, W Stoddart, G Eadie, S Taylor, D Ritchie and Fergus Murray with many who took medals in the championships also taking part. Numbers were not high but all who entered really had a good go at it – none of them were just 'engineering their bodies round the course' for charity. That's not to knock those who do, it is however to indicate that it was an event for serious club runners. None of the runners were paid expenses and there were certainly no money prizes or cars on offer. But with small fields there was no need to close any roads for the race, the runners took their chances on the roads as they were. Like many races at the time. And the standard of domestic Scottish endurance running was higher then than it is now.