Running is British women's favourite sport. Around 3 million women in the UK run regularly and every weekend tens of thousands of women take part in parkrun or in races over distances from 5km to ultramarathon.
Things were very different fifty years ago. Women in the UK were limited to racing a maximum of 6000 metres (about 4 miles). There were very few road races for women, whereas men were able to race all distances including ultras. That situation did not change until 1975 when the English governing body, the Women's Amateur Athletic Association, changed its competition rules and allowed women to run distances up to the marathon. The new rules were introduced on an experimental basis for a year, but once they had been changed there was no going back.
Change only came about because women believed they could do more, knew they could do more and took action to prove it. Two Scottish women, Dale Greig and Leslie Watson, were among the women who broke the rules in the UK in the 1960s and 1970s, challenged race officials and public opinion and showed what women could do.
Dale Greig – a world best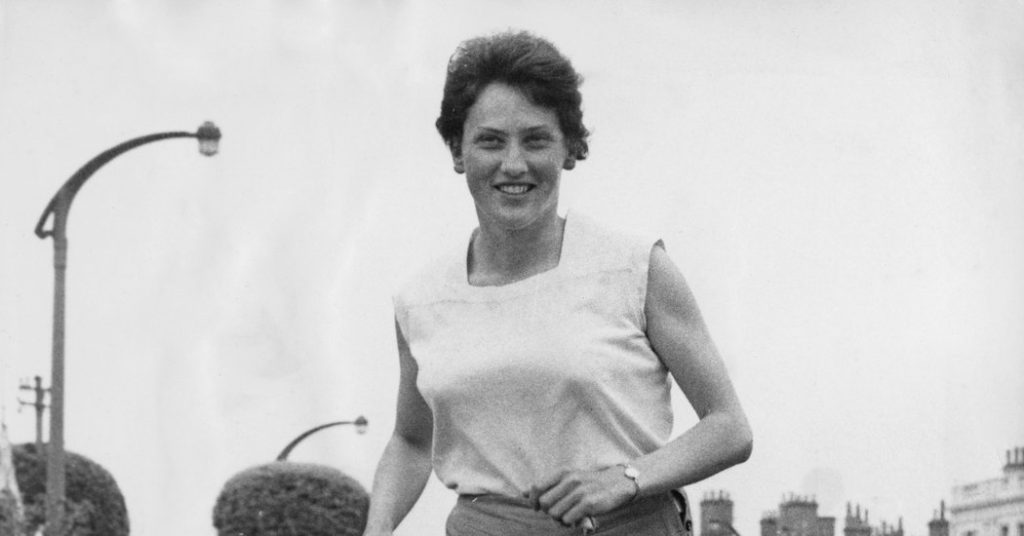 On a sunny Saturday afternoon in May 1964, a young Scottish woman lined up to run a marathon at Ryde on the Isle of Wight, the sole woman in a field of 67 men. Dale Greig was to become the first woman to run a marathon in under 3 hours and 30 minutes.
The club that organised the race, Ryde Harriers, knew that they were breaking the Amateur Athletic Association's rules by letting a woman run in their race. They tried to get around this by making Dale start four minutes ahead of the men.
She was followed by an ambulance in case she collapsed. Nineteen of the men failed to finish the notoriously hilly course but Dale crossed the line in 3 hours 27 minutes 25 seconds in 35th place. Her time was later recognised as a world best by the IAAF (now World Athletics). It was to be 36 years until another British woman, Paula Radcliffe, would set the world record.
Not exhausted
A local paper reported Dale as saying:
"I felt sorry for the men I kept passing in the closing stages – they looked embarrassed. A couple who had given up and were sitting at the roadside, struggled to their feet when they saw me pass."
The paper also reported that she went to the athletes' dance that evening staying until midnight. Dale clearly wasn't exhausted from running a marathon. The story was picked up by the national press as a novelty item, but not everyone approved. Two days after the race, the Daily Express quoted Marea Hartman, Honorary Secretary of the Women's AAA:
"We have no races over four-and-a-half miles. It's felt these distances are too much for women. … As for women running against men – No. The discrepancy in ability is too great."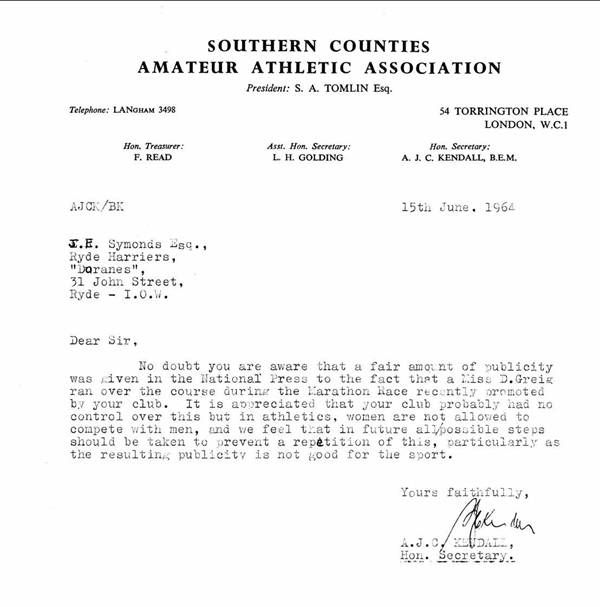 Dale's early years as a runner
Dale Greig was born in Paisley in 1937. At school, running was limited to sprints and relays. After leaving school Dale ran for Glasgow-based club Bellahouston Harriers before setting up her own women's club, Tannahill Harriers, in 1959, as there was no women's club in Paisley.
Dale competed at the longest distances women were allowed to run on the track at the time, winning bronze and silver medals at 880 yards (half-mile) and the mile at the Scottish National Championships between 1956 and 1959.
She had a passion for cross country and finished in the top three in the Scottish National Cross Country Championships for 11 consecutive years (1958-1968). She won the title four times and represented Scotland at International Cross Country Championships. In 1960, Dale helped found the Scottish Women's Cross Country Union which revived cross country racing.
At a time when few people, men or women, were seen out running, Dale would go for long runs of 20 miles or more, sometimes accompanied by a friend, but often on her own.
Road racing was a niche sport. Marathons were not the mass events they are today and in 1964 there were perhaps 1,000 marathon finishers in the UK.
More road races
Dale ran the Isle of Wight Marathon unofficially again in 1971. In 1974, aged 37, she won the inaugural International Masters Marathon in Paris and in 1976, she finished tenth in the World Veterans Marathon in Coventry.
She competed unofficially in three more races that did not admit women. She was the first woman to run two ultramarathons: the Isle of Man 40 in 1971 and the London to Brighton ultramarathon in 1972. She also completed the Ben Nevis Fell Race in 1971.
Sports historian Professor Fiona Skillen of Glasgow Caledonian University sums up Dale's impact:
"Dale was a trail blazer in British women's distance running. She was also fundamental to the development of women's running in Scotland, she was a role model to many women and through her various roles in the Scottish Women's Cross Country Union and other athletics organisations she helped to shape access, training and support for future generations of female athletes."
Leslie Watson – challenging male traditions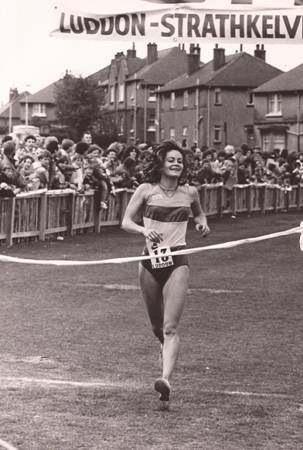 After the rules changed in 1975, race organisers did not automatically open their races to women. In fact, most races continued to be men-only for a few years. One very well-known race which was slow to admit women was the London to Brighton ultra. The race had been organised since 1952 by the Road Runners Club, an organisation founded to promote men's distance running in the UK.
Dale Greig had run London to Brighton unofficially in 1972, starting an hour before the men. But by 1979, the RRC still hadn't allowed women to enter their flagship race. Five women decided to enter unofficially to show that women were able to complete the 54-mile distance within the 8 hour 23 minutes time limit. They were Ruth Anderson of the USA, three British women, Leslie Watson, Lydia Kirk and Lynn Billington and another unnamed woman. Leslie, Lydia and Ruth all finished well within the time limit, Leslie finishing first in 6 hours 55 minutes and 11 seconds, faster than most of the men. Lynn and the other woman dropped out.
In 1980, the RRC put on the first official women's London to Brighton race with a trophy for the female winner. Leslie returned to the race, winning again, this time in 6 hours 56 minutes and 10 seconds.
206 marathons
One thing that takes your breath away about Leslie Watson's running career is how many marathons she ran and how many of them she won. These days elite runners may target one or two marathons a year. Leslie often ran them on consecutive weekends and sometimes even on consecutive days. The 1979 London to Brighton race took place on Sunday 30th September. Astonishingly, Leslie had run five marathons that month, winning three of them, including what was probably her first Scottish marathon, Aberdeen on 16th September. The weekend before London to Brighton she had won the Milton Keynes Marathon on the Saturday and then run the Rotherham Marathon on the Sunday. The day before the race she took it easy with a cross country race. In her twenty-year marathon career, Leslie ran 206 marathons and won more than 60 of them.
Starting running
Leslie Watson was born in Glasgow in 1948. When she was ten, she joined Maryhill Harriers with a friend. She described herself as a "no-hoper" who trained hard with her coach, John Anderson, making it into the Scottish cross-country team and becoming the Scottish mile champion at 18. In the 1960s and early 1970s, she competed against Dale Greig many times in cross country races, including both the Scottish and English National Championships, and occasionally in track races.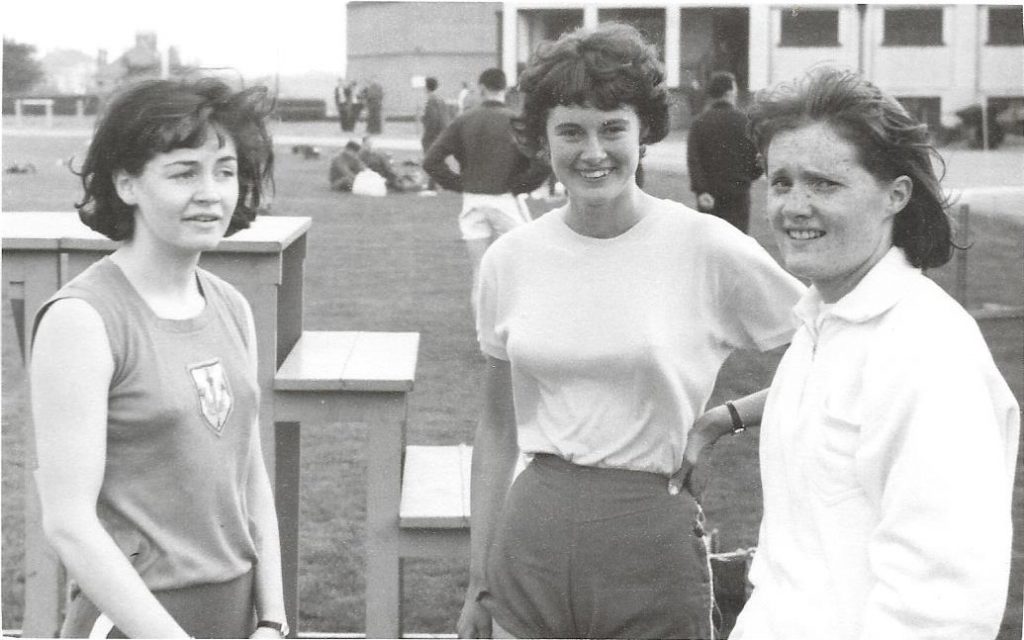 A young Leslie Watson (left) before a mile race at Westerlands
Leslie trained as a physiotherapist and in 1970 moved down to London for her work. She joined one of the top women's clubs, London Olympiades AC, and competed for them in cross country and road relays.
In an interview with the Newcastle Journal, published on 13th December 1982, Leslie acknowledged that she had been inspired by Dale Greig and by Bridget Cushen, who had run the Harlow Marathon in 1973. The interviewer asked her what had happened to turn her from a "no-hoper" into a marathon runner.
"Ah well, she says, I discovered the marathon. It happened when she saw Bridget Cushing (sic) and Dale Gregg (sic) competing and began to think about the possibility that the marathon might just be her own distance."
She took the first opportunity there was for women to run the marathon distance, the Masters and Maidens Marathon in Guildford in October 1975.
"I saw the Guildford marathon advertised. I did very little training just one 20 mile run from Kent into London. I went out the night before the race and had lots of bad red wine and then on the way down I was eating chocolate and popcorn. I felt sick by the time we started and I was exhausted after 3 miles."
Despite her poor preparation, Leslie finished third in just over three and a half hours. Her marathon career was well and truly under way. In 1978 she ran under three hours for the first time and after that she had many sub-3 results. She topped the Scottish marathon rankings in 1976, 1977 and 1978, was second in 1979 and first again in 1980. In May 1981, she set a 50 mile world best at the Lake Waramaug 50 mile road race in Connecticut, USA. In 1983, she was selected for the Evian Marathon Squad. The squad was an initiative of the British Amateur Athletics Board and the WAAA designed to secure more funding and sponsorship for female marathoners.
The queen of the roads
Described as the "queen of the roads" in the programme for the first London Marathon, Leslie was the public face of the women's marathon in the 1980s. She was involved in setting up a chain of running stores, The London Runner, and appeared in advertisements for them. She wrote articles for magazines and gave lots of talks. When a new magazine called "Jogging" appeared in 1979 they chose Leslie for the front cover.
Her last marathon was the Isle of Wight Marathon in 1994 which she won for the seventh time. After that she developed a knee problem which prevented her from running and, never one to sit still, she took up powerlifting.
From rulebreakers to pioneers
Dale Greig and Leslie Watson are just two of the women who broke the rules and ran in men's races. There are many whose stories will never be known because when women "crashed" men's races, their times didn't usually get recorded. These women have been written out of history, as if their races never happened.
There is no doubt that the huge uptake in women running today would never have occurred without these pioneering women distance runners who broke the mould in the 1960s and 1970s. Many of them did not get the opportunities to compete that they deserved, but they encouraged and inspired other women and paved the way for all of us who run today.
by Katie Holmes
Independent Sports Historian
April 2023
Sources
This article is an edited version of an article called "Rulebreakers" which appeared in Women's Running magazine in December 2022.
Milestones in Women's Marathon History – 1975 – Permission for women to run the marathon in the UK, Katie Holmes, Playing Pasts website, July 2022
Scotland's People Register of Births
Profile of Dale Greig, Scottish Distance Running History website, September 2015
"There'll be no prizes for women", Like the Wind magazine #25 (an article about Dale Greig), Katie Holmes, September 2020
Profile of Leslie Watson, Scottish Distance Running History website, September 2015
Leslie Watson – Queen of the Roads, Katie Holmes, RunYoung50 website, December 2022
Scottish Track and Field Rankings 1959-2000 and SWAAA Championship results, the Scottish Association of Track Statisticians (SATS)