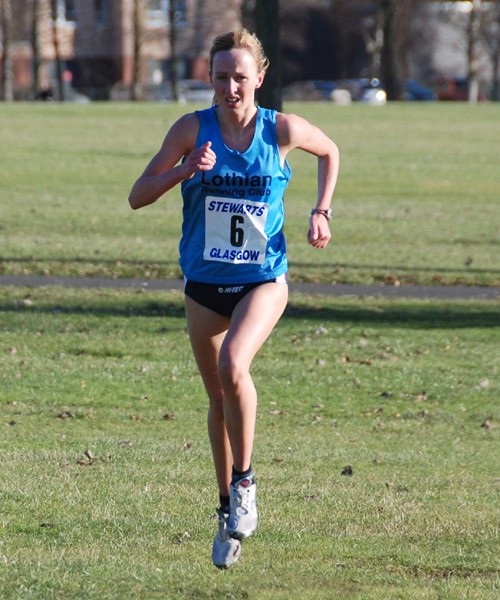 Sarah Inglis was born on 28/8/1991 and ran for Lothian Running Club and two Canadian teams.
From 2003 to 2012, Sarah raced mainly in Scotland but in 2013 she studied at Trinity Western University in Canada, and competed in Canada and USA – but has often returned to race in Britain since then. She was sixth (2.34.09) in the March 2021 British Olympic Marathon trial at Kew Gardens.
In Scottish Athletics Championships, Sarah Inglis won three Senior titles: 5000m (2011); 1500m Indoors (2016); and 1500m Outdoors (2019). She was second in the 2009 10,000m; and second in the 3000m Indoors (2008, 2012, 2016).
Sarah's personal bests are: 1500m – 4.11.51; One Mile – 4.36.60; 3000m – 9.04.77; 5000m – 15.24.17; 10,000m – 32.11.42; Half Marathon 70.24; Marathon – 2.29.41. In the annual Scottish rankings, Sarah Inglis was ranked first in the Marathon (2020); and One Mile (2014). She has been ranked second at 10,000m and fourth at 1500m and 5000m.
Sarah Inglis won the Scottish under-17 Indoor 1500m title in 2007; and won the under-20 Indoor 1500m in 2008. Outdoors, Sarah was Scottish under-20 1500m champion in 2010; and won the under-20 3000m title in 2008, 2009 and 2010.
As a Senior, Sarah ran for Scotland at Loughborough in 2010, in a match against England, Wales and two other sides. She finished fourth in the 3000m.
Sarah Inglis ran one Senior Road International for Scotland: in 2016 at Armagh, when she finished second (first Scot) in the 3k, and Scotland won, beating Northern Ireland, England, Ireland, Poland and Wales.
As a Junior, Sarah Inglis ran five cross-country Internationals for Scotland. She raced in Celtic Nations: at under-17 in 2006; at under-20 in 2009; and under-20 at Antrim in 2010, when she won and led Scotland to team victory against Ulster, Ireland and Wales.
In the Home Countries: at Bangor in 2009, 8th (third Scot) and the team lost to England but beat Ni and Wales; at Antrim in 2011, third (first Scot) and the team lost to England but beat five other teams.
As a Senior, Sarah Inglis ran cross-country twice for Scotland: Home Countries: 2016 at Falkirk, third (first Scot) and the team lost to England but beat three other teams; and 2017 at Port Talbot, 7th (third Scot) and again the team lost to England but beat three other teams.
In the Scottish National XC Championships, Sarah won under-17 bronze medals in 2007 and 2008. At under-20, she gained silver in 2009 and bronze in 2010. In the Senior National, Sarah Inglis won bronze in 2017.
In the Scottish Short Course XC, Sarah became under-20 Champion: in 2010; and 2011 (when she also secured Senior silver).
In the Scottish Road Relay Championships, Sarah Inglis featured in Lothian RC teams that won the title in 2015; and gained bronze (2013) and silver (2018).
She became Scottish 10k Champion in 2010.
Sarah Inglis won the Scottish 5k Championships in 2015, when her team finished second.
In 2018, Sarah won the Tom Scott 10 miles road race and became Scottish Champion at the distance. In 2019, she was second in the Canadian Cross-Country Championships; and, in Poland, running for GB, she was 3rd in the 5000m at the European Athletics Team Championships Super League.
Although Sarah Inglis works as a P.E. teacher in British Columbia, her Scottish accent is intact. Sarah is part of the Scottish Athletics Marathon Project and hopes to run for Scotland in the next Commonwealth Games.
Here is an excerpt from an article by Graeme Macpherson in the Glasgow Evening Times (13/12/2020):
"SARAH INGLIS laughs at the irony at being mistakenly listed as an American by the organisers of the Marathon Project in Arizona where she will complete her first official 26-miler just before Christmas.
Seven years after flitting from West Lothian to western Canada, her Scottish accent remains as strong as ever.
"I don't know how that mistake came about," says the PE teacher down the line from Langley in British Columbia, an hour's drive from Vancouver.
"I reckon it would be impossible for me to ever switch allegiances anyway as I'd get exposed as a fraud as soon as people heard my voice!
"Half the kids I teach I'm sure can't understand me, especially when I'm wearing my mask. My training group have picked up my accent by now but if any new folk join us it takes them a while to work out what I'm saying."
Luckily for Scottish and British Athletics the 29-year-old has no plans to try out for another country. Her marathon debut is to test the waters ahead of the London race in March that will also double as an Olympic qualifier.
The postponement of the Tokyo Games has undoubtedly given Inglis an unexpected opportunity, although she is also retaining the possibility of still entering the 10,000m as back-up.
"This is the first time for me and also the first time my coach, Mark Bomba, has trained someone for a marathon so we're both just experimenting a bit.
"We're not overcooking it. Ideally, I'd like to run an Olympic standard in Arizona and tick that off, and then recover fast enough for London in March.
"The Olympic delay has definitely given me an opportunity to go for the marathon. And this race in Arizona just came up and it seemed like ideal timing to go for it.
"The 10,000m is still an option as the competition even for qualifying for the marathon is really deep. And there might be enough time to recover and try for 10K on the track later on if need be."
Training for her first crack at this distance has gone well, even if some of her more inquisitive pupils wonder why she just does not drive to school instead of running.
"We've gradually built up the volume of the sessions. Last week I ran 25 miles which gave me confidence that I can do it. I still felt good at that point so if I feel like that in the race then I'd be delighted.
"I do most of my running to and from school so on some days I'll do 10 to 14 miles on the way in. Some of the kids see me and think I'm out for a jog or I'm running late! One of them asked why I didn't get a car – I don't think they understood that I was training and running by choice."
Working in a school also presents its own logistical problems when trying to stay healthy ahead of the trip to the United States.
"The race organiser emailed us asking us to limit our exposure to the virus but not sure how I can do that when I'm teaching 400 kids a week at school! But I've got my mask on and the gym hall doors open to try to be as safe as I can."