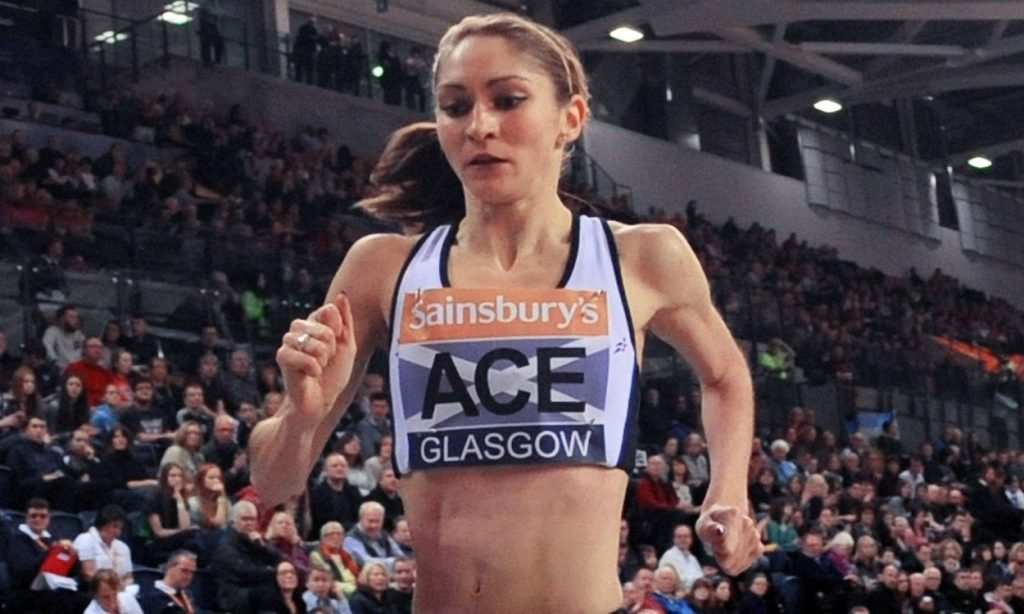 Josephine Moultrie was born on 19/11/1990 and ran for Victoria Park City of Glasgow AC and New Mexico University.
Her personal bests include: 800m – 2.07.31; 1500m – 4.10.43; 3000m – 8.57.14; 5000m – 16.05.91. In the annual Scottish rankings, she has been second at 1500m, One Mile and Two Miles; fifth at 3000m; and sixth at 5000m.
Josephine raced in Scotland from 2002 but in 2012 she went to New Mexico University and competed mainly in the USA for two years. Then she returned to Scotland and last raced in 2018.
In 2014 and 2016, she won silver medals in the British 3000m Indoor Championships. Josephine Moultrie ran for GB in the 2016 World Indoors and finished 13th in the 3000m final.
In the Scottish Indoor Championships, Jo was second in the 3000m in 2015 but won the title in 2016. She secured a silver medal in the 2016 1500m.
Running for Turnbull High School, Jo won the 2006 Scottish Schools Group B 1500m and 3000m titles. She had previously won the Scottish under-15 800m championship in 2004.
In 2009, Josephine Moultrie ran for GB in the European Junior Athletics Championships in Novi Sad, Serbia. She finished 7th (4.21.53) in the 1500m.
As a Junior, Josephine ran six International cross-country matches for Scotland: Celtic Nations. At under-17, in 2006 at Dublin, she finished third (first Scot) and her team was second to Ireland but in front of Wales and NI; under-20, 2007 at Belfast, third (first Scot) and Scotland won; under-20, 2009 at Cardiff, fourth (third Scot).
2009-2011 Home Countries: 2009 at Bangor, 5th (first Scot) and the team lost to England but beat NI and Wales; 2010 at Mansfield, 10th (second Scot) and the team beat Wales and NI; 2011 at Antrim, 9th (third Scot) and the team beat Wales, Ireland and Ulster.
As a Senior, Josephine ran for Scotland in two track Internationals: 2009 Loughborough v England, Wales and two other sides – 4th in the 1500m; 2009 at Grangemouth v England, Ireland, Ethiopia and another side – 2nd in the Mile.
She also represented Scotland in two Senior Indoor Internationals: 2014 at Glasgow v GB, USA and a Commonwealth Select – third in the 1500m; and 2015 at Glasgow v Germany, GB and France – third in the 1500m.
Josephine Moultrie ran for Scotland twice on the road: 2015 at Armagh v England and Northern Ireland – 7th (first Scot) in the 3km, with Scotland finishing second team; and 2016 at Leeds v England, Wales and three other sides – third in the 10k (second Scot) and Scotland finished second to England.
Josephine ran for GB in the 2016 Great Edinburgh Cross-Country 6km event.
In the Scottish National Cross-Country Championships, Jo won the under-17 title in 2007 and contributed to VP City of Glasgow team gold in 2008; she was third under-20 in 2009 and her team won that title.
In the Scottish Short Course Cross–Country, Jo secured Senior bronze in 2016 (plus team bronze). VP City of Glasgow finished second team in 2009 and 2018.
In the Scottish Cross-Country Relay, Jo contributed to team silver in 2016 and 2019; plus bronze in 2017.
In the 2015 Scottish 5k Championships, she secured individual silver.
Here is an article by Emily Moss in Athletics Weekly (30/7/22016):
ATHLETE INSIGHT: JOSEPHINE MOULTRIE
Having gone sub-nine over 3000m and represented Great Britain at cross-country last winter, Josephine Moultrie was delighted to take up her place at the World Indoors in March.
My Great Britain vest at the Edinburgh Cross-Country in January was special. It followed a long period of illness last year. I went into the winter season not planning to focus on cross-country. It came as a surprise and has inspired me to push on for the rest of this year.
I have a more positive mindset this year. I wouldn't say anything in particular has changed with my training. I think I have just been able to be very consistent, not miss any training sessions and enjoy my running more again.
I have several best moments in sport. One was definitely when I represented Great Britain at the European Juniors in 2009. But the Great Edinburgh Cross Country in January and the World Indoors this year are also up there.
My target for this year was to compete at the World Indoors. I ran 8:57 in early January for 3000m, but it was a mixed race so I had to hit that qualifying time again, which I did when finishing second at the British Indoor Championships.
Bill Parker has coached me since I was an under-11. Being the only longer distance runner in the group, I tend to do all my running and sessions on my own. I don't mind, as I'm quite used to it, and still warm up and do all the drill work with the group before sessions and when we are doing sprints, they help pull me along. We tend to train at Scotstoun and occasionally at the Emirates, leading into indoor races, if it is open.
I took up athletics when I was eight years old. I enjoyed it at school, and now, nearly 17 years later, it has become a major part of my life. Growing up I was inspired watching Haile Gebrselassie and Kelly Holmes at the Athens Olympics.
I loved spending three years in New Mexico. The weather – clear blue sunny skies and lack of rain – was a big high point. I loved the city of Albuquerque, and the lifestyle out there. It is much more relaxed and built around running, and that's something I miss. We were a really close cross-country team, which made training and racing fun. It allowed me to develop a more professional style of living, which I have tried to take back home, and feel these small things have helped me improve. I would like to go back to visit and possibly have a training camp there, loading up on breakfast burritos and green chilli.
In Scotland the weather can be tough during the winter, with high winds, lots of rain and icy tracks. We often have to adjust sessions for it. My least favourite sessions are the tempos, as they are shorter and quicker than I did in New Mexico and just round the streets at Scotstoun. I prefer track sessions and my long run loop.
I'm out at 6 o'clock for my morning run. I haven't updated my iPod in a long time so tend to just put the radio on, which I find helps me at this time in the morning. I have recently started listening to Harry Potter audio books before races. It helps keep me relaxed.
I can see the improvements every week in my weight training. I only started last summer, but I really enjoy it.
I started working for the Glasgow Athletics Association as their coordinator in September. I really enjoy it and I have been able to experience working in many areas behind the scenes of athletics. I recently helped organise our two indoor open graded meetings, and I am looking forward to taking that experience forward into the summer season open-graded meetings.
I just eat a cereal bar that I keep beside my bed before I head out each morning. Then I have porridge topped with fruit and cup of tea after I get back. Before other training sessions I generally eat a couple slices of toast and jam with a coffee. I make sure I have porridge or Weetabix between my Sunday long run and weights as it can be a long morning. I would follow this immediately with a protein shake, then toast, scrambled eggs and avocado when I get home. Food is really important.
TYPICAL TRAINING WEEK
Friday am: 8 miles easy-steady, or every couple of weeks a complete rest day
Saturday am: Training session in the park, usually 6-8km volume, mixture of reps ranging from 800m-2000m. pm: 4 miles easy
Sunday am: 14-15 miles steady. Occasionally, depending on racing and training schedules, we change this to a short warm-up/cool-down with a 10-mile tempo. It is a little shorter and quicker to mix it up. I then do weights with my coach and some of the training group
Monday am: 8 miles steady. pm: 4-5 miles easy with the training group, followed by drills, plyometrics, sprints and core
Tuesday am: 4 miles easy. pm: Track session, usually 4-7km in volume with a mixture of reps ranging from 200m-600m
Wednesday am: 8-9 miles steady
Thursday am: 4 miles easy. pm: Alternates between tempo and fartlek, 25-35 minutes of work. Followed by skipping ropes, hurdle drills and circuits.