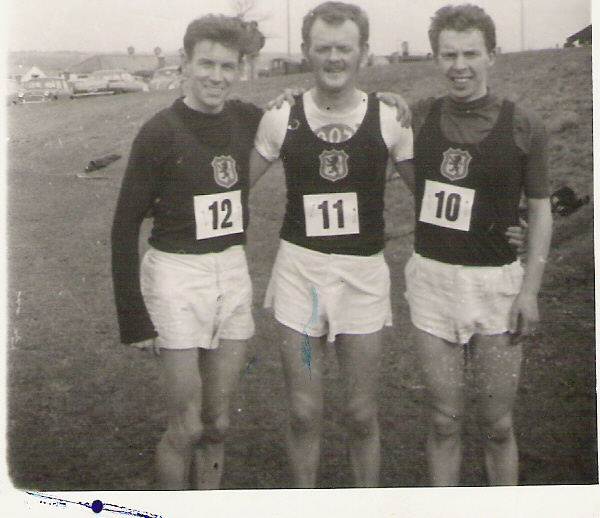 Ian Leggett, Brian Goodwin and Jim Irvine (latter two both Bellahouston stalwarts): Taken at the Scottish Civil Championships at Irvine in March 1970. The team won the team race with Goodwin 1st, Leggett 2nd and Irvine 5th
The reports on athletics in Scotland in the two papers of record in Scotland – the "Glasgow Herald" and "The Scotsman" – were getting shorter as the months went by and this will be seen in the extracts reproduced below. The Sports Editors frequently printed long articles on the running of Brendan Foster or Ian Stewart on a Monday at the expense of domestic results. It is a value judgement that they were entitled to take but it often left gaps in the coverage of long standing events on the Scottish calendar.
The cross-country relays that marked the start of the Renfrewshire Association's winter 1965/66 season season took place on 9th October, 1965, and the short report read as follows. "Sixteen teams took part in the unofficial Renfrewshire 12-mile relay championship at Paisley where Bellahouston Harriers retained the title, beating Wellpark Harriers by over one minute in 69 minutes 10 seconds. Details:- 1. Bellahouston Harriers (MJ McLean 17:39, J Irvine 17:10, B Goodwin 16:28, J Wood 17:53) 69:10; 2. Wellpark Harriers (J Bottomley 17:40, W Stoddart 17:15, K Shepherd 18:03, M Pollard 17:15) 70:13; 3. Glenpark Harriers (I Hopkins 18:13, T Dobbin 17:33, J Spence 17:27, R Hodelet 17:17) 70:30; 4. Paisley Harriers (E Bradley 17:30, M Bradley 16:48, R Price 18:39, P McAtier 17:50) 70:38."
Unfortunately there are no results for the younger age groups but we can note that Mike McLean of Bellahouston who ran the opening leg for the club was to be a Scottish 880 yards champion and internationalist who went on to be a senior administrator in Scottish athletics. One of his fiercest opponents was of course Dick Hodelet of Glenpark who ran the last stage for his club – 22 seconds quicker than McLean.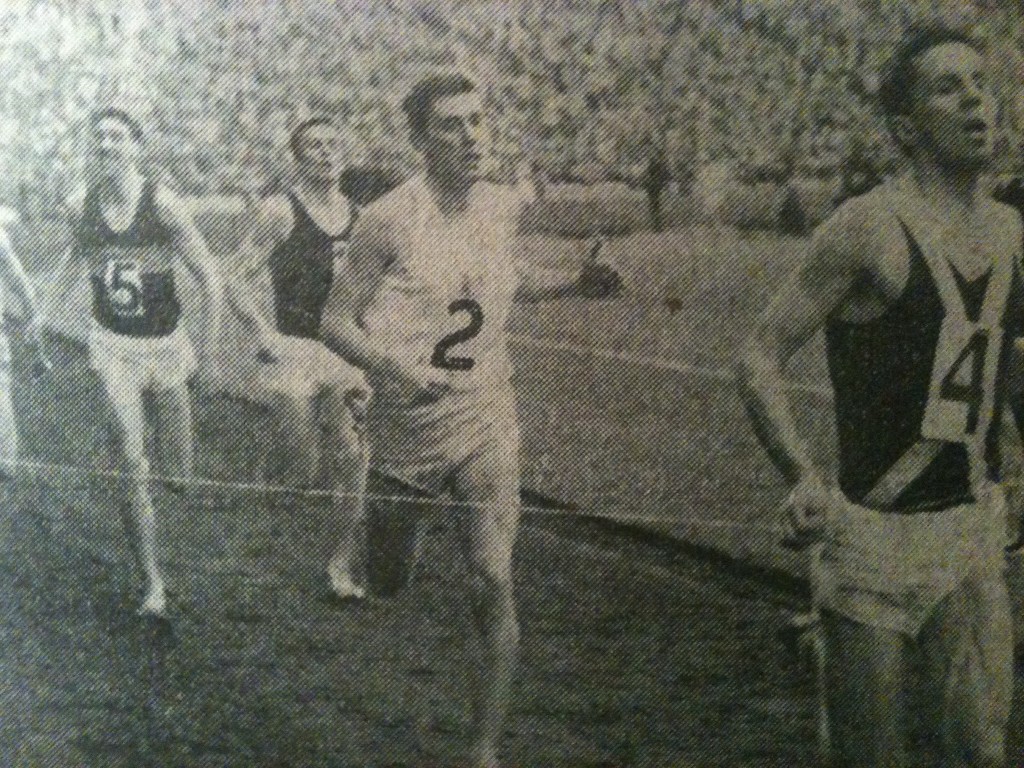 Mike McLean wins a half mile at Hampden from Dick Hodelet (2), Hugh Barrow (5) and Graeme Grant
The championships for the 1965/66 season were held at Greenock in December 1965 and Brian Goodwin (Bellahouston) defeated the two local runners Hodelet and Pollard. The brief report reads: B Goodwin (Bellahouston) beat RT Hodelet, a former Scottish half-mile champion, by 70 yards in the unofficial Renfrewshire six-mile championship at Greenock. M Pollard (Wellpark H) was third, more than 200 yards behind Hodelet. The team race was won by Glenpark Harriers with 61 points, and Wellpark and Paisley Harriers filled second and third positions with 77 and 105 points respectively. Bellahouston, the holders, had the unusual experience of not being in the first three, but they had a weakened team."
There is not a lot to be learned from that particular report – no team members others than those who finished first, second and third – but the Association continued to put on the events and the clubs and runners continued to support them, and they filled their necessary part in the athletics programme.
*
There were no reports on the Renfrewshire Track and Field Championships in June but they were held and, as ever, the athletes continued to compete well in events all over Scotland. In the SAAA Championships for instance, Hugh Baillie of Bellahouston was third in the 220 yards and first in the 440, Dick Hodelet was second in the 880, Mike McLean was third in that event, Charlie McAlinden of Babcock's won the marathon and Bellahouston won the 4 x 440 yards Relay plus the Medley Relay.
The Cross-Country Relay for 1966/67 was held on 10th October 1966 at Paisley. "Bellahouston Harriers, as was expected, won the Renfrewshire relay championship ove a course from the headquarters of Paisley Harriers at Paisley beating Glenpark Harriers, Greenock, by more than 200 yards in 57 min 03 sec with Wellpark Harriers, Greenock, third, a similar distance behind Glenpark. B Goodwin had a lead of more than 120 yards at the half-way stage and thereafter there was no doubt as to who would be the ultimate winners. Details:- 1. Bellahouston (J Wood 14:14, B Goodwin 13:51, M McLean 14:20, J Irvine 14:38) 57:03; 2. Glenpark (R Hodelet 13:47, R Love 14:25, J Spence 14:33, T Dobbin 14:53) 57:38; Wellpark (M Pollard 14:15, J Bottomley 14:53, K Shepherd 14:50, W Stoddart 14:15) 58:13. Fastest Individuals: 1. R Hodelet 13:47, 2. B Goodwin 13:51; 3. M Bradley (Paisley Harriers) 13:55."
The individual and team championships for 1966/67 were back in Greenock on the first Saturday of December and the first two home were the very same runners who had fastest times in the Relays back in October. The brief report read –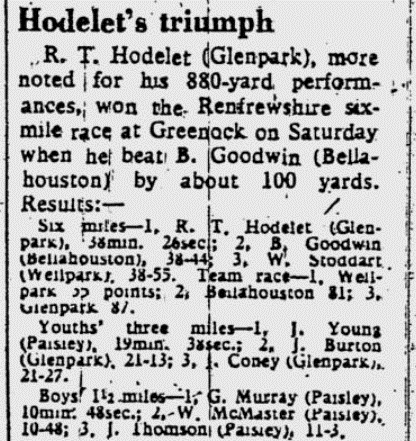 The County Championships were held on Monday, 20th June, 1967, and as usual at Moorcroft Park in Renfrew. The report is reproduced below.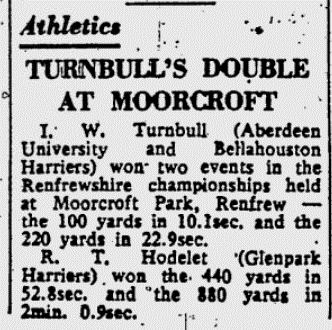 It was back to the country again on the second Saturday in October for the 1967/68 season. Again it was edited down to the bare essentials of the senior men's race. "Bellahouston Harriers retained the Renfrewshire 12-mile championship, beating Paisley Harriers by 70 yards in 1 hr 12 min 41 sec. The fastest individual over the three-mile course was M Bradley (Paisley Harriers) in 17 min 14 s. Results:- 1. Bellahouston (B Goodwin 17:37, I Kerr 17:17, J Adair 18:29, M McLean 18:18) 1-12-41; 2. Paisley Harriers ( P McAtier 19:20, M Bradley 17:14, J Simpson 18:19, G McEwan 17:59) 1-12-52; 3. Glenpark 1-13-25; 4. Wellpark 1-13-37; 5. Bellahouston B 1-15-20; 6. Paisley B 1-15-33.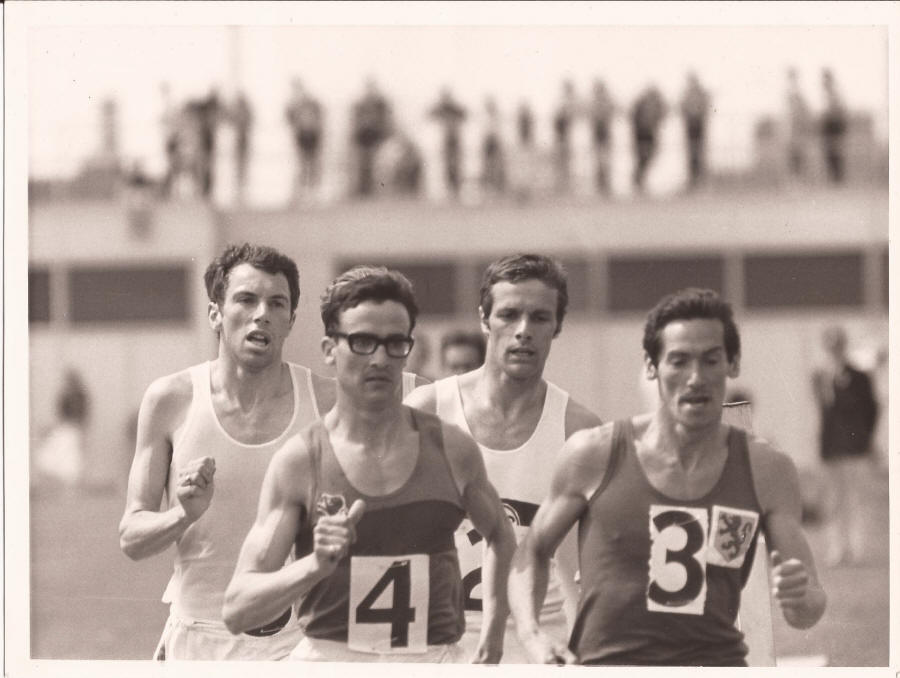 Mike Bradley (4), Lachie Stewart (3) leading Mike Tagg and his team mate in the AAA's Inter-Counties 1969
The 1967/68 County Championships in December was one of a series of County titles, all with their own tale to tell which was printed below coverage of the Lanarkshire championship taking more space than all the others put together. Renfrewshire is fourth below but we do have results from all age groups. The winner of the Senior Boys race was the youngest of the Spence brothers from Greenock – Lawrie – who was being coached by big brother Jim and would go on to be arguably the best ever all-round endurance runner Scotland ever produced with marks raning from sub-4 minutes for the mile to 2:16 for the marathon.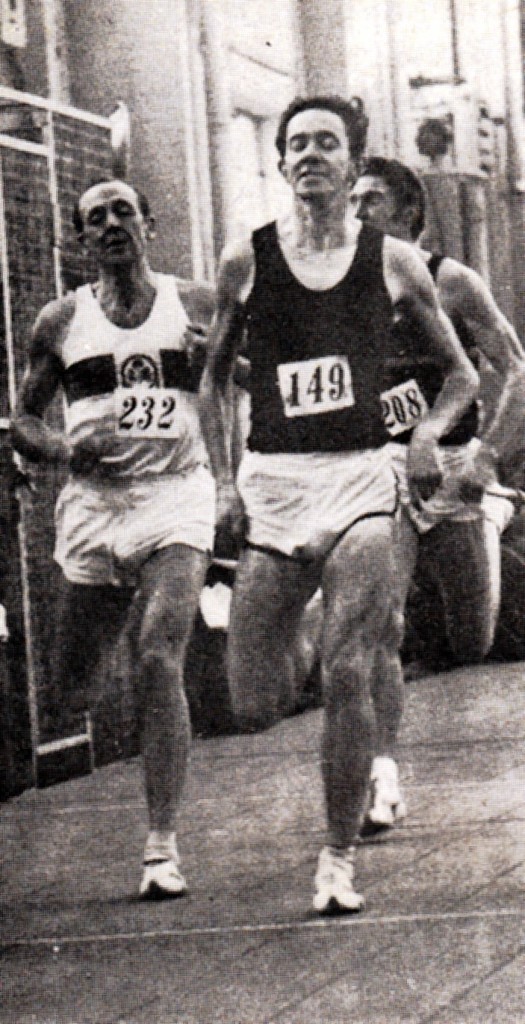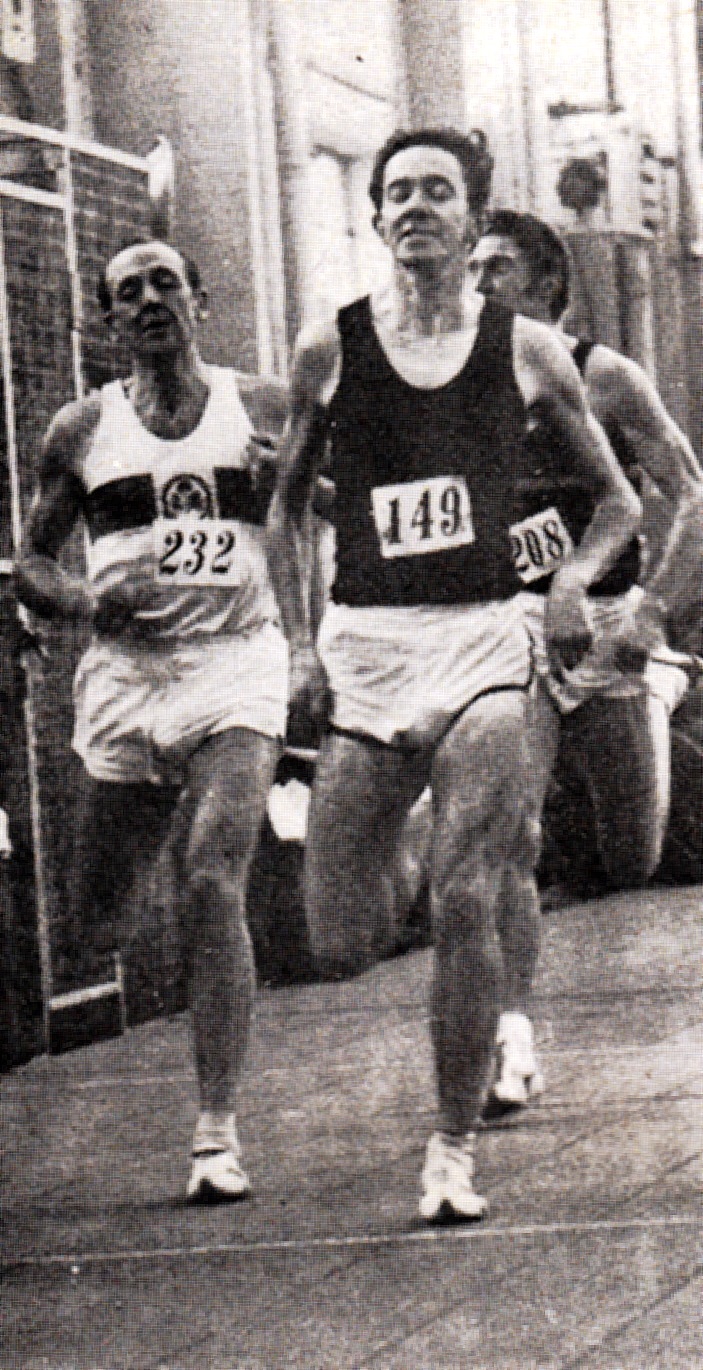 Duncan Middleton (149)
The counties all did their own thing and were independently organised but there was another tier to Scottish athletics that appeared from time to time and that was the Inter-Counties championship. held more often over the country, there was from time to time a track meeting too. There was one held in 1968, June 10th to be exact. There were ten teams forward for the event – the well organised and traditional counties like Ayr, Dunbarton, Glasgow, Lanarkshire and Renfrew with some less familiar ones, namely Angus, Perth, Stirling, Moray and Midlothian. Midlothian did turn out teams for the cross-country races but did not have a standing organisation that anyone we approached knew about. The quality of athlete taking part was high with many Scottish internationals in action. Names like Ricky Taylor, Duncan Middleton, Colin Martin, Dick Wedlock, Adrian Weatherhead, Alex Wight, Alex Brown, Norrie Foster, Crawford Fairbrother, David Stevenson, Dave Birkmyre, Doug Edmonds and Lawrie Bryce were all there competing for their county. Report: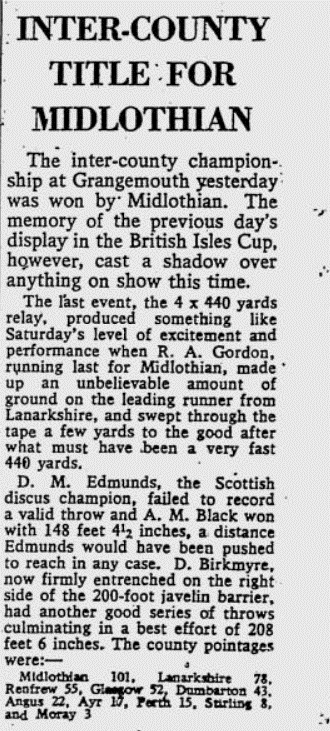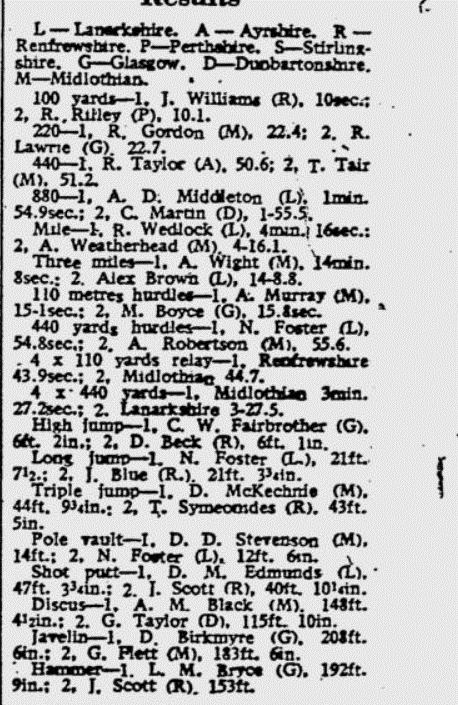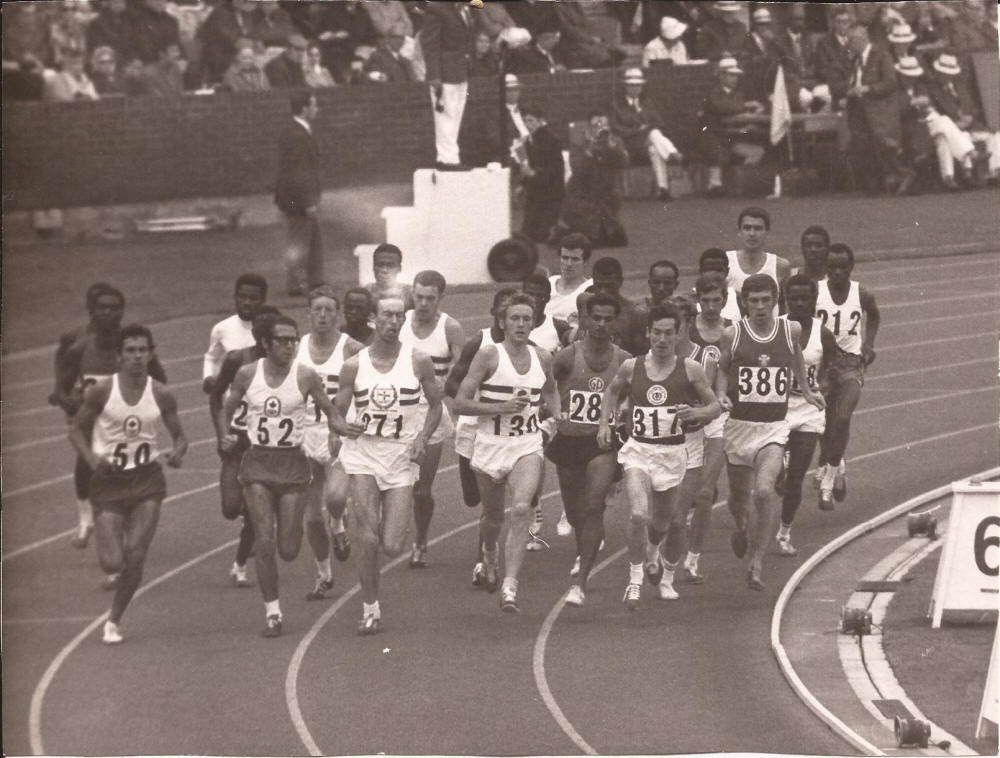 Dick Wedlock, between Lachie Stewart (317) and number 386
The winter 1968/69 season's relays were held at Greenock and the winning team was Greenock Glenpark Harriers. Again coverage was scanty with editorial judgment deciding that the Lanarkshire relay championship merited more than twice the coverage of the other three counties.

Two months later the Renfrewshire County Championships on 7th December were reported on as follows.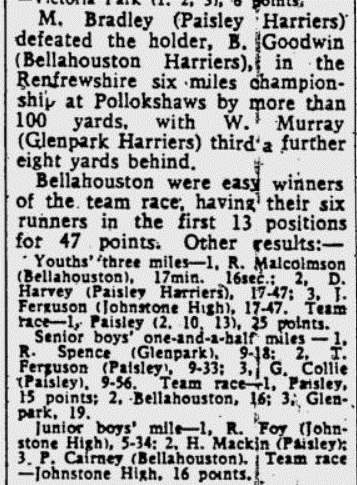 Unfortunately the report does not say who the second and third teams in the senior race were but it does tell us that Paisley Harriers provided the winner with Mike Bradley defeating Brian Goodwin for the title and that Bellahouston won the team race. Lawrie Spence again won the Senior Boys race this time by 15 seconds although the Paisley team took the title. Paisley were staring to appear more and more in the list of prize winners and the Johnstone High School was also becoming a regular feature of the county results sheets, both individual and team.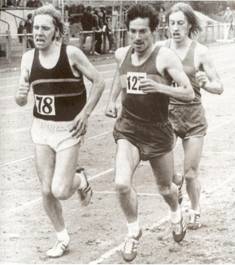 Lawrie Spence (78) leading Lachie Stewart and Alistair Blamire
The 1969/70 relays were held on 13th October at Paisley and were won by Bellahouston with a remarkable display of packing with only 10 seconds between fastest and slowest club members, defeating Glasgow Police by a minute with Wellpark third.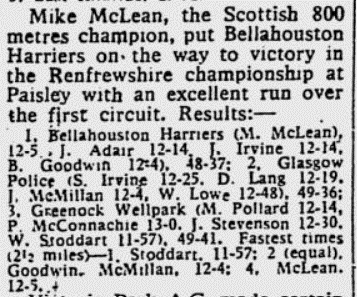 The championships were held on 6th December, 1969 and the report reads: "Willie Stoddart, the Scottish marathon champion, scored a convincing victory over Brian Goodwin (Bellahouston) in the Renfrewshire six and a half mile championship. Stoddart completed the Lochinch course well clear of the holder but Bellahouston had the supporting runners and won the team championship comfortably. Results:-
W Stoddart (Wellpark Harriers) 39:10; 2. B Good win (Bellahouston) 41:17; 3. D Lang (Glasgow Police) 41:26. Team Race: 1. Bellahouston (B Goodwin, W McLean, J Irvine, J Adair, A Yates, M McNaught) 54 pts; 2. Wellpark 67; 3. Glasgow Police 107. Youths Three-Mile Race: 1. L Spence (Glenpark) 14:55.
Below: Bill Stoddart winning the Scottish Marathon in 1969 in the Meadowbank Stadium under comstruction for the 1970 Empire and Commonwealth Games.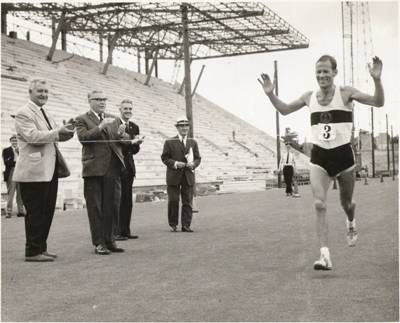 | | | | | |
| --- | --- | --- | --- | --- |
| Year | Relay Championship | Fastest Time | C-C Championship | Winner |
| 1965/66 | Bellahouston Harriers | Brian Goodwin (BH) | Greenock Glenpark H | Brian Goodwin (BH) |
| 1966/67 | Bellahouston Harriers | Dick Hodelet (GGH) | Greenock Glenpark H | Dick Hodelet (GGH) |
| 1967/68 | Bellahouston Harriers | Mike Bradley (Paisley) | Bellahouston Harriers | Brian Goodwin (BH) |
| 1968/69 | Greenock Glenpark H | Brian Goodwin (BH) | Bellahouston Harriers | Mike Bradley (Paisley) |
| 1969/70 | Bellahouston Harriers | Bill Stoddart (GWH) | Bellahouston Harriers | Bill Stoddart (GWH) |