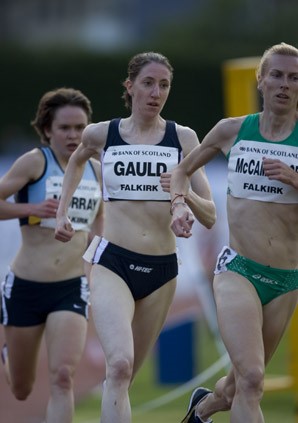 Photo copyright Gordon Gillespie/Northsports (Celtic Cup race)
Nicola GAULD (28.03.82) Aberdeen, Edinburgh
In Scottish Athletics lists 1997-2017.
Championship Record: Scottish: 1st 1500m 2006 and 2007; 2nd 1500m 2008; 3rd 1500m 2010; 1st Indoor 1500m 2004.
Other Scottish Medals
2nd 10 miles road Scottish championship 2017
1st V35 5000m track Scottish championships 2017
3rd 10k road Scottish Championships Stirling 2012)
PBs: 800 – 2.05.11; 1500 – 4.11.80 (18th on All-Time Scottish rankings); 3000 – 9.04.21 (14th All-Time Scottish rankings); 5000 – 17.16.32; 5k road – 16.47; 10k road – 33.58 (26th All-Time Scottish rankings, first 10k and won race outright.)
In the annual Scottish top ten rankings, she was 1st in the 3000 (2006 and 2007); and second in the 1500 (2007 and 2008).
6 Scottish Track Internationals 1500/3000
2006 at Cardiff Indoors v Wales and Ireland 1500m 2nd 4:26.20. Scotland won the team contest.
2006 at Loughborough v England and Wales 1500m 2nd 4:20.06 (in front of Steph Twell).
2006 at Grangemouth v Ireland and Wales 4×1500 2nd 17:34.58. Scotland won the team.
2007 at Loughborough v England and Wales 3000m 2nd 9:09.69.
2007 at Grangemouth v Ireland and Wales 3000m 1st 9:11.62. Scotland won the team.
2008 at Loughborough v England and Wales 1500m 3rd 4:14.15.
1 Scottish Road International 2016 (Leeds 10k).
Other Scottish Vests:
Flanders Cup International Belgium 2010
Nivelles, Belgium 2006
Ran for Scotland on road in Dublin Frank Duffy 10 miles 2017
Competed at the 3000m in the Aviva London Grand Prix in 2008
East District: 800m gold 2003.
Scottish Inter-Regional Championships: Nicola Gauld 1500m gold 2010.
Scottish Closed Championships: 2008 Nicola Gauld 1500m gold, well clear of silver medallist Eilish McColgan.
Fraser Clyne wrote the following for the Aberdeen Evening Express on 9th December 2017:
Metro Aberdeen's women's squad has been bolstered by Nicola Gauld's decision to sign for the club after representing Aberdeen AAC for the past 25 years.
The 35-year-old Scotland track and road running international will be able to compete as a scorer in team competitions from the beginning of 2018 but can turn out for her new club with immediate effect once her transfer is confirmed by Scottish Athletics.
Gauld will, however, also retain membership of Aberdeen AAC as she doesn't wish to break her ties with the club she grew up with.
She said: "I am focusing on road running, so I thought it would be better to be with Metro as there's a lot more opportunities to run in team competitions with them.
"I don't train with Aberdeen AAC nowadays, so it makes sense to move. It's something I have been thinking about for quite a long time but never got round to doing anything about it until now.
"I will retain my connection with Aberdeen AAC because of my loyalty to the club as I have been a member since I was 10 and I don't want to lose that link."
Gauld has graduated through the ranks after taking up the sport while attending primary school in Westhill.
She said: "Anne Imrie, who had a daughter at my school, was a coach at Aberdeen AAC and she started offering athletics sessions at lunchtimes and after school.
"That's how I got started and I enjoyed it. Anne asked if I wanted to go along to Aberdeen AAC and I ended up training with her group for the next five years until I was 15. If it wasn't for her, I wouldn't have known about the club.
"The first race I did was the Aberdeen Schools cross country over a one-mile course at Bridge of Don. I was in primary six and finished third.
"I did all the Grampian schools cross country races and on the track I tried the 800m and 1500m.I finished third at the East District 800m championships in the under-13 age group
.
"By the time I got to under-15 and under-17 level I had branched out and I was doing the 300m, 400m, high jump, long jump, triple jump, 300m hurdles and pentathlon.
"I think I was placed in about 10 different events in the under-17 Scottish rankings one year."
"The first Scottish schools championship medal I won was silver in the high jump as an under-15, and my first Scottish schools vest was in an over-17's 400m in 2000.
My first Scottish national championship medal was an under-17 long jump silver."
Despite these successes in the sprints and jumps, Gauld moved back to middle distance running and gained her first Scotland call-up for the 1500m in an under-23 international in 2004.
A few years later, at the age of 25, she won her first international senior vest, again in the 1500m.
Gauld went on to win the Scottish 1500m track titles in 2006 and 2007, and it was the first of these victories which remains one of her career highlights
.
She said: "It was unexpected as I beat Hayley Ovens who had represented Scotland at the Commonwealth Games in Australia earlier in the year. I also ran fairly close to my personal best time that day."
Another highlight was winning the Celtic Cup 3,000m at Grangemouth in 2007 when she finished ahead of Ireland's former world 5,000m champion Sonia O'Sullivan.
Gauld said: "That was a great experience as it was O'Sullivan's retirement race. I also beat another Irish Olympic runner, Maria McCambridge."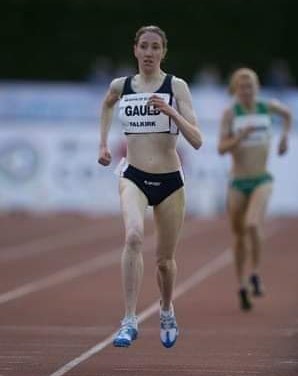 Photo copyright Gordon Gillespie/Northsports (Celtic Cup race)
The Aberdeen woman was unlucky not to compete in the 2010 Commonwealth Games as injuries prevented her from achieving the high qualifying standard.
She said: "I was maybe unfortunate. I was in the Games Development Squad and even got measured up for the kit, but I didn't go. I had achieved the standard required for the 2006 Games but for 2010 Games in Delhi, it was even higher.
"I have no regrets. I enjoyed running my personal best 1500m and 3,000m times and I thought there was more to come, but it didn't work out that way."
Gauld decided to switch to road running and has since enjoyed considerable success, winning two Scotland call-ups over the past two seasons.
She said: "I was delighted to run for Scotland on the roads, my first vest being for a 10-mile race in Dublin in 2016. It was the first time I had raced over that distance and it was my first vest for six years.
"Then last month I competed for Scotland in the Leeds Abbey Dash 10km, which I was also pleased about."
Now Gauld is looking forward to opening a new chapter in her long athletics career by pulling on the black and gold colours of Metro Aberdeen.
Her debut will depend on when official clearance comes through, but it could be as early as next weekend.
She said: "I plan to run in the Lossiemouth 10-mile Turkey Trot next Sunday but other than that I'm just looking forward to some good competitions and being part of the team." (Until the pandemic stopped races in early 2020, Nicola continued to race frequently on the roads with considerable success. In 2018, running for GB W35 Masters, she won team silver in the European Masters Non-Stadia 10k road race at Alicante, Spain.)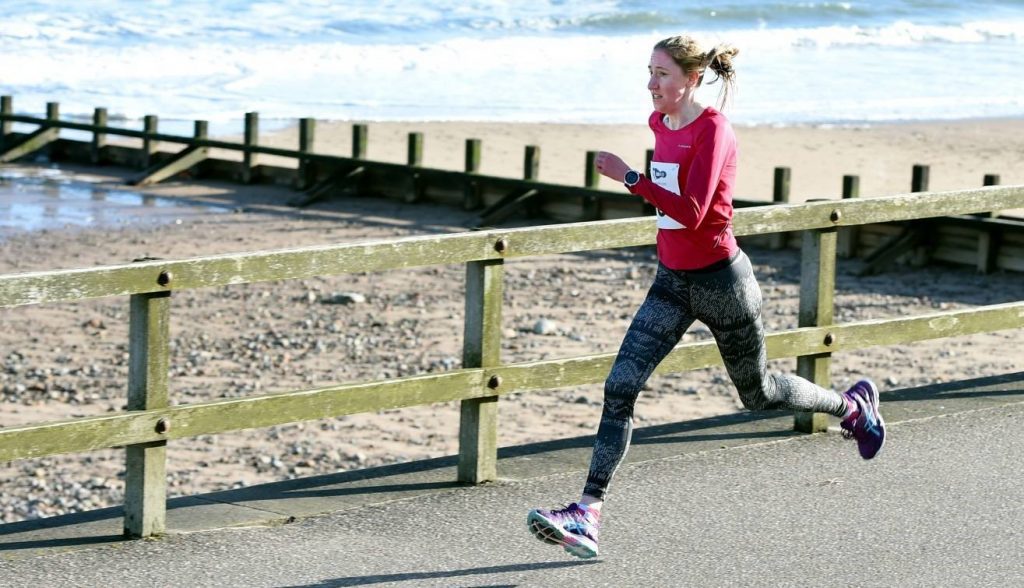 Evening Express, March 2017: Nicola Gauld set a new Metro Aberdeen Winter Proms 3km race series women's record when taking top spot in the final round of the competition. The Aberdeen AAC runner posted a time of 9min 57secs in the sixth fixture to give her a cumulative total of 29:41 from her three best counting performances. It's the fourth time she has won the series and her time sliced 17secs off the previous series record set by Jenny Bannerman (Inverness Harriers) last winter.