His Power of 10 list states that Ross Houston started racing 1500m in 1994 before he was 15. While under-17 in 1996, he ran well at 800m, 1500m and 3000m. In fact, for Dollar Academy, he won the Scottish Schools 1500m title three times (Group C 1994; Group B 1996; and Group A 1997).
Apart from 1500m in 3.59.5 (2003), his times did not improve much until 2008, when he completed many events, ranging from: cross-country (13th in the Senior Scottish National Championships); 10,000m in 31.12.83 (fourth in the Scottish Championship); and the tough Dunfermline Half Marathon in 69.22 (second place). Ross won a Borders XC race; a two-miles Edinburgh Self-Transcendence race; the Black Rock 5; the Run Balmoral 10k; the RSPB Abernethy 10 miles; and the East Kilbride Half Marathon.
In 2009 he ran consistently well, reducing his 10k best to 30.25; improving his half marathon time to 67.31 in both the Great Scottish Run and the New Balance English Half Marathon in Warrington. Ross's first marathon produced 2.31.48 at London. He won the Easter Festival 5k in the Isle of Man; the Portobello Promathon 4; and the Loch Leven Half Marathon.
Gradual improvement continued for the next three years. Consistent training and a wide range of races resulted in well-deserved personal bests. In 2011, his 5k time improved significantly to 14.39; he finished second in the Baxter's Loch Ness Marathon (2.21.05) becoming Scottish Champion; was third in the Edinburgh Marathon; and won the 20 miles Edinburgh to North Berwick road race. He was seventh in the Home Countries International XC in Antrim, Northern Ireland.
In 2012, Ross Houston retained his Scottish Marathon title, when winning the Loch Ness event in 2.20.24. He was second (65.51) in an International Half Marathon in Lillebaelt, Denmark; and continued to race over every distance from 5k to marathon. Ross also became Scottish Half Marathon Champion at Glasgow.
2013 was a breakthrough year, producing marathon times of 2.19.22 (18th in London, where he finished third in the British Championship) and 2.18.28 (25th in Frankfurt).
On 27th July, 2014, Ross ran for Scotland in the Glasgow Commonwealth Games Marathon, finishing a good 16th in 2.18.42.
In 2015, he was ninth in the Scottish National XC – a good performance, especially since he was now 35 years old. Then the surprising Ross Houston turned to Ultras! On 14th March, he won a 33 miles trail race in Aberdeenshire. Selected for Scotland again, he ran brilliantly to win (by more than 17 minutes) the Anglo-Celtic Plate 100k International at Redwick, Wales in the excellent time of 6.43.35. (This ranks Ross third (behind Simon Pride and Don Ritchie) in the Scottish Road 100K All-Time List.)
SEE THE SCOTTISH ATHLETICS REPORT BELOW.
In 2016, further success was achieved when, on 27th March in Perth, he won the Self-Transcendence 50k event (and Scottish title) in 2.56.37. (This time remains top of the Scottish Road 50K All-Time list, just two seconds in front of Don Ritchie's fastest in Douglas, Isle of Man, 1985.)
Scottish Athletics reported: "In the 50K championship, which involved 21 laps of a 2.38k loop in the North Inches park in Perth on the banks of the River Tay, Ross Houston ran a superbly even-paced race to record a new Scottish 50km road record of 2.56.37. In an exciting last couple of laps, Houston really had to dig deep to finish only two seconds inside the old record set by the legendary Ritchie way back in 1985.
Houston's time puts him fifth on the GB all all-time road 50K rankings. His time is also well inside the individual Qualifying time of 3.05 set down by British Athletics for the IAU world 50K championships, being held in Doha in November."
Consequently, Ross was selected to represent Great Britain in the World 50k Championship at Doha, Qatar, where he finished seventh in 3.01.34. GB finished second team.
2017 was a quieter year: 12th in the Scottish National XC; and winning the Yorkshire Marathon.
No racing in 2018. Very little in 2019, apart from winning the San Diego Resolution 10k Run on 13th January.
In 2020, having turned 40, before Covid restrictions ruined the season after March, Ross Houston won three cross-country races: the Scottish East District League in Livingston; the Scottish Masters M40 title at Johnstone near Glasgow (one second in front of defending champion, his Central team-mate M45 Scott Brember); and (more easily) the British Masters M40 XC Championships at Corwen in Wales.
No doubt, Ross Houston's fine running career will resume after Lockdowns cease. He is certainly a man to watch!
1997-2017 in Scottish lists
Ross D. HOUSTON (born 5th December 1979) Central AC
Championship Record:
Commonwealth Games 2014 Marathon (16th).
Great Britain: 3rd Marathon 2013.
Scottish: 1st Marathon 2011, 2012, 2nd Marathon 2010.
Scottish International appearances:
Four: one road, one ultra, two XC (2011-2015)
2011 Antrim Cross-Country v England and Wales. 7th (first Scot).
2012 Giffnock v England and Wales. 7th (second Scot). Scotland won the Home Countries International team title.
2nd May 2015: v England and Wales. Anglo-Celtic Plate 100km. 1st 6.43.35. At Redwick, Wales.
Glasgow Commonwealth Games. 16th in the Marathon (2.18.42).
Great Britain International: 2016 World 50k Championships. 7th in 3.01.34. Team silver.
SENIOR NATIONAL XC CHAMPIONSHIPS:
Individual bronze in 2012; for Central, team silver in 2008, 2009; bronze in 2019; gold in 2011, 2012, 2013, 2015, 2016 and 2017. Between 2008 and 2017 (apart from not taking part in 2014) the consistent Ross Houston was twice in the top 10 and another 7 times in the top 18.
SHORT COURSE XC: Team silver in 2012; individual bronze and team gold in 2013.
SCOTTISH XC RELAY: Team gold in 2006, 2009; silver in 2010; bronze in 2011 and 2012.
SCOTTISH ROAD RELAY: Team gold in 2008, 2012, 2013; silver in 2010, 2011, 2015.
EAST DISTRICT XC:
3rd Junior in 1997-98; 2000 third and team gold.
Senior: Ross contributed to several team golds.
SCOTTISH 5K ROAD: Individual gold and team gold in 2012; individual bronze and team silver in 2014.
SCOTTISH 10K ROAD CHAMPIONSHIPS: individual gold in 2011, silver in 2013, bronze in 2012. Team gold in 2012, silver in 2011.
SCOTTISH 10 MILES ROAD: Individual silver in 2012.
SCOTTISH HALF MARATHON: Champion in 2012; bronze in 2011.
SCOTTISH MARATHON: Champion in 2011 and 2012.
SCOTTISH 50K: Individual gold in 2016.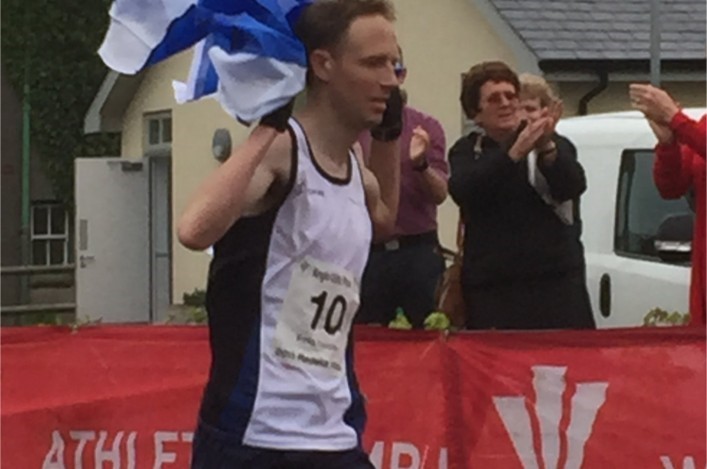 Winner – Ross Houston celebrates a remarkable ultra-marathon debut in Wales
ANGLO CELTIC PLATE 100KM inc. BRITISH ATHLETICS CHAMPIONSHIPS
Redwick, Wales; Saturday 2 May 2015
Scottish Athletics reported:
Welsh Athletics hosted the 2015 UK 100km Championship and Anglo Celtic Plate – and Scotland's Ross Houston delivered a superb debut in international ultra-running.
It was a good day, too, for the Scotland women's team of Rosie Bell, Charlotte Black and Keziah Higgins as they took the team golds.
The event was last held on the same two-mile course three years ago in scorching conditions. This year it was perfect for distance running with cool temperatures and some light rain as 18 runners took to the start line in what proved to be a day of personal bests.
The event was a journey into the unknown for Scotland's Houston (Central AC). The Glasgow 2014 Commonwealth Games marathon representative, with a PB of 2:18:28, was stepping up to 100km for the first time.
He along with fellow Scottish men Andrew Murray and Grant MacDonald were up against a strong English contingent including 2:16:40 marathon man Phil Anthony, also making his 100km race debut, GB 100k international Craig Holgate and experienced trail and road ultra-runner Marcus Scotney.
After a brisk start, Ross settled into a consistent pace covering each lap with incredible consistency in 12.20. It was England's Phil Anthony who took the race on after the first few laps and increased his pace to sub six-minute miles, opening a lead over Ross.
Through 60km Anthony, continued to lead Houston by 3 minutes, with Holgate and Scotney now over a lap behind. Between 60km and 70km the race changed dramatically: with Houston sticking to his consistent pacing, he overhauled Anthony and by 75km had built a lead of 1.50. He was heading for a stunning 6 hours 40 minutes debut.
Anthony was visibly suffering and dropped out of the race just before 80km with a hip problem. A decision not taken lightly, but with long-term wellbeing in mind.
In the last 20km and in unknown territory Houston started to slow, but he dug very deep. This was a gutsy performance from a 100km novice and, holding it together in the final laps, he crossed the line in an amazing 6hr 43min 35secs to become UK and Scottish Champion.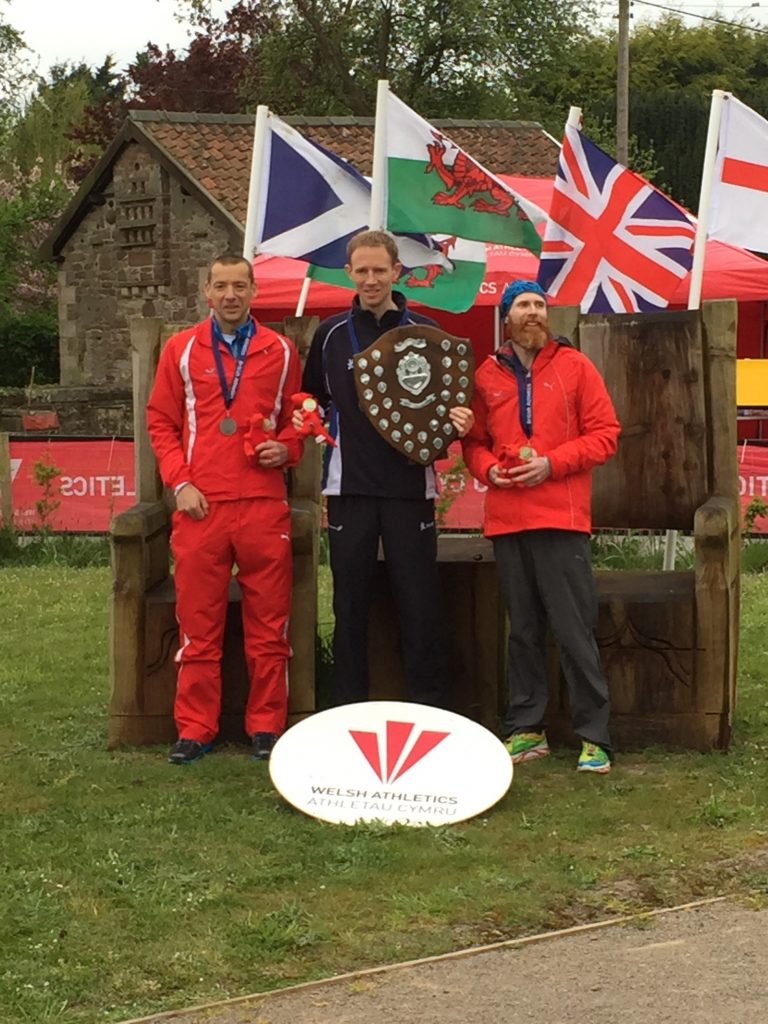 Ross and the Anglo-Celtic Plate with Holgate and Scotney
Little did the Central AC athlete know that he had also become the 6th fastest GB and 3rd fastest Scottish male on the all-time Road lists.
The two athletes ahead of him are Simon Pride with 6:24:05 and Don Ritchie 6:28:11. Ritchie does, of course have a superior track mark of 6:10:20, which remains the absolute world best performance for 100km.
It was a brilliant debut and augurs well should he feel that ultras are to his liking.
Meanwhile, the battle behind ended with Holgate (ELY/England) in second place in 7.10.30 and Scotney (England) third. When Jon Sharkey (Bournemouth/England) crossed the line it secured the Anglo Celtic Plate team competition for England.
Scotland with Murray in 6th (7.41.25) and MacDonald 11th (8.17.33) were solid finishers to ensure second team and the silver medals.
Houston also achieved the individual qualifying mark set by British Athletics for the World 100km championships in Holland in September. Achieving that, along with winning the championships, he will get automatic selection should he decide he wants to run another one!
He said: 'All the advice I received beforehand was that you had to be patient in the early stages of a 100k, in order to be strong in the last third.
'I set off aiming to hold 6.30 miles, which I knew would feel very easy and, although I was leading after the first lap, when Phil came past me shortly afterwards, I just let him go and stuck to my plan. He was certainly struggling when I passed him around 75km.
'The last 15 miles, I was struggling to hold down drinks, and it was certainly as much of a mental challenge running those last few laps, as a physical one.
'The feeding support, feedback during the race, and encouragement I received from Craig (Craig Stewart, former Sal 100k champion) and Val (Val MacAulay, team manager) was tremendous and really helped, especially in those final laps.
'I had no idea of 100k rankings before the race other than Steve Way's times last year, but to be third best Scot and sixth best on the GB lists hasn't really sunk in yet.'
Houston had prepared well, setting a course record in the 33-miles Dee 33 trail race in March, and putting 40 miles training runs into his schedule. It certainly paid off, and showed, as with Steve Way and Paul Martelletti last year, that it is certainly possible for competent marathon runners to take on the challenge of 100k or other shorter ultras without too much change in training.
QUESTIONNAIRE
NAME Ross Houston
CLUBs Central AC
DATE OF BIRTH 05/12/1979
OCCUPATION Professor
HOW DID YOU GET INVOLVED IN THE SPORT?
Since a very early age. I was always keen on running, but I recall starting to attend the athletics club when another class (cricket I think it was!) stopped. My early childhood was in Kirkcudbright in Dumfries and Galloway, and I remember running a kids' race linked to the Half Marathon there and doing pretty well. When a lunchtime cross country club started up in my first year of secondary school, I joined in and ran 2-3 times a week. I enjoyed seeing my fitness progress and times come down. I then realised I was reasonably talented when I ran the Dumfries and Galloway Schools cross country. I had no idea how I would get on, but I front ran the whole way and won by a margin. I moved up to Dollar, Clackmannanshire as a 12-year-old, and then joined Central Region (as it was then) shortly after. I first started training at Alloa, but then moved to Stirling where I joined an emerging group of youngsters who were the beginnings of the strong team that exists today. I had a few good breakthroughs, finishing in the top 10 of the Under 16 boys national cross in my first year. I think my first big race win was the Scottish Schools Under 15 boys 1500m. I continued to do pretty well throughout my teenage years, and then didn't progress much during my time at Loughborough or Aberdeen Universities. Perhaps enjoying the social scene a little too much. In any case, I started running high mileage and training seriously again aged 27 or so, and progressed pretty quickly towards marathon from there.
HAS ANY INDIVIDUAL OR GROUP HAD A MARKED INFLUENCE ON YOUR ATTITUDE OR INDIVIDUAL PERFORMANCE?
We had a great group coming through the ranks in my teenage years. Several of them are still running – such as Al Anthony and Colin Logan, and of course Ally Hay who is a wee bit younger. So this group definitely had a big influence. The coach at the time was Jim Evans who had a big influence during my teenage years, and then laterally Derek Easton took on the coaching mantle around the turn of the century. However, during my later years when I started running competitively as an adult, I didn't have a coach as such. Again, I had some good running mates, including Ross Milne and Al Anthony, and I did a lot of reading about training methods. I used to spend hours and hours reading books and internet forums researching the optimum approach to training. Then I mixed that with trial and error and found a training system that worked for me.
WHAT EXACTLY DO YOU GET OUT OF THE SPORT?
It was a huge part of my life for several years, and still is. But I always considered my life to be a triangle of family – career – running. These days the family and career part have grown and the running part has shrunk. I don't do quite so much mileage as during my peak. Perhaps I average 80 miles a week now, whereas it might have been over 100 back in the day. Nonetheless, I'm still reasonably competitive and the vet races have provided me with a new motivation. Although I must admit when I run with the seniors I am still basing my performance against them rather than the vets! At the moment, and during lockdown, running has been a godsend in terms of escaping from the house and has been absolutely essential for my health. I have started doing a bit more hill running, and I have set myself a challenge of running up the local hill (Castlelaw in the Pentlands) 52 times this year. I got the idea from a friend Chris O'Brien who did the same a couple of years ago for his local hill. I have found it gives me the impetus to get out in the hills, and it has been really refreshing to do so as a change of scene. So these days, while the competition isn't such a big factor, the running is still an absolutely essential part of my life, and also my family's life with my wife Claire also running a lot.
WHAT DO YOU CONSIDER TO BE YOUR BEST EVER PERFORMANCE OR PERFORMANCES?
I think it was the Frankfurt Marathon in 2013. I had my heart set on qualifying for the Glasgow Commonwealth Games in 2014, and I had trained really hard. I was running regularly 140 miles a week, with long and fast tempo runs regularly. However, my form dipped going into the race, and I was not confident. Compounding that, I managed to fall in the first kilometre, injuring myself and getting trampled on, losing quite a lot of time. But I soon recovered and then realised I was having one of those races where I felt almost tireless. I put in a few fast miles to catch up with the group I should have been running with, and then tucked in. I made a move after halfway, but still had a bit to do to run the qualifying time. Thankfully, I managed to stay strong until the end and ran 2:18:33 which was inside the qualifying time of 2:19. So I think I was just in the form and state of mind that I was going to run the time whatever happened that day, and I was so happy to achieve it. It was also a reward for years of very high mileage training, and seeing it pay off, which is a great aspect about running. It really is a direct correlation between work and reward.
YOUR WORST?
I have had a few stinkers, particularly earlier in my career. Usually these can be explained in hindsight by being underprepared or overconfident. One race that has become a bit of a running joke was my first marathon. While it wasn't a terrible run, I didn't manage to run the sub 2:30 target I was aiming for, and really struggled the last few miles. This was tough, but it made me more determined to come back stronger, and the following year I ran 2:22.
WHAT UNFULFILLED AMBITIONS DO YOU HAVE?
I am less ambitious than I was in terms of my running, but I do want to run a long-distance trail race at some stage. I don't think I really reached my potential at ultrarunning. I ran a decent 50k and a decent 100k, but I didn't feel either of them were particularly good runs. So if I can motivate myself for the mileage again, another ultra will be on the cards, perhaps a trail race.
OTHER LEISURE ACTIVITIES?
Virtually none. My spare time outside work and running is almost entirely family. I do enjoy going out for the occasional pint or two when the opportunity presents itself, but this is rare these days!
WHAT DOES RUNNING BRING YOU THAT YOU WOULD NOT HAVE WANTED TO MISS?
I think it's a way of life and it has a lot to offer to your daily routine. I've read a few books about the reasons for running outdoors being so good for your health, both mentally and physically, and I think there is definitely something about being out there in the countryside, woods, and hills on a daily basis. Especially during Covid-19, it has become essential for my wellbeing. From the more competitive side, I think it is hugely satisfying to train for a target race, and see the training pay off. There is no hiding in running, you see a direct correlation between work put in and reward in terms of performance, and I think that's very satisfying.
CAN YOU GIVE SOME DETAILS OF YOUR TRAINING?
At the moment, I am training at perhaps 2/3 of what I used to, but the principles are generally the same. I aim to run twice a day, and relatively high mileage. At the moment that's about 80 miles per week, but used to be a lot higher. I jog in the morning, and the evening runs are either another jog or a slightly faster run. I don't do any formal speedwork, but I love a good progression run where I will finish fast at the end of a long run. This is the format of my Sunday run, which is often done with a group at Harrison Park in Edinburgh. While the start is always sedate, there have been some epic finishes getting down to near 5-minute-miles. Of course, this can't be done too often, but I think progressive longer runs are about the best form of all-round training one can do as an endurance runner.