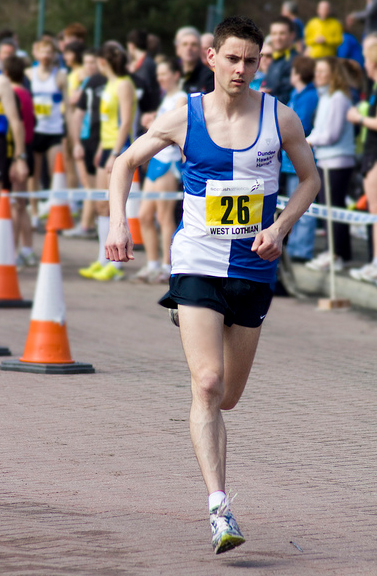 Neil in the Six Stage Relay in 2010
Always interested in how athletes come into the sport, I asked Neil the question and here is his reply.
"​I was always at or around races when younger but at that time children didn't train in groups like they do now. I was never pushed into it but at the same time having parents that know the setup makes it an obvious thing to do. Initially when suggested I backed away from it – possibly because when very young I saw how time consuming it was and how being taken to running events often meant I couldn't play with friends etc. I did initially want to play football at beginning of secondary school but wasn't particularly talented. In order to get fitter for football I started going to the Hawks once a week. I soon realised the football team I was in was terrible and as I was sometimes sub, I didn't like not being involved whereas apart from track events in running you compete if you want to at most races not if your picked or not. The training group at the Hawks was a decent bunch of both boys and girls so mainly it was good fun but we also trained hard and I gradually improved from being near the back to mixing it up at the front. I really only started to realise I might be able to be quite good at age 16 or so. This was when a huge number of people I ran with stopped citing school/uni commitments but really what they meant was they preferred to go out drinking! I took the opinion I've trained so hard to just get to a good level I don't want to not take it further now. "
Neil ran in all types of endurance events, track, road, cross-country, hill races, highland games and local sports meetings. The main things is that he progressed through the ranks quite steadily. Many young athletes progress by leaps and bounds with fallow years in between but that was not what happened here. Neil made steady incremental improvements to his times. At the longer distances his 3000m time went from 9:53.15 in 1995 to 9:21 in 1997, while the 3000m steeplechase went from 10:55.8 in 1996 to 10:12.43 in 1998 and the 5000m improved by almost 25 seconds by 1998. We should however look at his running in more detail. Not all races will be included – that would be impossible – but there will be enough to trace his route through the sport. In 1994 he was just 15 years old, first year Under 17 and the record that the races were few in number and mainly at a local level. They were not without success though. [DHH stands for Dundee Hawkhill Harriers]
1994 – DHH U17 Boys Road Silver
– SCCU national Cross-Country Championships 96th
1994/1995 – DHH Cross Country Championships 1st equal (held over a series of races: not a dead heat!)
1995 – SCCU national championships 39th
– Grove Academy Senior Boys Sports Champion
Came the summer, 1995, and he was third in the East District 3000m age group championship in 9:53.16.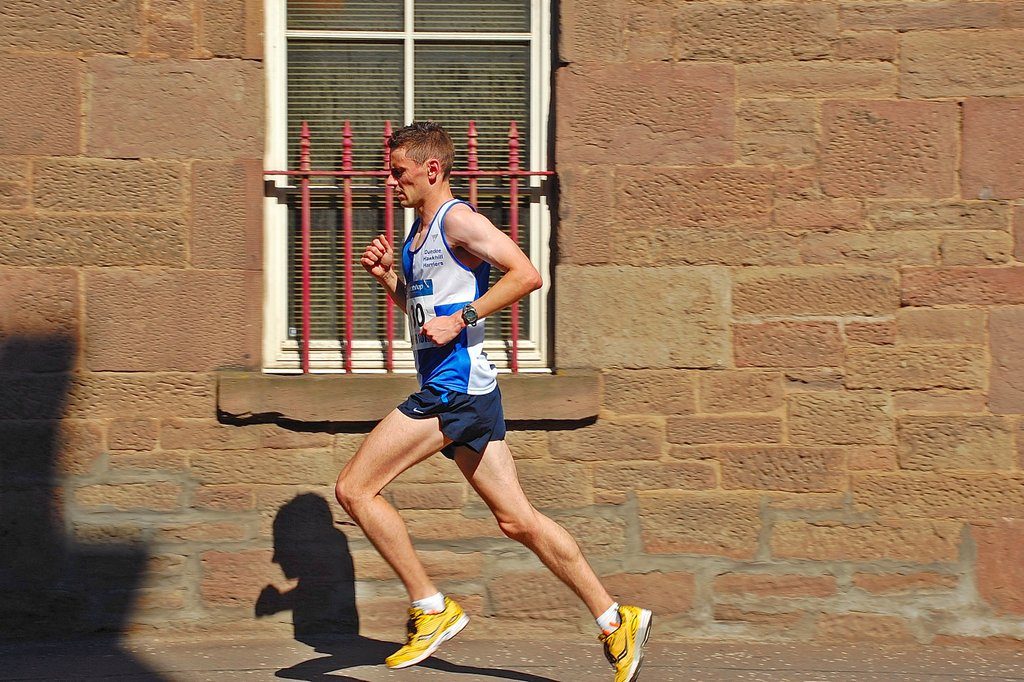 Neil running in the Forfar 10K
The following season, 1995/96 there was a similar pattern with the addition in summer 1996 of the event that was to become his specialist track event, the steeplechase. before heading into winter 1997
1/11/1995 – Arbroath High School Invitational Cross-Country – 1st over 15
11/12/1995 – Fife AC Lita Allan Memorial Race – 5th
1995/96 – District Championships Under 17 16th
Feb 1996 – National Under 17 – 34th
Also in winter 1995/1996 – DHH Under 17 Road Racing Championships – 2nd
– DHH Under 17's Cross Country Championships – 3rd
In Summer 1996 Neil moved up to the Under 20 (Junior) age group.
15/7/1996 – 2km steeplechase – 5th, 7.01.57
25/6/1996 – Grove Academy Sports – Sports Champion
18/8/96 – 3000m steeplechase 10:55.8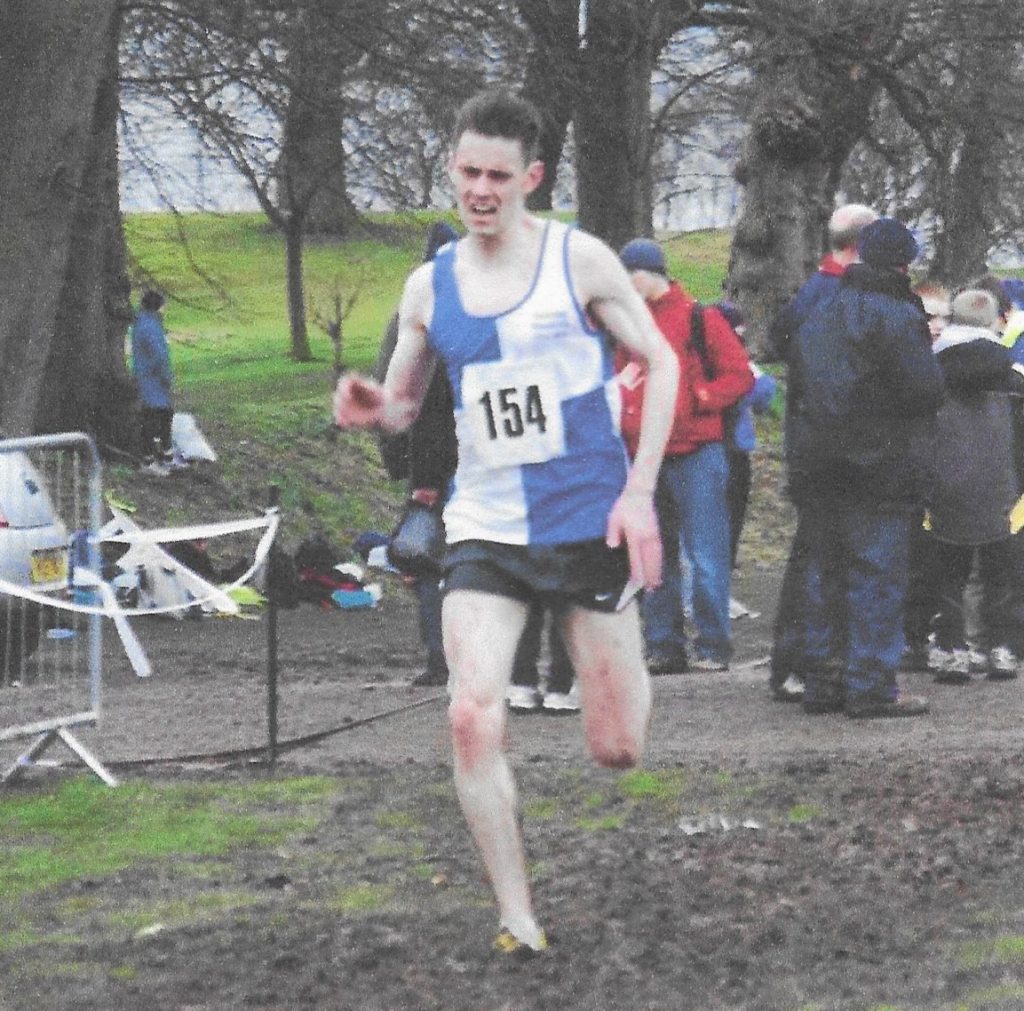 Running in the National in 2008
He was clearly getting stronger as an athlete and in his first year as an Under 20 over the country he was 15th in the national. This was followed swiftly with fifth place in the Under 20 men's national road championships on 15th March. If that was good what followed was his best summer season to date.
1996/1997 – Grove Academy Senior Boys Pentathlon – 1st
1997 – Grove Academy Sports Champion
10/3/1997 – TSB Scottish Schools Championships Irvine Over 17 – 9th 21.45
17/3/1997 – Scottish 10k Road Race Strathclyde Park 5th 25m41s
22/3/1997 – TSB British Schools International Cross Country Championships, Chepstow over 17 men – 6th 25m22s
Neil himself thinks that this Chepstow race was one of his best races. Certainly running in the Schools International and finishing sixth was at least a very good run. June was the peak month for Neil when he had no fewer than three ranking times, all at Meadowbank. On 20th June he ran 6:32.64 for 2000m steeplechase and on 21st June he was 3rd in the Scottish Schools 5000m championship. A week later, 28th June, he recorded 10:23.07 for the 3000 metres steeplechase, which time ranked him 9th in Scotland at the end of the year. Came July and on the 15th in Carmarthen, he ran 3000m on the flat in 9:21.73.
He was still running local races and was third Junior in the Fife Scared Hare Series.
In winter 1997/98, Neil had his first taste of the Edinburgh to Glasgow Relay when he ran the third stage for Dundee Hawkhill Harriers. He ran well on this high profile race picking up one place, going from 12th to 11th and passing the English runner from Bedford and County in the process. In the National at the start of 1998 he finished 21st. There was a silver medal in the SAF Road Race National Championships U20 Strathclyde Park on 9/3/1998.
That summer, his best steeplechase was over 3000 metres on 26th April and that saw him ranked fourth in the country at the end of the season. In the 5000 metres he was timed at 15:58.16 which won him third place in the East District Championships.
1998/99 saw Neil run in his second Edinburgh to Glasgow, this time on the fifth stage where he held on to 13th position for the club. Fourth Junior in the East Districts, he ended the winter with a very good fifth in the National Cross-Country Championships – just 16 seconds away from the bronze medal! The 16 seconds was the difference between a very good run and the run that his form at that time deserved. He was in his last year in the Junior Men's age group, he was in very good form indeed and on the day on a frozen, icy surface he just missed what would have been a deserved individual national medal
Neil was now in the Senior Men ranks and he was facing the best runners in the country as well as the wily old-timers who knew how to use their elbows and keep young aspirants in their place. He was not ranked in anything that first summer as a Senior but did run in the eight man relay in November when he finished 18th on the first stage. Neil had one of his best races over the country when he finished sixth in the East District championships, in the same time as the fifth placed runner, one place ahead of team mate Matthew Strachan. Just look at some of the names behind him that day –
7. M Strachan; 8. Colin Meek (Livingston); 9. Martin Ferguson (EAC); 10. Robert Russell (Central); 11. Terry Mitchell (Fife); 12. David Adam (Fife); 13. Alan Robson (Mizuno); 14. Alistair Anthony (Central). There were 224 finishers in the race. In the National there was another sparkling run when he was thirty seventh with a lot of good 'scalps' behind him – names like Mark Rigby, Alan Robson, and Kevin Forster not far in front, and Dermot McGonigle, Graham Wight and Alan Reid not far behind. He was running in good company.
Neil had progressed steadily from his days as a Youth through to early steps in his career as a senior runner and could cope with good standard Scottish runners whatever their age, and however sharp their elbows.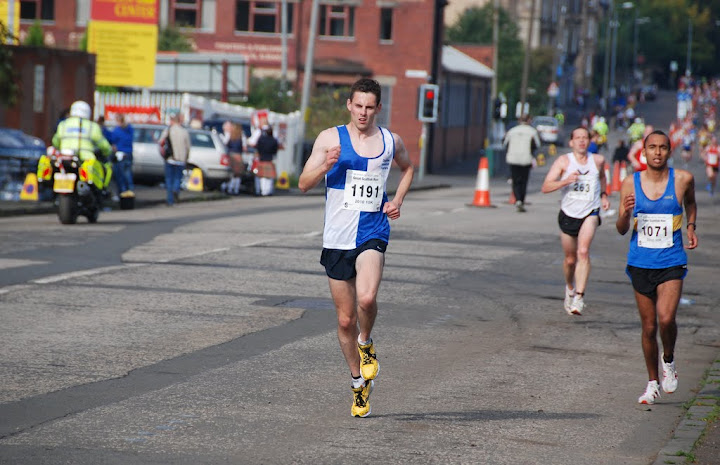 Glasgow 10K 2010
Neil started the 21st century with some very good runs but it was a time when he was working hard at University and had other things on his mind to occupy him, nevertheless he managed to get some good running done. On the track he was ranked in Scotland at 5000m and in the steeplechase as in the following table.
| Year | Event | Time | Ranking |
| --- | --- | --- | --- |
| 2001 | 5000 | 15.29.34 | 31 |
| 2001 | 3000S | 9.52.09 | 15 |
| 2002 | 3000S | 9.45.32 | 11 |
| 2007 | 3000S | 10.28.66 | 16 |
| 2009 | 3000S | 10.15.21 | 16 |
| 2010 | 3000S | 10.20.79 | 19 |
| 2011 | 3000S | 10.31.95 | 19 |
| 2012 | 3000S | 10.16.66 | 20 |
Looking at the table above, it should be noted that the 5000m PB of 2001 was at the AAA's U23/U20 championships in Bedford where he struggled a bit in the second half, mainly because it was a hot day in late spring/early summer in Bedford. He's a bit wiser now about running conditions in the South – "I now realise living in the South of England, the heat builds from early April. I was used to the fresh East Coast breeze (which I battled against in virtually every summer track session ever done at Caird Park!) so a hot and humid Bedford was a shock to the system and a real battle." The race was combined with the Under 20 men and he was actually ninth U23 which wasn't too bad at all.
Neil became an enthusiastic and prolific racer in the 21st century – below is just a list of his domestic races up to 2007:
27/12/2000 – 132nd New Year Sprint Musselburgh Youth One lap open handicap – 1st + 2 Lap Open Race – 4th
15/01/2001 – East of Scotland League Race Gorebridge – 3rd
23/4/2001 – Scottish Universities Championships Grangemouth 3000m steeplechase – 1st 10.11.2
12/7/2001 – Sri Chimnoy 2 mile Road Race – 2nd 9.55
13/8/2001 – Perth Highland Games 3200m Open – 1st
4/3/2002 – Cupar 5 mile Road Race – 3rd 25.44
2/5/2002 – Fife Mid Week Blebo Craigs – 1st
9/5/2002 – Kinnoul Hill Race – 1st 25.49
13/5/2002 – East of Scotland Championships 3000m 9.57.95
25/5/02 – Black Rock Race – 3rd 24.03
11/7/2002 – Newburgh Race – 3rd 23.25
17/1/2006 – East District Championships – 3km 3rd
2006 – The Highland Spring 2 Inches 10K Race – ? place
2007 – Gauldry 5m – 1st 26.31
If you look at that list, you will note a significant gap from July 2002 through to the start of 2006. He was running consistently well and holding his own in the senior ranks.He was training and racing hard and results were good. He felt there was a lot more to come. He had run the Capital City Challenge (also Scottish 10k champs that year) in Sept and finished with a time of 31.55 in about 13th in 31:56. He reckons that it was the 1st 10k he'd raced, rather than just running and it felt good. He was looking forward to doing more. What happened next was really unexpected. Let him tell it:
"A week or so later at the district cross country relays in Galashiels I was full of confidence. I was on leg 1 and started hard, leading up the early steep climb. I got to the top and it was like a tap had been turned and all my energy poured out. I had nothing and only got round as had teammates awaiting. I then remember sitting under about 4 layers of coats all the way home shivering and feeling awful. A trip to the doctors on the Monday gave the usual " its just a bug that's going around, a few days rest and you'll be fine" By the end of the week I couldn't eat, sleep or talk easily and a revisit to the doctor was met with far more concern (a different doctor I might add). He was convinced it was Glandular fever and tested for it (it was) but the results were another week or 10 days away.
" I had forced myself back to University as it was my final year and my tutors gave me 2 options: Get the work done or redo the year (after 6 years I didn't want to sit and watch all my friends finish and leave me to slog it out while they all got jobs etc). I struggled to recover the rest of that year and the stress of finishing university meant I kept picking up colds and sore throats. I tried to build up and get back to fitness only to race at the East District Track Championship 5000m, only to have a severe tear of my calf with a lap or so to go. From then on I had years of either calf tears or severe colds/throat infections stopping any decent training I built up."
There were only three Edinburgh to Glasgow Relays after 2000, and he turned out in two of them, running very well in both. In 2000 he was on the fourth stage and was fourth quickest over the distance to lift his team from tenth to eighth. The fourth is recognised as one of the top four stages of the race because of the calibre of runner on it, so fourth time is an achievement in itself. The following year he was on one of the two 'big' stages of the race – the sixth – which is also the longest at 7 miles. He maintained his place (eighth) and his time was in the top ten for the stage.
We can maybe digress for a bit at this point for some comments on the conduct of the stage and some of Neil's retrospective observations. The sixth stage is one of the two toughest in the race, the second being the other. All the top guys are on these two legs. They are both run on very busy stretches of road and the runners have to keep their wits about them at all times. Each stage has an official supervising it, watching for infractions of the rules and these judgements are naturally usually subjective. Neil comments:
"I don't remember too much of the 4th stage run but the last year I remember it well but for the wrong reasons. I was going well and I think Dad had said it's a leg you can build into and pick up on. I got towards one of the small villages midway through when an official in a car drew up beside me and started giving me alot of abuse about running on the road. Considering there had been no pavement I was pretty shocked and the runners ahead of me were all on the road! He continued to harass me and said if I didn't get on the pavement then he would disqualify me and the team there and then. It completely knocked my concentration and I lost all momentum. On finishing the same official then said I had sworn at him and gave him foul abuse and that he wanted me disqualified anyway. Anyone that knows me knows I wouldn't say what he was claiming I'd said even if I was angry and funnily all my team mates said they would have said a whole lot worse and wouldn't have accepted any disqualification!"
Over the country, in the national, he was 37th out of 386 runners in 2000, 79th out of 362 in 2001 and 22nd out of 423 in 2002. The 2002 race must be another one of his best races. Runners behind him on that occasion included Jethro Lennox, Adrian Callan, John Cowan, Alistair Anthony, Eddie Stewart, Alaister Russell, Martin Ferguson and many other weel kent athletes. Maybe one was having an off day, or even two, but there is no way they all were. That 2002 national was actually one of his best years. All bar two of thee runners listed above were regular or frequent Scottish international runners.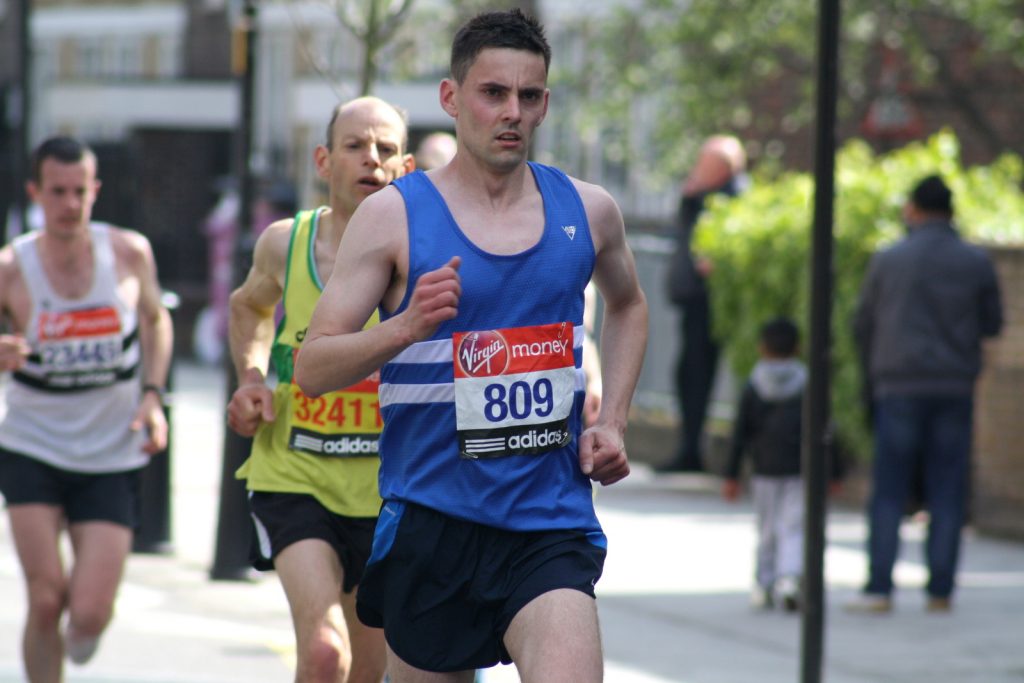 Neil left Scotland to continue his education and started to put some decent training together. He ran for Teesside University and then for Morpeth Harriers. He was back racing too. Between 1st January 2010 and the end of 2019, he ran a total of 146 races according to the runbritain rankings. They included English Cross-Country Championships, Scottish Cross-Country Championships, British Universities Cross-Country Championships Relay Championships, League Matches and Open races. On the road they included every distance from 5K parkruns to the London Marathon. This was a very good transition to good class English running. When Neil was asked about how it came about, he said:
I had done a track session on my own not long after starting and was pointed in the direction of Gordon Surtees who trained Jonny Taylor and Richard and Adam Morrell – he said I could join them. I now realise how lucky I was as Gordon didn't accept time wasters. His dry sense of humour I appreciated and his dedication to his athletes was immense for a man that didn't drive and lived a 30-40 min bus journey away – he rarely missed a session. Even so he could be blunt in telling me I wasn't an Olympic potential, but he knew exactly how to taper the sessions so I got the best from them. These sessions were rarely a recognizable distance (even for some track sessions, he used the conditions and locations he new and they were always intense). At the end of the 1st year, Ross Floyd joined us and as he and Jonny Taylor were both racing for Morpeth they persuaded me to join and get high quality races. Teesside didn't have a club but were happy to enter us into university events) From joining Morpeth I realised what an excellent club they are. Predominantly set up for local participation but with Jim Alder and Mike Bateman's passion to compete they brought the best out of their athletes and rather than poach local talent it naturally drew to them as they guarantee meaningful national competition. After leaving Middlesbrough I moved to Newcastle and trained with Jimmy's group and had one of my most enjoyable spells of running/racing."
For the full list go to https://www.runbritainrankings.com/runners/profile.aspx?athleteid=635 and you'll be amazed. If you want to see his results from all the championships, etc, you can go to the power of 10 website ( https://thepowerof10.info/athletes/profile.aspx?athleteid=635 )
One final thing: Neil and his Dad, Doug, have a rare distinction shared by few others in Scottish athletics. These include Gerry and Kenny Mortimer (Edinburgh Northern, Kirkcaldy YMCA and Edinburgh AC) and Bill and Brian Scally (Shettleston). The distinction? They have between them run every stage of the late, wonderful Edinburgh to Glasgow eight stage road relay. Neil has run stages 1, 3, 4, 5 and 6; Doug has run 2, 4, 5, 6, 7 and 8. There were no 'easy' stages in the race but by common consent stages 6, 2 and 4 were the most difficult in terms of the opposition faced. For the few father/son combinations who have accomplished it, it is an honour that will never be achieved again since the race is now discontinued. Their joint time? Only 4:00:40! Well done, chaps!