Scottish Athletics statistician Arnold Black wrote the following:
"ATHLETE OF THE DAY – Morag MacLarty
Winner of three Scottish 1500 metres titles, one 5000m, two 5k road titles and the national cross-country, Morag Millar is pictured at the start of her career in 2002. In 2005, she won the European Junior Championship 1500 metres and the following year competed at the Commonwealth Games. Career bests of 2:05.17 (800), 4:10.86 (1500), 9:38.69 (3000) and 16:09.66 (5000) as well as a one-off 7:01.97 2000m steeplechase. On the road, 33:44 10k and 76:55 HM. Hard to believe but enters the veteran stage this year!"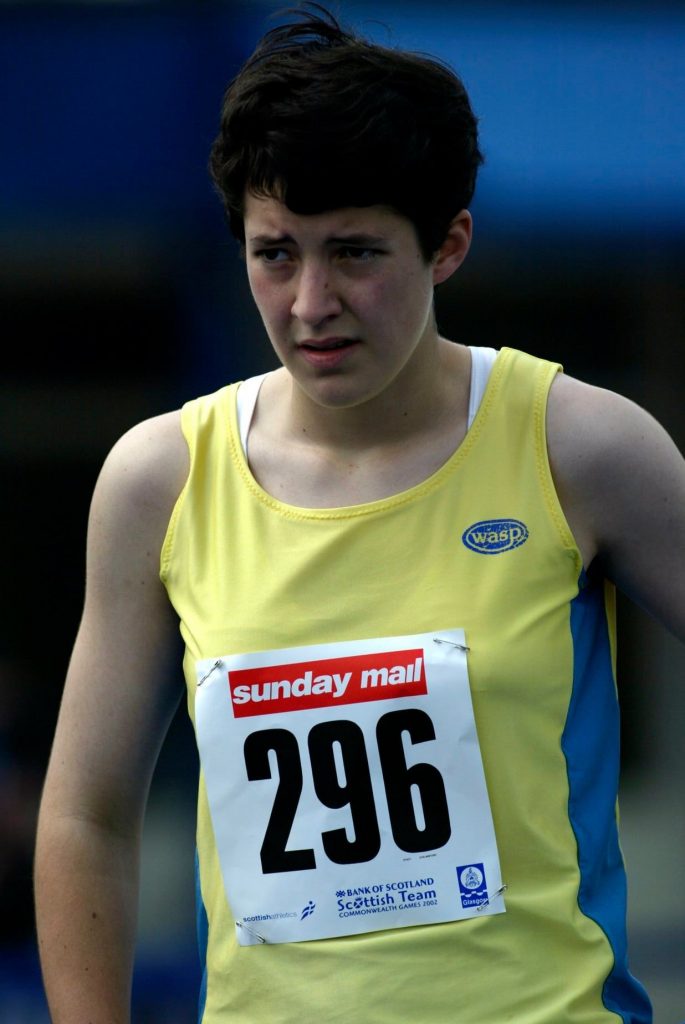 Before we go on to look a bit more closely at her career, we could maybe look at a profile that was done for the Scottish Athletics Yearbook for 2002 to see how it all started and what her goals and ambitions were then.
School: Central AC/ Perth High School
Started in athletics: I started in athletics to improve my pace and stamina for football near the end of the track season 2000.
Favourite events: 800/1500. Best Performances: 800: 2:07.25; 1500 4:33.63.
Progression: 800 – 2:24.82 (2000); 2:07.25 (2001). 1500 – 4:52.5 (2000); 4:33.63 ((2001).
Achievements: Winning both the 800m and 1500m at U17 at Scottish Schools Championships; Scottish National Championships & British Schools international. Winning 800m at AAA's. Also winning National Cross-Country Champs at U15.
Greatest Personal Satisfaction: Winning 800m at British Schools International in a Scottish record of 2:07.25 and then winning the 1500m a hour later clocking another PB.
Greatest Performance Seen: Jonathan Edwards when he came from behind to win the World Championships in Edmonton.
Ultimate Personal Aim: To achieve my full potential.
Greatest Rival: Anyone with a better PB than me. Coach: Derek Easton
How often do you train: 4 – 6 days a week. How often do you compete in a season: Twice a month.
Typical week's training: Summer – 2 interval sessions on the track – the rest are easy runs. Winter – hills, fartlek, interval session – the rest are easy runs.
Suggestions for improvement in your event – More big races in Scotland
Suggestions for improvement in athletics: Bigger and faster detection of drug cheats. Family involvement: My 2 brothers and sister also take part in athletics.
That was what Morag thought about the sport as a 15 year old – in 2004 she travelled with the Scottish team to the Commonwealth Youth Games in Australia. The picture below shows the members of the team after the Games with their medals. Morag is third from the left in the back row with her 1500m gold medal.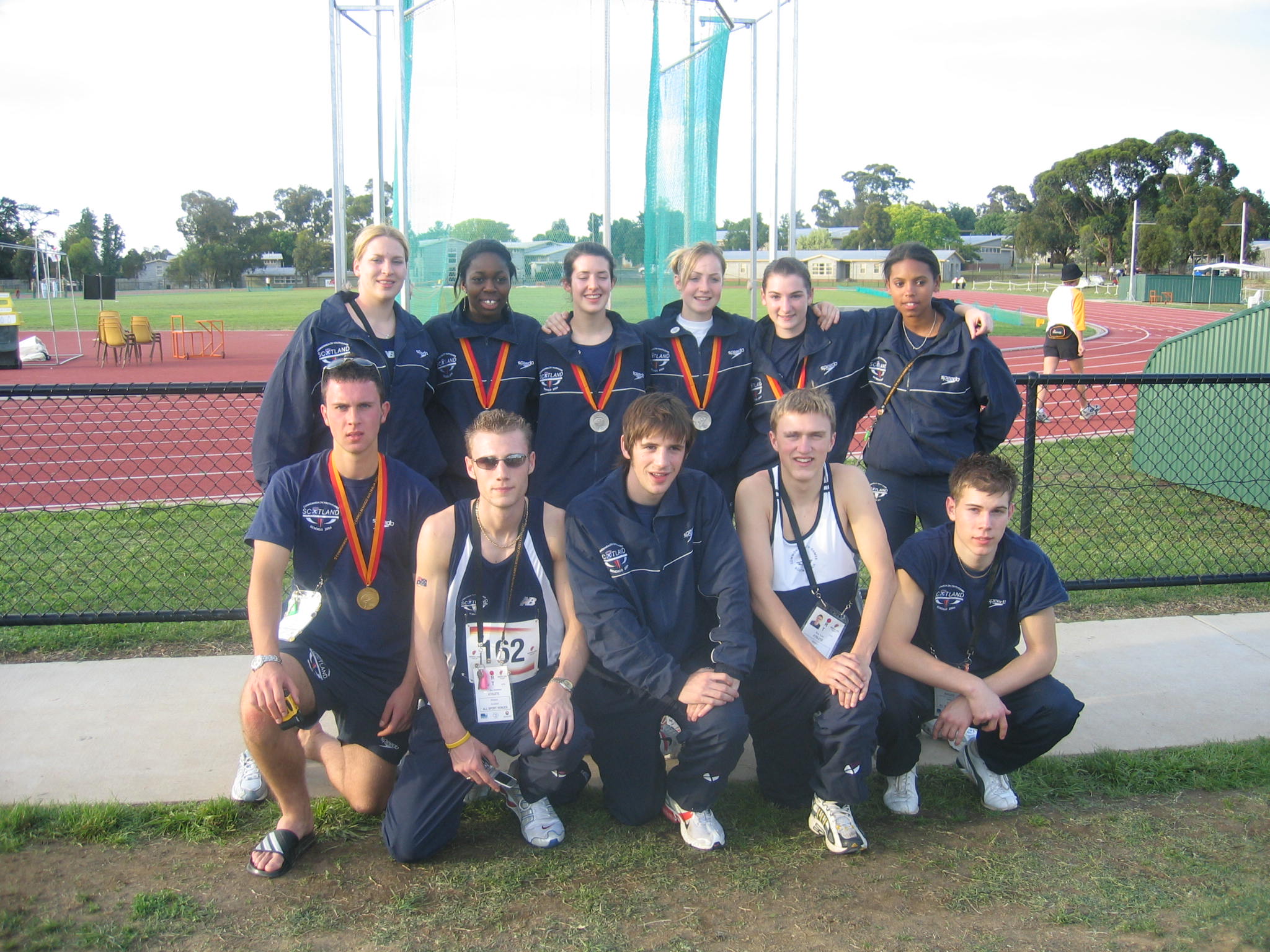 There was a very good article on Morag written by Natasha Wood, Senior Sports Writer for the Sunday Herald and reprinted in the SATS yearbook for 2006. You can read this excellent item at this link.
Now for a look at her career in detail. *
Morag MacLarty (born 10.02.86) Central AC
In the Scottish lists 2000-2017; then Morag Millar to 2019
Senior Championship Record: Commonwealth Games 2006 1500m (ht).
Scottish Senior: 1st 1500 2008, 2009, 2010, 2nd 1500 2005, 3rd 1500 2013. 1st 5000 2015
Scottish age-groups:
Morag MacLarty was a brilliant and consistent young athlete who, after injuries, went on to become a successful team leader as a mature athlete.
Under 17 1500 gold in 2001 and 2002; 800m gold in 2001.
Under 20 800m/1500m double gold in 2003, 2004 and 2005
Scottish Schools Group B 800m/1500m double gold in 2001 and 2002
Group A 800m/1500m double gold in 2003
Track Internationals – Senior
2005 Loughborough 1500 4th 4.20.97 215
2006 Commonwealth Games 1500 heat 4.20.79 218
2010 Loughborough 1500 1st 4.16.30 v England, Wales and two other teams
Road International – Senior
16/2/2017 Armagh Northern Ireland 3km 16th but first Scot v England, Ireland and Northern Ireland
Cross-Country Internationals – Senior
26/11/2016 Liverpool Cross Challenge v England, Wales, Northern Ireland, 21st /3rd Scot.
14/1/2017 Antrim International Cross Challenge (runners from Kenya, Ethiopia, England, Ireland, Romania, Northern Ireland and USA). 10th but first Scot.
Junior XC Internationals (Celtic Nations)
2002 Under 20 5th Scotland beat Wales, Ireland and Northern Ireland in Dublin
2003 Belfast Under 20 1st v Ireland, Wales and Northern Ireland
2004 at Ayr under 23 6th but first Scot
2008 under 23 v Ireland and Wales. 6th (second Scot). At Edinburgh
14/12/2008 (for Great Britain) European under 23 XC Championships. 4th. At Brussels.
Scottish National Cross-Country Championships
2001 under 15 gold; plus team gold with Central
2002 and 2003 under 17 gold
2004 under 20 bronze; 2005 gold; plus team gold.
2014 Senior team gold (Morag 6th); 2015 team gold (individual bronze); 2017 individual and team gold.
Scottish XC Relay: Central AC (with Morag MacLarty) – bronze 2005; silver 2006; gold 2009, 2010, 2014, 2015; silver 2017 and 2018.
Scottish Short Course XC: gold in 2007 (plus team gold); gold in 2012; silver in 2014 (team bronze); 2015 team gold; 2017 individual bronze (team gold).
Scottish 5km Road Championships: gold in 2014 (and team gold); silver in 2016 (plus team silver); 2019 (as Morag Miller) individual gold and team silver.
Inter-District XC Championships: individual gold in 2015 and 2017; silver in 2019.
In 'The National' newspaper on 25th November 2016, Susan Egelstaff wrote the following:
"SPORT, as does life, all too often fails to follow the script. This is what makes it so intriguing to watch but unfortunately for Morag MacLarty, she has been forced to face the brutal reality of sport deviating from what has been predicted.
As a junior runner, MacLarty was one of the most promising athletes in the country. She won European Junior 1500m gold in 2005 and ran the fastest 1500m of any junior in Europe. She won Commonwealth Youth Games gold and was Scottish junior champion many times over.
To say that things looked bright for the runner from Auchterarder would be the greatest of understatements.
Possessing natural pace as well as endurance, much was predicted for MacLarty and when she was selected for her first Commonwealth Games – in Melbourne in 2006 – aged just 20, it seemed the world was her oyster.
However, MacLarty has many qualities but she was has not blessed with an abundance of luck. Injury began to plague her and she admits that she struggled to cope with failing to live up to the potential that so many observers had talked of."
"Getting injured so much makes you feel like you're not talented," she says. "It was hard – everyone was talking about my potential but I was never able to put together enough races together to realise that potential.
"I feel like a completely different person now compared to all those years ago – it doesn't feel like it was me that people were talking about."
In 2010, MacLarty was running so well that the 2010 Commonwealth Games were a realistic target.
However, after picking up a stress fracture during the qualifying period, she admits she became so demoralised that she seriously considered quitting the sport. But she stuck at it and now, things are beginning to look up.
Earlier this month, she finished third in the Scottish Short Course Cross Country Championships and the 30 year-old has been selected as part of the Scotland team to travel to Liverpool for tomorrow's British trials for the European Cross Country Championships.
While MacLarty, who runs for Central AC, remains reluctant to make any grand predictions, she admits that it is encouraging to begin to see improvements in her form.
"I've been around for a long time but over the past year, I felt like I'd been putting a lot in but when you don't get anything out, it's tough," she says. "But I do feel that things are changing for me.
"I'm getting fitter and stronger all the time so that's good. I'm really happy with everything, I'm in the best place I've been in for ages."
The biggest factor in MacLarty's resurgence has been the identification of a leg-length difference, from which all of her injuries were stemming.
MacLarty describes her injuries as being so bad that at one point, she could not even walk down the street pain-free.
However, the discovery of "a gem of a physio" has now allowed her to train for a sustained period so the physical effects of her injuries are healing but the mental scars can be harder to heal. However, the full-time dentist is aware her lower training load could turn out to be of benefit.
"Now that I'm older, I'm finding it much harder to do well and I'm not sure why that is because surely if you're talented when you're young, you're talented later too," she says. "But there's a book called 'Bounce' by Matthew Syed and it talks about when you see someone doing something great in competition, you think: 'They're so talented', and there is talent but actually, there's all that hard work behind the scenes too.
"That book helped me because it made me think that I've not had the chance to do all of the hard work and even though I'm getting older, my legs are still only aged 25 instead of 30."
With the 2018 Commonwealth Games now only 16 months away, MacLarty admits that making Team Scotland, 12 years after her Commonwealth Games debut, is certainly something that she has considered.
"The Games have definitely come into my thoughts," she says.
"I'll look at the 5000m but Scotland are so strong at that event so I might also look at the steeplechase.
"I don't feel like anybody within Scottish athletics thinks that I'm going to do anything ever again and I can't blame them for that because if you looked at the past few years, you'd probably agree with them. But I'm just going to keep on doing what I'm doing and see what happens."