Scottish Athletics statistician Arnold Black wrote:
"ATHLETE OF THE DAY – IAN GILLESPIE
Ian Gillespie featured in the Scottish rankings in every year between 1988 and 2002 with his best years probably around 1996-1998. In 1998, he represented GB in the European indoor 3000 and Scotland in the Commonwealth 5000. He was Scottish indoor champion over 1500m in 1993 and 1994 and twice a medallist at UK level. He topped the Scottish 3000 and 5000 rankings in 1996, 1997 and 1998 and led the 1500 in 1997. He has an impressive range of career bests: 1:50.1 (800), 3:39.8 (1500), 3:56.64 (1M), 7:48.28 (3000) and 13:18.06 (5000).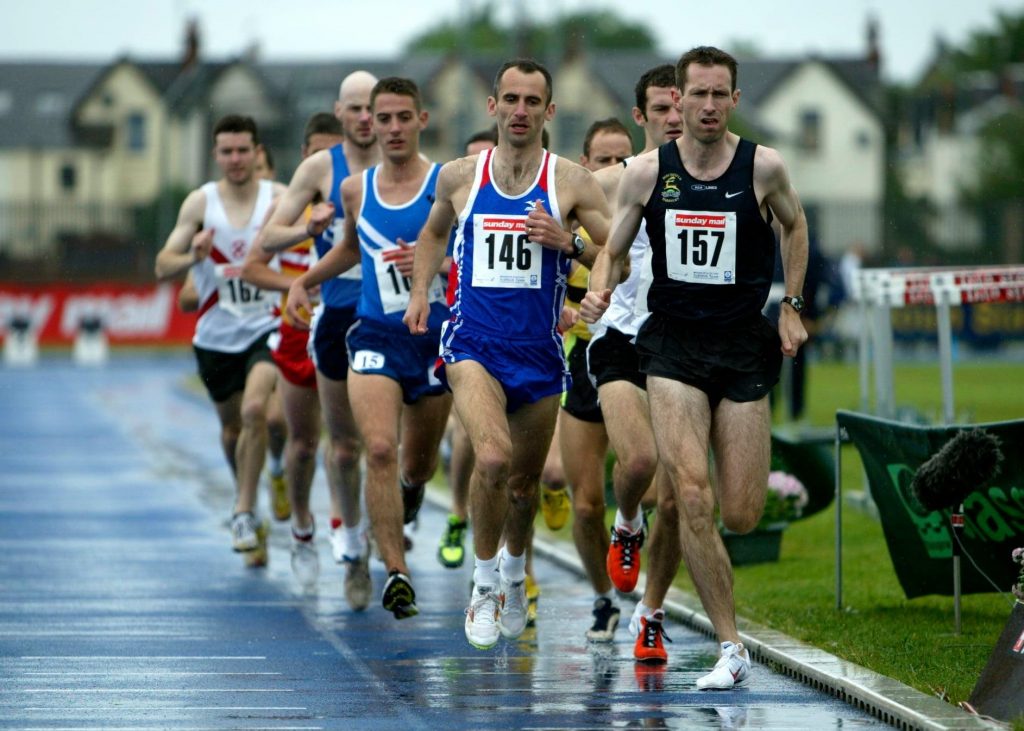 Pictured here in Birchfield colours leading the 2002 Scottish 5000m from eventual winner Glen Stewart (146). Others in the photo are Robert Napier (Ayr), Iain Connell (JWK), Ryan Montgomery (JWK) on the outside. Ian Gillespie placed 2nd with Bobby Quinn 3rd and Graeme Reid 4th."
Ian GILLESPIE (18.05.70) Westbury, Birchfield, Clydebank AC
In the Scottish lists between 1988 and 2014: 800m to 5000m only.
Championship Record:
European Indoor 1998 3000m (heat);
Commonwealth Games 1998 5000 (heat).
GB: 3rd in the UK 5000 1997; 2nd in the Indoor 3000m 1996.
Scottish: 2nd in the 5000 2002, 3rd in the 1500m 19 91; 1st in the Indoor 1500m 1993 and 1994.
Scottish Track Internationals as a Senior
1991 Northern Ireland 1500m 1st 3.52.01
1991 Wales One Mile 6th 4.16.36
1993 Wales/Northern Ireland 1500m 6th 3.51.201
1998 Commonwealth Games 5000m 8th heat 14.50.34
In 1988, in the Scottish National under-17 Cross-Country Championships, Clydebank AC won the team award. Ian Gillespie secured individual bronze, with Glen Stewart 7th, Alastair Russell 9th and Martin McBride 11th.
In 1990, Clydebank AC won the team title in the Scottish National under-20 Cross-Country Championships.
The team was: Malcolm Campbell 1st, Glen Stewart 2nd, Ian Gillespie 7th and James Timmons 9th.
Ian Gillespie ran for Scotland in a JUNIOR XC INTERNATIONAL Match: Celtic Nations, January 1991 at Irvine. First Scot in 10th place.