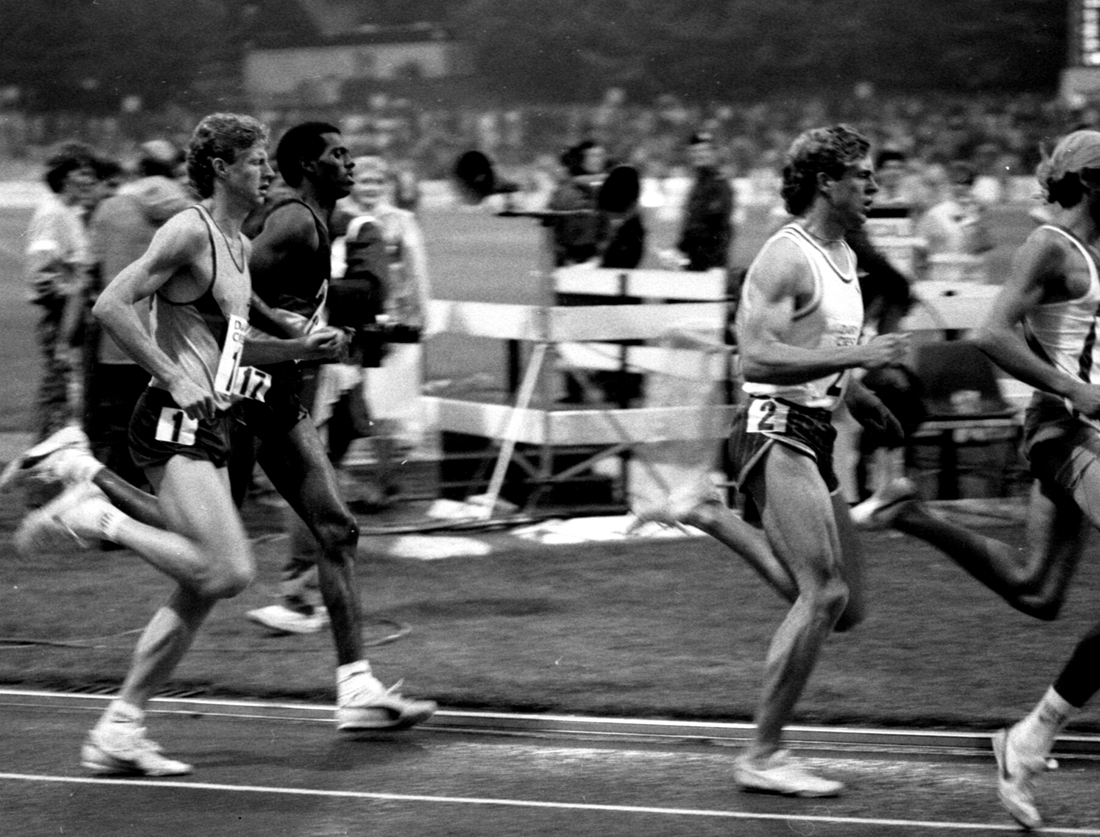 The year before the Commonwealth Games, it was clear that Tom McKean was running very well indeed and maybe good enough for a medal on his home turf.   When it came to it, he did indeed medal in his first major Games – as well as in his second (the Europeans) later that year.  I'll simply re-print Doug Gillon's article on the event as it appeared in the Herald on 1st August 1986.
HAPPY McKEAN SETTLES FOR SILVER
Tom sets records, but Cram too good.
Two gold chains hung around his neck and a gold bracelet round his wrist.   In his left ear gleamed a gold earring.   He had even dyed his hair gold for the occasion.  But the metal flung around Tom McKean's neck was silver.   "I like gold, McKean told me, "But I'm satisfied with this, I might even sleep with it on tonight."   The Bellshill man had carved 1.22 seconds from his best time, and broken the national and native records with a time of 1:44.80.   But it was not enough to stop England's Steve Cram from striding to the 800m gold in the Commonwealth Games yesterday.   When the Geordie slipped into overdrive with 280 metres to go, there was only one winner.   Cram's time, 1:43.22, was a Games and Scottish All-comers record and the fastest time in the world this year.
The race began with a vacant lane.   World record holder Seb Coe was forced to submit to the infection which he has been fighting for several days.   Peter Elliott, the other English runner, led through 200 metres in 24.88 and reached the bell in 51.03.   McKean was some seven metres off the pace, lying fifth and keeping a watchful eye on Cram.   "I hadn't intended to hang back, I went off too slow," said McKean.   But when Cram made his move in the back straight, McKean made no attempt to chase him.   He left his challenge to the final 150 metres, coming through to overhaul Australia's Pat Scammell and the brave front running Elliott.   "It's not my nature to run for second best, and my coach Tom Boyle, who has done a magnificent job, expected the race to be slower in that wind.   The crowd were absolutely brilliant.   That's why I did the wee bow to thank them at the end.."   McKean clutched a bundle of telegrams of good wishes as he was congratulated by his sponsor, Glen Henderson.
He had spent the past few days living on a farm at Coalburn.  "I've been playing pitch and putt, Trivial Pursuit and snooker, anything to take my mind off the race," he said.   "I've no regrets at being beaten by Cram.   He's clearly the best in the world.   But my time today is as fast as Cram was running when he was my age."   Cram, who will make up his mind about running the 800m and 1500mm double at Stuttgart at the European Championships after he has tackled the second leg of a Commonwealth double, said, "I'm sorry Seb wasn't here.   It was a very good competition but he would have added to the race."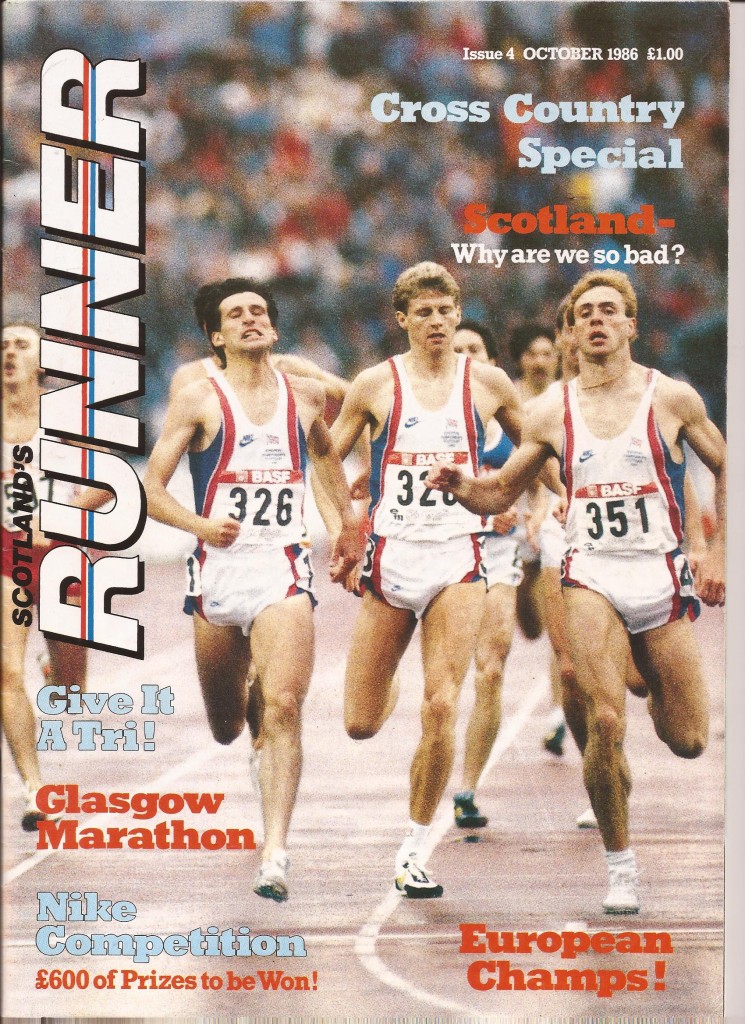 The result of the Final  (7 runners) :
  S Cram (England)           1:43.22  Games Record
  T McKean (Scotland)     1:44.80
  P Elliott (England)          1:45.42
  Pat Scammell (Australia) 1:45.86
  Malcolm Edwards (Wales)   1:47.27
  Simon Hoogewerf (Canada)  1:49.04
  Paul Forbes (Scotland)     1:51.29
***
Tom went on to Stuttgart where in a GB vest he was second again ( see the famous picture above) to make it a very good year for him and a great introduction to the Games scene.