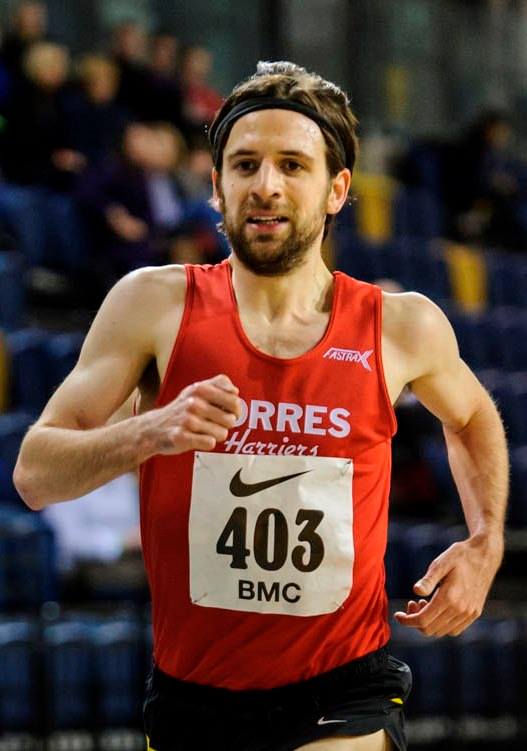 Scottish Athletics statistician, Arnold Black posted the following:
"ATHLETE OF THE DAY – MARK MITCHELL
When Mark Mitchell won the 800m/1500m double at the 2012 Scottish Champs, he was the first athlete to achieve that feat since Duncan McPhee in 1923. Mark won 5 Scottish track champs, 1 indoor title, 1 road and 1 cross country title. He was a finalist in the 800m at the Euro Juniors and semi-finalist at the World Youths and Juniors. He gained the qualifying standard for the 2014 Commonwealths but unluckily missed out on selection. Representing Forres Harriers and Birchfield, he set career bests of 48.90 (400), 1:48.42 (800), 3:41.48 (1500), 4:01.23 (1M), 7:59.00 (3000) and 30:23.13 (10,000)."
Twice, in 2012 and 2014 Mark raced 3000m on the track as a Senior for Scottish International teams.
Mark Mitchell was born in 1988 and had great success from early on, securing many Scottish titles.
Under-13: 2001 Scottish Short Course; Scottish Schools Group D 1500m;
Under-15: 2002 Scottish Schools Group C 1500m.
Under-17: 2003 and 2004 Scottish Schools Group B 800m; 2003 and 2004 Scottish Championship 800m; 2004 Scottish Indoor 800m. In 2003, at Belfast, Mark raced cross country for Scotland.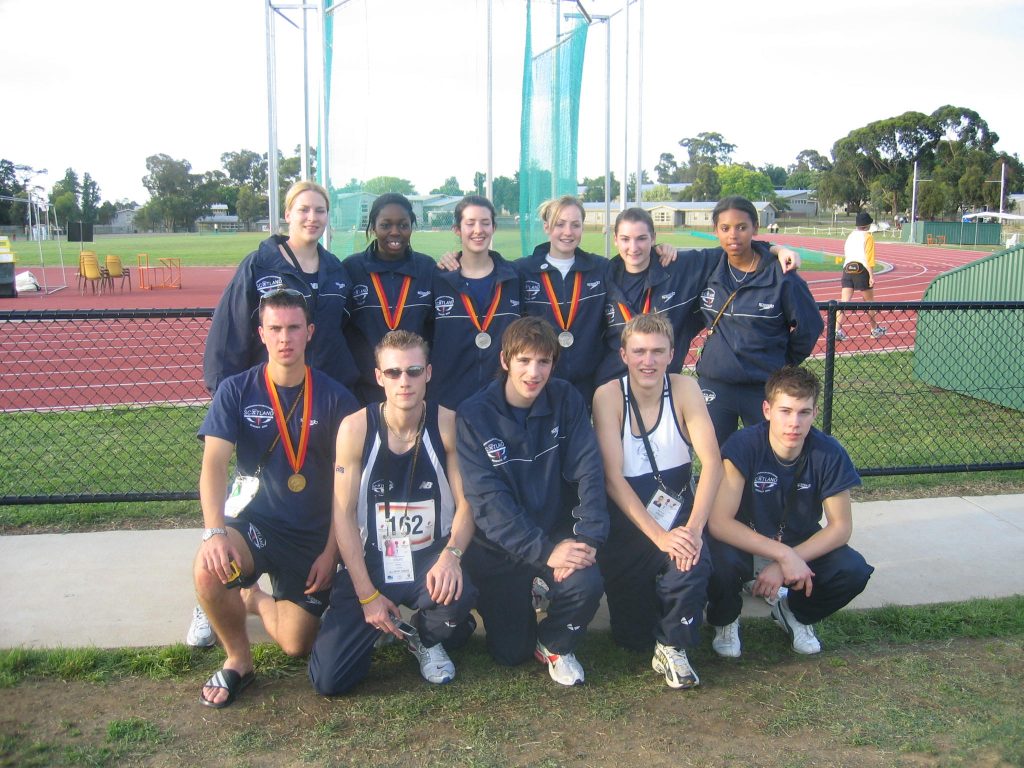 In 2004, Mark travelled with the Scottish team to the Commonwealth Youth Games in Australia. Could that be him kneeling in the middle of the front row?
Under-20: 2005 Scottish Schools 800m; 2005 and 2006 Scottish Championship 800m; 2005 and 2006 Scottish Indoor 800m.
As a Senior, Mark Mitchell won the 2013 Scottish Short Course XC Championship. On the road, he won the 2016 Scottish 5 km Championship. His Scottish track titles were: 800m in 2008, 2010 and 2012; 1500m in 2011 and 2012; Indoor 1500 in 2014. In addition, he secured a bronze medal in the British 2012 Indoor 3000m Championship.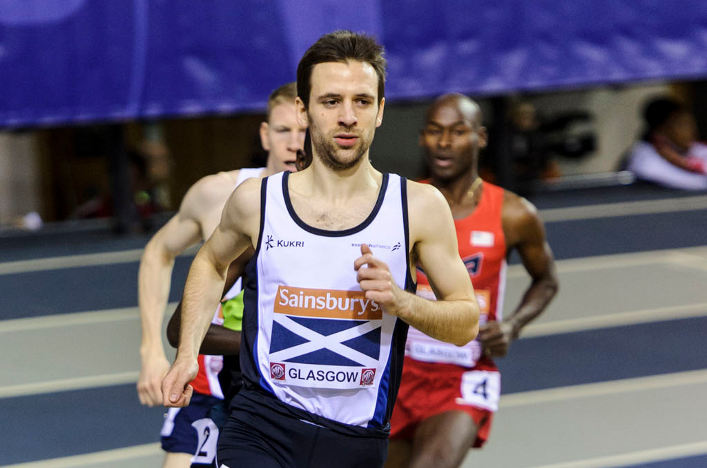 Mark won many North District XC Championships: under 13 in 2000 and 2001; under 15 in 2002 and 2003; under 17 in 2004. As a Senior, he was North District Champion in 2011, 2012 and 2015.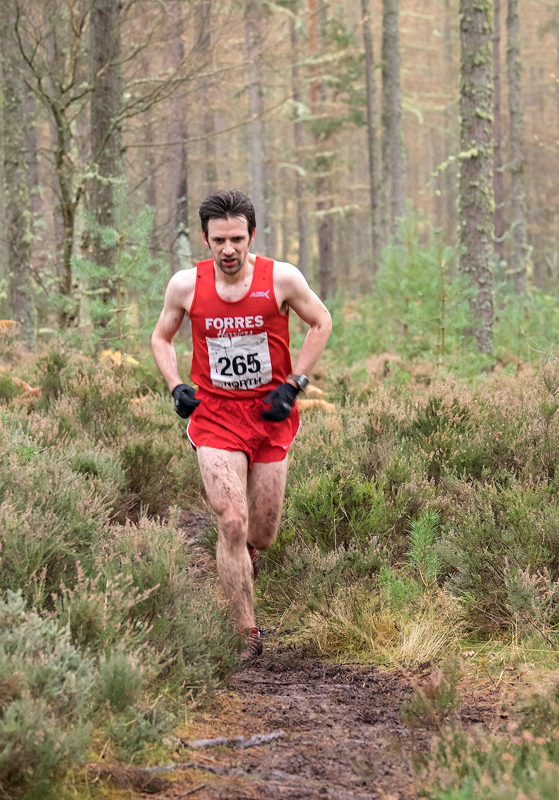 Scottish Athletics reported:
"Despite severe forecasts, the atmosphere at the 2015 North District Championships could not be dampened and the event was a massive success with increased numbers in most age groups and a high standard of competition with lots of close finishes. The talk was all about Inter-district selection as well, so there was a lot to play for.
It was also a day when the Senior titles delivered success which can aptly be described as 'his and hers' with Mark Mitchell taking the Men's race in a great finish as his partner, Eilidh Mackenzie, won the Women's gold for the fourth time."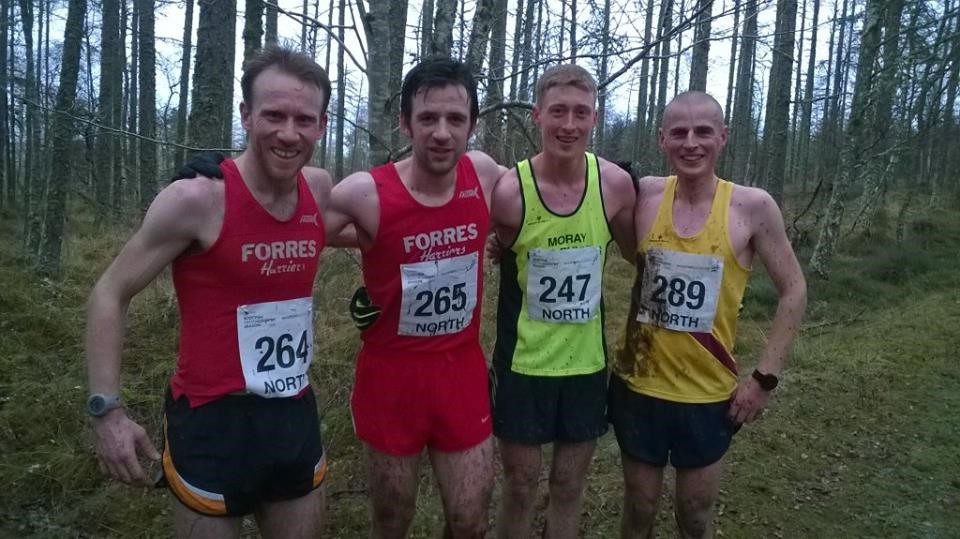 Top four in the Men's race – with Mark Mitchell champion again
Left to right: Kyle Greig, Mark Mitchell, Kenny Wilson, John Newsom
"The Senior Men's race had a field packed with high standard athletes and internationalists, which delighted the spectators. Mitchell won it from John Newsom, of Inverness Harriers with Kyle Greig, Forres Harriers, in third and Kenny Wilson, Moray Road Runners, fourth.
The Senior Women did not disappoint with an exciting battle between eventual winner Eilidh Mackenzie, Stornoway RAC from Sarah Liebnitz, Inverness Harriers, with Rhona Grant, Highland Hill Runners taking the bronze place."