Scottish statistician Arnold Black wrote:
"ATHLETE OF THE DAY – JOHN NEWSOM
John Newsom has excelled both on the track and the road since first breaking into the Scottish rankings as an 18-year-old in 2003. He won the Scottish national 10.000m title in 2011, one of 9 track medals gained between 3000m and 10.000m. On the road and trail running, he has won 6 silver medals and 3 bronze and has also collected 2 medals over cross-country. Career bests of 8:20.44 (3000), 14:31.62 (5000), 30:58.02 (10.000), 29:57 (10k), 66:35 (HM) and 2:24:42 (Mar)."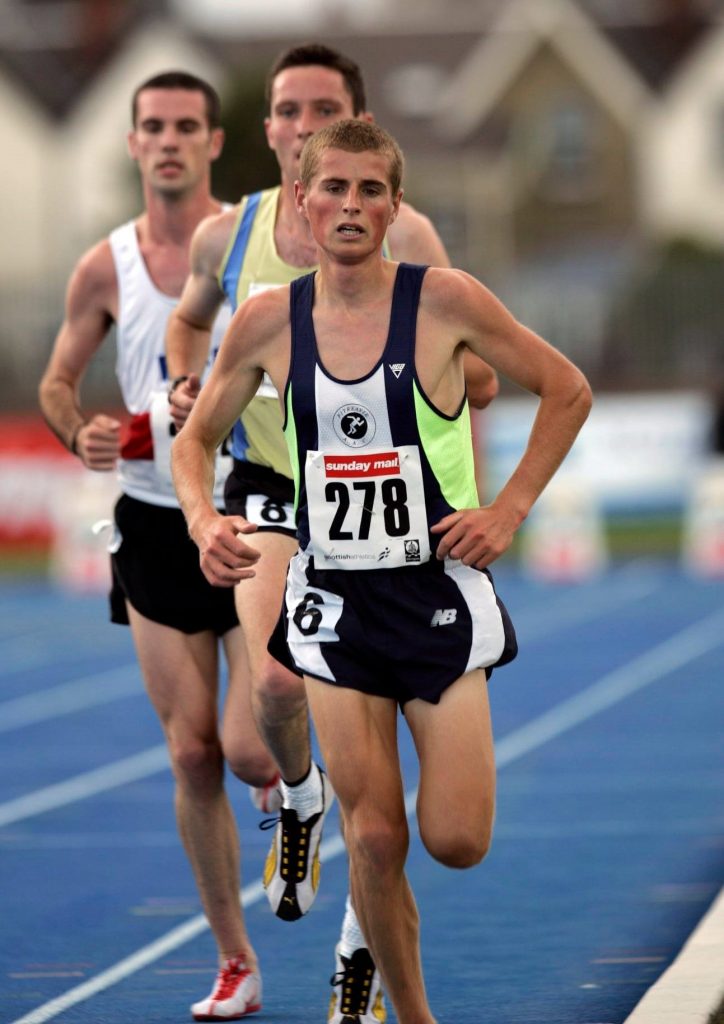 John Newsom (278)
John NEWSOM (born 20.10.84) Pitreavie AAC, Central AC, Inverness Harriers.
In 2008 John's 10,000m time of 30.58.3 ranked him first in Scotland. His Scottish Championship record was as follows:
First in the 2011 10,000 metres; second in 2010 and 2012; third in 2008.
Second in the 5000m in 2006; third in 2004, 2005 and 2011..
Second in the 2015 Marathon Championship
Second in the 2005 Indoor 3000m.
Scottish International appearances:
One Senior track vest: 2004 Loughborough 3000m
Under-23 2004 Cross Country vest: Celtic International, Ayr. John Newsom finished 2nd Scot in 5th place and Scotland won the team contest, beating Wales and Northern Ireland.
Cross Country: two Senior vests:
2008 Home Countries Edinburgh. John finished second Scot in 5th place. The Scottish team was second to England but beat Wales and NI.
2010 in Drogheda, Ireland. The Scottish team finished third to USA and Poland, but in front of Ireland, Wales and Finland.
World Mountain Running Championship
2003 – U20 – 23rd Individual and 4th team (Scotland) Girdwood Alaska.
2004 – Senior – Sauze d'Oulx, Italy
Road one Senior vest: 2018 Cardiff, Commonwealth Half Marathon Championship
National Young Athletes Road Races
1998 – U13 – Individual Gold
2002 – U20 – Individual Gold
2003 – U20 – Individual Gold
2004 – U20 – Individual Gold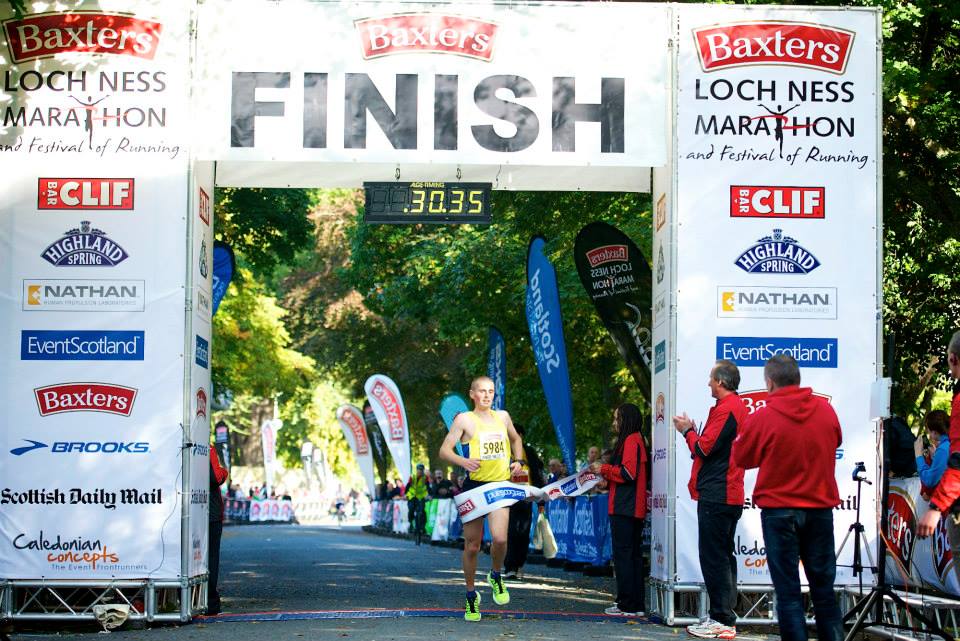 John winning the Baxter's 10k in 2013
In the Scottish 10km Road Championships, John won: silver in 2004, 2005, 2006. Bronze in 2011, only 7 seconds behind the winner.
10 miles Championship: silver in 2013, again only 7 secs behind the winner
Half Marathon Championship: bronze in 2012.
Marathon Championship: silver in 2015
Scottish Cross Country Championships:
Racing for Pitreavie in 1999, John won Under 15 Individual Gold.
In 2004, John became the Scottish Universities Cross Country Champion.
In 2004 and 2005, he won individual gold in the under-20 Scottish Junior XC Championship.
In the Senior National XC, John secured silver in 2007; and bronze in 2008, only 8 seconds behind the winner.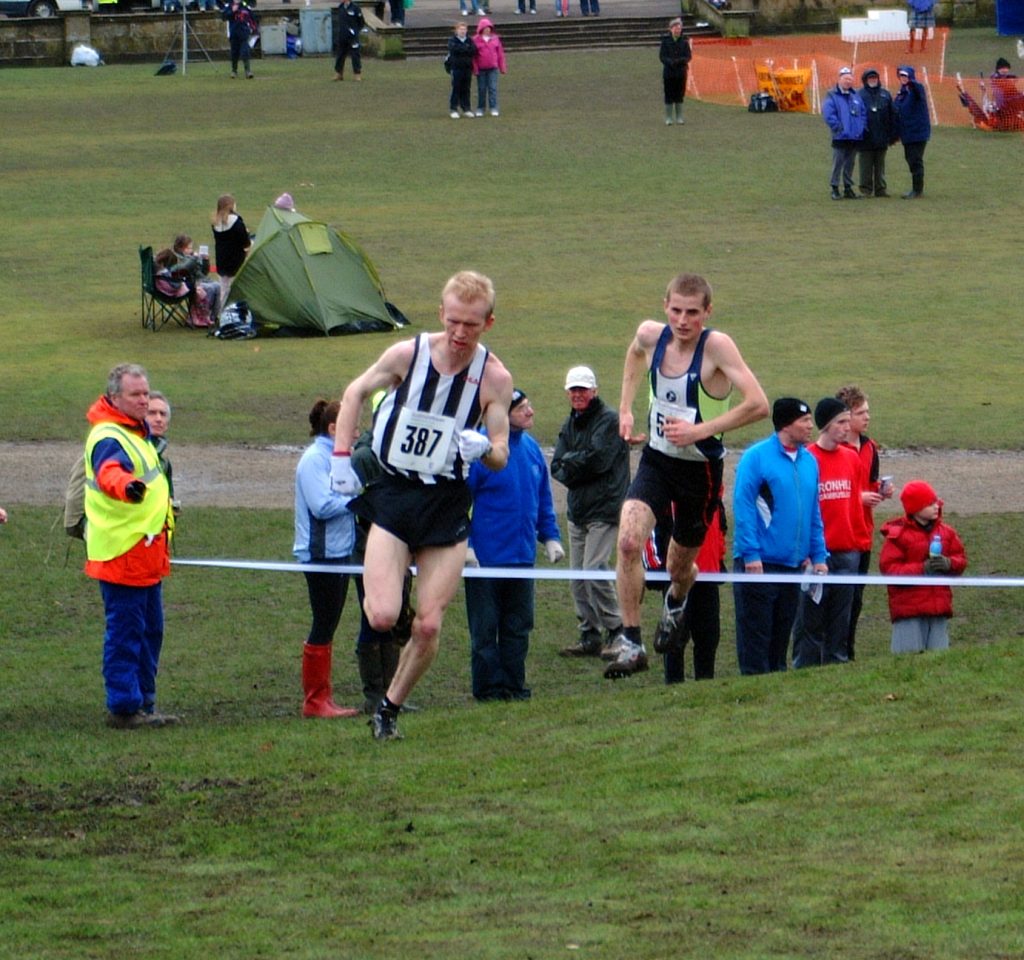 Near the finish of the 2008 Senior National XC
John Newsom has been very consistent not only as an individual but also as a team contributor. In the 2011 National Cross-Country, he finished 8th and Central won team gold. 2012: 15th and team gold. 2013 11th and team gold; 2014 12th and team gold; 2015: 15th and team gold.
With Central AC, he also won team bronze in the 2011 and 2012 National XC Relays; and team gold in the 2012 6-Stage Scottish Road Relay Championship.
In the Scottish Inter–District Cross Country Championships, racing for East, John Newsom won the Inter District title as a Senior on two occasions in 2005 and 2008
Running for Inverness, he was North District XC Champion in 2017, 2018 and 2020.
Scottish Mid Trail Championship
2017 – Senior – Individual silver and team silver (Inverness Harriers)
2018 – Senior – Individual bronze and team gold (Inverness Harriers)
What a varied and successful running career! And there may be many more successes in future.
QUESTIONNAIRE
NAME: John Newsom
CLUBs: Pitreavie AAC, University of Stirling, Central AC, Inverness Harriers AAC,
DATE OF BIRTH: 20/10/84
OCCUPATION: Estates Management
HOW DID YOU GET INVOLVED IN THE SPORT?
I'd say there are three significant factors in why I got involved in athletics.
My dad was involved with the Hash House Harriers, every second Sunday they meet at a different location for a run over mixed terrain following the trail set in advance by the hare for that particular run. There were quite a few families that went along at the time, often the kids would join in for the first few minutes of the run and over time with the help of a few shortcuts could eventually get round the route and back to the start for a can of coke!
I grew up in Aberdour, Fife. As part of the village's annual weekly festival there is the Donkey Brae Run, this is a 7-mile approx. race with a 2-mile approx. fun run. Gradually I progressed from running (walking) round the 2-mile with my friend and our dads at 4 years old; on to giving absolutely everything in a full-on race and eventually winning it when I was 14! I can vividly remember my muscles being so sore for days afterwards as I had worked that hard! I then moved on to win the 7-mile run when I was with Pitreavie AAC.
Probably most significant however was the influence of Pauleen Norman. Pauleen lives in Aberdour with her family just slightly above me at primary school and members of Pitreavie AAC. Pauleen organised training sessions for Aberdour Primary School leading up to the local schools running events. Pauleen was incredibly encouraging and the reason I eventually made the step up to joining Pitreavie AAC.
HAS ANY INDIVIDUAL OR GROUP HAD A MARKED INFLUENCE ON YOUR ATTITUDE OR INDIVIDUAL PERFORMANCE?
I would say my time at Pitreavie AAC has shaped my athletics career most significantly. Having progressed through junior groups with Allan Ward, George Kirk and Mike Greeley in my early years with the club, I then progressed up to the endurance group coached by John Wands and Bill Lindsay. John Wands was able to push what I thought were my boundaries and open my eyes to what could be achieved.
WHAT EXACTLY DO YOU GET OUT OF THE SPORT?
I enjoy being competitive and with that comes the feeling of moving fast over the ground. In recent years this has largely been through competing in the North District Cross Country League for Inverness Harriers where I have had some great head-to-head racing with Kyle Greig (Forres Harriers) and Kenny Wilson (Moray Road Runners).
WHAT DO YOU CONSIDER TO BE YOUR BEST EVER PERFORMANCE OR PERFORMANCES?
My 2nd and 3rd place finishes at the Scottish National Cross-Country Championship as a Senior in 2007 and 2008 behind Mark Pollard (Inverclyde) are performances that come to mind. Although not quite on the top step, I ran the best possible race I could on both occasions in what is the most prestigious race in the country.
Dipping under 30 minutes for 10K at the Great Manchester Run in 2006. Through my first real injury, I had missed this first cross–country season for myself as a Senior in Scotland and returned early in 2006 in far better shape than I could have hoped. From memory, at that point I believe it had been quite a number of years since the last Scot had broken 30 minutes on the road.
13th at Inter Counties / World Cross Country Trials at Nottingham as a Senior in 2005. Everything fell into place that day, competing at UK level.
YOUR WORST?
There have been a few! Most recent in my memory was representing Scotland at the Commonwealth Half Marathon Championship in Cardiff in 2018, when I really struggled. The high from gaining this selection after quite a number of years out of the frame was quickly dashed.
WHAT UNFULFILLED AMBITIONS DO YOU HAVE?
My early ambitions have somewhat changed: but that's just sport! The unfulfilled ambitions are likely to stay just that. However, I'm always setting myself new targets.
OTHER LEISURE ACTIVITIES?
I've always been into mountain biking and during the last few years have branched out into road cycling too. Now that I live in Nairn, there are endless possibilities for quiet cycling routes.
WHAT DOES RUNNING BRING YOU THAT YOU WOULD NOT HAVE WANTED TO MISS?
Many highs and many lows, I wouldn't swap it though! I like having goals and working towards them. The process is fairly simple and the mental strength to stick to it is what I've always felt I'm quite good at. I've competed in a wide range of disciplines – track, road, cross country, hill running and Highland Games. Each has brought great satisfaction at different times of my career.
CAN YOU GIVE SOME DETAILS OF YOUR TRAINING?
My training has changed over the years. I'm conscious of age and injury history and my goals have moved because of this. My coach Chris Robison has been a tremendous help to me, particularly when going through periods of injury.
In my early athletics career with Pitreavie AAC I was very track focused in training. This continued when I moved to Stirling and competed for Central AC. Since moving to Nairn in 2012 I have enjoyed training on the trails and beaches. I have always enjoyed group training and the benefits that brings.
For me, the big step up in my achievements came when I started University. This coincided with the introduction of regularly running twice a day and managing my own routine.