Scottish Athletics statistician, Arnold Black, has posted the following:
ATHLETE OF THE DAY – FREYA MURRAY
Freya Ross was twice UK champion at 5000 metres and represented GB in the marathon at the 2012 Olympics. She has won 3 Scottish track titles, 6 cross-country championships and 1 marathon title, representing Scotland at the 2010 Commonwealth Games at Delhi in the 5000 (7th) and 10,000 (5th). Her career bests: 2:09.03 (800), 4:15.85 (1500), 9:08.97 (3000), 15:26.5 (5000), 32:23.44 (10,000) and 2:28.10 marathon, topping the Scottish rankings 3 times at 10,000, twice at marathon and once at 5000.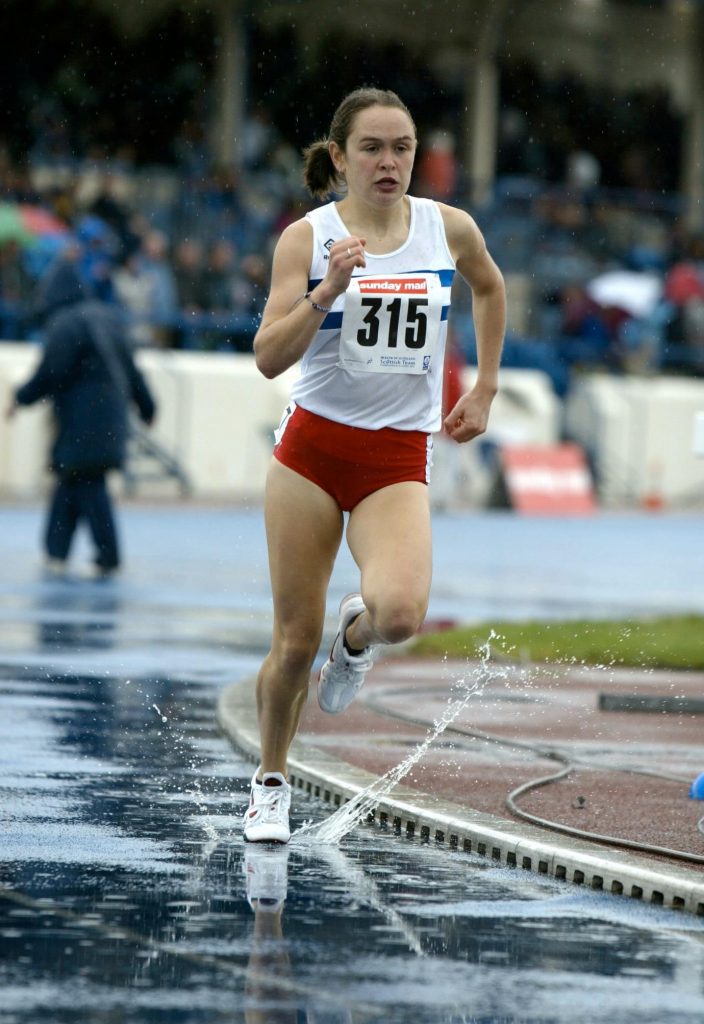 The photo is from the 2002 Scottish championships which, as you can tell from the track, were held on a summery June day.
Freya Murray had considerable success as a Young Athlete. In the under-17 age group, she gained a silver medal in the 2000 Scottish Cross-Country Championship and, representing Lasswade AAC, won the title in 2001. Running for Edinburgh Southern Harriers, Freya secured the under-20 Scottish XC title in 2003 and 2004. In that category, she also won the Scottish Short Course Cross-Country in 2003.
On the track, Freya won the Scottish Schools 3000m title in 1999 and 2000. In 2001 and 2002, she finished first in the Scottish under-20 1500m. Her Senior Scottish Championship victories were: 10,000m in 2009; and 5000m in 2010 and 2016.
Apart from her Commonwealth Games appearances, Freya Murray gained 3 other Scotland Track vests between 2004 and 2008 – racing 1500 and 5000m.
In addition, she secured two International Cross Country vests: in 2003 at Liverpool (where the Scots defeated the English team); and 2008 at Edinburgh (where England gained revenge, despite Freya being first Scot in third place but her team beat Northern Ireland and Wales).
Three of her best road racing results were: when she won the Great Ireland Run in 2009; and the Great Yorkshire Run in both 2009 and 2010, setting the course record in 2009.
Her Scottish Marathon win was as Freya Ross (Edinburgh AC) in 2016 at the London Marathon, where her time was a fine 2.37.52.
Freya was an invaluable team runner, who contributed to several EAC triumphs.
She won the East XC title in 2006; and in 2009, when EAC won the team event.
She finished first in the Scottish Short Course XC Championships in 2003, 2004, 2006, 2008 and 2009. EAC won the team title in 2008, 2009 and 2016.
Another team victory was in the 2016 Scottish XC Relay Championships.
Freya Murray became Scottish National Cross Country Champion in 2006, 2007, 2009, 2010, 2011 and 2012. EAC won the team title in 2008, 2011 and 2012.
It is well worth looking up the Wikpedia page for Freya Ross. She also has her own website.
Taking part in the 2012 London Olympic Marathon was such a highlight in Freya's illustrious career.
BBC online news reported:
Freya Murray says she is ready to race in the Olympic marathon on 5 August after being called up to replace the injured Paula Radcliffe
The 28-year-old Scot has been training as a reserve since April and says she is "fit and healthy".
"I knew I was reserve and wanted to be ready to race if the opportunity did come up," she told BBC Radio 5 live.
Murray was the second fastest British woman at April's London Marathon, clocking 2 hours 28 minutes 12 seconds.
Radcliffe was ruled out on Sunday because of an osteoarthritis problem in her foot.
"It's such a sad time for her and it must be horrible," said Murray, who runs for both the Chester-le-Street and Edinburgh clubs.
A structural engineer in Newcastle upon Tyne, she becomes the first Scottish woman to represent Britain in an Olympic marathon since Liz McColgan at Atlanta in 1996.
"Paula sent me a message once she made the decision to pull out so it was really good of her and I really appreciated that.
"I'm gutted for Paula and it's horrendous, what she's had to go through in the last few weeks, but I'm really looking forward to the opportunity of taking her place."
Team GB chef de mission Andy Hunt added: "We are proud to welcome Freya to Team GB. We know she has been training hard and preparing, and will arrive fully ready to compete."
Eminent Scottish sports journalist Sandy Sutherland reported in the Edinburgh Evening News on Monday 6th August 2012
Last-minute replacement Freya Murray (Edinburgh AC) did herself and Scotland proud by finishing first Briton in the Olympic Women's Marathon in London yesterday
Beginning slowly but gradually working her way up the field over the four laps, Murray, who came in for the injured icon of the sport Paula Radcliffe, finished more than three minutes clear of Claire Hallissey, the English woman who beat her for the one vacant place available in the British team from the official trial at the Virgin London Marathon last April.
Mara Yamauchi, the other pre-selected British runner along with Radcliffe, had a tragically short outing, being forced to drop out before the 10 kilometres mark with a bruised heel.
Though Murray's time of 2:32.14 in 44th place was over four minutes slower than the time she accomplished in her brilliant debut at the classic distance in the Virgin London event, this was not the same London course but a tougher, hillier one described as "challenging and technical" which, however, took in most of the leading London landmarks and was lined throughout by cheering crowds despite frequent heavy showers.
"That was the most amazing experience I've ever had. I just went out there to get the experience and I was so excited. I enjoyed every bit of it, even the hard parts," gasped a mud-spattered Murray at the finish.
"The crowds were absolutely fantastic and for them to come out in this weather was just amazing. I didn't know what to expect as I only had a week's notice that I was definitely in the team. It wasn't till I had a call from Paula a week last Thursday that it really dawned on me that maybe I might be in the Olympics," said the Scottish deputy for the world's fastest ever female marathon runner who was forced to withdraw due to osteoarthritis of a leg joint.
A big contingent of Murray's family and friends made the journey south.
Thanking them all for their support, the 28-year-old Beeslack High former pupil paid special tribute to her coach, former London Marathon winner Steve Jones, who flew over specially from the USA to watch the race.
"Steve's a great coach," said Murray who has clearly benefitted from the altitude training she has undergone in the past at his Colorado base. In fact, she was due to fly to Colorado for another stint when the call came through that she was in the team.
Murray revealed that she had been sharing a room with Yamauchi and had known of her potential problem. "It's a horrible way to go out of the Games – I really feel for her.
"After hearing I was in I was so terrified that I tip-toed around thinking 'what if I trip!'
"I was so gutted after the trial that I didn't want anything else to go wrong."
Yamauchi, who was sixth in the marathon at the 2008 Beijing Olympics, explained her problem: "I had a heel bruise which I was able to run on and I was managing it.
"It's not the best situation to be in going into the Olympic marathon yet I was more than confident I could give it a good go, but it started to hurt after the second corner."
Murray's former coach Ian Whyte, who also travelled to London from Sunderland specially to watch the race, praised her performance.
"She started steadily, looked positive but relaxed and ran the type of race the occasion demanded, careful and paced."
"I hope it encourages younger Scottish athletes to believe that diligence, patience and perseverance against adversity, such as injuries, can be rewarded."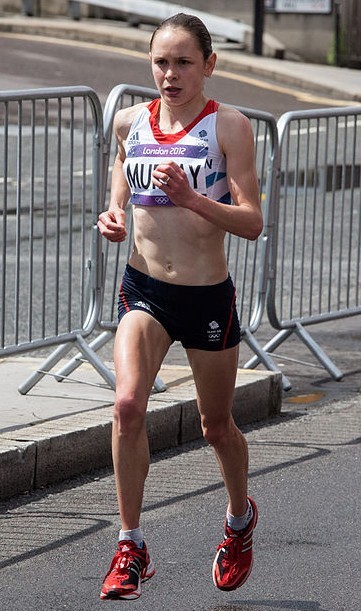 Freya in the 2012 London Olympic Marathon
Freya Ross has written and self-published a recipe book called 'Food on the Run' detailing what her diet is like as a runner. It is a collection of some of her favourite recipes and gives an insight into the kind of food an athlete eats. It demonstrates that recipes do not need to be complicated and include obscure ingredients to be nutritious.
Freya lives in Larbert, Scotland with her husband and daughter and works as an Event Coordinator. She previously worked as a structural engineer for Cundall LLP, before a spell as a full-time athlete.
Freya received an Honorary Doctorate from Heriot-Watt University in 2014.