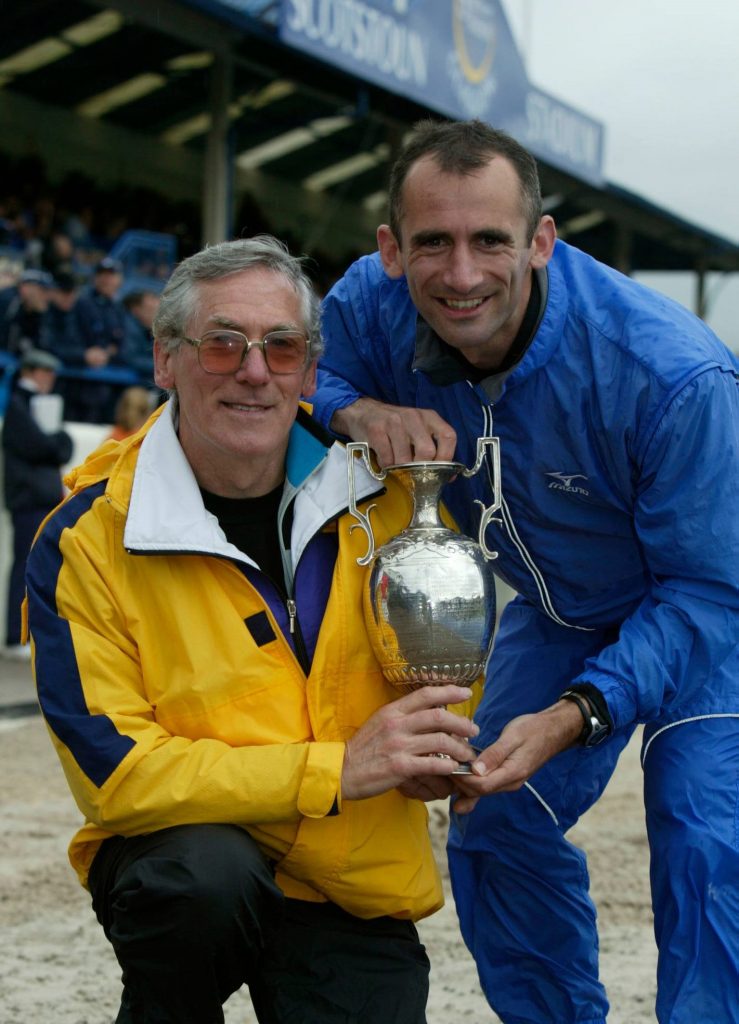 Glen Stewart with his famous father (1970 Commonwealth Games 10,000m Champion) Lachie Stewart
Scottish Athletics statistician Arnold Black posted the following:
"ATHLETE OF THE DAY – GLEN STEWART
Glen Stewart (born 7/12/70) was an 8-time Scottish champion, winning 4 1500m titles, 2 5000m titles and 2 indoor 3000m championships. He competed at 5000m and 10,000m at the 2002 Commonwealth Games. Top of the Scottish 1500m rankings in 1996, 3000m in 1999 and 2000, 5000m and 10,000m in 2001, 2002 and 2004, he recorded career bests of 1:49.2 (800), 3:38.66 (1500), 3:59.56 (1M), 7:55.15 (3000), 13:37.17 (5000) and 28:40.14 (10000)."
Apart from his many Scottish Championship medals, Glen secured bronze in the 2001 AAA 10,000m Championship.
In the 1986 Scottish National under-15 Cross-Country Championships Glen Stewart won the under-15 title. His team, Clydebank AC, won gold medals too.
In the 1986 Scottish XC Relay Championships, Clydebank AC (including Glen Stewart) won the Young Athletes Male race.
In the 1987 Scottish National under-17 Cross-Country Championships, Glen won the team title with Clydebank AC. In 1988, he contributed once more towards the team title win.
In 1990, Clydebank AC won the team title in the Scottish National under-20 Cross-Country Championships. Glen Stewart secured individual silver.
On the road, Glen won SAF 10k gold in 1996 (representing Leslie Deans RC). For Mizuno RC he won this title again in 1998, 1999, 2000, 2001, 2002 and 2003. Then again (not sure what his club was) in 2005 and 2006.
Glen also won SAF Half Marathon gold in 2006 (running for West Dumbarton).
What about Glen Stewart's Scottish International appearances? Apart from his two track races in the 2002 Commonwealth Games, between 1993 and 2003, he wore the Scottish vest on nine occasions, racing 1500m or 5000m. In addition, between 1996 and 2004, he represented his country twice in road races and four times over cross country. In addition, Glen Stewart raced 3000m for a Great Britain team in a televised European Nations Track and Field contest.
Glen Stewart had a great deal of success racing for a club variously named Racing Club Edinburgh, Leslie Deans RC or Mizuno RC. The same organisation won the Edinburgh to Glasgow Road Relay twelve years in succession (1991-2002). These teams featured extremely fine athletes who were marvellous to watch – most of the Scottish cream. Despite stern moments of occasional resistance from Falkirk, Cambuslang, Shettleston, Hunters Bog Trotters, Kilbarchan and Fife, in most years the 'Superclub' won quite easily.
Of course, their runners broke all sorts of records, although the course kept changing, so accurate comparisons with earlier years were impossible. However, the medal-winning records of Racing Club's best athletes are amazing. Alan Robson finished with 6 golds, a silver and a bronze; Brian Kirkwood and Ken Chapman 7 golds; and Scott Cohen and Glen Stewart won 8. Tom Hanlon clocked up ten golds, a silver and a bronze. Davie Ross accrued an incredible eleven golds plus a silver and a bronze. Perhaps the greatest was John Robson, with ten golds, two silvers, a bronze and nine times fastest on a stage, often the long leg six!
Edinburgh to Glasgow Road Relay: 1995 (Leslie Deans RC) team gold – Glen Stewart on Stage 8; 1996 (Mizuno RC) fastest on Stage 8; 1997 set Stage 8 record; 1998 fastest on Stage 8; 1999 Stage 6; 2000 fastest on Stage 6; 2001 set Stage 6 record; 2002 set Stage 4 record.
Scottish Six Stage Road Relay: Glen contributed to team gold in 1995, 1998, 1999, 2001 and 2003.
Scottish Cross Country Relay Championships: Glen was part of winning teams in 1997, 1998, 2000, 2001, 2002 and 2003.
Scottish National Cross Country Championships: Glen finished fourth in 1998, when Mizuno RC was second team. In both 2002 and 2004, Glen Stewart became Scottish National XC Champion.