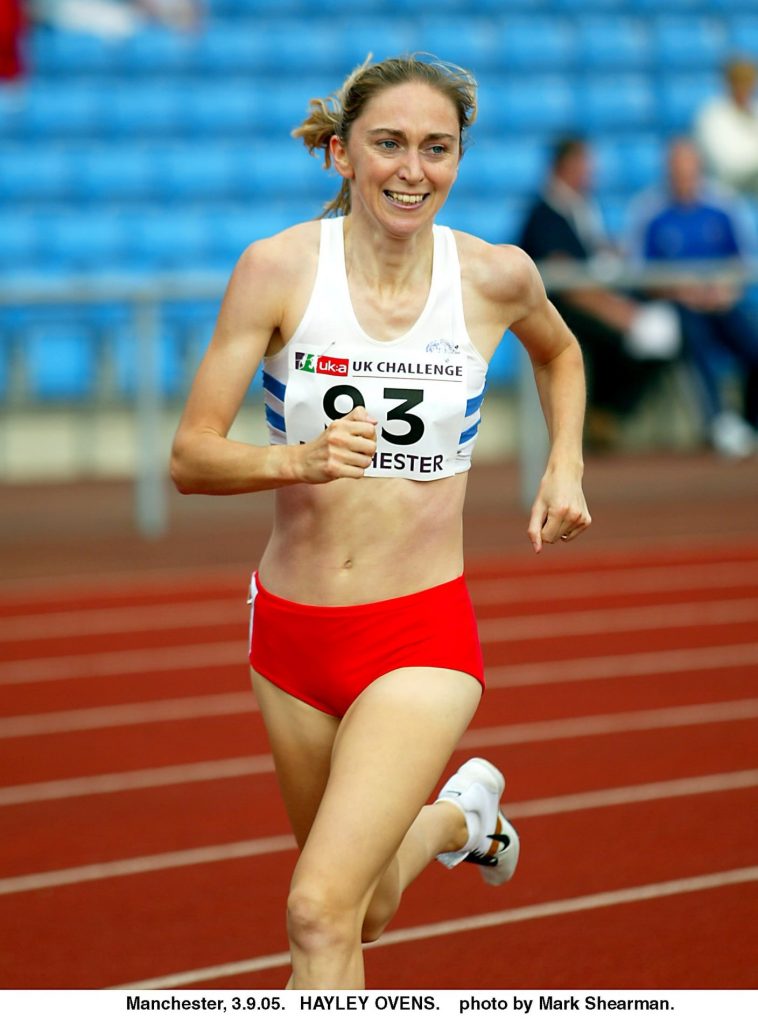 Scottish Athletics statistician Arnold Black wrote the following:
"ATHLETE OF THE DAY – HAYLEY OVENS
Hayley Parkinson Ovens ran for Scotland in 2 Commonwealth Games 1500 metres finals and for GB in the World indoor championships. She won three British indoor titles and was Scottish 1500m champion 4 times outdoor and 3 times in, as well as winning the short course cross country title. She represented Scotland on 10 occasions in track internationals, twice winning the Loughborough match. She entered the rankings at age 15, retiring 17 years later with career bests of 57.85 (400), 2:03.19 (800), 4:10.34 (1500), 9:14.88 (3000), 16:35.97 (5000) and 10:50.23 (3000 steeplechase)"
Hayley F. PARKINSON (5.12.75) Balwearie HS, Edinburgh University, Edinburgh Southern, Edinburgh
Between 1991 and 1999, she raced as Hayley Parkinson; from 2000 to 2008 as Hayley Ovens.
Scottish International appearances:
Hayley Parkinson started her International Track career in 1993, when she raced Indoor 3000m for Scottish Schools v Scotland v Scottish Universities v Northern Ireland.
As a Senior, Hayley won the 1500 at Loughborough (v England, Wales and other selected athletes) in 2002 and 2003. She also won a 1500 v Northern Ireland and Wales in 2001.
Her ten track vests (between 1998 and 2006) featured racing 800m, 1500, 3000m, 4×400 and 4×1500. Opponents included the four Home Countries plus Eire.
Championship Record:
In the 2003 World Indoor Championships 2003: (for GB) she raced a heat of the 1500.
In the 2002 Commonwealth Games, she was 12th in the 1500, in a time of 4.16.95
In the 2006 Commonwealth Games she finished 10th in the 1500, recording a time of 4.10.75 – nearly a personal best.
GB Championships: Hayley was second in the 2003 1500. She won the Indoor 1500 in 2003, 2005 and 2006. In addition, she was second in the 2004 Indoor 1500 and third in 2001.
Scottish Championships:
In 1994, Hayley won the under 20 800m and 1500m titles.
Hayley won the Senior 1500 title in 1998, 1999, 2001 and 2005; finishing second in 2002 and 2006. She won the Indoor 1500 title in 1997, 1998 and 2001, as well as finishing second in 1999, 2000 and 2006.
Despite racing against formidable opponents like Liz McColgan, Yvonne Murray, Lynne McDougall and Kathy Butler, Hayley Ovens topped the Scottish ranking lists for 1500m in 2003, 2004 and 2006.
East District Championships: In 1997 Hayley completed the 800/1500 double; in 1998 she won the 800 title; in 1999 the 1500; in 2000 the 1500; and in 2005 the 5000m.
Cross Country:
Running for Edinburgh University, Hayley won the 1994 Scottish under 20 XC title, when EU also won the team race.
She secured Senior National XC team silver (EU) in 1997; and silver again in 1998 (Edinburgh Woollen Mill) when she finished a meritorious 7th individual.
For Edinburgh University, Hayley won three team medals in the Scottish XC Relay Championships: bronze in 1995 and silver team in 1997. In 2000 her EWM team finished second.
In the 2002 Scottish National Short Course Cross Country Championships, Hayley Ovens won individual gold. She added bronze in 2003, 2004 and 2005 (behind top class rivals – Freya Murray, Susan Partridge, Liz McColgan and Collette Fagan.