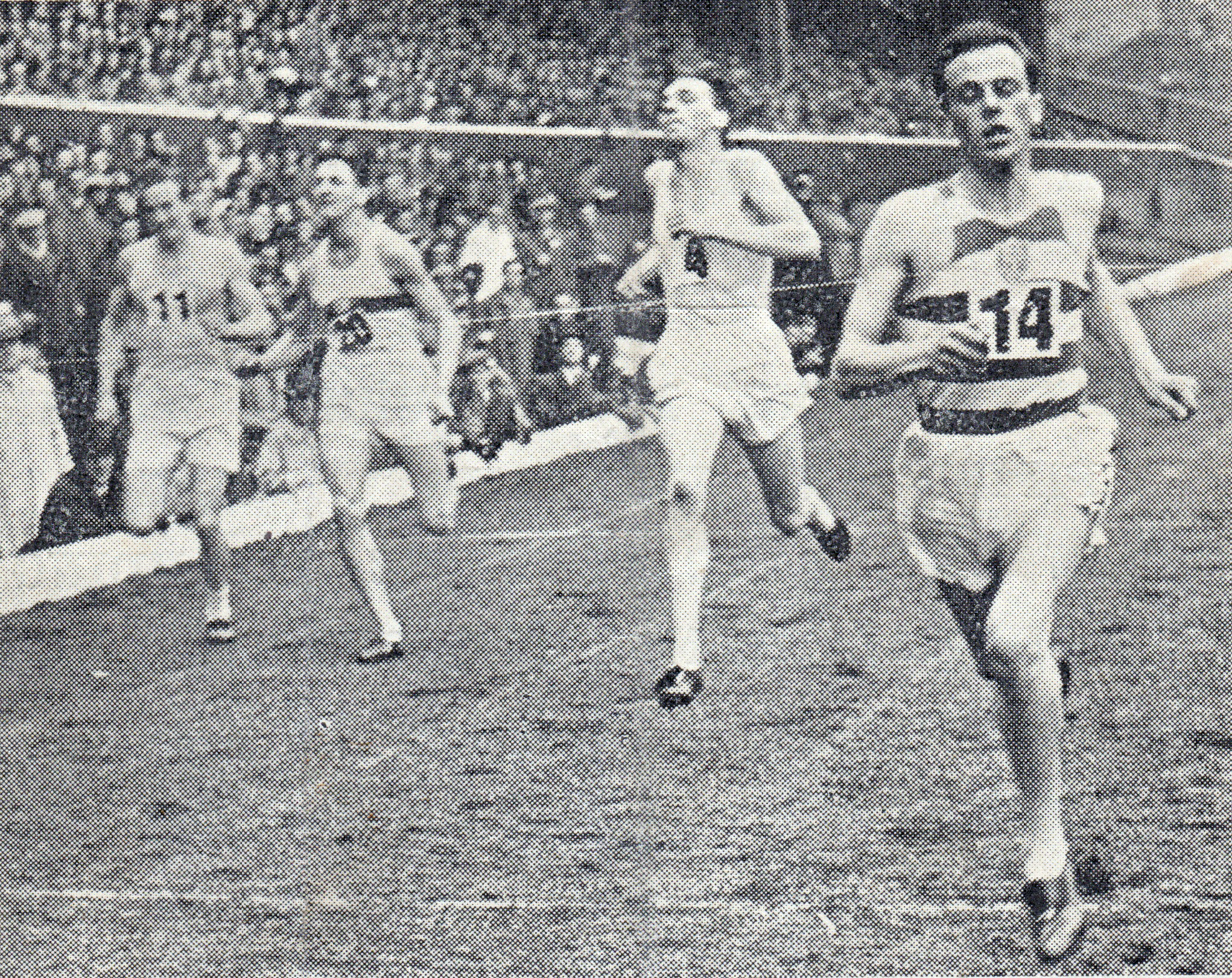 Jim Hamilton winning the SAAA 440 yards in 1950
Until the days of Tom McKean, only two Scots men had run in the 880 yards or 800 metres final of the Empire and Commonwealth Games – Stothard in 1934 and JS  Hamilton twenty years later in 1954.   Of course when we speak of the Vancouver Games we invariably speak of Joe McGhee with Jim Hamilton not even an afterthought.   This is unfair on a fine athlete who won SAAA titles at two distances and ran in the Games.   In Britain as a whole the situation is even less good with Bannister's victory over Landy taking pride of place over Peters' run in the marathon.   Hamilton however was a very good runner whose career should be examined a bit more closely that it has been.
Before reviewing his career, it should be remembered that he was starting out on his athletics in the late 1940's: the War had only come to an end in 1945 and there were shortages of food, clothing and just about everything.  In 1946, there was still rationing – a loaf of bread was smaller than pre-war, there was a wheat shortage world-wide in 1946 and so on.    Athletics kit came at the expense of other clothing because clothing coupons were required for any kind of clothing: coats, shirts and shoes had a higher priority on the coupon front than vests and shorts.   As an example of how difficult it was to obtain athletics clothing, the correspondence extract below speaks volumes.   It dates from 1947, a year after Hamilton won the Junior 880 yards and originates from the situation where the military sometimes had supplies of clothing that they could sell to athletic clubs, youth clubs, etc, without the need for clothing coupons.   Jim Shields had written on behalf of Clydesdale Harriers to investigate this further and this is page one of the two page reply.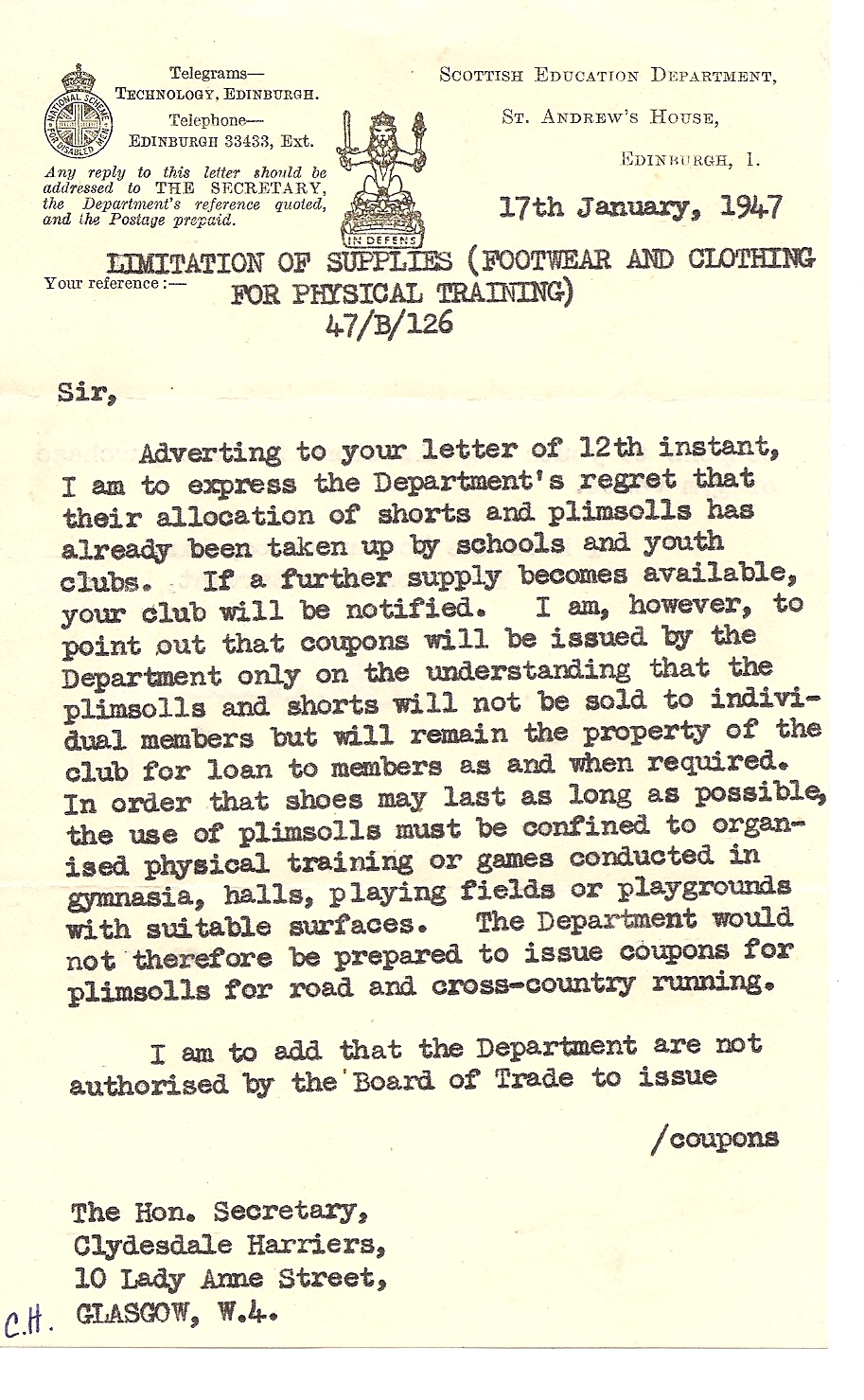 You probably get the picture.
Newspapers like the 'Glasgow Herald' only ran to eight pages and again sports reporting was severely curtailed.   Athletes of Olympic standard received food parcels from South Africa and some of the other Commonwealth countries, other athletes had to do with rations like the rest of the population.   Travel to meetings was difficult since for almost all athletes it meant public transport and changes of train or bus, or a combination of both.   For sprinters, as he was when he started out, tracks were cinder, starting blocks were virtually unheard of.    Bear these factors in mind when looking at times run by men such as Hamilton.
*
Hamilton's first big year was 1946.   The SAAA Junior Championships were held on 8th June 1946 and Hamilton was running in the 880 yards.   AD McDonald, writing in 'The Scots Athlete' reported on the race.   "JS Hamilton, Victoria Park AAC, upheld his reputation by taking the 880 yards in 2 min2.2 sec.   I offer the suggestion to any enterprising sports promoter to arrange a 'special youths half-mile' with Hamilton and Burfitt (the English boy champion) on the scratch mark.   A mere comparison of times is a dangerous method of comparing track running ability, but I fancy that Jimmie Hamilton would be 'in with a shout' at the tape."
Hamilton followed this up with a run in the SAAA Senior Championship where he finished second to JS Taylor of Aberdeen University.   The SAAA selected a small group of athletes to travel to the AAA's Junior Championships at Birmingham and Hamilton was among them.   On arrival they found that the grass track was not a good one but it was what they had to run on.   J Gilbert, SAAA Secretary reported on the meeting for the 'Scots Athlete' and he covered the 880 thus.
"And now for the 880 yards in which Hamilton  was our representative.   Running in Heat 1 he ran a very judicious race, just lying with the leaders until the finishing bend when he came away to qualify as a comfortable second in 2 min6.8 sec.   In the Final, Hamilton was drawn last in a line of nine competitors – not too happy a position.   A quick start brought him into a comfortable position in the first three or four, but Hopcraft of Thames Valley Harriers- a powerfully built runner – started to force the pace, and Hamilton five or six yards behind could not afford to let him get too far ahead.   The first quarter finished with Hopcraft still five or six yards ahead of Hamilton and there was a gasp when the time of the first quarter was announced at 57.5 sec.   Someone was bound to crack.     Could Hamilton sustain the pace?   He was a matter of six yards ahead of the third man.   Rounding the top bend none of the first three looked to have much in reserve but twenty yards from the tape, Hamilton made his effort and got into the lead with Hopcraft now beaten.   It looked 'all over bar the shouting' but Pickles, of Airedale Harriers, who had been lying third most of the way, came through with a surprising burst in the last 10 yards and passed Hamilton who just could not stave off the challenge to finish in 2 min 2 sec.   This time, compared to the first quarter of 57.5 will give some indication of the 'bellows to mend' in  the last turn of the track.   Well done, Hamilton!   You were just a trifle unlucky, I think!
A very good season with gold in the SAAA Junior, silver in the SAAA Senior and silver again the the AAA Junior.   There was also a representative appearance for Hamilton, albeit not in an individual event – he raced on the last leg of the medley relay for Scotland against England and Ireland.
When the 1947 VPAAC Club Championships were held in May, they went ahead without him.   He may well have been injured because he was not seen again before June but came the SAAA Championships at the end of June,  Hamilton added to his medal collection with another silver in the Senior half-mile behind Edinburgh University student Cyril Hall who won by seven yards in 2:02.5.   Not only did Hall beat him in that race but in the medley relay (which was held in the championships at that time) he again got the better of Hamilton and EUAC won from Victoria Park.   His time from the SAAA Championships ranked him number two in Scotland that year.
He disappeared from the headlines for a spell but was back with a vengeance in 1950.
He started the 1950 season with a victory in the quarter mile in the inter-club match between Victoria Park and Edinburgh University at Craiglockhart on May 20th in the time of 51.5 before taking part in the 4 x 440 yards relay along with J Pilling, T Burns and I Sutherland which also won in 3 min 34 sec.   His next reported race was on June 3rd at the Lanarkshire Police Meeting where it was advertised that the leading performers included JS Hamilton, although the brief report of his race read : 'Hamilton back marker off 10 yards in the open 'half' with over 60 competitors, won in the fine time of 1 min 58.7 seconds."
He doesn't appear as an individual among the results again until the SAAA Championships but the Victoria Park sprinters such as George McDonald and Ronnie Whitelock  were very successful and at most sports meetings their team whether medley, 4 x 110 or 4 x 440 was successful and he must have been included in several of them.   In the June 1950 issue of 'The Scots Athlete' Emmet Farrel wrote: "Some people maintain that good juniors are precocious and don't develop into good seniors.   But it is easy to find exceptions to this argument.   At random we could take such names as DA Stewart, J McAslan, JS Hamilton, Cyril Hall and Willie Jack.   ….   Jimmy Hamilton and Cyril Hall now appea to be finding their form in the senior ranks which their junior class seemed to indicate.   ….   It is quite interesting to note that Jimmy Hamilton and Cyril Hall have been reducing their distances recently, concentrating o the 440 instead of the 880 which is reversing the normal procedure where athletes usually step up their distances with the passage oftime.   This of course may be only a passing phase or a training tactic in their athletic careers, but in any case both have been doing fairly well at the shorter distance."  
The SAAA Championships that year were held on 24th June at Hampden Park and the "Glasgow Herald" reported
"The general standard at the meeting was very high; indeed many of the competitors who finished second or third would have been good enough to win past championship titles.   The quarter-mile, for example, was won by JS Hamilton (Victoria Park) in the splendid time of 49.5 seconds, and the second, third and fourth competitors clocked 50.2, 50.5 and 50.5 seconds. "   Second and third were the Olympic hurdler DK Gracie (Glasgow University) and WC O'Kane (Garscube Harriers).
The report in 'The Scots Athlete' was equally fulsome:   !The 'quarter' was another great race.   Dave Gracie tried valiantly to retain his title but just didn't have the sparkle of young Jum Hamilton who returned a brilliant 49.5 looking as if he could have done even better with a harder push.   J Robertson of Edinburgh Northern only 4th with 50.5 (a time that would have won most senior championships) was impressive and noted as a probable future Scottish champion." 
Following the championships a small Scottish squad was selected to compete at the AAA's championships and there was no Hamilton included.   Emmet Farrell again: "It is a pity that lack of funds precluded the sending of some of our best track men including Jimmy Hamilton of Victoria Park whose brilliant 49.5 quarter was surely the performance of the championships as far as the running events were concerned.   The general standard for this event was amazingly high with Gracie, O'Kane and Robertson all inside 50.5 seconds."  
There was some compensation for this omission when Hamilton was selected along with Gracie for the Triangular International against England & Wales, Ireland and Scotland on 7th August, 1950.   The English pair of Pugh and Pike were first and second in 47.9 and 48.6 with Gracie third (48.9), Hamilton fourth, and the Irish duo of Dolan and Rippard fifth and sixth – no time was given for the last three.
The Victoria Park cross-country and road teams were among the very best in Britain at the time and Hamilton's services were not required for the winter season, so it was into the summer of 1951 for him.   There were problems though – Hamilton had picked up a leg injury and his training and racing was impaired.     In the June, 1951, issue of 'The Scots Athlete', Farrell wrote:   "Jim Hamilton, perhaps equally good at the quarter and half, has had his training delayed by a leg injury and unless it clears up quickly his prospects are obscure."  Well, he did turn out in the SAAA championships in the  440 yards where he had to settle for second behind David Gracie.   Result:   1.   Gracie 50.2;   2.   Hamilton  50,5.   3.   Crowe  50.5.
The report in 'The Scots Athlete' read as follows.   "Rivalry was renewed when the holder, Jim Hamilton (VPAAC) met former holder David Gracie who had previously been out in the distance hurdles heats, in the final of the 440 flat.   A bit short of training and lacking last year's strength up the straight, the VP man had to give best to a worthy winner in Gracie in the creditable time of 50.2 seconds."
David Gracie was a superb athlete who specialised in the 440 yards hurdles although he was a very good sprinter indeed with fast times over all sprint distances.   He ran for Larkhall YMCA and for Glasgow University and won the SAAA quarter mile three times – 1949, 1951 and 1952 – and the hurdles four times – 1951, 1952, 1953 and 1954.   He took the 440 yards hurdles record down from 56.2 to 53.7 and ran in the 1952 Olympic Games.    The fact that Hamilton had such an intense rivalry with the man indicates how good the Victoria Park man was.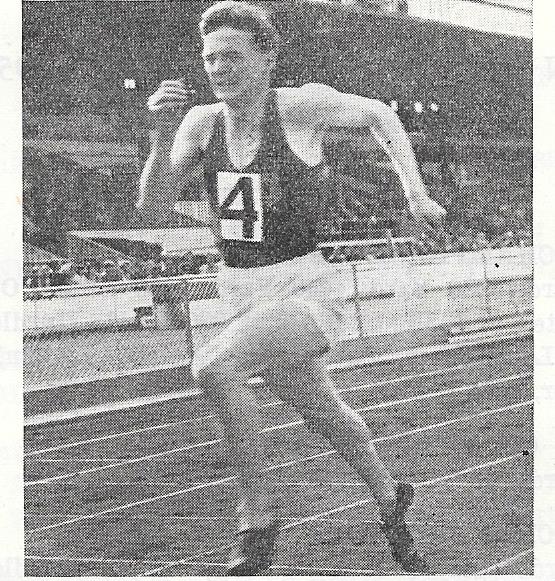 Gracie at the White City 1952
By the end of the year, Hamilton was ranked second to Gracie in the 440 with their best times being those from the championships and also second in the 880 – fastest was O Messer (Edinburgh Northern Harriers), second Hamilton (1:57.6),Then Hugh Hatrick (1:57.8) and the A Dove (Maryhill) 1:57.9.   However Farrell had reviewed the season and placed him fourth in each event.   He said, "We didn't see the best of Jim Hamilton either.   With a better preparation he can menace Britain's best."  
1952 was a wash-out as far as Hamilton was concerned.   He did not run in the club championships at the start of the season, nor in the national championships, the triangular international, or any of the major sports meetings.    Ranked at the end of the season in the 440 yards with a time of 50.2, he was ranked fourth in the 880 with a time of 1:58 so he had run somewhere that year.   All his running was done at the end of the year – the photograph below was taken at the Edinburgh Highland Games and there was a comment in Emmet Farrell's Running Commentary in November 1952 on Hamilton which read as follows:
"Victoria Park star Jim Hamilton, apparently refreshed after his enforced rest displayed late season sparkling form.  At Edinburgh Highland Games he was the hero of Glasgow's victorious relay team and he held Olympic representative Frank Evans in the relay off level terms at Cowal, while at Shotts off 4 yards in the "quarter" flat, he proved too strong for our own Olympic runner, Gracie.   The versatile quarter- and half-miler was assuredly back to the form which made him an AAA finalist a couple of seasons ago.   Given a free run from injuries next season we may well find him again a Scottish champion."  
On 9th May 1953 he ran in the Vale of Leven Sport at Millburn Park along with Ian Binnie and Alex Breckenridge and the three club mates were the stars of the show.   As far as Hamilton was concerned, the 'Glasgow Herald had this to say:   "Hamilton, who nursed an injured leg for the best part of last season, has come back to form in convincing style.   He scored a great win in the half-mile handicap from the nominal start of four yards, and returned the fine time of 1 min 58.6 sec."   Breckenridge and  Binnie won their events a the club won the two miles team race with A Forbes and J Stirling making up the team.
  The May, 1953, issue of the 'Scots Athlete' pointed out that Hamilton 'had been a non-starter last year through injury.'   The same issue of the magazine reckoned that David Gracie could retain his 440 yards title 'provided Jimmy Hamilton of Victoria Park, equally good at quarter and half foregoes the shorter distance race.'   Then, in his preview of the SAAA Championships that year, Emmet Farrell, under the headline 'A Hot Half' commented on the chances of the various competitors before saying at the end of the piece, "However again the cat among the pigeons will be Jimmy Hamilton if he concentrates on this event.   If he decides on this, he will carry my confidence for he is happily endowed with all the qualities required to make a champion.   He has temperament, courage and class."  
He had all those qualities and went on to win the half-mile final.
"Hamilton's Brilliant Half.    Jim Hamilton, Victoria Park's ace half-miler, confirmed recent form by winning the half-mile final in a brilliant 1:54.9 – only 1.3 seconds outside JC Stothard's record figures set up in 193FW Sime of Strathtay H, runner-up in 1:56.3, and W Messer of Edinburgh Northern H third in 1:56.7, confirmed the high standard of this event. 
Hamilton ran a well-judged race.   Back at the start, then lying handy, he went clean away in the back straight and though his rivals appeared to be pulling him in around the last bend, he came away with a sprint finish which none of his struggling adversaries could match."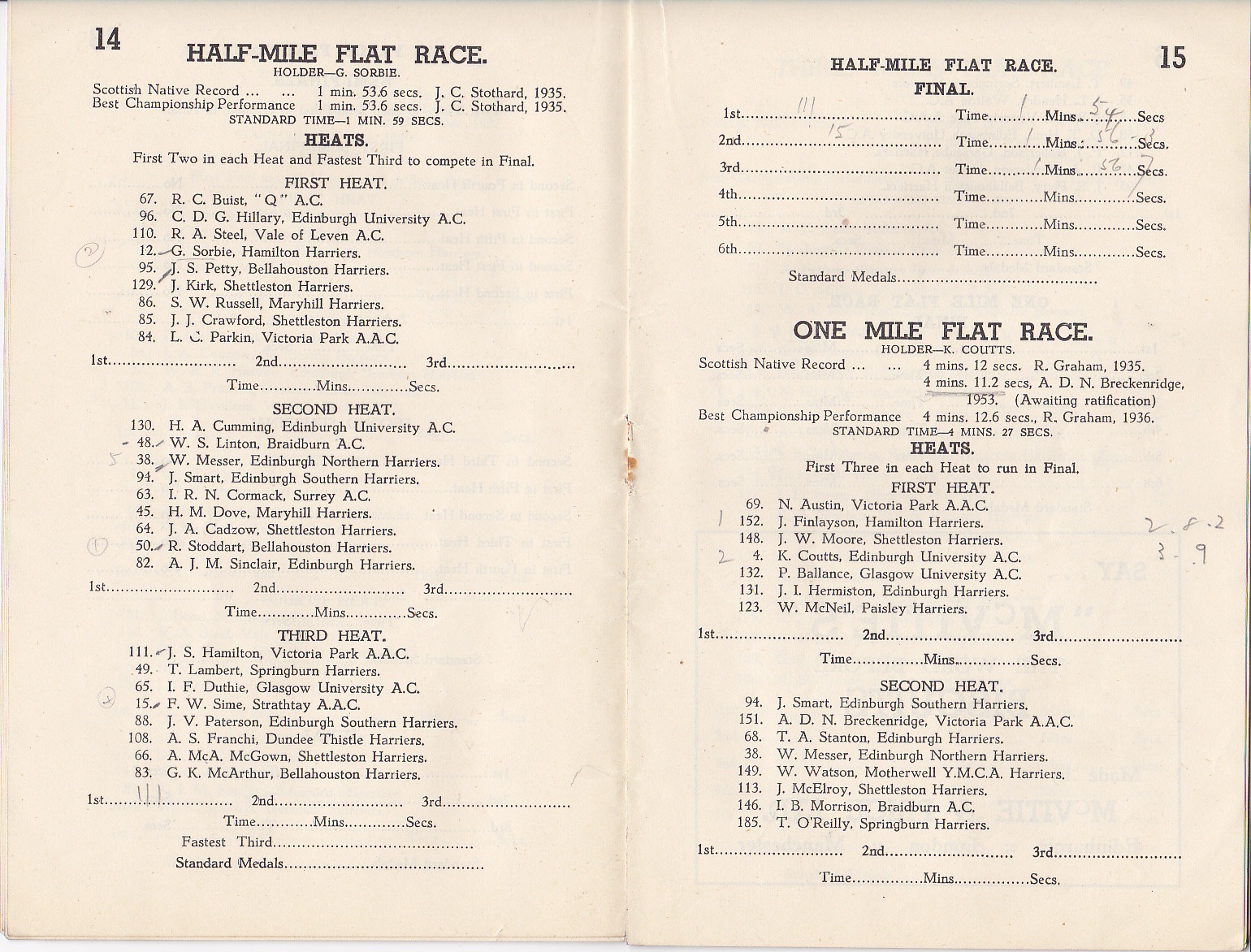 Programme Extract, SAAA Championships, 1953
Picture from Alex Wilson
He travelled to the AAA's championship but was unable to qualify for the final because of 'a recurrence of an a leg injury.'    The issue of 'The Scots Athlete' for August/September reported briefly that "Hamilton leaves soon to take up a banking appointment in Canada."   His SAAA time ranked him first Scot.
The preview of the SAAA Championships in 1954 mentioned that his absence left the field wide open for a new champion but did not comment on team selection for the Games.   The July, 1954, issue of 'The Scots Athlete' had a headline that said that 'Jim Hamilton May Run For Canada', and followed up with this report.   "Ex-Scottish 880 yards champion Jim Hamilton now resident in Canada, waited to see if he would be selected for Scotland but failing that, might try for inclusion in the Canadian team for whom he now has residential qualifications."  That came to nothing and was indeed in the Scottish squad.
He did not let them down either .    In his Heat on 31st July in  Vancouver he qualified for the Final of the half mile with anew record time of  1:53.3 – unfortunately it didn't count as native records could only be set in Scotland.   On to the Final on 3rd August where he ran even faster with 1:52.7 for sixth, this time would not be beaten until 16th July, 1955 when Donald Gorrie ran 1:52.0.   The race in the Final was described by Keddie in his centenary history of the SAAA thus:   "Englishman Derek Johnson won the event (1:50.7) from compatriots Brian Hewson (1:51.2) and Ian Boyd (1:51.9).   The other three finalists were closely bunched and Hamilton, who finished sixth, was only 5 yards or so behind Boyd.   His time was a creditable 1:52.7 – best by a Scot at that time. "
 Hamilton had ended his career on a high and  in the process debunked those quoted by Emmet Farrell who reckoned that athletes who are good as juniors never make it as seniors.    Injury might have applied the brakes to  Hamilton's career but the 1946 Junior champion had run superbly to do so well in the Games of 1954.     He could maybe be better known?
He returned home to live in Milngavie, Glasgow, many years later and liked nothing better than to discuss Scottish athletics and his days with Victoria Park AAC in the 1950's.