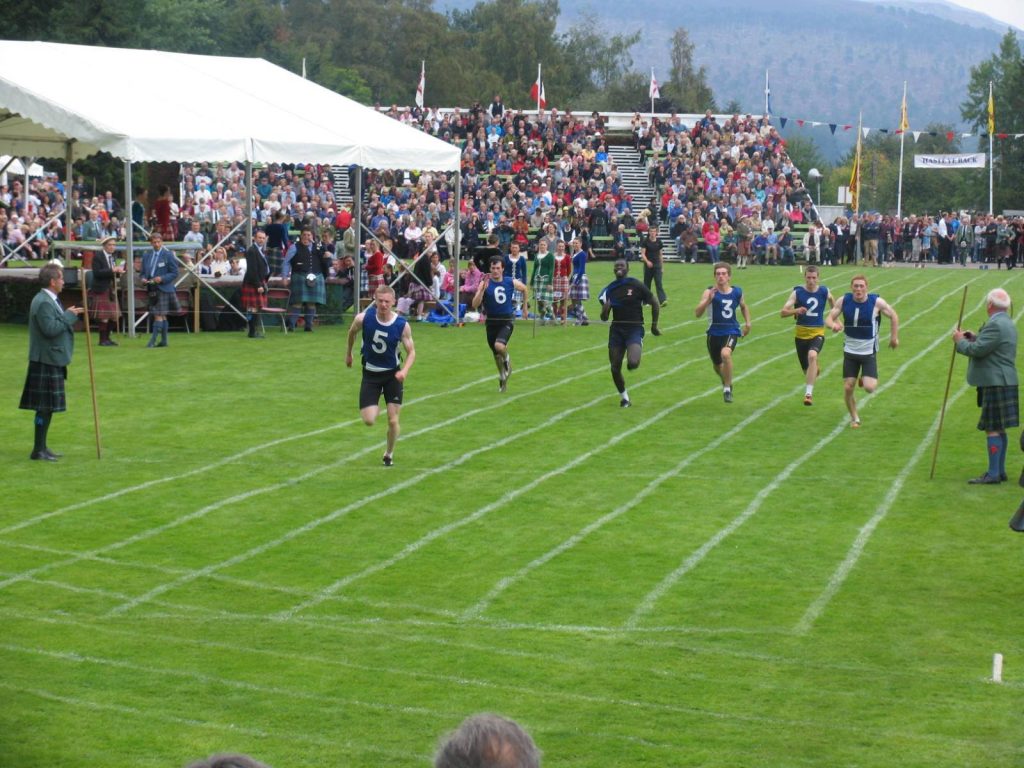 The British 80m championship at Braemar in 2010
One of the most interesting features of the highland games circuit is that they are all organised locally although the handicappers, starters and other officials are national figures. This makes for an interesting variety of facilities, events and presentation of events.
Some are located in mining villages, just off the main street; others down a lane off a narrow country road with mucky car parks, and there are others held on minor league football pitches.
Tracks are different sizes depending on the Games Field configuration, there are different shapes with some being almost round, and the track at Skye is the smallest at only 150 yards
Some include cycling, some don't; some have a pipe band championship, others don't; some have a Hill Race, some have a Road Race and others confine everything to the Games Field.
There are many idiosyncratic events – throwing things over bars is a favourite: a heavy weight is common, a sheaf is occasionally the item but 'throwing the pig over the bar? It's a sewn up bag of whatever it is! I was at one meeting in the late 90's where they had a married women's race (ring finger checked before the start) and a 'spinsters' race.
What they do have in common is that every community has a great time. Whether they are traditional gatherings that go back hundreds of years or more recent sports meetings, they are part of a community event rather than a single athletics day, and they bring a great deal of pleasure and which provide a focal point for a whole area. Witness this comment on a pro-athletics website:
"What can you say about professional athletics the people from past and present who just care about a sport that brings kids families and athletes from far afield together. Even now on the pro memiours page (Memiours of Pro Athletics is a Facebook page) the memories are brilliant – no winners or losers, just people having a brilliant time. Hope it keeps going for years to come. The people who organise all the events across Scotland deserve medals for doing so. Hope 2019 season brings joy and fun for all who participate and we remember the past athletes who made it happen."
There is no national programme (as for instance in the amateur ranks which had County, then District, then National, then British Championships, but the organisers keep their sports to the traditional dates with the same predictable events which means that any athlete heading for a big meeting or event can plan his approach to it. This page looks at just a few of the dozens of games held every year. There will be direct quotes from the Games websites simply because they are each different and have their own traditions springing from local history.
[ Cowal ] [ Strathallan Gathering ] [ Jedburgh Games] [ Cowal ] [ Kelso ] [ Airth ]