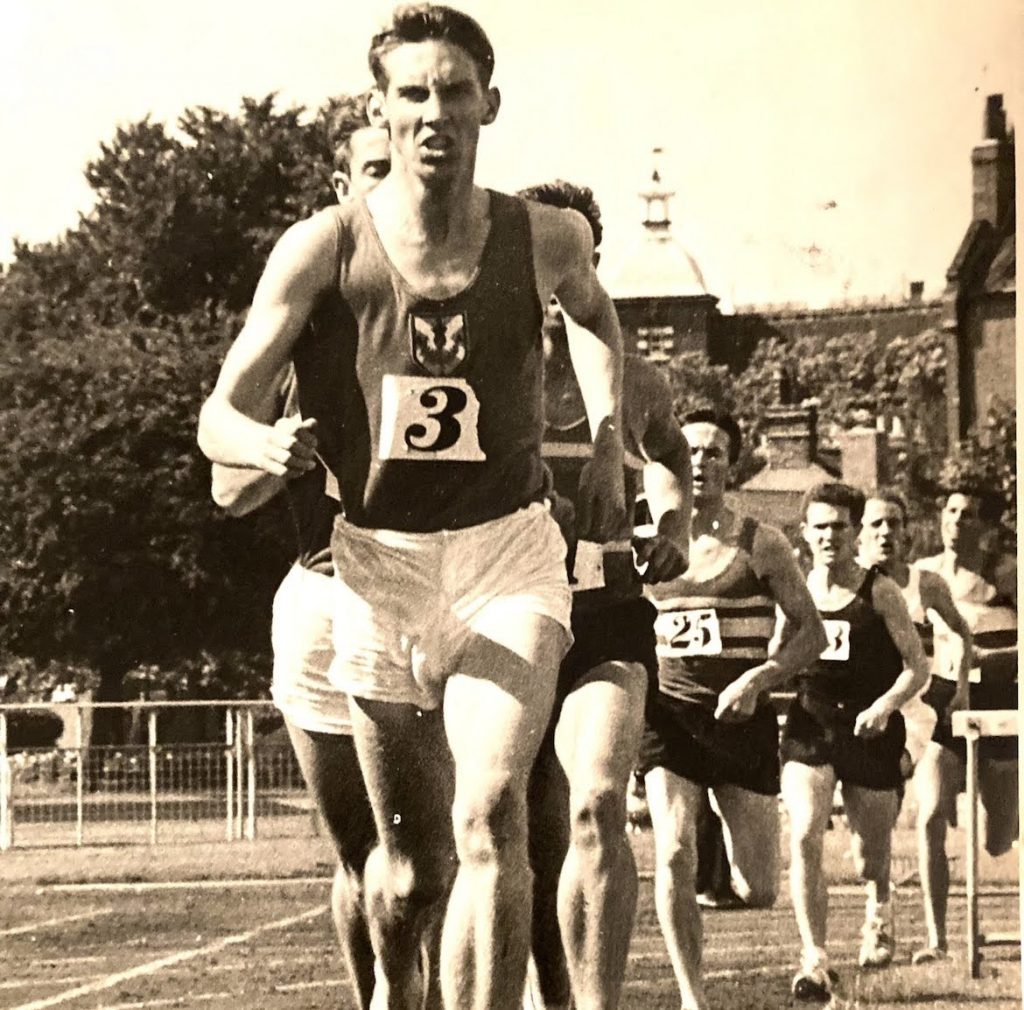 Hugh Barrow, leading (above) in 1962, is a weel kent figure in Scotland's sporting circles and is known in athletics as Scotland's only world record holder for the Mile. Actually it was a world best time he set in 1961 as a 16 year old but it lasted until a chap from East Wichita called Jim Ryun beat it. Marvellous run and it was celebrated by a presentation at the World Sports magazine's annual dinner. Nowadays there are two things that stand out for me. The first is that the detail of the race is not known by most of the country and it should be; and how it felt to be the best in the world. I have seen many big moments in Scottish athletics but never a world's best mile by a Scot. The second is in the fact that he was faster than Herb Elliott had been at the same age. Nobody seems to know that – it would be a great question for an athletics quiz.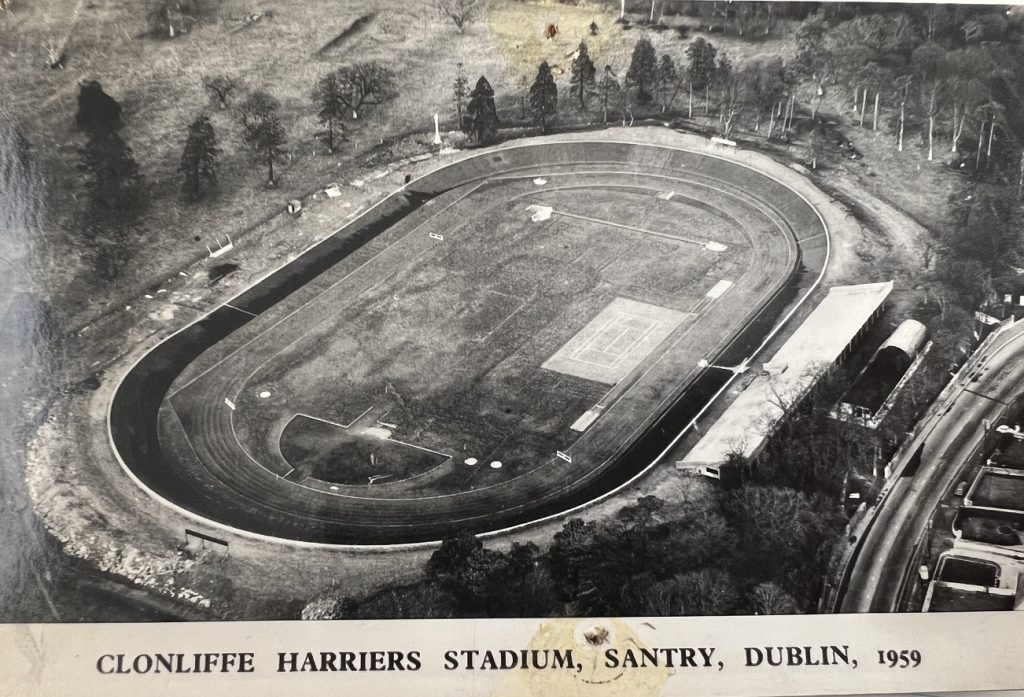 The Stadium.
The race was part of a big athletics meeting. Billy Morton and Santry Stadium were legendary. Billy Morton was a life long member of Clonliffe Harriers and in the 1950's started a series of meetings to bring the world's best to Dublin. The club's history, written by Dominic Branigan, describes him as "Ireland's first, and finest, sports impressario and the first promoter to hold a press conference before his meetings where he would announce to the public that records would be broken and patrons would get great value for money."
But even in the era of amateur athletics it was an expensive business. The stadium is known these days as Morton Stadium but .everybody at the time referred to it as Santry. The stadium was opened in 1958 with a cinder track. An inaugural series of meetings was held, and on 6 August 1958, Australian Herb Elliott shattered the world record for the mile run with a time of 3 minutes 54.5 seconds. This was the first race in which five athletes had run a four-minute mile. The IAAF certification of the world record (as reproduced by Branigan) is below. The first five in the race were:
Elliott 3:55.4; 2. Merv Lincoln 3:55.9; 3. Ron Delany 3:57.5; 4. Murray Halberg 3:57.5; 5. Albie Thomas 3:58.6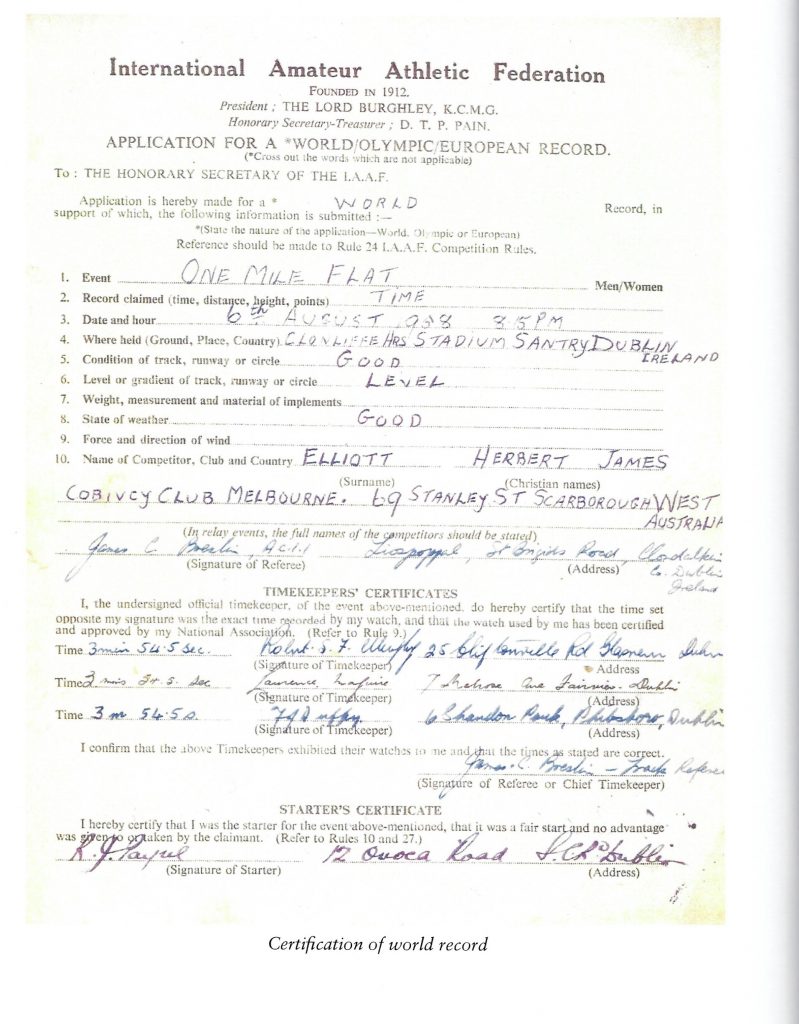 The track became legendary at that moment – never before had five men been below four minutes in the same race, within two years three would be Olympic Champions and the other two Olympic silver medallists. It was a moment that Billy Morton cultivated and developed. To be invited to run there was an honour and just stepping on to the track was an awe-inspiring, great experience for any aspiring middle distance. The crowds were big and they were knowledgeable. For a 16 year old it must have been just a bit daunting – or maybe inspiring to run on the track where your hero Elliott had set the record.
The Background
Like all Billy Morton promotions it would be a big night with many household names taking part. So how did a 16 year old Glasgow Schoolboy get in there?
The summer of 1961 proved to be a very good one for Hugh Barrow. School exams were in March back then, much earlier than today when late May and June tend to be the dates, so once they were over it meant that sport took centre stage for the Summer term. Inspired by the exploits of his schoolboy hero Herb Elliott he got his championship season off to a good start winning the Glasgow Schools 880 yards title at Scotstoun in 1m 55.8 which was the fastest time in UK by a 16 year old by the end of that season and third on the UK all time list behind Roger Givan and Derek Fernee who had fought out a torrid duel in London two years earlier.
This was followed by a win in the Scottish Schools Mile on grass at Goldenacre in 4m 24.1 which was a Championship record This was followed by taking the SAAA Youths 880 yards on cinders at Meadowbank in 1m 57.5 another Championship record. The Scottish Schools win led to selection for the Scottish Schools Team to face England and Wales at Maindy Stadium, Cardiff.
Travelling in very good company with the likes of Sandy Sutherland and future Lisbon Lion Jim Craig, whose son James would later represent Scotland at rugby, it was a daunting task to face the All England Schools team. In a tactical race Hugh beat Mark Gillespie and Dave Wilkinson of England in 4m 21, again a Championship record
The Meeting
What followed was an invitation from Dunky Wright to represent Scotland at a two day meeting at Santry Stadium Dublin in early August, on the very track that, three years earlier, Herb Elliott had destroyed the World Mile record by recording 3m 54.5. The small Scottish team flew to Dublin and stayed in Mrs Doyle's Guest House opposite the stadium. Also in the Scottish team were sprinter Mike Hildrey, the 'Balfron Bullet', Willie Morrison and steeplechaser John Linaker. Also accommodated in the same guest house was the great Gordon Pirie. The Santry meetings back then really were justifiably famous for attracting top athletes from around the world.
The meeting was held over two nights, Hugh was in action on both of them – half mile on the Wednesday, Mile on Thursday. It was a genuine quality meeting. The 'Belfast Telegraph' on Wednesday, 9th August was looking forward to George Kerr of Jamaica having a crack at Tom Courtney's world record on Thursday. Kerr was also going to break the Irish All-Comers record for 440 yards which was held by Milka Singh (India). The Mile would have men like Ken Wood, Mike Berisford, Graham Everett, Ron Delany and Colin Shillington, while Gordon Pirie and Derek Ibbotson would compete in the Three Miles.
The Race
On the first night Hugh ran in a Junior 880 yds where he headed off future Ulster star Derek Graham in 1m 56.5 and, although this was not remarked on in the Scottish Press, it was picked up by the Belfast Telegraph which said that Derek Graham (9th Old Boys) was beaten by three yards by the Scot WH Barrow in 1 min 56.5 in the 880 yards Junior." This set up the return race over 1 mile the following day. Hugh says when asked, "Strangely I don't recall very much. I had spent most of the day just relaxing with fellow Victoria Park athlete Mike Hildrey and, as the guest house was just next to the stadium, we changed there and walked over. Wearing my Scottish Schools vest, I took the early pace in the race but Derek took over pretty quickly and I just sat in. The conditions were good with no wind at all. Have to say I didn't realise it was that fast and it felt relatively comfortable. I wasn't aware of laps times."
Down the back straight of the last lap he really had to dig in to hang on to the older Derek which he managed to do all the way home. He was only beaten by 0.5s. When asked how he felt after the race he replied, "The reaction was swift. I felt grim and just hung over a steeplechase barrier and that's when I became aware of my time – Ronnie Delany congratulated me and then it became a bit euphoric. I didn't sleep much that night but the next morning Mike and I caught a plane to London. He was heading for the White City and I wa s off to meet up with parents on holiday in Eastbourne. There I met up with athletics journalist Bob Sparks and then realised where that time stood relative to my peers"
It had been basically a two horse race, Hugh recorded 4m 10.9 which was a World best for a 16 year old, taking 6 seconds from the previous best held by Martin Heath of Waterloo Harriers of whom more later The press latched on to the fact that Herb Elliott's best at the same age was 4m 20 and this led to lots of headlines and speculation.
Afterwards
This best performance stood as the best in the world for the age group for two years and was broken by a schoolboy from Witchita East High School, Jim Ryun, who ran 4 m 07.8 Jim later went on to set a World Mile record of 3 m 51.1 at Bakersfield California in 1967 and in later life become a USA Senator.
There were two Scots milers in action that night – Graham Everett ran in the Senior invitation mile which was won by Ron Delany in 4:04.3 from Ken Wood (4:04.9), with Everett third in 4:05.0 and Colin Shillington fourth in 4:05.6. The Belfast Telegraph described the attempt on the world 880 yards record as 'farcical' with the field of eleven runners being too big and a lot of jostling taking place at the start. Kerr's time was only 1:49.3. The paper said of Hugh's race "Derek Graham won the Junior mile in a sound 4:10.4, beating 16-year-old schoolboy W Barrow (Scotland). Barrow's time of 4:10.9 broke the British schoolboy record by 6 seconds and bettered his previous best by 10 seconds. A real prospect for the future."
It was a very good race on a track where his hero Herb Elliott had set a world record, and in a great atmosphere, but Hugh had handled the pressure well and produced a superb performance. Note too that Graham was almost exactly 3 years older than Hugh (Derek's Date of Birth was 3rd September 1941, Hugh's 12 September 1944).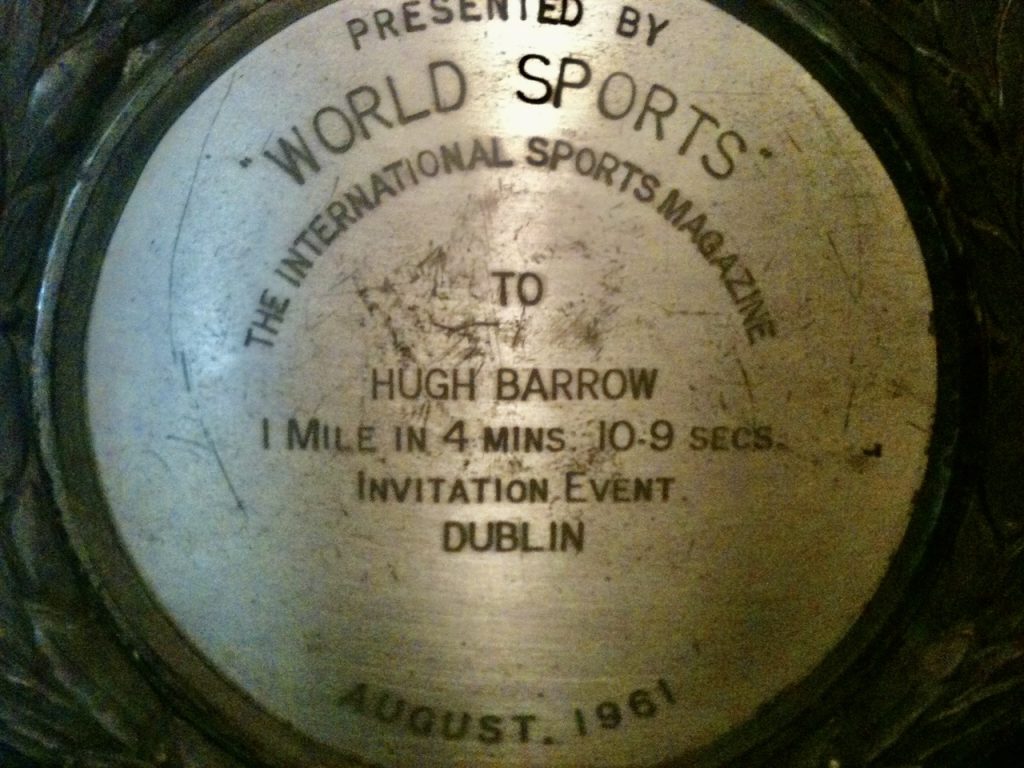 There were of course awards and presentations later in the season and one of the biggest was at the World Sports presentation in London. There was a World Sports plaque (above) and a wonderful tribute in the magazine. Ir was a very good multi sports magazine in full colour and it covered Hugh's career in some detail. You can read the report at this link. A short extract reads: "Glaswegian Hugh Barrow bears the burden of being one of the fastest-ever 16 year old school milers with typical Scots equanimity. When one remembers that at the same age Elliott ran 4:20.8 and Burleson 4:33.4, Barrow's astonishing 1961 time takes on even greater significance." It is a very good article and well worth reading.
Subsequently, in a strange twist, Martin Heath and Herb Elliott arrived at Cambridge University at the same time and met in a Freshers Mile where Martin so nearly beat Herb, who had lost of fitness since his triumph at the Rome Olympics, but Herb held on – only just – to win in a time of 4m 16s. Although he continued to compete on track and cross country for Cambridge, he never again raced over the Mile.
Hugh went on to set two more UK under 19 records for the Mile in 4m 8.9 and 4m 7.7 both at Witton Park Blackburn. He never achieved his ambition to be the first Scot to break the 4min Mile getting down to 4m 1.0 at Stretford Manchester in 1968. He did have a very good career as a senior athlete though, running on all surfaces – road, track and country – in the Mile, Two Miles, Three Miles, Six Miles, 5000m, 10,000m and distances on the road up to the marathon after 1979. A talented athlete and a real credit to the sport.
Incidentally – we spoke of the cost of running a meeting like those at Santry and Hugh's prize that night is shown in the picture below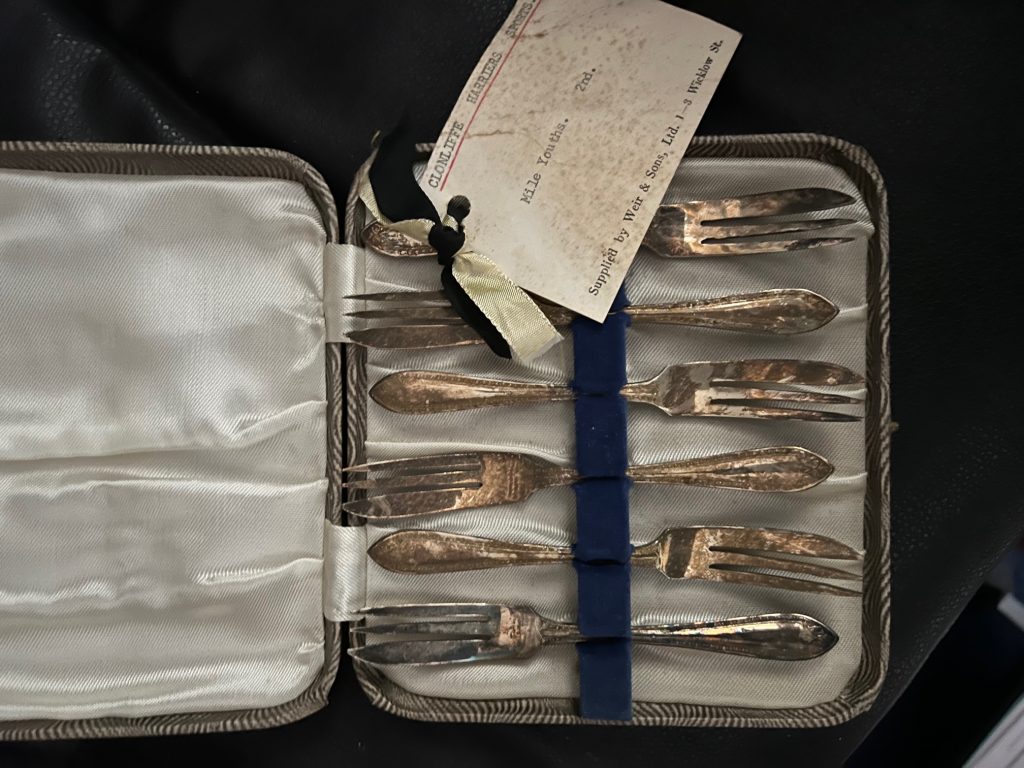 Are they spoons or forks??? These were the days of amateurism when no one was allowed any money as a prize and, when money was in short supply, as it usually was in athletics, the prizes were priced accordingly. The Clonliffe Harriers history referred to above tells of an international match in Ireland where Ireland put up £4000, being half the running costs of the event. The prizes for this 7-nations meeting were noted in the book.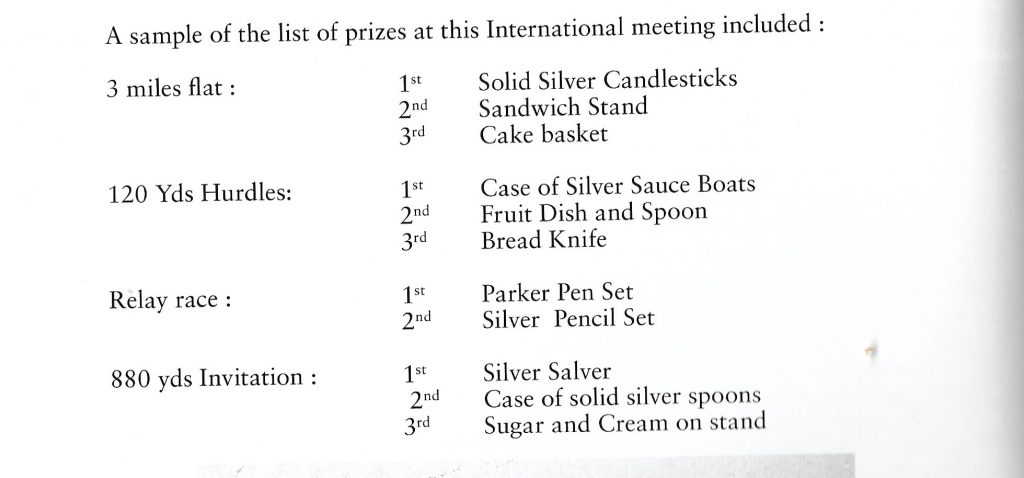 Who were the winners? Harrison Dillard who had 4 Olympic golds to his credit won the 120 yards hurdles, John Joe Barry won the Three Miles from Curtis Stone and Fred Wilt. Every one an amateur!