Scottish Athletics statistician Arnold Black wrote:
"ATHLETE OF THE DAY – ELSPETH CURRAN
Elspeth Curran is a 4-times Scottish senior champion, twice winning the short course cross country title and twice winning on the road at 5k and 10 miles. On the track, she has won silver at 10,000m and bronze at 5000m, having been under-23 5000 metres champion in 2009. She has career bests of 4:27.0 (1500m), 9:30.12 (3000m), 16:17.54 (5000m), and 34:47.82 (10,000m)."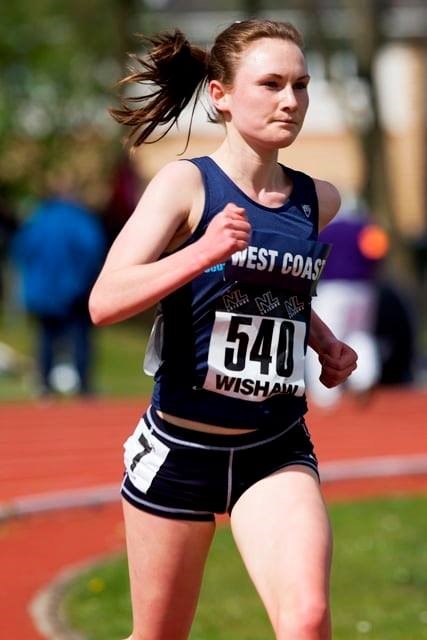 Elspeth CURRAN (27.07.89) Kilbarchan AAC
In Scottish lists from 2006-2019.
Championship Record: Scottish: 2nd 10,000m 2019; 3rd 5000m 2010.
Scottish Schools: Group A 2006 3000m gold.
7 Scottish Junior International XC/Road vests:
(Celtic Nations 2006-11; Home Countries 2008.)
2006 Dublin v Ireland, Wales, NI (under-20)
2007 Belfast: 5th. Scotland won the team contest.
2008 Edinburgh.
2009 Cardiff. (Under-23).
2010 Antrim. Ist individual. Scotland beat Ireland and Ulster.
2011 Dublin. Ist Individual. Scotland beat Ireland and Ulster.
2008 Home Countries International at Edinburgh: Junior Women. 6th; Scotland lost to England but beat Wales and Northern Ireland.
One Scottish Senior International Road vest: 2013 at Leeds 10km. 7th in 34.30.
National Cross-Country Championships:
Under-17: Kilbarchan team bronze 2005 (5th); gold in 2006 (4th).
Under-20. Kilbarchan won team gold in 2007, with Elspeth 4th; silver in 2009 (5th).
Senior: 2011: Elspeth Curran individual silver, four seconds behind Freya Murray; team silver. 2014: team bronze.
Scottish XC Relay: Kilbarchan (with Elspeth Curran) team silver in 2008, 2009, 2010, 2011 and 2013. Bronze in 2014 and 2019.
Scottish Short Course XC: Elspeth Curran won in 2010 and 2011; Kilbarchan won team bronze in 2008 and 2017; team silver in 2010, 2014 and 2019; gold in 2011 and 2013.
West District Cross-Country:
Elspeth Curran secured under-17 bronze in 2006, when Kilbarchan gained team gold.
She won the under-20 title in 2007 and individual bronze in 2008 – Kilbarchan won the team in both of those years.
Elspeth became Senior Champion in 2011, 2013, 2014 and 2019. Individual silver in 2018. Kilbarchan won the team title in 2011; and had many victories in the West District XC Relays.
Scottish 5k Road Championships: Elspeth Curran won the title in 2013.
Scottish 10k Road Championships: she finished third in 2013.
Scottish 10 Miles Road Championships: Elspeth won the title in 2018.
Overall, although Elspeth Curran is nowhere near Masters age-groups yet, she continues to enjoy a long, successful career, featuring not only individual highlights but also proving herself a valuable One-Club contributor to the achievements of Kilbarchan AAC.