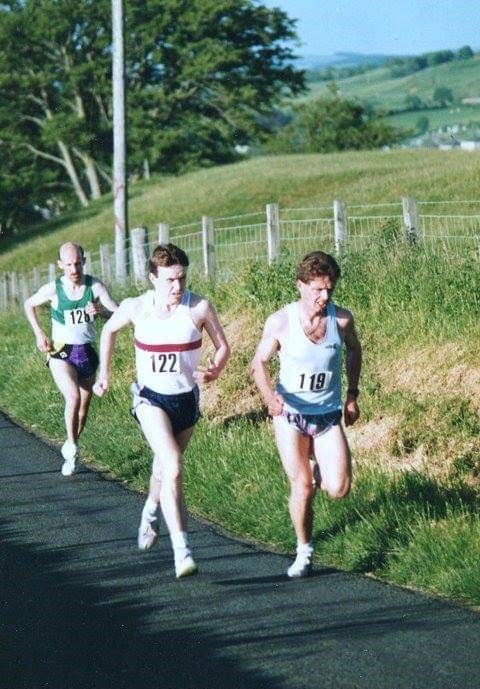 Left to right: Alastair (Sammy) Walker, Andy Fair, Dave Cavers: Uphill-only Mile!
David CAVERS (born 4.09.63) Teviotdale Harriers, Border Harriers.
Personal Bests: 5000m: 14:45.8; 10,000m; 3000mSteeplechase 9:20.67; Marathon: 2:16:06.
Appearing in Scottish Athletics lists 1988-2002, Dave Cavers was a most remarkable cross-country runner, who also completed three very good marathons.
He had ten victories in the East District Cross-Country League and had many contributions to Teviotdale's best team performances. He was East District Cross-Country champion six times between 1991 and 2000. Teviotdale won the team championship in 1991.
However, it is Dave Cavers' record in the Senior National that is most amazing in its high quality and consistency. Between 1989 and 2001 he was second, fourth twice, fifth twice, seventh, eighth twice, ninth, tenth twice, twelfth and fourteenth. If only Scotland had not been excluded from competing as a separate nation in the IAAF World Cross-Country!
Teviotdale Harriers (with David) won Senior National team medals: bronze in 1991, 1992; and silver in 1989.
Dave's silver medal in 1999 was won at Beach Park, Irvine, when he was defeated by Robert Quinn but finished in front of Tommy Murray, Phil Mowbray and Tom Hanlon. When he was fourth in 2000, the three in front were also very high-quality GB Internationals – Quinn, Murray and Glen Stewart. A remarkable performance.
David Cavers was top of the Scottish Marathon Rankings in 1997 (2.16.18) and 1998 (2.16.06).
Between 1995 and 2002, he ran 8 marathons. In 1997, he improved to an excellent 2.16.18 (28th place) in April's London Marathon. Consequently, he was selected to race for GB in October at the famous Kosice International Peace Marathon in Slovakia, where he finished fourth in 2.18.44 and won more than a thousand dollars. In March 1998, he produced a fine personal best Half Marathon time (5th place – 64.46) at Reading. Then in April, at the Rotterdam Marathon, he finished 12th in a fine 2.16.06. Selection to race for Scotland in September's Commonwealth Games Marathon at Kuala Lumpur, Malaysia, led to dropping out and disappointment: conditions were dreadfully hot and humid and too much for even a very tough guy like David Cavers, especially since he had been unlucky enough to contract a virus. (The race was won in 2.19.15 and the first three were Africans). However, by November 1998 he had recovered in time to win the Derwentwater ten miles road race in Kendal.
Cross-Country: nine Scottish International appearances. There have been men with a lesser record who have been appointed captain and it is a record that will never be equalled again.
1990: Mallusk; then at Irvine the SCCU Centenary International 9th (third Scot). England won but Scotland beat Wales, Ireland, Sweden and NI. Then again at Irvine (6th and third Scot) when Scotland won, beating England, Wales and NI. Then at Durham (30th and fourth Scot)
1991 Mallusk.
1992 at Basingstoke (41st and fifth Scot). Scotland won, beating England and Wales.
1994 at Alnwick. The British Championships. David Cavers finished 25th (second Scot).
1996 at Ashington. BAF Championships. David was 25th (third Scot).
1997 at Luton (Reebok World Trials). David was 24th (fourth Scot).
*
Road: Four Scottish International appearances.
1994 at Dunfermline. Half Marathon (14th and third Scot). England won from Ireland. Scotland beat Wales (on countback) with NI fifth.
1997 at Erewash, Wales, v England and Wales. Ten Miles. David was seventh (first Scot).
1998 Kuala Lumpur Commonwealth Games Marathon. DNF.
2000 at Swansea. 10k. England won from Scotland with Wales third.
Scottish Cross-Country Relay Championships
A proud day for Teviotdale Harriers (and Dave Cavers, Keith Logan, Rob Hall and Alastair Walker) was when the club was victorious at Inverness in 1989.
East District XC Relays
Between 1986 and 1991, Teviotdale Harriers secured six successive silver medals in this championship.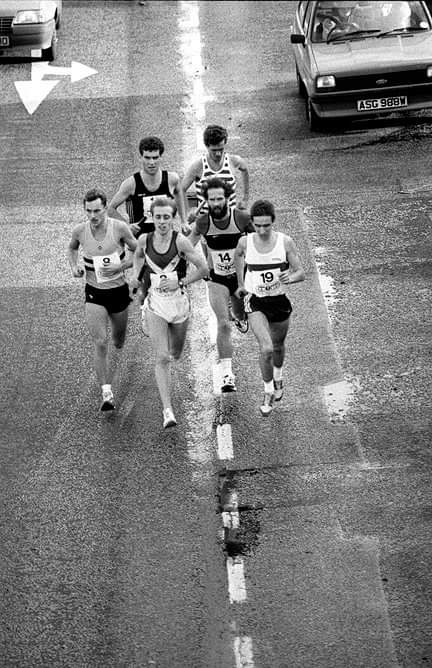 E to G 1986: Dave Cavers (number 19).
Photo by Graham McIndoe
Edinburgh to Glasgow Road Relay
In 1986, Teviotdale Harriers (including Dave Cavers) finished 9th and won the most meritorious performance medals. They improved to 8th in 1987, a place they retained in 1988. Fifth in 1989 and 1990 was even better but third place medals in 1991 proved to be their peak in this superb event. Running that day were: Brian Emmerson, Alastair Walker, Keith Logan, D Barr, Andy Fair (fastest on Stage Five), Dave Cavers, Ian Elliot and Rob Hall. Sixth in 1992, 11th in 1993, 8th in 1994 and 9th in 1995 certainly demonstrated what a strong, consistent team they were.
Dave Cavers continued to run cross-country until 2008 before retiring after an outstanding running career.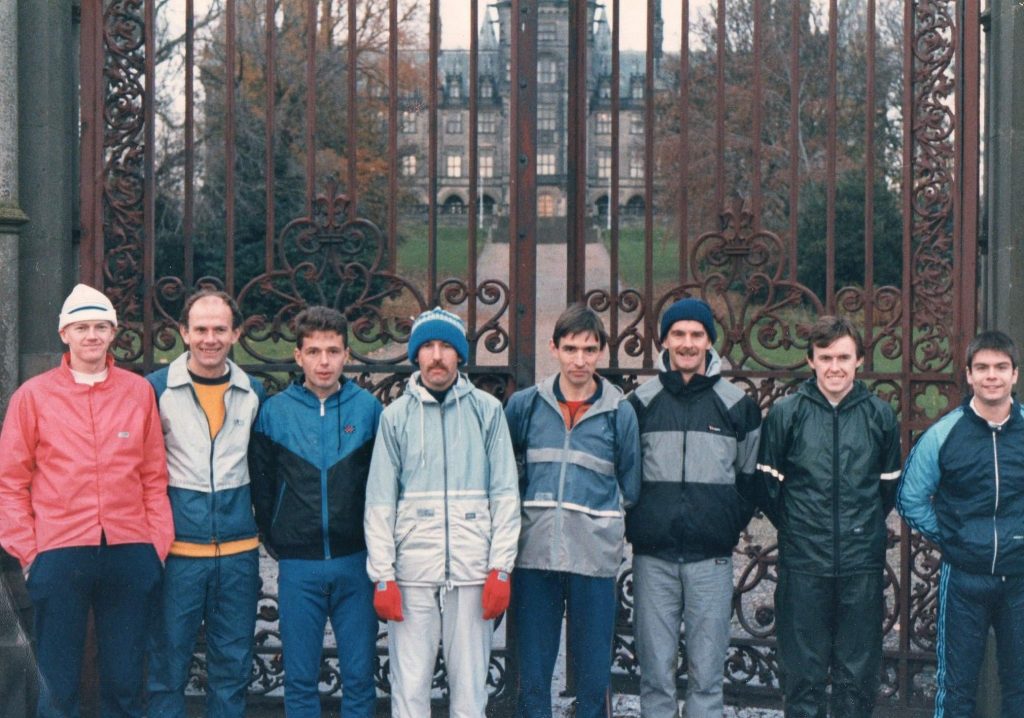 Left to right: Keith Logan, Rob Hall, Dave Cavers, Alastair Walker, Brian Emmerson, Ian Elliot, Andy Fair, Brian Neilson. (Taken before the 1987 Edinburgh to Glasgow Road Relay.)