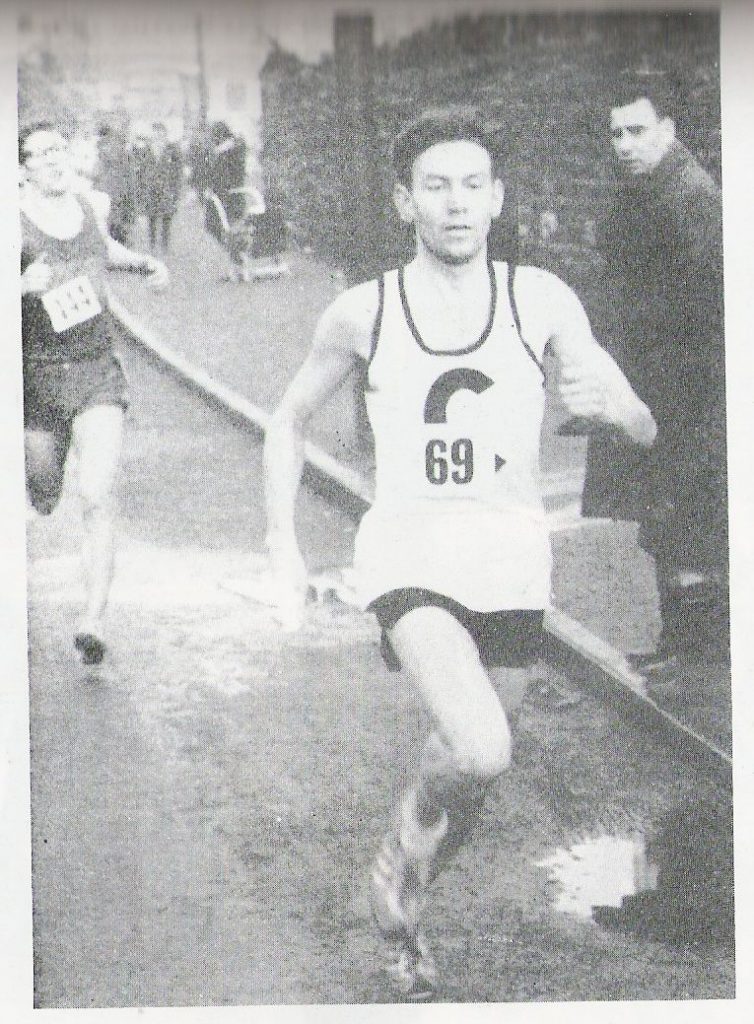 Ian Leggett who had fastest time in the October 1969 relays
The 1970's was a period when talent in Scottish endurance running was arguably at its zenith and the quality of the runners in the Dunbartonshire AAA events was also high. It was enhanced even further when the City of Glasgow Association folded in 1972 and clubs like Victoria Park and Maryhill were added to the existing mix. Look at the names of some of the runners – Paul Bannon, Hugh Barrow, Phil Dolan, Allan Faulds, Doug Gemmell, Alistair Johnston, Ian Leggett, Pat Maclagan, Colin Martin, Bill Yate, Colin Youngson. It was clear from that list that there would be many tough competitive championship races coming up.
As usual the first fixture of the 1969/70 winter season was the cross-country relay meeting. Held on 11th October in Clydebank, Clydesdale Harriers won all four age group relays.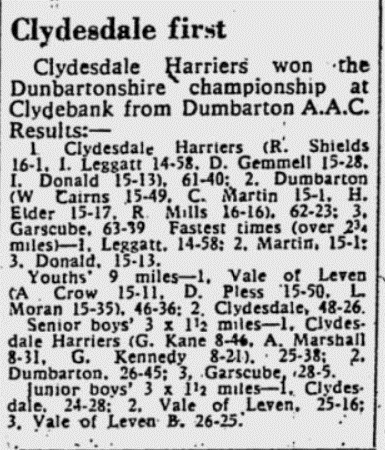 Leggett had beaten Dumbarton's Colin Martin's time by 3 seconds in the Relays over his home trail but the tables were turned on 6th December in the individual and team championships when Martin won from Hugh Elder with Leggett third. Not only that, but the same quartet that finished second for Dumbarton in the October meeting, won the club title from Clydesdale in December. Brief Herald report below.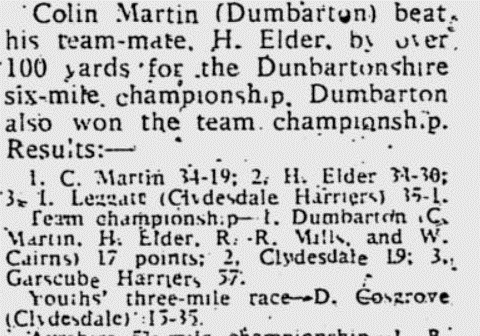 In April 1970, the Clydebank to Helensburgh 16 mile road race was won by Donald Macgregor with all of the first four being Scottish international distance runners. Local club Clydesdale Harriers was second behind Edinburgh AC, beaten by 3 points with the other Edinburgh club, Southern, third 11 points behind.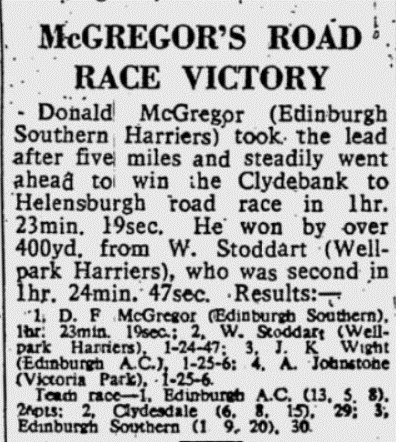 The county Championships were held at Blairdardie on Saturday 9th June but unfortunately the only results we have are for the 1500m and 5000m. The events are significant in that this was Commonwealth Games in Edinburgh year and the new race distances were to become easily recognisable in Scotland as were the new all-weather tracks. Blairdardie was not one such, having a red blaes surface. The results available are:
1500m: 1st Colin Martin (DAAC) 5000m 1st Colin Martin
2nd S Polwarth (Garscube) 2nd Allan Faulds (Clydesdale)
3rd B McAusland (Clydesdale) 3rd D Gemmell (Clydesdale)
4th H Elder (DAAC) 4th A Lawson (DAAC)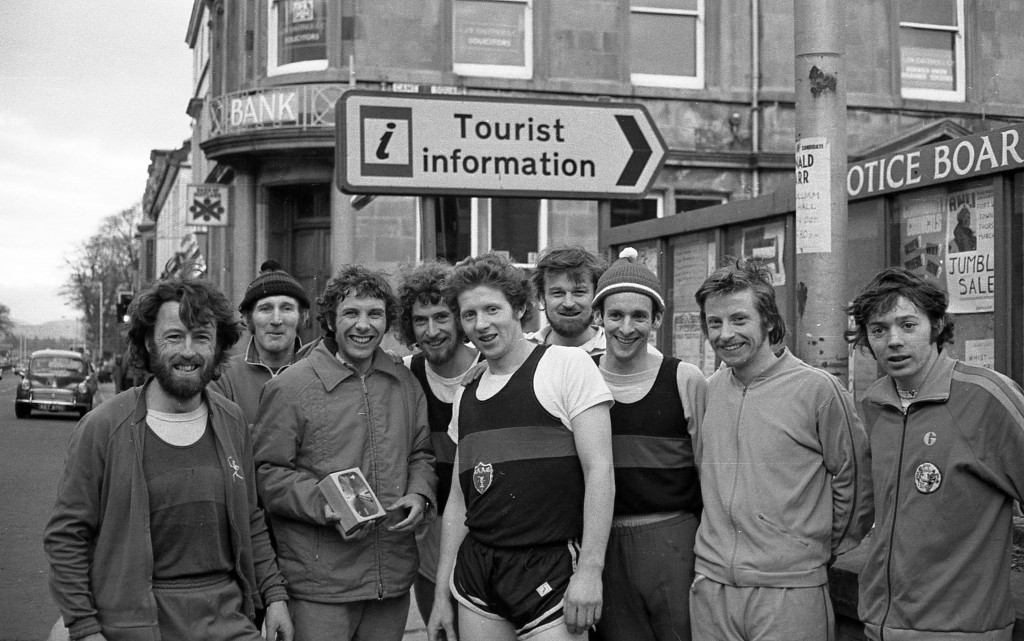 The Dumbarton AAC team that ran from Glasgow to Fort William – Colin Martin on the extreme right, then Billy Cairns, Ian McWatt, Mike Lidwell, Harry Martin, – , Ron Paton, Allan Adams and Alistair Lawson
At the start of the county winter season, the relays were held on 10th October, 1970 at Clydebank where the hosts were victorious with their last leg runner, Allan Faulds, taking fastest time. They also produced the third team in the senior race and winning squads in the Youths and Junior Boys age groups. Garscube Harriers won the Senior Boys race and had the fastest individual time from Ian Murray. The third team in the senior race was Bobby Shields 16:19, Brian McAusland 17:26, Sandy McNeil 17:11, Phil Dolan 16:12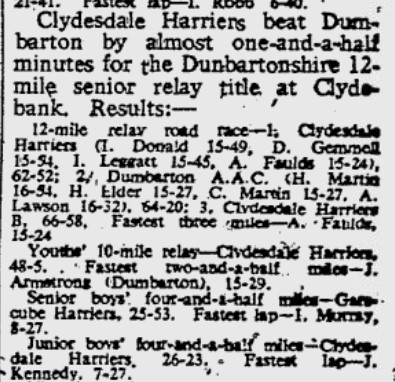 Faulds was an absentee in the County Championships on 5th December at Strathleven when his team lost the title by one point to Dumbarton AAC. The short Glasgow Herald report the following Monday read as follows under the title Favourites Lose:
"Colin Martin (Dumbarton) won the Dunbartonshire six-mile title when he beat Ian Leggett (Clydesdale Harriers) by 120 yards in 33 min 26 sec. Ian Donald (Clydesdale) was third in 33 min 55 sec. Clydesdale, favourites for the team title, lost by one point to Dumbarton. Garscube were third. Other results:-
Youths three miles – J Armstrong (Dumbarton) 18:48. Team Race – 1. Clydesdale; 2. Garscube. Junior Boys two miles – R McKelvie (Garscube) 10:11. Team title – 1. Vale of Leven 13 points; 2. Clydesdale 14; 3. Garscube 20."
Senior results: 1. C Martin; 2. I Leggett; 3. I Donald; 4. H Elder (DAAC); 5. D Gemmell (Clydesdale); 6. G Grant (DAAC): 7. T Wiseman (Garscube); 8. W Cairns (DAAC); 9. A Lawson (DAAC); 10. S McNeil (Clydesdale); 1. P Dolan (Clydesdale).
Into 1971 and the Balloch to Clydebank, no longer a confined race, was won by Mike Bradley of Springburn Harriers, better known as a track runner of considerable ability, in a new record time from Norman Morrison of Shettleston, another track runner with Dumbarton's multi-title winner Colin Martin third. The Glasgow Herald report is below.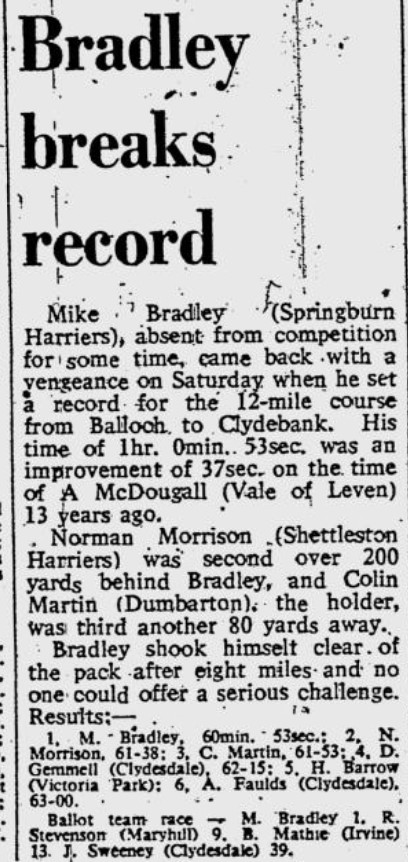 The Clydebank to Helensburgh was held on 24th April and was won by Alex Wight from brother Jim Wight (both Edinburgh SC) with a third runner from Edinburgh, Southern's Martin Craven, third. The Wight brothers had a really intense rivalry that summer with many close finishes – eg in the Edinburgh to North Berwick marathon, Alex again beat Jim, this time by 20 seconds after 26 miles + on the roads. The next three finishers – 4th Doug Gunstone (Dundee HH), 5th Willie Day (FVH) and Hugh Elder (DAAC)
From the hard surfaces of road racing the endurance runners went to the variable, but more generally softer grass and mud of the country with the first DAAA promotion being the County Relays on 9th October, 1971, in Clydebank. Clydesdale Harriers won from Dumbarton and Garscube in 50:46. The winning team was Ian Leggett, Phil Dolan, Doug Gemmell and Allan Faulds who immediately after finishing first tore back down the trail shouting on members of the remaining three Clydesdale teams. Clydesdale also won the Youths 3 x 2 miles event while Vale of Leven won the Senior Boys race.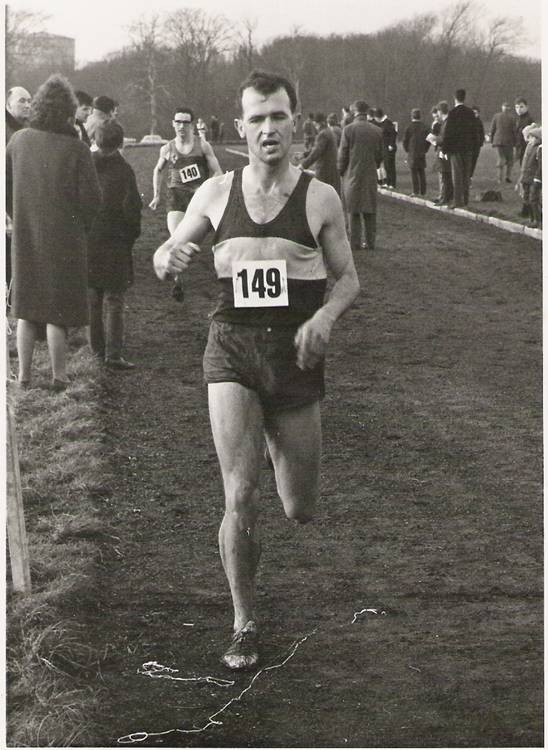 Allan Faulds
The Cross-Country Championships were held on 4th December and Clydesdale Harriers with seven of the first nine runners home (and eight of the first eleven) won the team race.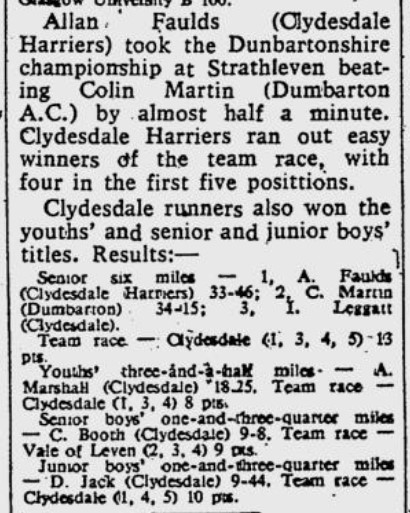 The first nine in the senior race were 1. A Faulds; 2. C Martin (DAAC); 3. I Leggett; 4. D Gemmell; 5. I Donald; 6. P Dolan; 7. R Shields; 8. H Martin (DAAC); 9. R Paton.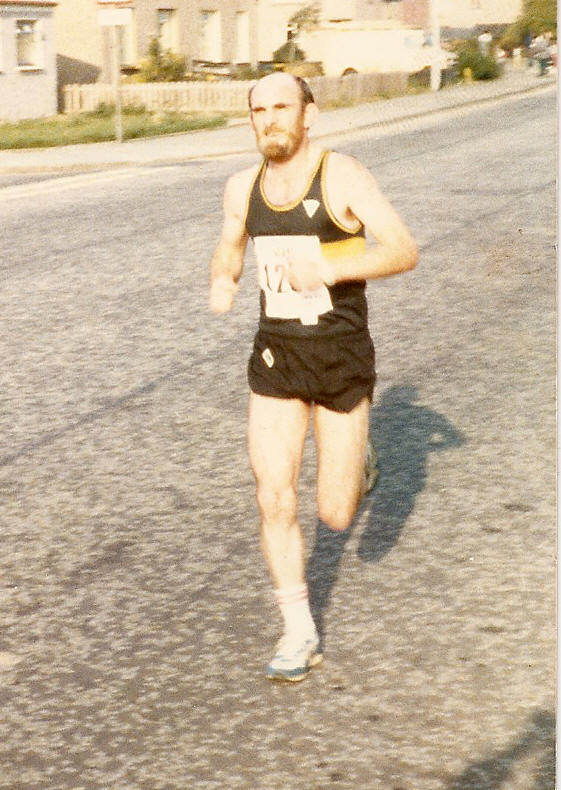 Willie Day in the Clydebank to Helensburgh 1972
The 16 miles road race from Clydebank all the way to Helensburgh was held on 29th April in 1972 and the triumph went to Willie Day of Falkirk Victoria who won from international marathon runner Pat Maclagan of Victoria Park who was only 14 seconds behind him. Results below.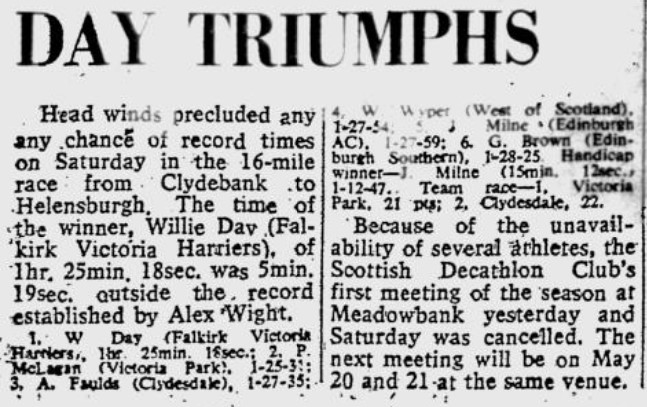 The 1972/73 winter marked the accession of several new clubs to the Dunbartonshire Amateur Athletic Association. The Glasgow City Organisation and folded and their clubs joined the local association nearest them with the result that Glasgow University, Maryhill Harriers, Victoria Park AAC and Westerlands became member clubs. The cross-country relays held on 14th October at Blairdardie featured three of them. The team result was:
Victoria Park; 2. Clydesdale Harriers; 3. Dumbarton AAC; 4. Glasgow University; 5. Clydesdale Harriers B; 6. Glasgow University B.
With no official results available, not covered by the Glasgow Herald, we can only cover the event briefly. The winning quartet for Victoria Park was Colin Youngson, Innis Mitchell, Dave McMeekin and Hugh Barrow; the second placed Clydesdale Harriers team consisted of A Faulds 13:14; A Marshall 13:02; D Gemmell 13:10; P Dolan 13:16, and their B Team of R Shields 13:48, I Donald 13:33, B McAusland 14:30 and R Paton 13:47. The shield below is Colin Youngson's who led off for the winning team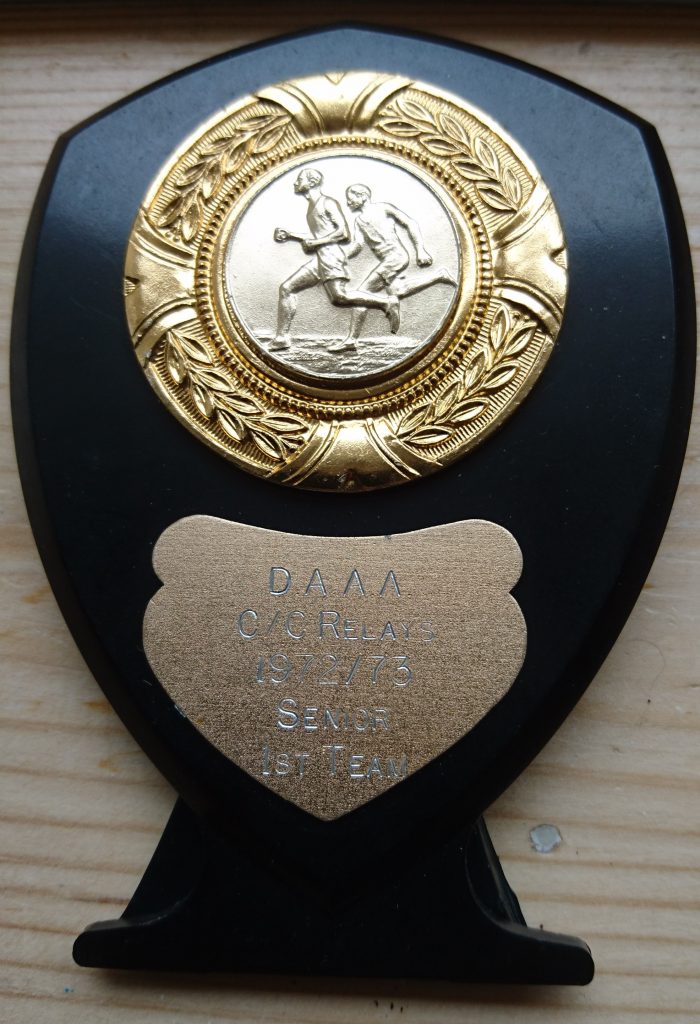 The Midland District Relay Championships were held in Glasgow and were won by Victoria Park from the Dunbartonshire Champions, Clydesdale Harriers. The winning team was Dave McMeekin, Hugh Barrow, Pat Maclagan, and Colin Youngson from the Clydesdale team of Alan Marshall, Ian Donald, Phil Dolan and Doug Gemmell. The results of the Midland District Relay a week or so later show that Victoria Park won that one, Clydesdale was second and Dumbarton AAC fourth showing the real strength of the standards within the county. There were also three county men in the first six fastest time and at least another three within ten seconds of the sixth fastest.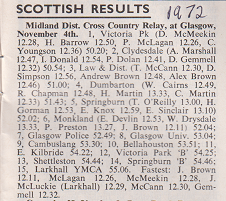 The actual individual and team championship in December were held at Strathleven and the Winning team came from Clydesdale Harriers. Note that Paul Bannon of Glasgow University and Shettleston Harriers would go on to be an Olympic marathon runner for Canada and there were many Scottish Internationalists in there too – Martin, Dolan, Maclagan, Faulds, Youngson and Logue who ran for Ireland in the 1970 Commonwealth Games. Clydesdale had runners in 4th, 5th, 7th, 8th, 9th and with only four to count they won comfortably from Glasgow who had 1st, 11th, 12th and 13th and Dumbarton with 2nd, 6th, 15th and 18th.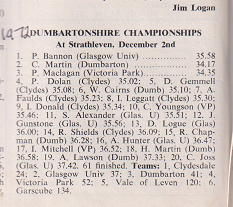 Into 1973 and the Balloch to Clydebank was held on 10th March with changing in the excellent listed building (but since demolished) of Bruce Street Baths in Clydebank before the runners were bussed to the start at Balloch. With 47 finishers and 8 teams competing, the race was won by Jim Dingwall in 60:52 from Colin Youngson in 60:57 – another victim of Jim's devastating sprint finish.
The first ten runners were: 1. J Dingwall (Edinburgh University); 2. Colin Youngson (Victoria Park); 3. Colin Martin (Dumbarton) 61:25; 4. Phil Dolan (Clydesdale) 61:59; 5. Doug Gemmell (Clydesdale) 62:19; 6. R O'Brien (Edinburgh University) 65:26; 7. Ian Leggett (Clydesdale) 63:41; 8. Billy Cairns (Dumbarton) 64:46; 9. Bobby Shields (Clydesdale) 65:43; 10. John Gunstone (Glasgow University) 65:45. The team race result was: 1. Clydesdale – 16 pts; 2. Dumbarton 33 pts; 3. Victoria Park 34 pts; 4. EUAC H&H 37 pts; 5. Cambuslang 67 pts; 6. Livingston 82 pts; 7. Garscube 90; 8. Maryhill 95 pts. Handicap Prizes: 1. D Gemmell; 2. Bill Ramage (Springburn); 3. Dave Cooney (Cambuslang).
The Clydesdale to Helensburgh was run on 28th April and it was a day when the weather was fine for the runners – except for the last 8 or 9 miles when there was a headwind all the way to the finish. Nevertheless, it was the closest finish ever with the first six runners inside 32 seconds. The race was won by Lachie Stewart 1:23:04, from Colin Martin 1:23:05, Jim Wight 1:23:06, Willie Day 1:23:11, Don McGregor 1:23:31 and Alex Wight 1:23:36. The team race went to Edinburgh Southern (5, 8, 9) 22 pts from Clydesdale Harriers on 32 pts whose counting runners were D Gemmell 1:30:26, R Paton 1:30:20 and P Dolan 1:30:? First handicap prize went to Bobby Blair of Victoria Park.
The summer county championships were held on Wednesday 16th May, a warm day which suited the runners. The 1500m was won by Billy Cairns of Dumbarton in 4:10 from Willie Reid (Clydesdale) 4:11.6, Alistair Lawson (DAAC) 4:20, Brian McAusland (CH) 4:24, Davie Kerr (Garscube), Ian Whyte (VPAAC). That is the only result available.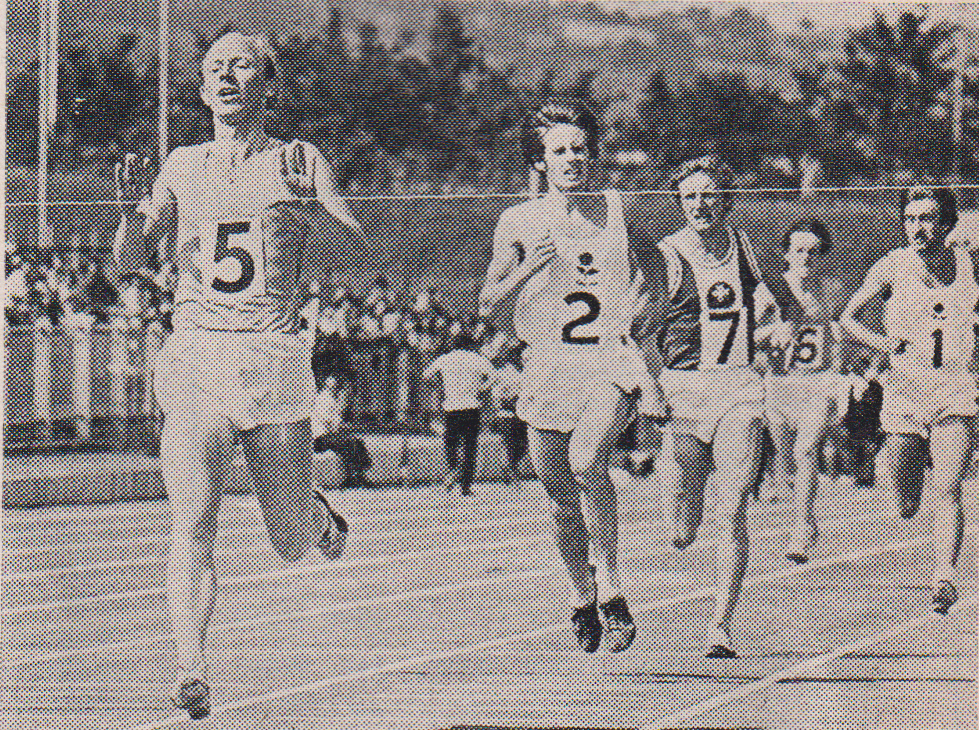 Jim Dingwall (5) demonstrating the sprint finish that won him many races on road and track
It can be seen from the two now open races on the roads above that the county association was again fulfilling its mission of developing the sport – the quality of the runners, the number of competitors from within the county as well as the large amount of those from clubs across Scotland continued to rise. The race was jointly organised in the organisation and provision of officials on the day by the Scottish Marathon Club and the DAAA; but there was an overlap of officials who were members of both clubs and they should be noted. In 1973 for example in the Helensburgh race, Tom Dailly of Garscube was one of two referees, David Bowman of Clydesdale and George Barber of Maryhill were the two judges, David Brooke of Garscube was one of three timekeepers, Jack Picken of Clydesdale, was a recorder, Alex Kidd and Bob Donald of Garscube joined Emmet Farrell of Maryhill as stewards and Jack Brown of Dumbarton was the handicapper for the occasion.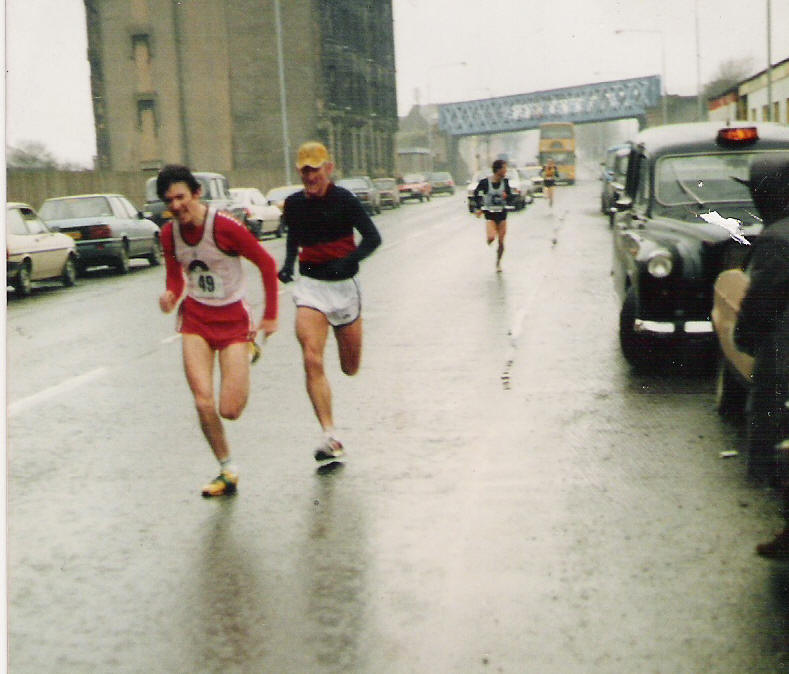 Phil Dolan leading Allan Adams at the end of the Balloch to Clydebank
The County relays, like those from other counties were held on 13th October 1973 but the only one reported on were the Lanarkshire AAA event. We do know that the senior men's race was won by Clydesdale Harriers over their own trail at Braidfield Farm from Victoria Park with a team of Ian Donald, Ian Leggett, Phil Dolan who puled the team from third to first and Doug Gemmell who held the place.
The individual and team championships were held in 1973 at Strathleven Industrial Estate in the Renton on 1st December and were won by Colin Martin (DAAC) from Clydesdale's Phil Dolan and Doug Gemmell with Bob Chapman (DAAC) fourth, Ian Leggett (Clydesdale) 5th. Clydesdale won the team race with a team of Dolan, Gemmell, Leggett and Ian Donald in 10th place. Dumbarton was second and Garscube Harriers third. The comments on the numbers competing from the clubs that joined from Glasgow are interesting.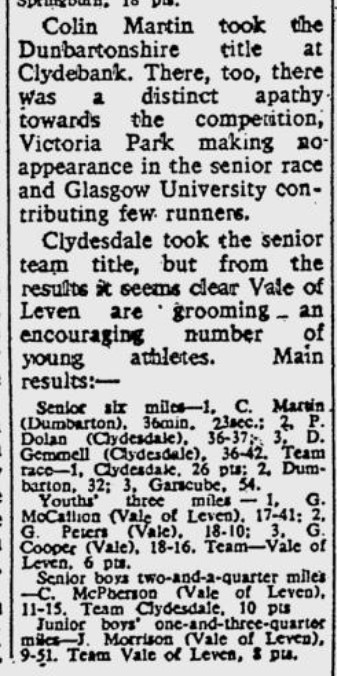 The 1974 Balloch to Clydebank took place on 9th March on a dry but very cold day with a good turn out of local and other runners. It was a return victory for Jim Dingwall who won from Colin Martin, Phil Dolan, Bill Yate (Maryhill) and Doug Gemmell. Unfortunately it was another unreported race although there were a couple of interesting features – in 8th place was Alastair Macfarlane of Springburn who would become a Scottish marathon champion in 1979 with a time inside 2:20, and Ron Paton, 9th, who had been racing for Clydesdale since graduation from Strathclyde University had moved to Balloch and joined Dumbarton AAC.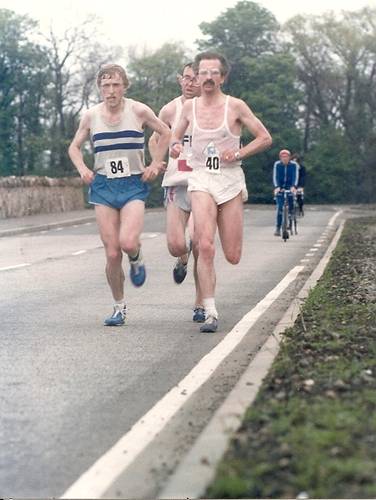 Alastair Macfarlane, Colin Youngson and Don Macgregor: three runners well known from the Balloch and Helensburgh races
The Helensburgh race was on 27th April and won by Willie Day – another internationalist who came back to the race year after year. Results:- 1. W Day 1:24:13; 2. Alastair Macfarlane (1:24:57); 3. Phil Dolan (1:26:41) 4. Gordon Eadie (1:27:09); 5. Doug Gemmell (1:28:09) 6. David Wyper (West of Scotland 1:28:197. I Leggett (1:29:48); 8. Brian McAusland (1:30:08) – who won the handicap prize – 9 R Inglis (Cambuslang 1:30:25); 10. RD Marshall (Bellahouston 1:30:55) and 11 Dave Cooney (Cambuslang 1:31:15). All 11 were inside the SMC First Class time for the race with 14 men inside the second class time. Team race: 1. Clydesdale: Dolan, Gemmell and Leggett 15 points and also won the Dunbartonshire Trophy; 2. Cambuslang: Eadie, Inglis, Cooney (24 pts); 3. Springburn: McFarlane, Ramage 16, Sinclair 21. Six teams finished the race. Handicap prizes to R D Marshall 1st, B McAusland 2nd, G Eadie 3rd.
The cross-country season came along in October and the Dunbartonshire relay championships were held as usual the week after the McAndrew relay at Scotstoun. 12th October was the date and Strathleven Estate was the venue. With no Glasgow Herald for the date, the results are not known. We do know that the Clydesdale team was second, Gemmell, Leggett, Donald and Dolan were the runners. The Championships were held on 11th November at Milngavie on the Victoria Park home course and the report in its entirety is below. Glasgow University won the team race from Clydesdale with Victoria Park's Frank Brown runner up 25 seconds behind winner Phil Dolan of Clydesdale Harriers. The Youths race was won by Pat McErlean of the Vale of Leven, Senior Boys by M McCluskey of Victoria Park and the Junior Boys' race was won by Gary Millar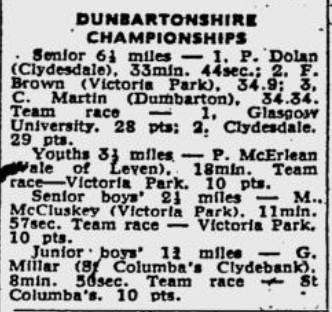 The 1975 Balloch to Clydebank was held on 8th March and was won by Edinburgh AC's Doug Gunstone in a course record of 60:31 from Clydesdale' Phil Dolan (60:46) and Springburn's Eddie Knox (61:06). These three top class athletes were followed by three of the country's best marathon runners – Don McGregor, Sandy Keith and Alastair Macfarlane. There was also a British internationalist half-miler in Dave McMeekin of VPAAC in 9th place. Results: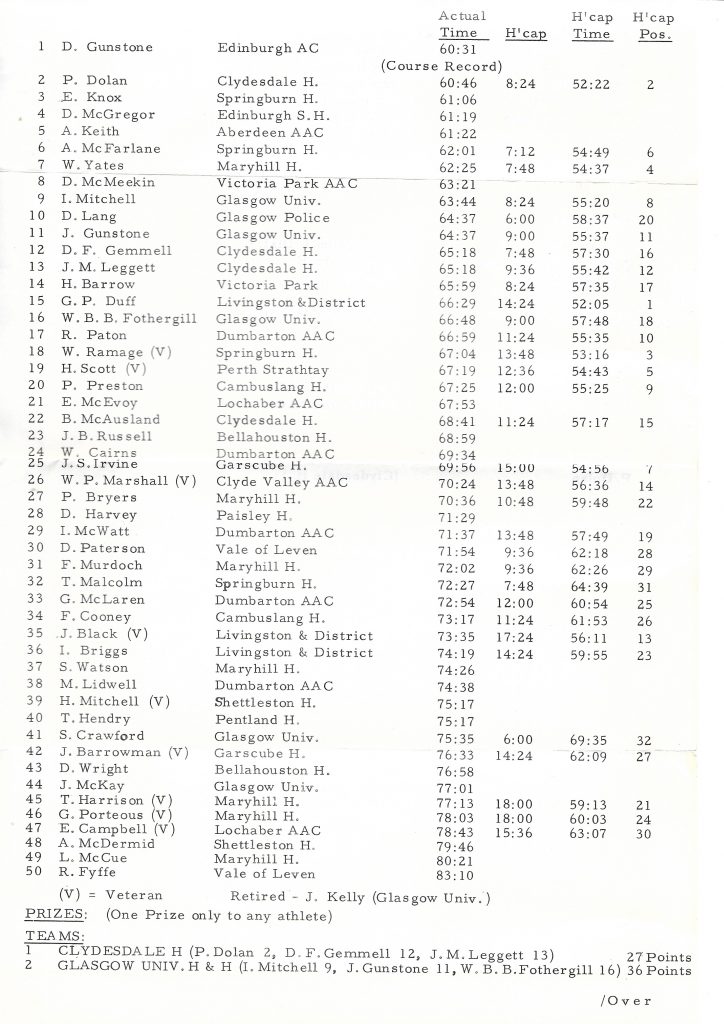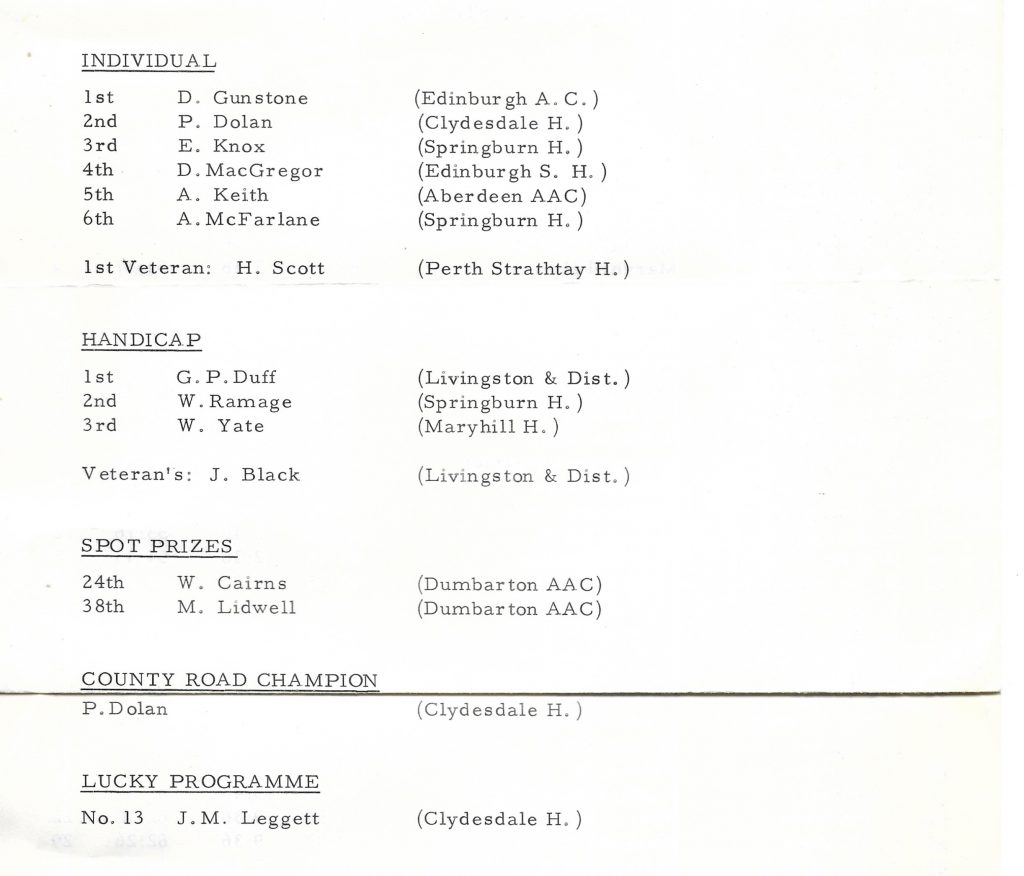 The Helensburgh 16 was on Saturday 26th April, there were 48 runners entered and five teams. The result was a victory for Phil Dolan from Willie Sharp and Willie Day of Falkirk Victoria Harriers. This a bit of a reversal for the two Falkirk runners – they travelled to races together, trained together, they were good friends – but Day was usually the victor in their personal battles as well as in the the race at the sharp end of the field. Tables turned. By how much? The result is below.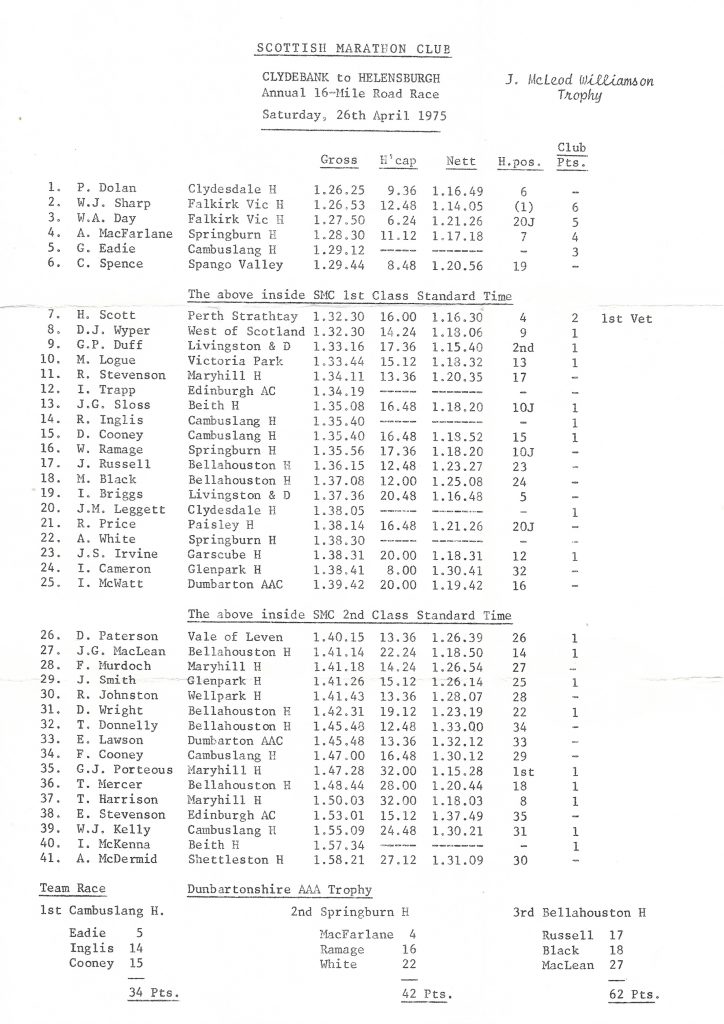 We know that the Track and Field championships took place place on Saturday 10th May because there was a report in the Glasgow Herald –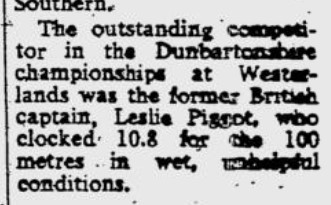 . . . . and that's it. The reporter clearly had the results at hand and space on a Monday's sport pages is at a premium but surely a bit less on the big article and another six or seven lines of results on the championships would have been possible? It was a good time – an excellent time in the conditions but for a county championships, more results would have been helpful.