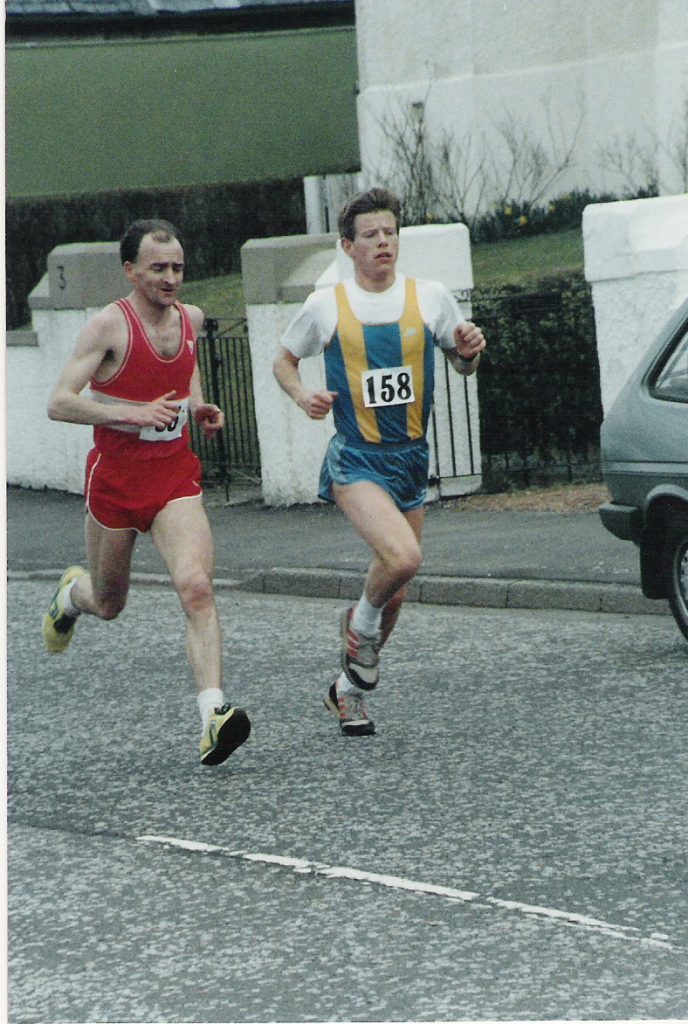 Chris Robison (Spango Valley and Alex Gilmour (Cambuslang)
The Renfrewshire 10 miles road race was indeed a popular event on the calendar – that is easily seen by scanning the names of the winners, the range of clubs represented on the programme and the fact that it was as well supported by athletes from the county as strongly as by athletes from areas as far apart as Aberdeen and Edinburgh. Unfortunately it was not always reported as well as it might have been in the Press and occasionally not well covered by Athletics Weekly. 1986 was one such year. The entire AW report was this –

It was a hard, hard race between two hard runners, even if you didn't know them, the fact that Tommy Murray was relegated to third would tell you all you needed to know.
The cross-country relays were on 11th October and the report from new magazine "Scotland's Runner' from December '86 reads as follows: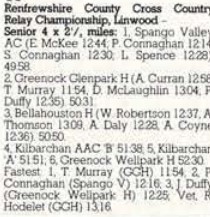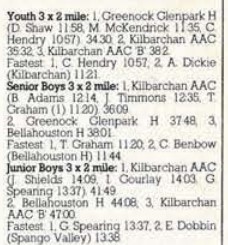 "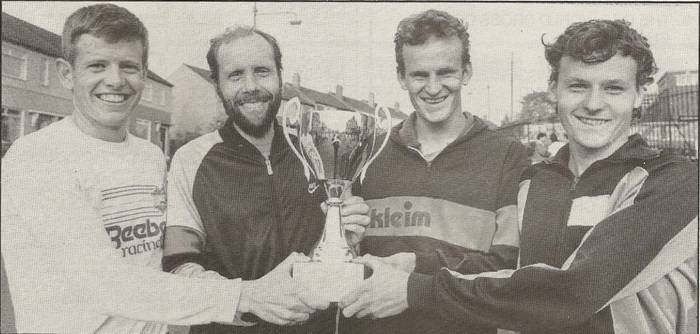 The Spango Valley Relay team of 1986: Robison, Spence, Connaghan and Connaghan
Fast forward to the County Championships on 29th November, 1986, and the coverage of the County Cross-Country championships was covered in much more detail. This from "Athletics Weekly" includes the West District Championships result as a bonus (!) and for comparison, the Herald report is also reproduced.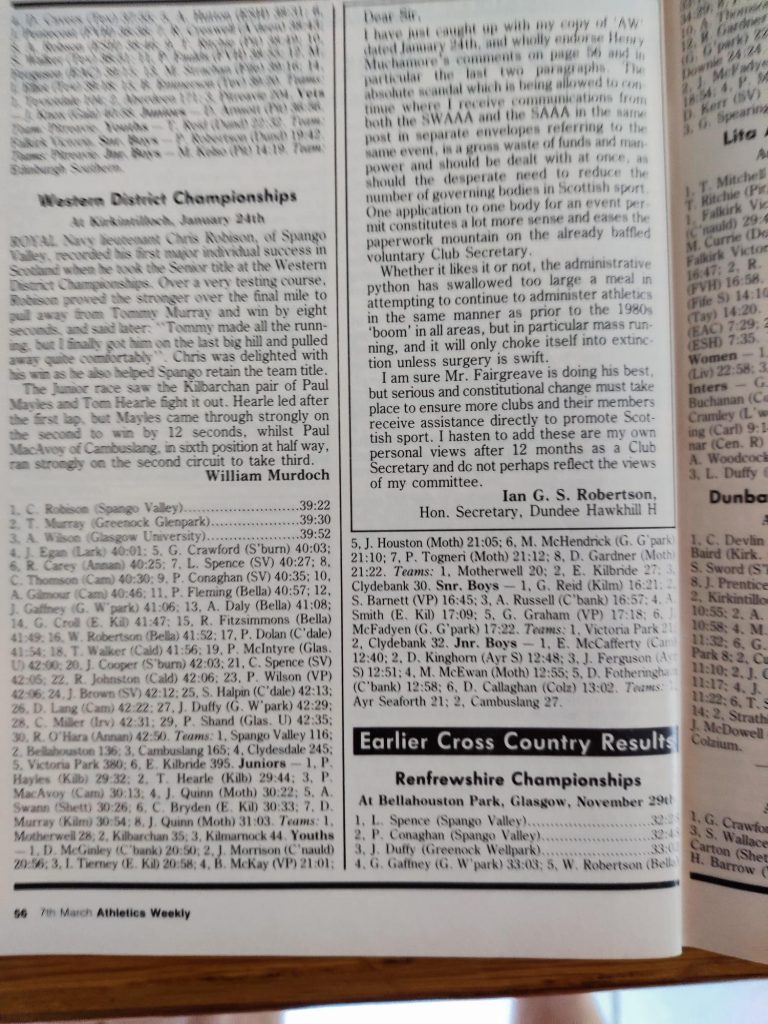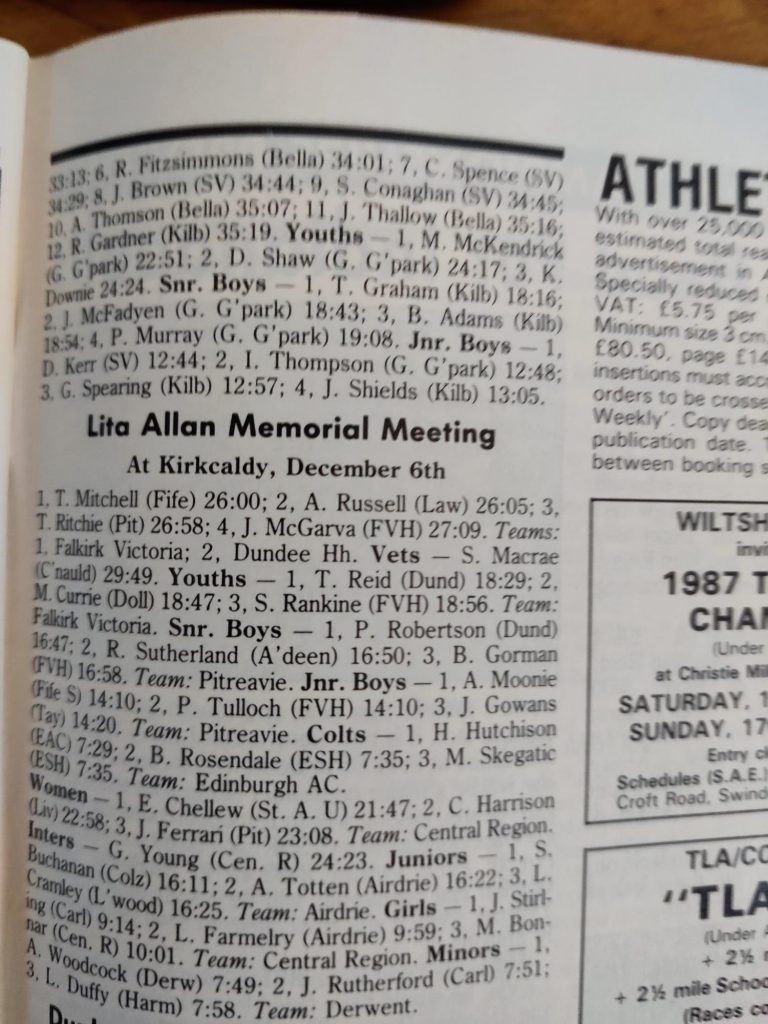 Just looking over the first 10 or 12 places, it is clear that the race was of a very high calibre with eight of the top ten being Scottish internationalists and previous winner Cammie Spence in 7th position. Into the new year of 1987 and the Renfrewshire County Five Miles Road Race, an open race for many years, was won by a Renfrewshire runner when Peter Fleming of Bellahouston defeated team mate Billy Robertson by 26 seconds and his team to a victory over Spango Valley by a massive 64 points. The County Association continued its policy of encouraging the younger age groups with races for Youths, Senior Boys and Junior Boys. The name of John McFadyen of Greenock Glenpark, winner of the Senior Boys title, would become well known as a quality middle distance runner over the country but especially as an 800m runner on the track where he would win Scottish and British international vests as well as being a multi-medal winner at Championships.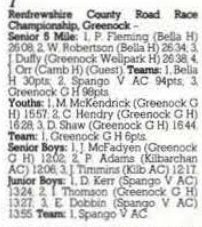 There was also a Renfrewshire Women's Road Race held on 22nd March, 1987 which was won by Eileen Masson of Kilbarchan. Unlike the men's open race, this was an entirely women's event. "Scotland's Runner" report –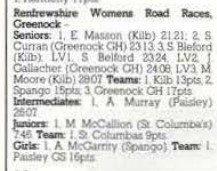 The men's 10 miles championship was held on 11th April at Greenock with the victory going to Chris Robison of Spango Valley AAC from Hammy Cox of Greenock Glenpark Harriers. The report from "Scotland's Runner" reads as follows –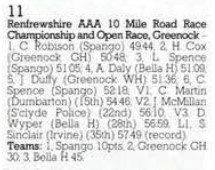 On to the gentler surfaces of the countryside and the first of the Renfrewshire county events was the relay championship on 11th October. and now, forget Spango Valley and Greenock Glenpark, Bellahouston was back with their team of Daly, McAngus, Thonson and Robertson winning the title from Spango Valley by 14 seconds. The Spango team was minus Chris Robison but with three international runners they were still a strong outfit. Kilbarchan was third 3 seconds later. A good race. Full details in the "Scotland's Runner" extract below.
The individual and team championships were held on 28th November at Greenock and Tommy Murray won from Peter Connaghan of Spango Valley with only 16 seconds separating them. Note that John McFadyen continued to progress, winning the Senior Boys race by 49 seconds. Result:-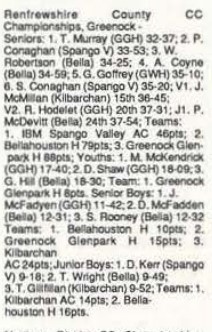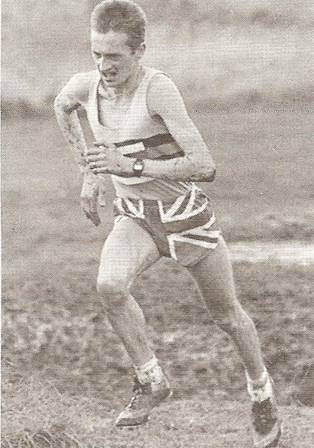 Tommy Murray
The 10 Miles Road Race was held on 2nd April in 1988 and was won by Alistair Douglas, the Victoria Park runner, with four Renfrew men in hot pursuit. The standard was as high as it ever had been with all of the first six being international representatives with Allan Adams who won the veterans race also being an international senior as well as international veteran. Hill runner Suzanne Niedrum was also of that standard. Spango Valley won the team race with Bellahouston 17 points behind and Dumbarton 9 points away in third. Results:-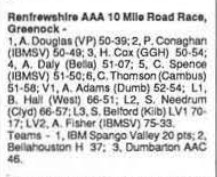 The track championships were held on 20th April at Crown Point track in Glasgow and the brief report in "Scotland's Runner" tells us something about it.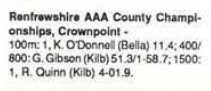 And that was the extent of it. It was not long however until the start of the winter season and after the normal start in the first week of Octiber with the McAndrew relay at Scotstoun, the counties cross-country relays were as ever on the second Saturday of October, the 8th. The RAAA event was at Paisley with Greenock Glenpark winning from Kilbarchan with the B team from Glenpark filling third place. The Renfrewshire domestic championships, whether on road or country, were of a very high standard – perhaps the highest of all the county races at this point – and a testament to the unfailing work at club and county official, coach and administrator levels as well as the work pout in by the runners. Four Scottish internationals in the winning team, with fastest three times going to members of that same team. The results as published by "Scotland's Runner": –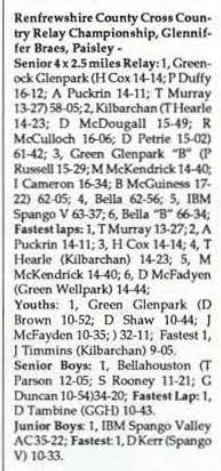 The individual championships were held on 26th November at Linwood, home of Kilbarchan AAC where it was fitting that the winner was Bobby Quinn of that club from Hammy Cox of Glenpark and Tommy Hearle of Kilbarchan. Spango Valley won the team race from Glenpark with Kilbarchan third. Details below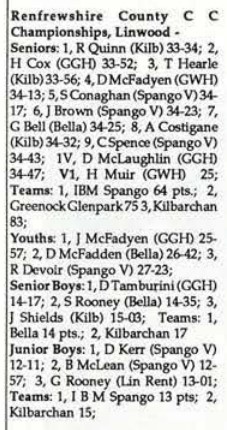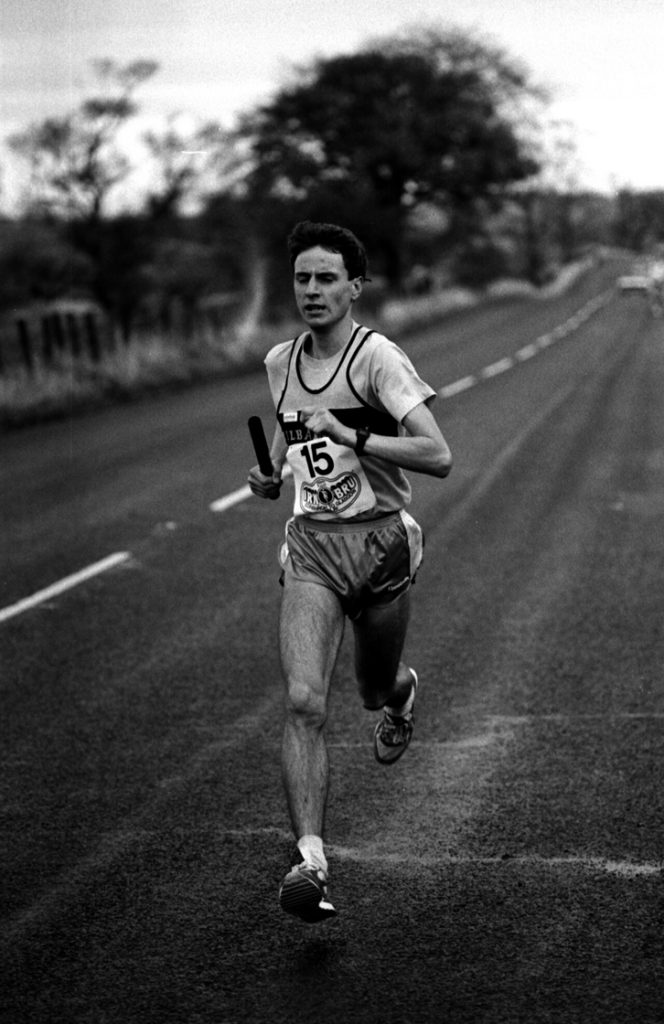 Bobby Quinn running in the Edinburgh to Glasgow in 1985
The county 5 miles road race at Greenock was won by Glenpark's Tommy Murray from Robert Fitzsimmons of Bellahouston and Tommy Hearle of Kilbarchan. The team race went in the reverse order – Kilbarchan AAC, Bellahouston and Greenock Glenpark. Complete results below:-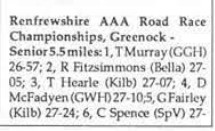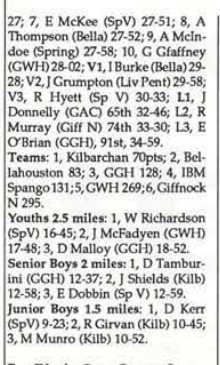 The 10 mile road race championship was held on 8th April. Tommy Murray won from Chris Robison with Kilbarchan's Gerry Fairley in third while the team race order was Spango, Kilbarchan and Glenpark. Runners again came from furth of Renfrewshire – Glasgow, Falkirk, Giffnock and Dumbarton were all represented on the medal winners lists.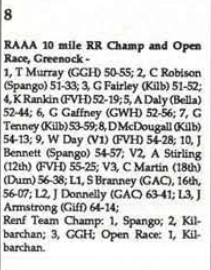 We have to go to the "Glasgow Herald" for the report and result of the cross-country relay championships on 16th October, 1989. Bobby Quinn led his club to victory in the team race.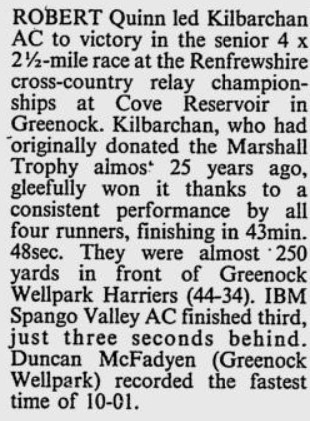 1st December, 1989, saw the Renfrewshire individual and club championships and there was a new name on the Trophy – Gerry Gaffney from Greenock Wellpark Harriers was the man and he had his club's name on the list of winners for the first time in a long time. He won by 25 seconds from Chris Leck of Spango Valley and Billy Robertson of Bellahouston. Complete results from "Scotland's Runner" below.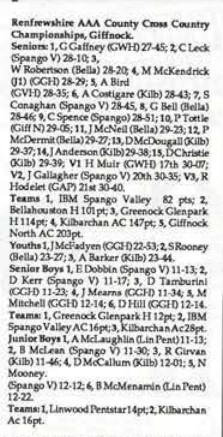 The 5 mile road championship took place on 3rd February, 1990, at Greenock and there was a well deserved victory for Tommy Hearle of Kilbarchan. A Scottish Schools international, a Scottish Junior international and a very talented runner he had had to face up to Bobby Quinn, Tommy Murray, Hammy Cox and several other top talents over the previous few years. He won over previous winner Cammie Spence, and tough competitor Duncan McFadyen. Result :-
The 10 mile race, a popular open event, took place on 14th April, 1990, and held as ever at Greenock. The open nature of the race was shown this year with hill running international Ian Murphy of Clydesdale Harriers winning the race by 40 seconds from Cammie Spence of Spango Valley and Gerry Gaffney of Wellpark. Murphy's team mate, John Hanratty was sixth, Pat O'Kane of Hunter's Bog Trotters was seventh and Thomson of Irvine eighth.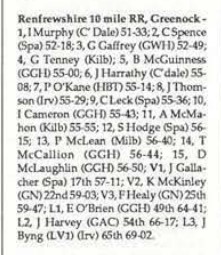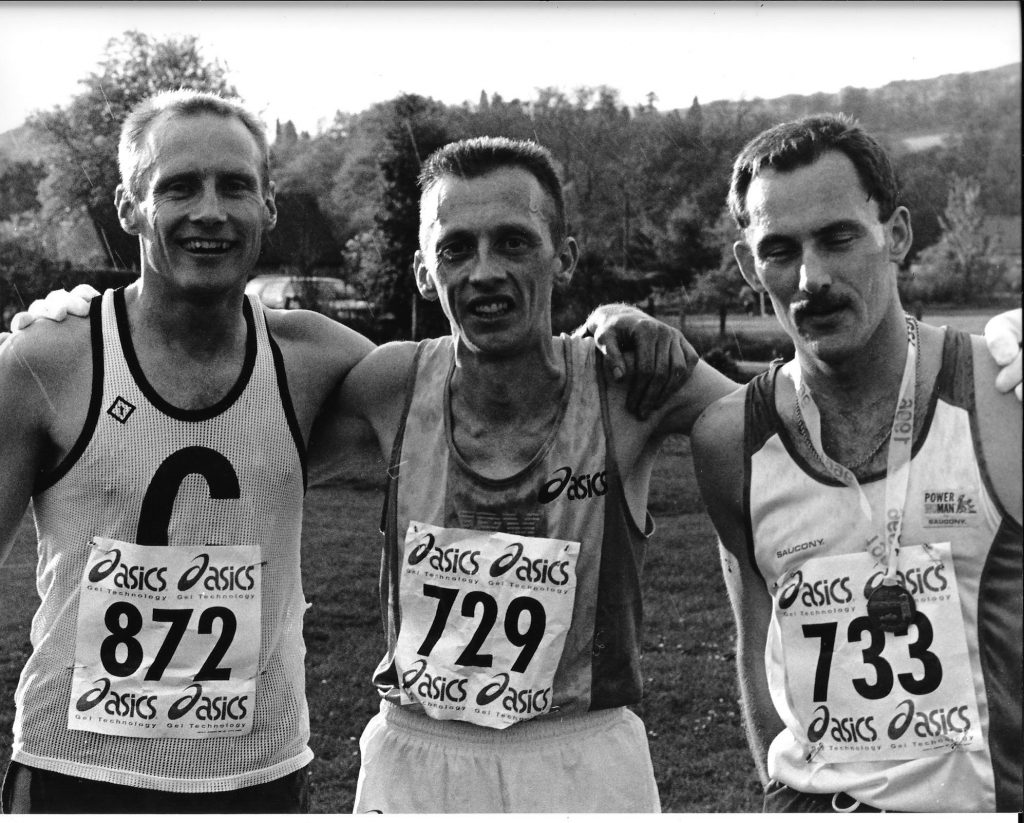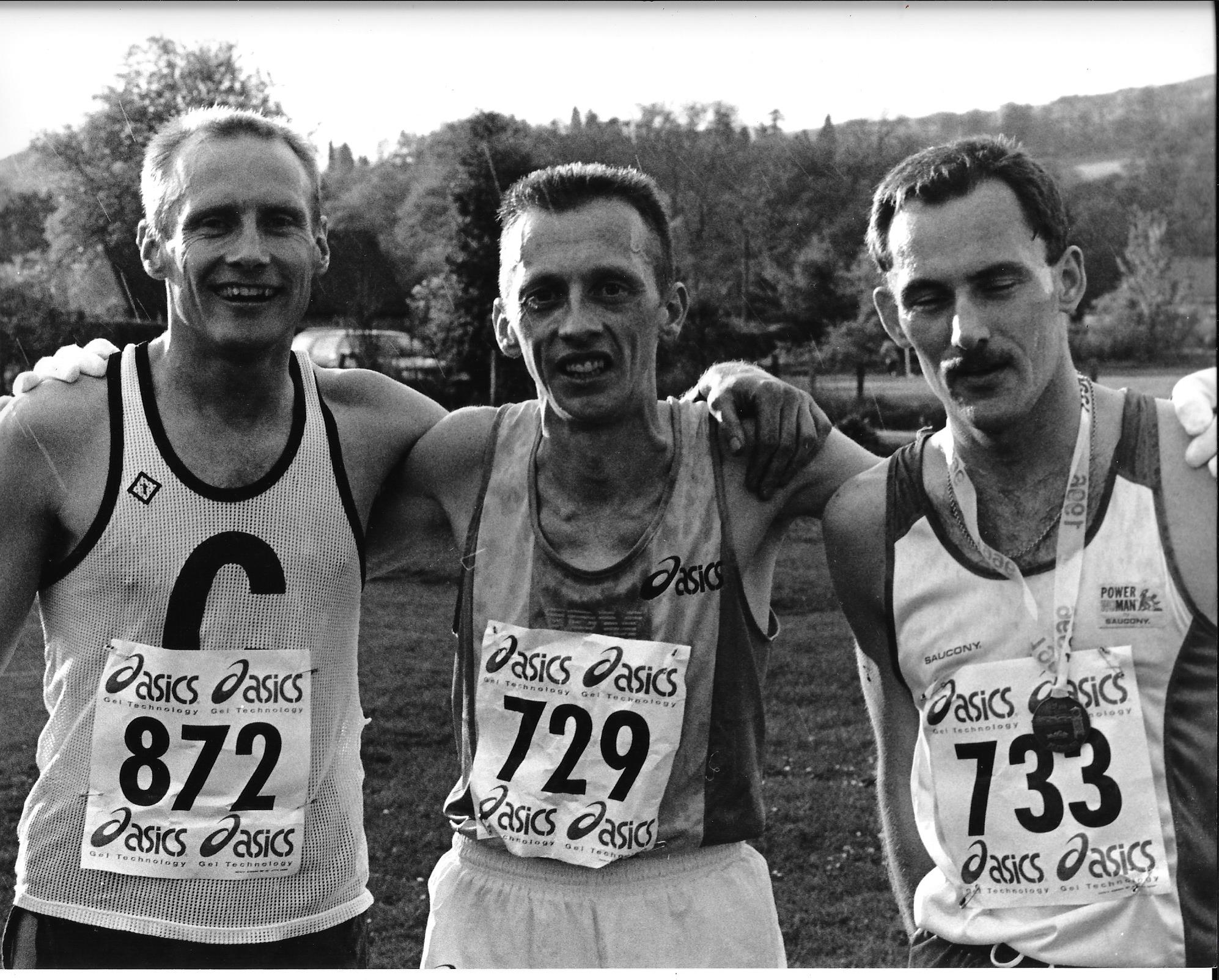 Ian Murphy, Tommy Murray and Graeme Croll of Cambuslang after the Bellahouston Park race in December.
13th October 1990 saw the relays return to Linwood and the home team, Kilbarchan, win the title and win the trophy again. Their top man this time was Tommy Hearle who was not only fastest in his team but third fastest overall, only Tommy Murray and Peter Fleming being faster. John McFadyen of Glenpark had been working his way through the age groups and was now a Junior Man and had the fastest Junior time.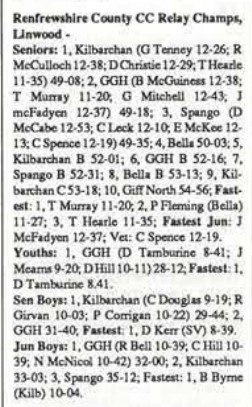 By 1st December, 1990, the clubs were all ready for the county championships. These were held at Houston – another Kilbarchan venue but this time round Tommy Hearle had to give best to Hammy Cox of Glenpark Harriers. His team was second though compared to Cox's Glenpark's third place – Spango Valley won.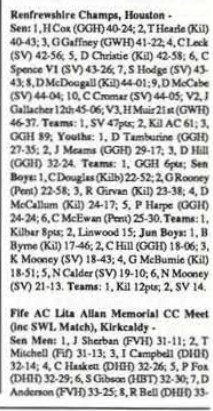 That marked the end of the Renfrew Amateur Athletic Association's ventures for 1990 and the end of our coverage of the Renfrewshire Association's promotions. The clubs had grown in size with Bellahouston Harriers, Greenock Glenpark Harriers, Greenock Wellpark Harriers, Kilbarchan AAC, Linwood Pentastar AC among the best in the country, it was now promoting more age group events with U17 (Youths), U15 (Senior Boys) and U13 (Junior Boys all competing appropriately at local and national events, there were country, road and track & field championships all available for athletes and budding athletes to train for and there were coaches to do the training. It was a very successful association.