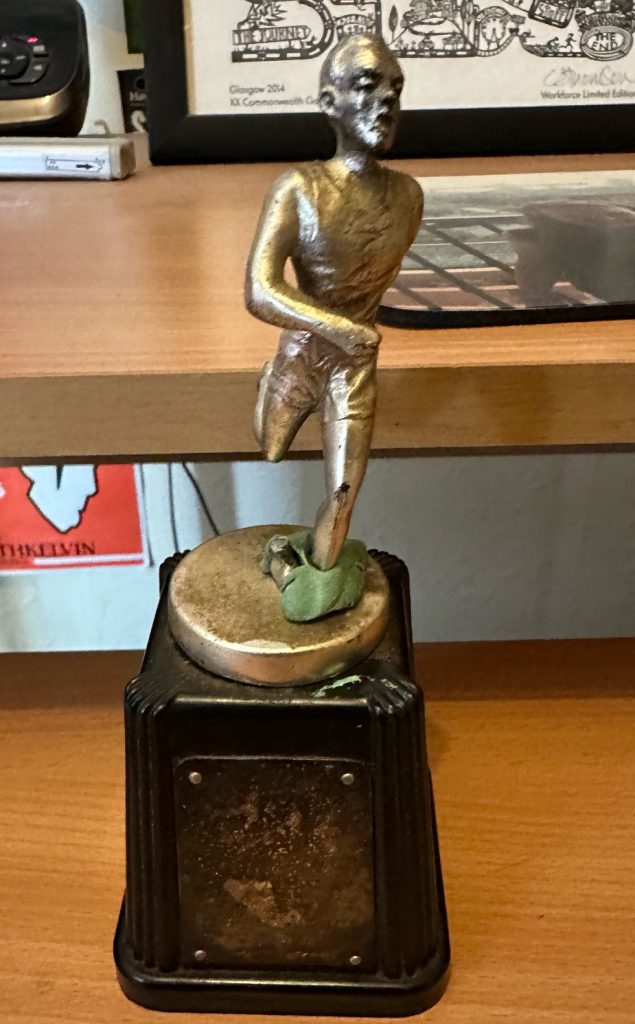 Trophy won by Hugh Barrow of Victoria Park for finishing third in 1960
The race continued to attract big fields for its second decade and the quality was high as the slashing of the records is shown in the table below.
| | | | | | | | | | |
| --- | --- | --- | --- | --- | --- | --- | --- | --- | --- |
| YEAR | WINNER | CLUB | TIME | COMMENT | YEAR | WINNER | CLUB | TIME | COMMENT |
| 1946 | W Young | VPAAC | 15:26 | | 1956 | W Thomas | Irvine | Unknown | |
| 1947 | H Fenion | Lochwinnoch | 15:22 | Record | 1957 | J Linaker | Pitreavie | 14:26.3 | |
| 1948 | G Adamson | West Kilbride | 14:57.5 | Record | 1958 | M Ryan | St Modan's | 14:23 | Record |
| 1949 | R Steel | Vale of Leven | 15:13 | | 1959 | W Fleming | St Modan's | 14:26 | |
| 1950 | J Findlay | Hamilton | 14:50 | Record | 1960 | G Brownlee | ESH | Unknown | |
| 1951 | R Wotherspoon | Glasgow YMCA | 14:57 | | 1961 | H McHattie | St Modan's | 14:24 | |
| 1952 | I Tierney | Cambuslang | 14:42 | Record | 1962 | I McCafferty | Motherwell | 13:53 | |
| 1953 | GM Kerr | VPAAC | 14:34 | Record | 1963 | E Knox | Springburn | 13:51 | Record |
| 1954 | E Sinclair | Springburn | 14:27 | Record | 1964 | E Knox | Springburn | 13:29 | Record |
| 1955 | W Goodwin | Bellahouston | 14:24 | Record | | | | | |
The table above shows the winners from the origins of the race through to 1963. It shows two things – the vast improvement in the standard of running in Scotland from the immediate post-war years to the early 1960's. Times dropped from over 15 minutes in the first two races to inside 14 minutes in the last two above – over a minute and a half of a difference. It also indicates the quality of runner who came as part of learning their trade in the sport, Ryan and McCafferty were Olympians – as was Alex Breckenridge who never won the race but participated in it – and Fenion, Sinclair Linaker, Fleming and Knox were prominent Scottish internationalists. Others who ran but never won it included such as Dick Wedlock, Hugh Barrow, Alex Brown and Mike Bradley. It was the right race introduced at the right time for Scottish athletics.
Having said that we take up where we left off – 1956 saw another runner from the YMCA movement which was very strong and contributed a great deal to Scottish athletics at the time. Note that in the following report from the 'Glasgow Herald' that there were 70 starters. It read:
"Clydesdale Harriers youths open three miles at Clydebank resulted in a 40 yard win for W Thomas (Irvine YMCA), the South Western District youth champion. A McKay (Vale of Leven) was second and J Taylor (Victoria Park) third. Over 70 competed. The Ballot Team race resulted:- J Taylor (Victoria Park) 3, E Riddell 18, C Shields 21 – 42 points."
Thomas was to finish second in the season's national championships 3 seconds behind J Messer of Edinburgh Northern, McKay was fifth.
The race in 1957 was another very good one although the winning margin was a big one. John Linaker, who would become a British and Scottish internationalist and a Scottish record holder for the steeplechase, won in a time only two and half seconds outside Goodwin's course record. Douglas Gifford of Garscube Harriers would become real force in University athletics as well as a Scottish international cross-country runner. Fraser McPherson of Victoria Park was third and brother of Ian McPherson. The popularity of the race was in evidence when 67 runners finished the course. And just look at the times of the runners finishing 3, 4, 5 and 6! Result:-
1. JH Linaker (Pitreavie) 14:26.5; 2. D Gifford (Garscube) 14:53; 3. F McPherson (Victoria Park )15:01; 4. R Gray (Ayr AC) 15:02; 5. J Murtagh (Bellahouston) 15:04; 6. H Summerhill (Shettleston) 15:06. Ballot team race:- 1 JH Linaker 1st, F McPherson 3rd, A Beattie (Dundee Hawkhill 10th – 14 points; H Summerhill 6th, J Friel (Vale of Leven) 7th, B McKnight (Motherwell) 9th – 22 points."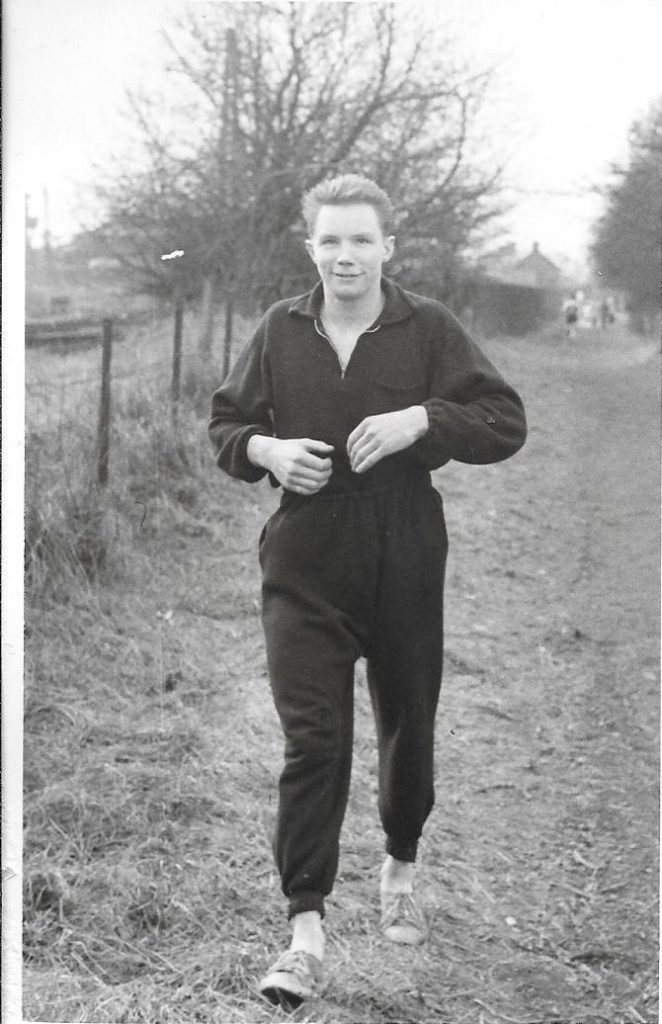 1958 saw the first of a whole series of victories by members of the small St Modan's AC. Mike Ryan (above) won from Rennie of Shettleston and Murtagh of Bellahouston. The 'Glasgow Herald report follows.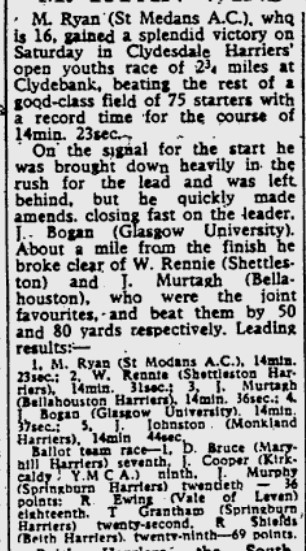 1959 and another runner from St Modan's won the race. This time it was W Fleming who was only 3 seconds outside Ryan's record from the previous year. The results for that year read as follows.
"Clydesdale Harriers Youths Open Two and a Half Mile Road Race. 1. W Fleming (St Modan's 14 min 26 sec; 2. J Finn (Monkland) 14 min 35 sec; 3. L Mitchell (Glenpark) 14 min 47 sec. Ballot Team Race: 1. W Fleming 1st, L Mitchell 3rd, R Rae 14th – 18 points; 2. . J Finn 2nd, I Haddow 4th, T Gallacher 22nd – 28 points.
Apart from Fleming and Ryan – what a double act they had for St Modan's on all surfaces – Jim Finn was a quite outstanding young athlete from Coatbridge's Monkland Harriers.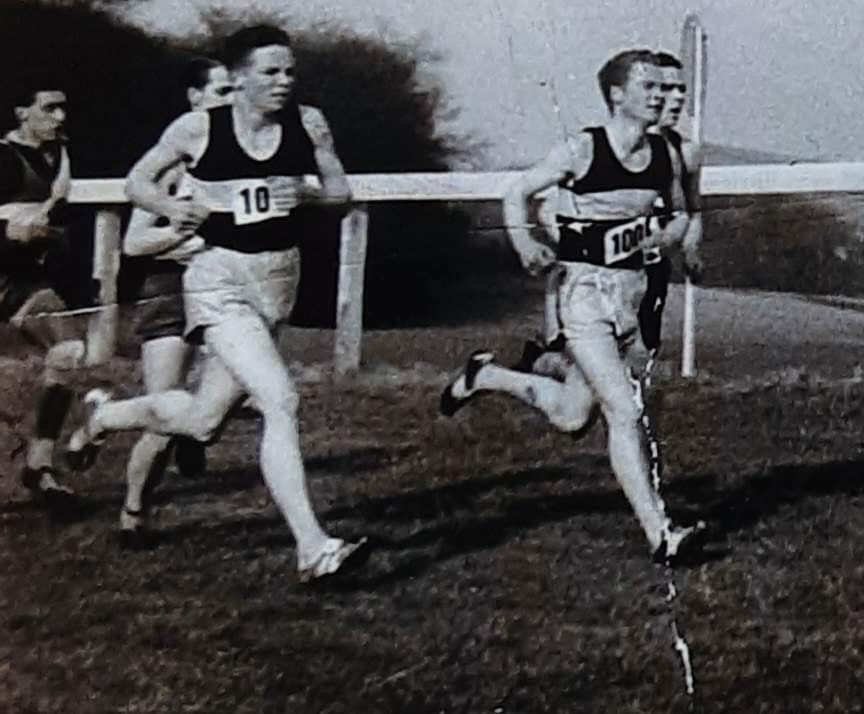 Mike Ryan and W Fleming running in the National cross-country championship as Youths.
1960's result had been lost in the mists of time, ie it couldn't be traced in the papers, national or local but Jim Wright and Hugh Barrow provided the information that George Brownlee of Edinburgh Southern Harriers won fromHamish McHattie of St Modan's who was runner-up and Hugh Barrow of Victoria Park was third. Hugh's trophy for the race is at the otp of the page.
McHattie went one better and won in 1961 (when he was mis-named in one Glasgow paper as "McTattie") which was one second outside Mike Ryan's record for the course. The report on the race read.
"Clydesdale's open youths race was won by J McHattie (St Modan's AC), last year's runner-up, in the time of 14 min 24 sec, one second outside the course record for the course established by M Ryan of the same club three years ago. AP Brown (Motherwell YMCA) in 14 min 34 sec, and R Dow (Strathallan School) third in 14 min 37 sec. The positions in the League competition are:- 1. Victoria Park 70 points; 2. Hamilton Harriers 73; 3. Shettleston Harriers 81; 4. Springburn Harriers 83."
The league referred to was a West of Scotland competition where points were allocated to clubs according to the places of their athletes in existing cross-country and road races. It was another attempt to develop the sport for the younger age groups.
1962 was big year for the race in terms of an assault on the record – there were no fewer than four runners faster than Ryan had been four years earlier. Comments on the runners after the report.
"Four runners were inside the record of 14 min 23 sec in Clydesdale Harriers youths open race at Clydebank. Results:- 1. I McCafferty (Motherwell YMCA) 13 min 53 sec; 2. J Simpson (Paisley Harriers) 14 min 18 sec; 3. J Brennan (Maryhill Harriers) 14 min 21 sec; 4. M Bradley (Paisley Harriers) 14 min 22 sec. Ballot Team Race – 1. D Tees (Springburn Harriers) 9th, Simpson 2nd, Bradley 4th 15 points; 2. I McPherson (Victoria Park) 6th, R Darroch (Motherwell YMCA), D Wedlock (Shettleston Harriers) 14th 32 points.
The names listed above contains at least six future internationalists with McCafferty an Olympian. Dick Wedlock who would win the SCCU senior championship, several Scottish vests and a good run in the Commonwealth Games 10000m in 1970 before being seriously injured in a tragic road accident. Jim Brennan of Maryhill was very good runner who also represented Scotland as a senior, Mike Bradley ran well for Paisley and then for Springburn as well as for Scotland. Every one of those above was a runner of talent.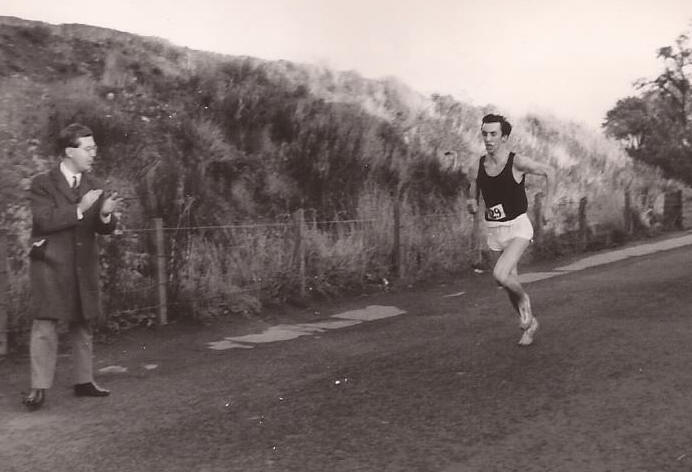 Eddie Knox as a Youth running in the Kingsway Youth Relay
If the field and it four runners setting new times for the event was good in '62, it was even better in 1963. The St Modan's conveyor belt of talented Youths continued to roll and the record was breached again. The winner was Eddie Knox of Springburn.
"E Knox (Springburn Harriers) won Clydesdale Harriers open youths two and a half miles road race in the new record of 13 min 51 sec, 2 sec better than the time returned when I McCafferty (Motherwell) won the race last year. Other positions:- 2. W Eadie (St Modan's) 14:04; 3. AD Middleton (Springburn) 14:05; 4. T Brown (St Modan's) 14:09; 5. J Brennan (Maryhill) 14:12; C Martin (Dumbarton AC) 14:35. Ballot Team Race:- 1. T Brown 4th, M Bradley 7th, A Johnston (Victoria Park) 16th 27 points; 2. W Eadie 2nd, J Fleming (St Modan's) 14th, T McEwan (Beith) 21st 37 points.
In 1964, Knox made it two races, two victories and two records. The barest of bare results were printed in the 'Glasgow Herald'. "Clydesdale Harriers open two and a half miles road race was again won by E Knox (Springburn) and so convincingly that he succeeded in beating his own record set last year by 22 seconds, returning 13 min 29 sec. Results:- 1. E Knox (Springburn) 13:29; 2. C Martin (Dumbarton AC ) 14:38; 3. J Crawford (Springburn) 14:41. "