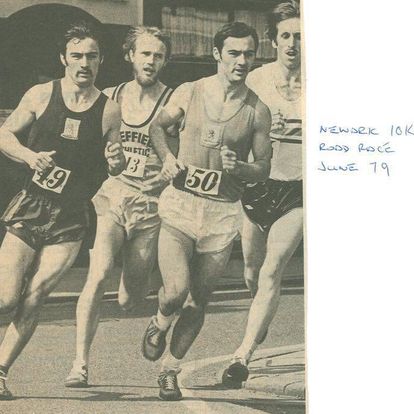 Steven Rimmer (49) and Gordon Rimmer (50),
(Due to injuries and a fairly short racing career, Steven Rimmer has received less recognition than his twin Gordon. However, as this profile will prove, Steven was a very classy runner, a Scottish track international athlete who enjoyed great days representing the marvellous RAF team of that era.)
QUESTIONNAIRE
Name: Steven Rimmer
Club/s: Cambuslang, RAF, RAF Halton, RAF Cranwell, RAF Wittering, Newark AC.
(Steven wrote: My twin Brother Gordon was posted at RAF Halton the same time as me, although he stayed longer. I left around Mar/Apr 77 and went to RAF Cranwell then. Gordon eventually joined me at Cranwell too, a year or so later. Later, we were both at RAF Wittering and ran for Newark as well.)
Date of Birth: 09/08/1956
Occupation: RAF (Aircraft Technician). Now retired.
How did you get into the sport initially: I used to take part in school sports day and ran for the school once a year. Did cross country in the last year of my 3-year apprenticeship in 1976 although I never did any training as I also played football and rugby.
Personal Bests: 800m: 1.51.9; 1500m 3.46.4; 3000m 8.11; 5000m 14.11 approximately – I only ever did one, when I beat Callum Murray (who was RAF Champion in 1984) to win the 1983 RAF Inter-Station Finals.
Has any individual or group had a marked effect on either your attitude to the sport or your performances? My coach Alan Warner who was also the RAF Team Manager. I also admired Steve Ovett.
What exactly did you get out of the sport? My short spell in the RAF Team for Cross Country and Athletics from 1978 until Summer 1984, although (due to a lack of stretching) I was injured and never raced between Summer 1981 and Summer 1983. The banter and camaraderie in our RAF team was fantastic and these were the best years of my life. There were so many great international athletes in our squad, everyone was so down to earth and the strength in depth was amazing.
Can you describe your general attitude to the sport? Enjoyed every minute, was very competitive but had great respect for the guys who turned out every week even though they knew they would never have a chance of winning.
What do you consider your best-ever performance? That's a difficult one. Maybe my breakthrough, finishing 3rd in the Scottish 1500m at Grangemouth 1979 or, two weeks before, finishing 2nd in the Inter-Services 1500m, just behind GB International Mal Edwards and ahead of British International Julian Goater. Or running in the French Military Champs as a guest along with some talented Tunisians, where I ran 3.48.9 in the heats and 3.46.4, which was my PB, in the final, when I was just pipped into second. On the country, finishing 3rd in the RAF Cross Country Champs two years in a row (1980/1981), behind Steve Jones (future Olympian and Marathon World Record breaker), Ray Crabb and Julian Goater but ahead of my Brother and our Captain John Wild. Or even pipped into second in the middle-distance race at Gateshead; or even the IAC International at Crystal Palace where I was the RAF 6th scorer, when our team won by 55 points. Details below: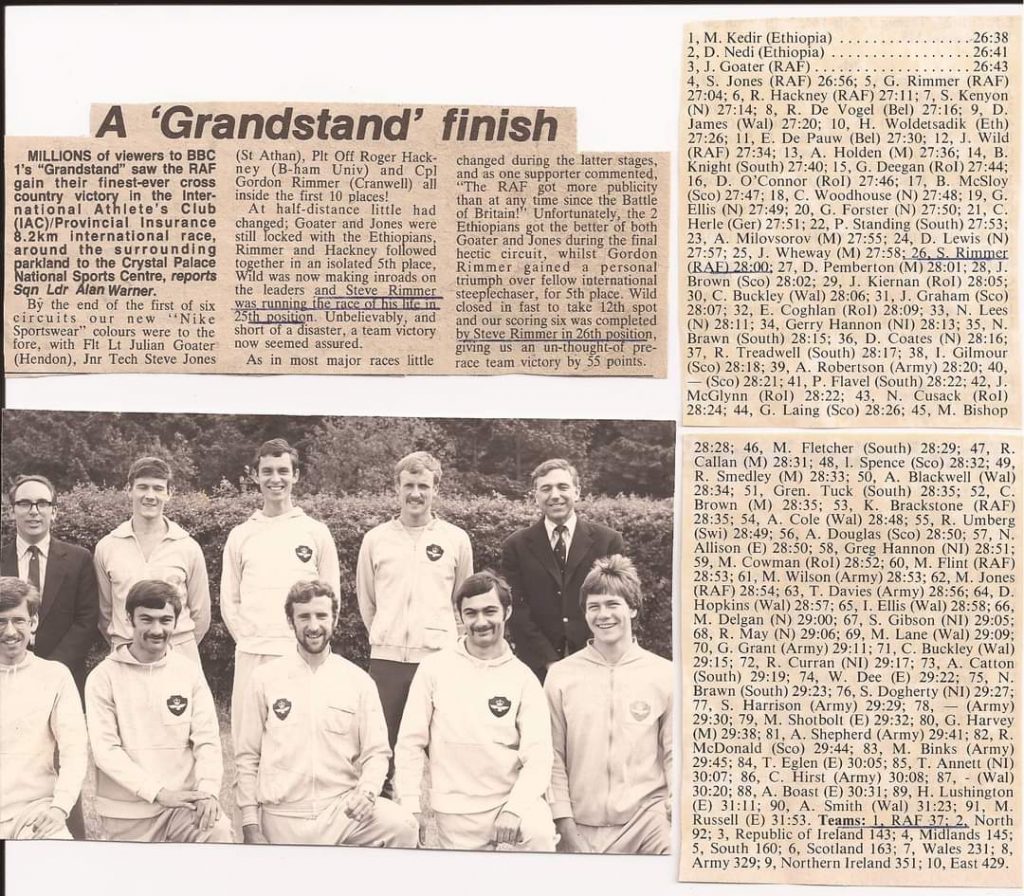 Steve added "The Crystal Palace race took place in December 1980. After beating nearly all of the Scottish team: Jim Brown, John Graham, Ian Gilmour, Graham Laing, Lawrie Spence, Alastair Douglas and Ron MacDonald (as well as other Internationals like Nick Lees, Eamonn Coghlan, Jerry Kiernan, Grenville Tuck, Greg Hannon and Dennis Coates) I was later chosen to run cross-country for Scotland."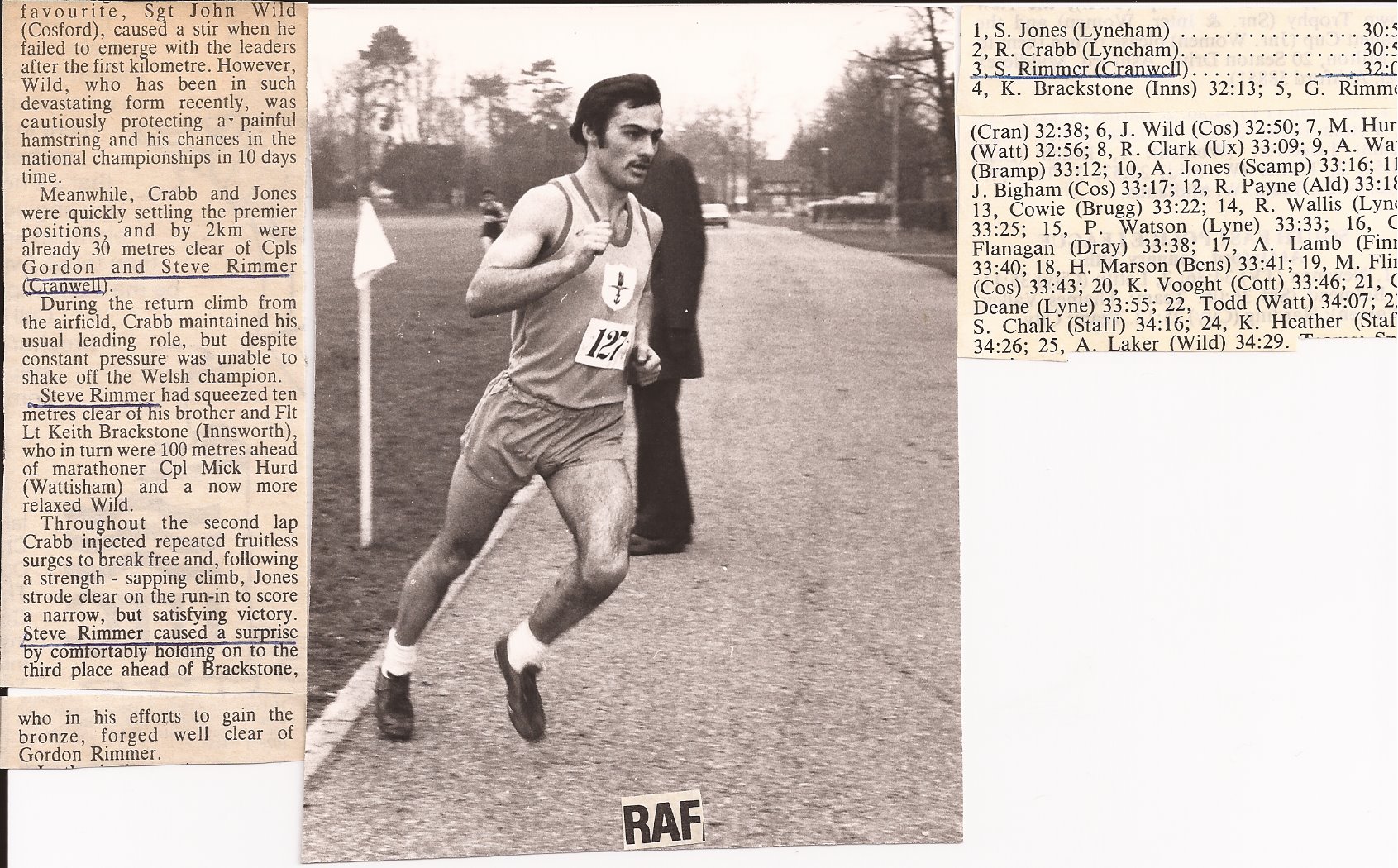 And your worst? Finishing well down the field in the Inter-Services Cross Country at Halton. After the first of two laps I was just behind Jones and running together with Bro, Hackney Wild and Crabb. We were on to get a clean sweep for the first time ever, however I got a stitch in my side, which slowed me right down.
What goals did you have that were never achieved? I always wanted to improve on my PBs and break four minutes for the Mile.
What has running brought you that you would not have wanted to miss? The camaraderie and banter of the RAF Team Squad and, of course, representing Scotland, my country.
Can you give some details of your training? Summer was varied from 200s through 600s and fartlek. Winter 14 miles on Sunday, 5 miles steady lunchtime and fartlek again, from 200m up to 1 mile and back down, or 3 x 1 mile and a half or 3 x 1000m pretty quickly, as well as a hill session once a week.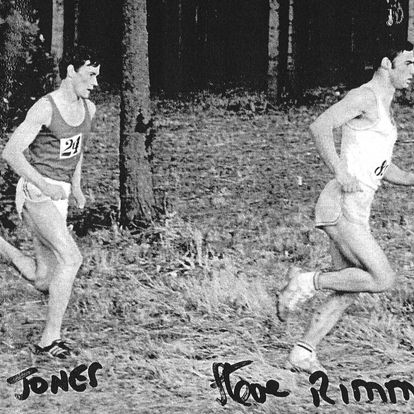 Steve Jones tracking Steven Rimmer
MEN'S WHO'S WHO ENTRY
Steven Rimmer RAF, Cambuslang Harriers
Personal Bests: 800m: 1.51.9 1980; 1500m: 3.46.4 1980; 1 mile: 4.08.37 1980; 3000m: 8.11.4 1980; 5000m 14.11 1983.
Steve was third in the S.A.A.A. 1500m 1979. The twin brother of Gordon Rimmer
The track results above give an indication of Steve's Scottish International quality but he was also a top-class cross-country and road runner who helped his Scottish club to silver and bronze medals and raced so well for the RAF.
Senior National Cross Country: 1980 at Irvine 18th (second counter for Cambuslang Harriers). The team received bronze medals – a first for the club .
Edinburgh to Glasgow Road Relay: Steven represented Cambuslang in 1977; 1978 (6th team); 1979 ( 5th).
In 1980 Cambuslang won team silver; with Gordon fastest on Stage 6; and Steven (having a marvellous run) fastest by almost a minute on Stage 8.
TRACK PROGRESSION
Steven RIMMER (9.08.56)
RAF, Cambuslang H
1979 800 1.54.5 25
1979 1500 3.48.2 6
1979 3000 8.16.8 11
1980 800 1.51.9 9
1980 1500 3.46.4 6
1980 3000 8.11.4 8
1980 1M 4.08.37 6
1983 5000m 14.11
1984 1500 3.49.88 18
Championship Record: SCOTTISH: 3rd 1500m 1979.
SCOTTISH TRACK INTERNATIONALS
Rimmer, Steven: three vests.
Born1956, RAF & Cambuslang Harriers
21st July 1979 SCOTLAND v WALES v GREECE at Cymbran. 1500m 5th 3:59.01. Steven beat Hugh Forgie, who had been one place ahead of him in that year's Scottish Championship 1500m. In the match, Scotland were second to Greece.
11th May 1980 SCOTLAND v LUXEMBOURG v NORTHERN IRELAND at Meadowbank. 1500m 4th 3:50.7. Steven beat one runner from Northern Ireland and one from Luxembourg. Scotland won the match.
28th and 29th June 1980 SCOTLAND v DENMARK v IRELAND at Copenhagen 1500m 4th 3:52.9. Steven beat two Danish athletes. Scotland finished third in the match.
After filling in the questionnaire, Steven wrote the following.
My twin brother Gordon and myself joined the RAF as apprentices from the end of 1973 until the end of 1976, although Gordon did an extra year. I mainly played football and rugby for RAF Halton on Wednesday afternoons and only ran cross country races in my last year without ever doing any training whatsoever. Gordon had taken running seriously early on, had done structured training and made the RAF Squad so, after I was posted to RAF Cranwell at the beginning of 1977, I thought to myself if Gordon can make the RAF team why can't I and decided to start training.
I had made the RAF Squad by the start of the new season in October 1977 but got injured before the RAF Champs in Feb 1978. After recovering from injury, I started doing speedwork and track training and managed 1.58.3 for 800m and 4.00.5 for 1500m. Gordon then joined me at RAF Cranwell and we did some quality training together for both track and country. It got very competitive, as you can imagine, but had a dramatic effect on my performances.
I joined Gordon running for Cambuslang Harriers as well as running for the RAF and our local club Newark. In 1979, Gordon and I ran together in the RAF Champs, finishing 7th and 8th, making the team for the Inter Services for the first time. This was a milestone: making the team with excellent runners like Steve Jones, Julian Goater, Roger Hackney, John Wild and Ray Crabb. On the track I ran one indoor 3000 metres race for RAF v Southern Counties in 8.27. Outdoors I was unbeaten at 800m. getting down to 1.54.5 and I reduced my 1500m PB to 3.48.2, finishing 3rd in the Scottish 1500m and 2nd in the Inter Services at 1500m.
Training with Gordon, we just seemed to get better and better and I got stronger, as well as improving my sprint finish compared to my natural speed. 1980 saw me getting 3rd in RAF Cross Country Champs behind Steve Jones and Ray Crabb and ahead of Gordon, John Wild, Mick Hurd and Roger Clark. That strength and speed got me 2nd in the IAC Middle distance race at Gateshead, ahead of Steve Emson with Graham Williamson back in 7th. On the track my PBs dropped to 1.51.9 for 800m and 3.46.4 for 1500m.
I continued that form into the 1981 Cross Country season, again finishing 3rd in the RAF Champs behind Jones and Goater, but ahead of Bro and John Wild. Unfortunately, severe back pain meant I was unable to run from March 81 for a couple of years. I was able to play football during that period as it was always after about a mile that my lower back muscles just tightened up so much it was impossible to run. I used to try and run every week but it was always the same.
Then in 1983-1984 one day the pain had gone and I was able to start training again, albeit a stone over racing weight. I was at RAF Wittering and had a few good road runners to train with. Bro had also been posted to Wittering but was riddled with niggling injuries yet managed to join me in some quality speed sessions on the grass. I did a varied amount of running, winning quite a lot of races on the track, road and cross country. I managed 3.49 in my first 1500m for the RAF v Loughborough. I was seriously spiked by Roger Hackney in the RAF 800m so was not selected for Inter Services. I won the 5000m (in around 14.11) at the RAF Inter Station Champs at the end of the season, beating Callum Murray who later won the RAF 5000m.
I started the cross country season well, finishing 2nd in the RAF Strike Command behind Ray Crabb, although I should have won as I was 100m clear of him with a mile and a bit to go but went the wrong way, since a marshal was hiding behind a bush having a cigarette. Unfortunately, two weeks later in the RAF Champs, in which I was hoping to compete for a medal but at least make the top 8 and the Inter Services team, at the end of the first lap I felt a really niggling achilles pain which slowed me down and I considered dropping out but, as Wittering had the chance of a team medal, I picked up the speed and ran through the pain but only managed to finish 27th (that turned out to be my very last cross country race).
After some physio and rehab, I managed to get really fit and my speed back. I ran a few fast road races winning one in 24.31 and finishing 3rd in one in 23.21, plus I won a 10 miler in 51 min something. On the track I won a few races in 1.54 and 3.49 and geared myself up for the RAF, Inter Services and Scottish 1500m Champs all within 6 or so weeks of each other. Firstly, in the RAF, I finished just behind Roger Hackney in a sprint finish with Deon McNeilly an Irish International a further second behind in 3rd. Onto the Scottish where I made the final running 3.49 in the heats. In the final it was comfortable near the front at the bell, but with about 350m to go I felt my back muscles starting to tighten up again, which slowed my sprint finish down considerably and I finished mid-pack. I trained gently the following two weeks before the Inter Services but exactly the same thing happened again – comfortable at the bell, running alongside Hackney and Chris Robison (representing the Navy) then bang, with 300m to go the back tightened up and I couldn't match their finishing speed.
Sadly, that was the last race of my very short athletics career. With hindsight, I wish I had started training earlier when Gordon did, and also wish that we had done some stretching exercises before or after training. Combined with pounding on the roads and very competitive training sessions with Bro, we raced far too often for clubs and RAF, midweek and weekends throughout the year. Nevertheless, I'm very proud of representing Scotland, the RAF and Combined Services and being part of the evolution of Cambuslang Harriers. Yet I regret missing what might have been without injuries.