There are those who looked down on professional athletics as being a sort of poor relation of the amateur version but these are now few in number. At its best, the standard at the top of professional athletics was of international quality and stands comparison with the best of the amateur code. This is maybe particularly true in the heavy events where there can be no quibble about the track surface, or about the run-up in the jumps. The rivalry between Rowe and Anderson was friendly but intense – throwing the variety of implements that they did, the distances they did, the fact that they did tie on occasion, is not done without serious training or on-the-day preparation. It should also be pointed out that there were several class athletes in their wake during their long battle. If we take a brief look at the standards and qualities of the two outstanding heavies of the 1960's it will be obvious how good they were.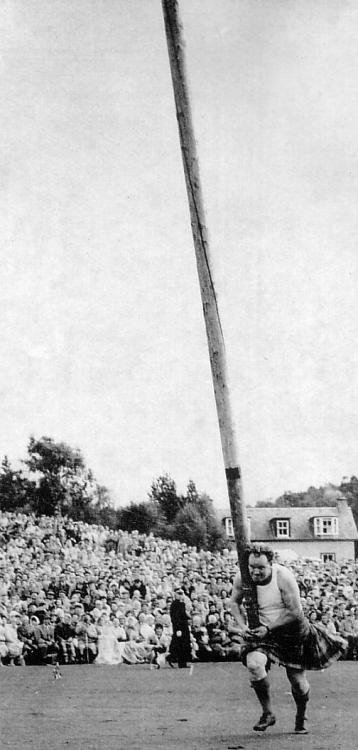 Bill Anderson was by any standards a top class athlete who enjoyed a long and successful career. Born on6 October 1937he won the World Highland Games Championships in 1981 and the Scottish Highland Games Championships 16 times. He has also held every possible Scottish record in Highland Games.
His father had competed in some Highland Games competitions and encouraged the young Bill to practice with the Hammer at home and he started out on the circuit when his brother persuaded him to enter the Alford Games in 1956 and won four events against good class opposition. He also won £9. After two years out on National Service he returned and won his first Scottish championship in 1959. He also won his first championships at Aboyne and Braemar: two meetings which took place only 24 hours apart with Aboyne on the second Wednesday in September, with the Braemar Gathering on the Thursday.
His last competition was in 1988 in Australia after a career that saw him compete in America, Canada, Australia, Dubai, France, Nigeria, Sweden, the Bahamas, Singapore and Japan. His career is documented in detail in Jack Davidson's aptly titled biography "Highland Fling" which is recommended to anyone interested in the Games, the events or the personalities that took part in them. The following extract is from Jack's obituary written when Bill died in 2019: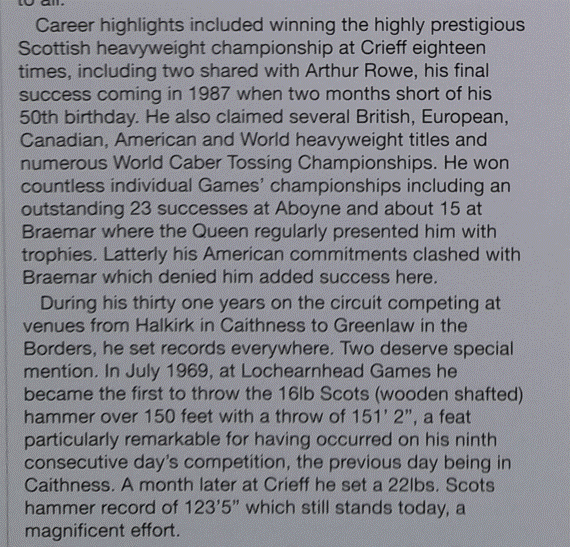 He received many honours during and after his career among them maybe these two stand out – in 1977 he was awarded the MBE in the Queen's Honours List for services to the Highland Games, and in 2007 was inducted into the Scottish Sports Hall of Fame: the only Games athlete so honoured. The connection between Braemar and the Royal family who have patronised the Gathering since the mid 19th century with four monarchs – Queen Victoria, King George VI, Queen Elizabeth and now King Charles – is well known and the Queen had presented Bill with many a trophy over the years.
When Arthur Rowe (see below) who was an English international shot putter and strong man came to the Games circuit in 1962 when he was in his prime, they developed a healthy rivalry and friendship: a rivalry that pushed them both to greater achievements. We finish with the last word going to Jack Davidson.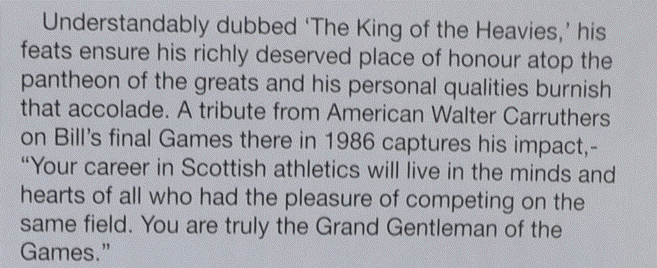 The complete Obituary is at Jack Davidson's Obituary of Bill Anderson
Arthur Rowe's Obituary from The Times is at Arthur Rowe's Obituary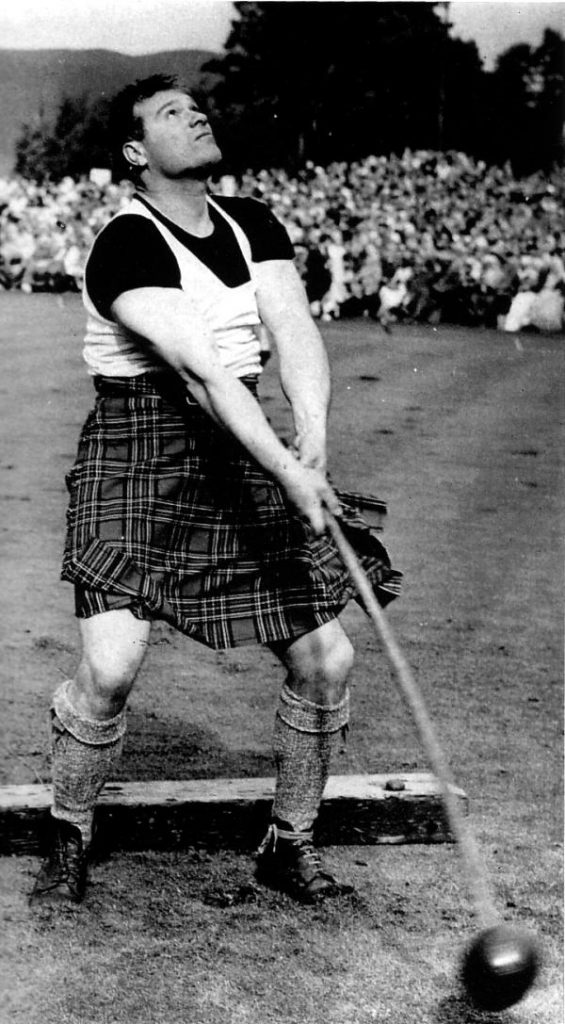 Arthur Rowe was not, as so many former GB athletes coming to the Games were, coming to the Games as a has-been looking for a quick buck. He was at the time European record holder for the shot putt. and had a very good competitive record. Born in August 1936, he won the AAA's shot putt championship no fewer than five times in succession between 1957 and 1961. Four of those were European records. In total he set 15 British records taking the distance from 16.94 metres (55 feet 7 inches) in 1958 to 19.56 metres (64 feet 2 inches) in 1961. In 1958 he achieved a double that no other Briton had ever achieved when he won the Shot Putt at the Empire (now Commonwealth) Games in July in Cardiff, and then followed it up with Gold at the European Games in Stockholm in August. In the former he won with a best throw of 17.58 metres, and in Stockholm he threw 17.78m to defeat Lipsnis of Russia who was on 17.47m. His obituary in The Times said of the European victory:
"Rowe established his credentials on the international stage at the European Games in Stockholm in August 1958 when he won the European title from Lipsnis, of Russia, with a mighty final heave, bringing alive his British supporters who had fallen silent during previous efforts, with which he had, unaccountably, made little impression. His distance of 58ft 4in broke by 8in the British record he had set at Uxbridge the previous week."
Chosen for the Rome Olympics in 1960 he had a disappointing competition with a best of 16.68 metres and failed to qualify for the Final. The Times added: "He soon recovered from the setback and in 1961 set a new personal best and European record with a put of 64ft 2in. In June the following year he bettered this mark by one inch. But within a month he was to be bidding farewell to amateur athletics, just as great things were being predicted for him at that year's European championships. In July 1962 he signed as a professional rugby league player with Oldham." The Rugby League venture did not last long and he could not return to amateur athletics since he had taken part in paid sport. He turned to professional athletics. The Times again:
"Instead he took up the various Scottish versions of weight-throwing, events attracting handsome prize money, in which he enjoyed a great deal of success touring Highland Games during the winter months. At the Braemar Highland Games of 1963, his second season, he smashed four records in a day: the 28lb put; the 16lb stone; the 28lb weight; and the 56lb weight, with the last of which he cleared the bar at a height of 14ft 2in. Rowe also became adept at tossing the caber, a discipline in which he established a number of records. At the Aberdeen Highland Games of 1968 he beat Scotland's best to win the world caber title. In the following year, at the same games, he retained it against fierce competition. He also won a number of hammer-throwing titles. His last year of competition was 1970."
Here was a man at the peak of his powers – he was only 25 when he 'retired' from amateur athletics – as a double gold medal winner, reigning European record holder for the shot putt coming on to the Games scene and giving it his best for 8 years from 1962 to 1970, setting records, winning titles and entertaining crowds.