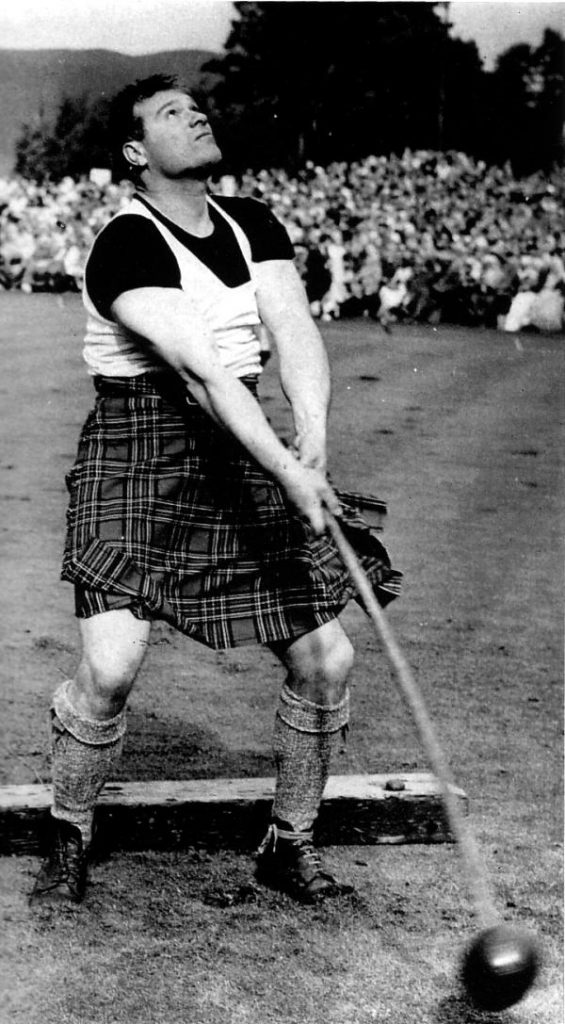 AN ATHLETE whose upper-body strength was, in the first instance, a natural product of the Yorkshire forge where he worked as a blacksmith, not of an athletic training regime, Arthur Rowe was the dominant personality in British shot putting from 1958 to 1962. Yet, by his own account in later years, he came into the sport somewhat by accident. As a 17-year-old, he was playing cricket for a local youth club team, waiting his turn to bat, when he noticed a group of young men hurling a large iron sphere in an adjacent field.
When he strolled over and asked if he could have a go, his wish was readily acceded to by the team's coach. "Ever done it before?" asked the man in response to Rowe's effort. "No," replied Rowe. "Well you'd better start now, you've just beaten this lot by ten feet," said the astonished coach.
It was the unlikely beginning of a career that was to see Rowe win Empire and European gold medals, with a series of performances that continually established records which were not to be broken until the Geoff Capes era of the mid 1970s.
Arthur Rowe was born, appropriately, in the suburban village of Smithies, just across the River Dearne from Barnsley, an area in which he was to spend most of his life. After education locally, he left school in his mid-teens and was apprenticed to a blacksmith.
In those far-off amateur days his discovery by a coach did not of course mean emancipation from his paid labours. After the day's work he would practise shot-putting at night, selecting a piece of asphalt under one of the street lamps in his native village. When his full potential was recognised he went to Doncaster for specialised training.
It was the coaching of G. H. G. Dyson that was to be decisive in Rowe's development. Under Dyson, he won his first AAA title in 1958, and he was soon setting a succession of new marks for the British shot-putting record. These performances made him the first field-events athlete to be named the AAA's UK athlete of the year, a title at that time traditionally going to the stars of the ostensibly more glamorous track events.
Rowe established his credentials on the international stage at the European Games in Stockholm in August 1958 when he won the European title from Lipsnis, of Russia, with a mighty final heave, bringing alive his British supporters who had fallen silent during previous efforts, with which he had, unaccountably, made little impression. His distance of 58ft 4in broke by 8in the British record he had set at Uxbridge the previous week. Rowe went on to add a second gold medal at the Empire and Commonwealth Games at Cardiff that year, and also continued to improve on his British record. In a match against France in September 1958 he increased it to 58ft 11in and the following year, in a contest against Poland at the White City, he further extended it to 61ft. He was by now a natural candidate for Olympic honours and it was a great disappointment when, possibly affected by nerves, he failed to qualify for the Olympic final at Rome in 1960.
He soon recovered from the setback and in 1961 set a new personal best and European record with a put of 64ft 2in. In June the following year he bettered this mark by one inch. But within a month he was to be bidding farewell to amateur athletics, just as great things were being predicted for him at that year's European championships. In July 1962 he signed as a professional rugby league player with Oldham.
A glittering career as a forward might have been expected for the 6ft 2in, 18- stone 26-year-old, though with his natural speed he preferred to play on the wing, and found life in the forwards an uncomfortable business. In any event, a rugby league career was not to be. Within a very few months Rowe had found that the very different physical demands of the game were not to his taste.
Returning to Barnsley, he founded his own construction company. At that juncture he would have liked to resume an athletics career, but a return to the amateur ranks was impossible for him, once he had played paid sport. Instead he took up the various Scottish versions of weight-throwing, events attracting handsome prize money, in which he enjoyed a great deal of success touring Highland Games during the winter months. At the Braemar Highland Games of 1963, his second season, he smashed four records in a day: the 28lb put; the 16lb stone; the 28lb weight; and the 56lb weight, with the last of which he cleared the bar at a height of 14ft 2in.
Rowe also became adept at tossing the caber, a discipline in which he established a number of records. At the Aberdeen Highland Games of 1968 he beat Scotland's best to win the world caber title. In the following year, at the same games, he retained it against fierce competition. He also won a number of hammer-throwing titles.
His last year of competitio was 1970. Thereafter he returned to Barnsley and his building firm. Over the past 12 months he had been suffering from cancer. Rowe is survived by his wife Betty, whom he married in 1961, and by their son and two daughters.