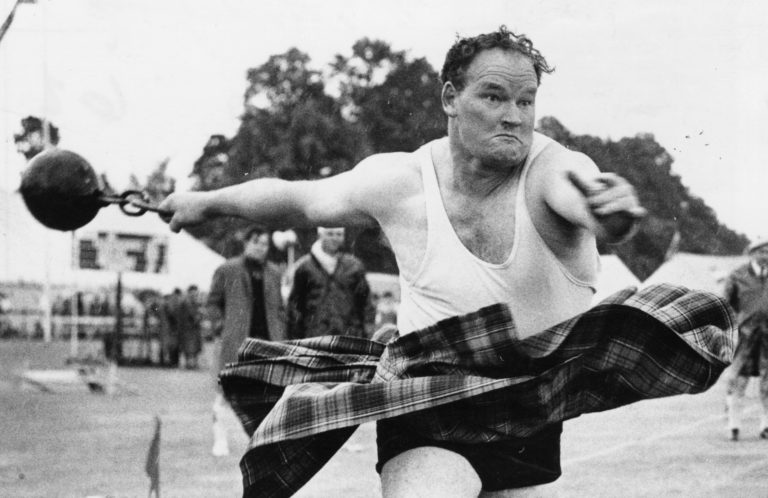 The 1960 Gathering held the Games on a dull but dry day when a huge crowd of 30, 000, biggest for several years, watched the spectacle and the sports. The Queen, Prince Philip, Queen Mother and Princess Margaret were all present along with the royal children, Prince Charles and Princess Anne. Charles wore a kilt in the Balmoral tartan designed by Prince Albert over 100 years ago. Eleven pipe bands took part in the march past. The royal family was there in big numbers, the spectators were there in numbers, the pipers and marchers were there and the rain stayed away. That left the athletes to do their thing. This time the star was Bill Anderson.
The Glasgow Herald reports: –
"THREE RECORDS BROKEN BY W ANDERSON. W Anderson, a farmer of Banchory-Devenick, was the outstanding athlete in the heavy events at the Braemar Highland Gathering yesterday, breaking three of his own records for the meeting. Anderson, who set up two records at the Aboyne Games on Wednesday, threw the 16lbs Hammer 130′ 7″, improving on his 1959 record by 3′ 10″. He also beat his record for the 22lbs hammer by 6′ 8″ with a throw of 109′ 3″, and in putting the 16lb stone 46′ 10″ he surpassed the record he set up last year by 1′ 4". J Jamieson (Arbroath) broke the pole vault record with a jump of 11′ 10″, one inch higher than C Webster's 1959 record."
More about Anderson below but first, the results.
100 yards: 1. W Atkinson (Brampton); 2. M Brough (Wolmingham); 3. W Jamieson (Dunfermline) 10.1 seconds
220 yards: 1. C Forbes (Drumoak); 2. E Nicholson (Penrith); 3. L Hutchison (Dunfermline) 23.2 seconds
440 yards: D Bell (Dalston); 2. I Gilbert (Banchory); 3. C Forbes. 53 seconds
880 yards: 1. J Tinnion (Dearham); 2. M Glen (Bathgate); 3. J Glen (Bathgate) 2:05
Mile: 1. J Tinnion; 2. J Balmain (Fife); 3. M Glen. 4:33
Putting 16lb Stone: 1. W Anderson (Banchory-Devenick); 2. A Sutherland (Ardross); 3. J Scott (Inchmurrin) 46′ 10″
Putting 28lb Stone: 1. W Anderson; 2. J Scott; 3. A Sutherland. 38′ 7″
Throwing 16lb Hammer: 1. W Anderson; 2. W Aitken; 3. JA Sutherland; 130′ 7″
Throwing 22lb Hammer: 1. W Anderson; 2. A Sutherland; 3. MA Gray (Alford) 109′ 3″
Throwing 28lb Weight: 1. W Anderson; 2. HA Gray; 3. A Sutherland. 70′ 10 1/2″
Throwing 56lb Weight over bar: 1. MA Gray; 2. (equal) J Scott & A Wallace (St Andrews)
Tossing the Caber: 1. HA Gray; 2. (equal) W Anderson, A Sutherland & A Wallace
High Jump: 1. J Scott (Inchmurrin); 2. R Aitken; 3. J Smith. 5′ 9 1/2″
Long Jump: 1. I Gilbert; 2. (equal) A Jamieson (Culter) & R Hunter (Culter) 21′ 5″
*
Lots of very good athletes there – Tinnion in the middle distance races, Gray and Sutherland among the heavies and of course Scott in everything. But Bill Anderson was top man in the throws. One of Scotland's best ever Highland Games competitors – and not just in the heavies. Scottish Games spectators and aficionados in the 1950's and 60's were spoiled with athletes like Jay Scott and Bill Anderson to see in action. Then when English champion and record holder, Olympic athlete to boot, Arthur Rowe came to Scotland to try his luck there were many, many superb duels. The 1960's was the decade when the Rowe v Anderson duels (with guys like Henry Gray, Sutherland and others interupting their progress) attracted crowds to the Games across Scotland. Geoff Capes, another Olympian who came and contested the heavy events in the Games, reckoned that as an amateur Anderson would have been an Olympic medallist – not just a competitor but A MEDALLIST. Have a look at these results at Braemar and remember that they were competing pretty well every week of the summer season, often more than once in a week. In 1961 at Braemar, Anderson won the Silver Cup as the leading heavy after he had won the 16lb ball putting, the 28lb ball. the 61lb Hammer, and the 22 lb hammer, all on the day after dominating the Aboyne Games. Rowe arrived in 1962. Rowe on the left in blue, Anderson on the right in black, only wins at the Gathering included..
Year

Event 1

Event 2

Event 3

Event 4

Comments

Event 1
Event 2
Event 3
Event 4
Comments
1962

Putting 16lb stone

putting 28lb Stone

–

–

-

throwing 16lb hammer

throwing 22lb hammer

throwing 28lb weight
Caber
–
1963

16lb stone

28lb stone

28lb weight

W

eight over bar

-

16lb hammer
28lb hammer
Caber
-
–
1964

Heavy stone

light stone

throwing 56lb weigh

t

throwing weight over bar

–

Heavy Hammer
Light Hammer
-
-
–
1965

28lb stone

16lb stone

56lb Weight over Bar

–
–
28lb Weight
22lb Hammer
16lb hammer
Caber
–
1966

28lb stone

16lb stone

22lb hammer

16lb hammer

–
28lb weight
56lb Weight over bar
Caber
-
Won Championship
1967

28lb stone

16lb stone

28lb hammer

Weight over bar

16lb hammer + champion

56lb weight for distance
Caber
-
-
–
1968

Putting Heavy Stone

Caber

-

-
–
16lb Hammer
16lb ball
22lb hammer
28lb Weight over bar
–
1969

28lb stone

16lb stone

Weight over bar

–

–

28lb weight
22lb hammer
Caber
16lb hammer
Weight/ Bar (equal with Rowe)
1970

16lb stone

28lb stone

Weight/Bar

Caber

–

22lb Weight
22lb Hammer
16lb Hammer
28lb stone
22lb hammer + Caber + Weight Bar
There were lots of marvellous duels fought out – as often as not when one won, the other was second. At one meeting both men tossed the Braemar Caber – 19′ 9′ long and 132 lb. In 1969 Anderson and Rowe were given first equal for the Caber and for the Weight over the Bar. There will be more about Anderson in future posts, especially in 1987 when competed for the last time.