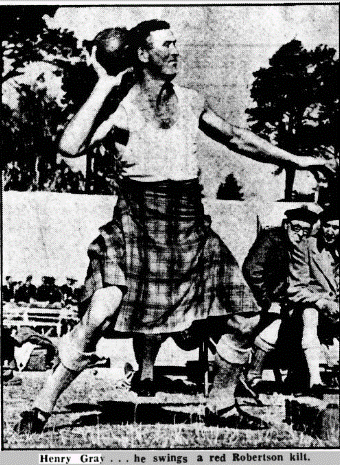 By 1955, the Gathering had its fourth monarch attending the Games. Starting with Queen Victoria and Prince Albert, they were succeeded by King George VI and Queen Elizabeth and now the reigning monarch was Queen Elizabeth with her consort Prince Philip and her children Prince Charles and Princess Anne. The meeting itself had changed too – from being a small local sports meeting attached to a week long Gathering of nobility and assorted gentry with its parties and parades when the Royal Family made its annual autumn journey north, to a meeting in its own right with competitors from all over Scotland, from Appleby, Penrith and other towns and villages in England. The crowds also came from further afield by car, bus and trains for years and now there was to be a helicopter landing area in a nearby field. It had long been covered by newspapers and then radio and was now being filmed for cinema newsreeals and for local audiences. And of course as befits such a meeting, there were more photographs of athletes too.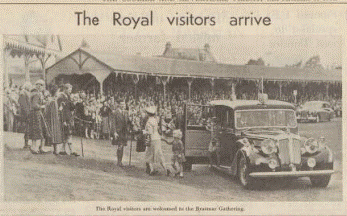 There was a crowd of 30,000 and no fewer than seven pipe bands, from Glasgow, Aberdeen and Dundee as well as the Black Watch, marched to the stadium, and the royal party stayed for almost two hours enjoying the spectacle. Results of athletics events, followed by comments amd George Clark's announcement of his imminent retiral:
100 Yards Handicap: 1. A Spence 9.6 seconds; 2. W Worsey; 3. W Findlay
100 Yards Scratch: 1. A Spence 10 seconds; 2. W Worsey; 3. J Scott
100 Yards Hurdles: 1. J Scott 15 seconds; 2. T Scott; 3. R Esson
220 Yards Handicap: 1. W McMillan 22.12 seconds; 2. J Thomson; 3. I Ewing
440 Yards: 1. J Simpson 54.5 seconds; 2. D Watt; 3. M Glen
Half Mile (Scratch): 1. M Glen 2:02.12; 2. J Simpson; 3. W Howe
Mile Handicap: 1. M Glen 4:23.25; 2. R Anderson; 3. W Howe
Putting Heavy Stone (28lb) Braemar style: 1. E Cameron 29′ 11 1/2″; 2. J Scott; 3. R Shaw
Putting 16lb Stone: 1. J Scott; 2. J MacLellan; 3. E Cameron
Throwing 16lb Hammer: J MacLellan; 2. H Gray; 3. LJ Stewart
Throwing 22lb Hammer: 1. J MacLellan 97′ 6″; H Gray; 3. E Cameron
Throwing 28lb Weight: 1. J MacLellan 64′ 4″; 2. G Clark; 3. H Gray
Throwing 56lb Weight: 1. G Clark 34′ 0″; 2. J MacLellan; 3. H Gray
Tossing the Caber: 1. H Gray; 2. E Cameron; 3. LJ Stewart
Cumberland Wrestling (Heavyweight): 1. E Cameron; 2. G Clark; D Wallace.
High Leap: 1. J Scott 5′ 10 1/2″; 2. R Esson; 3. (equal) W Findlay & T Scott
Long Leap: 1. R Esson 21′ 3″; 2. J Scott; 3. W Findlay
Pole Vault: 1. J Scott 10′ 9″; 2. (equal) T Scott, J Watt, and J Dodds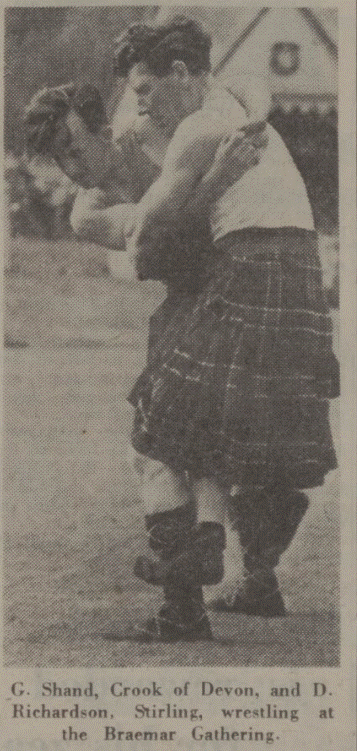 There are several points of interest in the 1955 sports, largely because we know the competitors taking part. First there is more evidence of Jay Scott's talents. He won the 100 Yards hurdles, putting the 16lb stone and the Pole Vault and the High Leap. Victories in each discipline and in addition he had two seconds and one third place. The athletes he defeated (eg Ewan Cameron in the throws) were quality opponents who had to be respected. Second there is the running in the middle distance races of Mike Glen winning the handicap mile and the scratch mile in respectable times on grass. Third George Clark was still going strong 30 years after he had started on the Games circuit. Unfortunately this was going to be his last year as he said in the intervew quoted below:
"The skirl of the pipes, the blending of tartans of gathered clans and a brilliant sun beating down on the colourful setting of the Aboyne Games, formed just the right background for my meeting with a veteran champion and a rising star of the world of Highland Games heavyweight events this week. George Clark who intends to retire this year from thirty years of record-breaking throws with Hammer and caber, was in great form. In the quieter moments of his repartee I learned that he is married, has two young daughters and is now a hotel keeper in Kinross-shire. I used to do training, but gave it up some time ago. No – there is no dieting necessary for a heavyweight," he said. George who wears the Sinclair tartan kilt, says there is no falling off in the number of young men coming forward at the Games, and commends it as a sport at which a young man can make money.
The same article continues ….
Henry A Gray (picture at top of page)a shy young farm worker from Leochel-Cushnie, whose father and grandfather were also "strong men", told me he only took up the sport six years ago. "I tried some events at a Tarland show for the fun of it. That day the late Lady McRobert of Douneside told me she would make me the gift of a kilt if I'd try Aboyne", he told me. That's why Henry swings a red Robertson kilt when he tosses a caber at about twenty Highland Games each year. He's a bachelor, this ruggedly handsome 17-stone Highlander but it's not because he has no time for women. He confessed that his interests in that direction are in the lightweights. You would have made an ideal "Geordie" for the film on Highland Games heavyweights, I told him. "Och, they asked me at the Aboyne Games the other year to do it, but I was too scared." confessed this husky giant; and went on, "I'll never forget my first year at Aboyne, I was so shy – I felt like creeping out of the arena."
1956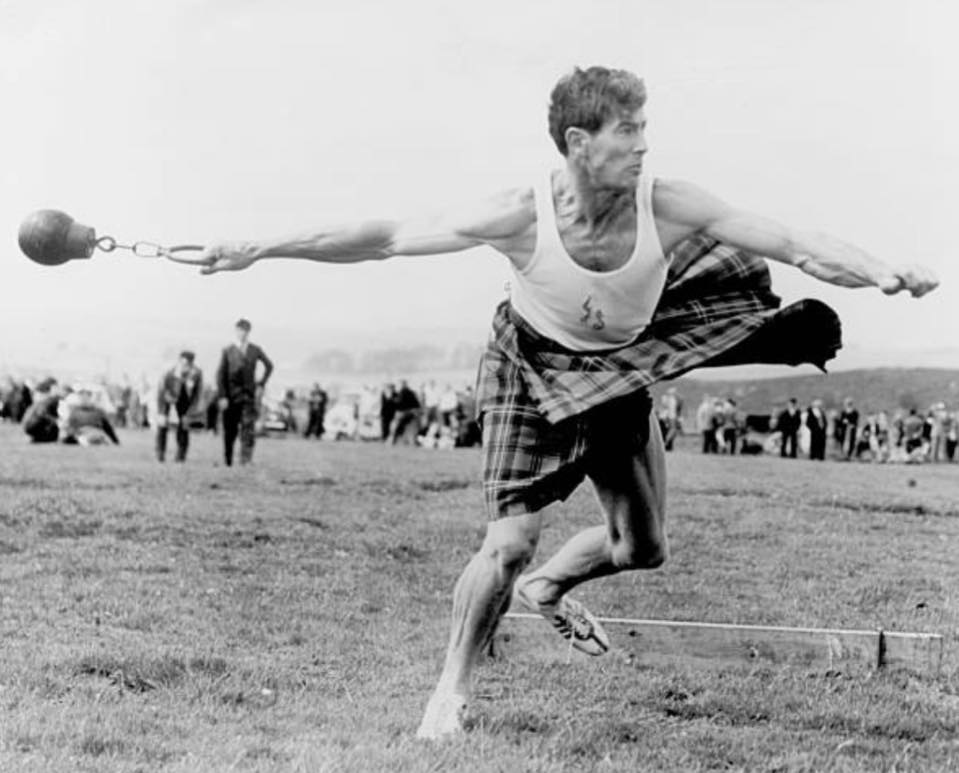 The 1956 Games were held in brilliant sunshine and the favourites from the previous year were again in evidence. Henry Gray won three heavy events, A Sutherland from Alness who was competing at Braemar for the first time won two but Jay Scott (pictured), who had won 5 events at the Strathallan Gathering in August) won four. The Queen and Prince Philip were there with several family members including Princess Margaret were there. the pipers, dancers, wrestlers were all there too with a crowd that, while down a bit on 1955, was still sizeable at 20,000. The Glasgow Herald short report said: "J Scott (Inchmurrin), who was the outstanding competitor at the Aboyne Games on Wednesday, had another run of successes yesterday at the Braemar Gathering. He broke the 23 year old high jump record of 5′ 11 1/2″ with a jump of 6′ 0 1/2″, won the long jump and the 16lb shot events, and shared first place in the pole vault. HA Gray (Alford) had a triple success in the heavy events, and A Sutherland (Ardross), who was competing for the first time at Braemar, won the 16lb hammer and 28lb stone titles. Winners:-
100 yards: A Spence (Blyth) 9.9 sec; 220 yards: W Findlay (Erroll) 22.4 sec; 440 yards: R Russell (Newcastle) 54.8 sec; 880 yards: M Glen (Bathgate) 2 min 04 sec; Mile: J Friel (Lanark).
High jump: J Scott (Inchmurrin) 6′ 0 1/2″; Long Jump: J Scott (Inchmurrin) 21′ 0 1/2″; Pole Vault: J Scott, T Scott (Inchmurrin) and A Jamieson (Drumoak) equal 10′ 6″
16lb Hammer: A Sutherland (Ardross) 115′ ; 22 lb Hammer: HA Gray (Alford) 91′ 0 1/2″; 16lb stone: J Scott 41′; 28lb stone Braemar Style: A Sutherland (Ardross) 29′ 2″; 28lb Weight: HA Gray (Alford) 12′ 3/4″; Caber: LK Stewart (Fort William)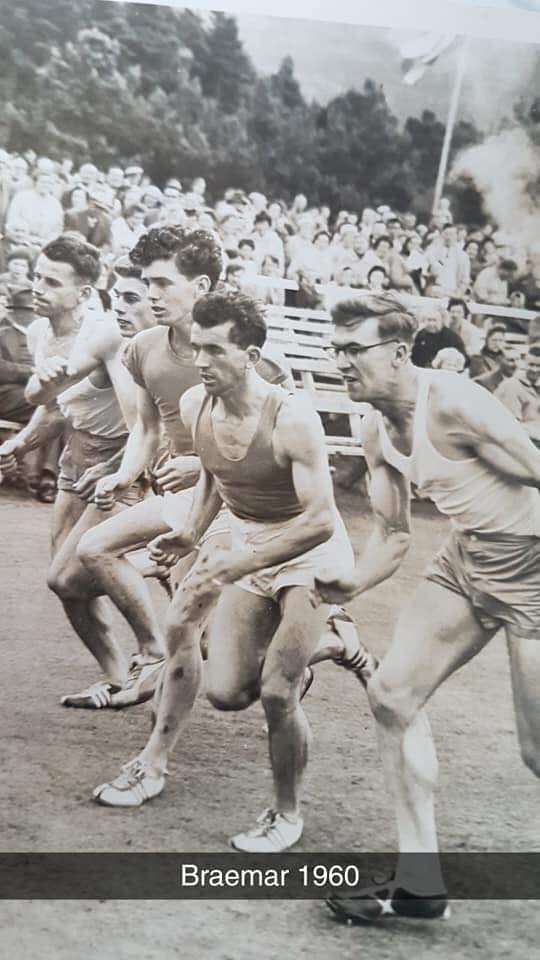 Michael Glen (second from right) at Braemar