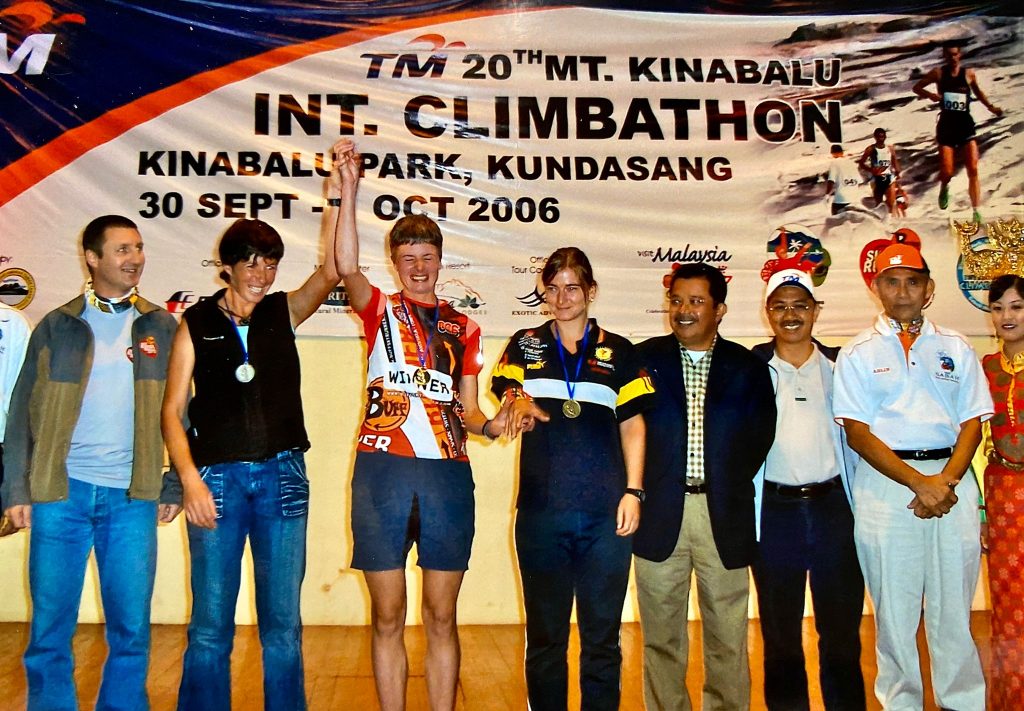 Angela's beginnings were humble… (read perhaps Jonny Muir's 'Mountains Calling') and my recollections of Angela starting out in the early 90s…not very long before my own career was running out…and her introduction to Hill Running, and Cross Country, and running events …was not exceptional, and in most respects belie what was to come in the not-too-far-off future…
Angela was not a classy runner of style, more a competitor who tried …as we all have to, at one level or another.
Angela's story of the beginnings in Scotland… (Angela and family all hail from Devon, dare I say then proud 'Celts'…?)
''…Arrived in Stirling in 1991 to study MSc Environmental Management at Stirling University. I was an orienteer having got disillusioned with the running scene at Leicester University as an undergraduate – too many short road relays for me. I was introduced to hill running by the guys that worked at the Uni and ran up Dumyat in their lunchtimes and then went on to form Ochil Hill Runners. As a junior I competed at county level in Track and Cross-Country, so think the talent was there but I lost fitness at University and suffered from sports anaemia so was always running low on iron.
I worked in a chemistry lab (Forth River Purification Board) in my early 20s. I hated it, but the move to Edinburgh helped me with my training, leading to more quality work rather than long slow runs. I left to study for my PhD at Edinburgh Uni in 1995.
On graduating I spent a period travelling, and then returned to work as a temp at the Scottish Executive for around 3 years. My boss let me disappear in the Summer to race, and re-employed me when I returned. The job was in the education department so I wasn't required over the Summer months (good compromise – DB).
In 2005 I decided to train as a sports and remedial massage therapist, so I had the freedom to travel/race and work with athletes.
I've been on the ScottishHillRunning committee for many years, think I started in my late 30s and still sit on the committee. I now work for Scottish Athletics, a day a week, as their Lead for hill and mountain running. In theory I'm starting a part time role with UK Athletics as their mountain running expert: still to get a contract!!
(Denis says "We should probably mention that Angela spends more time with her Jack Russells than human company, training mates on the hill until they break….")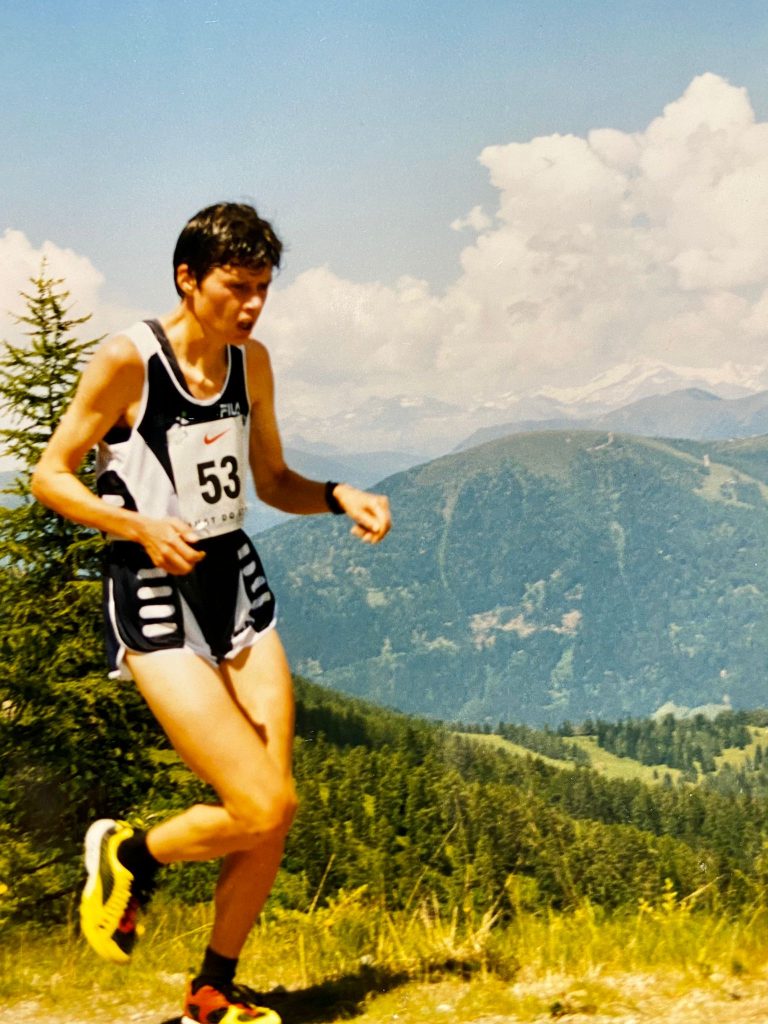 Denis again: As Angela developed and gradually matured into a 'runner' with a honed runner's physique, she gained confidence and results, and stuck with it over those early years….gaining more and more success, getting closer and closer to the then 'top ladies' … ladies who I may say had already a decent number of years as 'good athletes' and also matured into top class race winners and high placers (some of those stars of the time were Helene Diamantides (married name, Whitaker); Angela Carson (Brand-Barker), Christine Menhennet, Sarah Rowell, Trish Calder, Janet Kenyon, Joyce Salvona, Jane Robertson, Sue Ridley, Menna Anghared, Megan Smith, Sonia Armitage, Penny Rother, Tracey Brindley, Jenny Rae, Yvette Hague, Sue Ridley, Carol McCarthy, Kate Jenkins, Karen Powell, Wendy Dodds, Victoria Wilkinson, Lucy Colquhoun, Jill Mykura, Dawn Scott, Claire Gordon, Nicola Davies, Anna Bartlett, Elke Schmidt (married, Prasad) and a goodly list of many others, including more of the top English ladies … fine athletes all…).
You'll see this pattern of performances from the results lists, that results were very varied (mediocre, earlier on… to brilliant overall), and prolific (up to about 20 events some years) all achieved over the years from the purple period 1995 to 2014.
Angela got going in 1992, then over a few years really got stuck in and started to show her mettle and competitive spirit. The results speak for themselves, and right through to about 2004 when she got a damaged knee (osteochrondal defect, leading to surgery in August that year and two months non-load bearing, followed by many months in rehab…). The canny approach led to a busy season in 2007 which produced grand results, until an Achilles injury all through 2008-into 2009 Winter. This led to a lighter number of events programme.
Then in 2011 the 'operated-on knee' flared up again and Angela struggled most of the year.
In 2014 Angela ruptured her 'spring ligament' whilst reccy-ing the Lowe Alpine Mountain Marathon 'area', and this specific damage was not properly diagnosed until more than 12 months later and she only raced Melantee, with an ankle operation in the December (and guess who met AM after many years of no contact in the Consultant's surgery?! Yep DB). Again months of rehab and in the June got competing again but only FRA Relays in Luss (hosts were Westerlands with loads of helpers on a very miserable weekend!) She still struggled with the ankle through 2017 but. nevertheless, going forward to 2020 Angela's target was to do 50 races in her 50th year but Covid '19 blew that objective …. and another injury was picked up.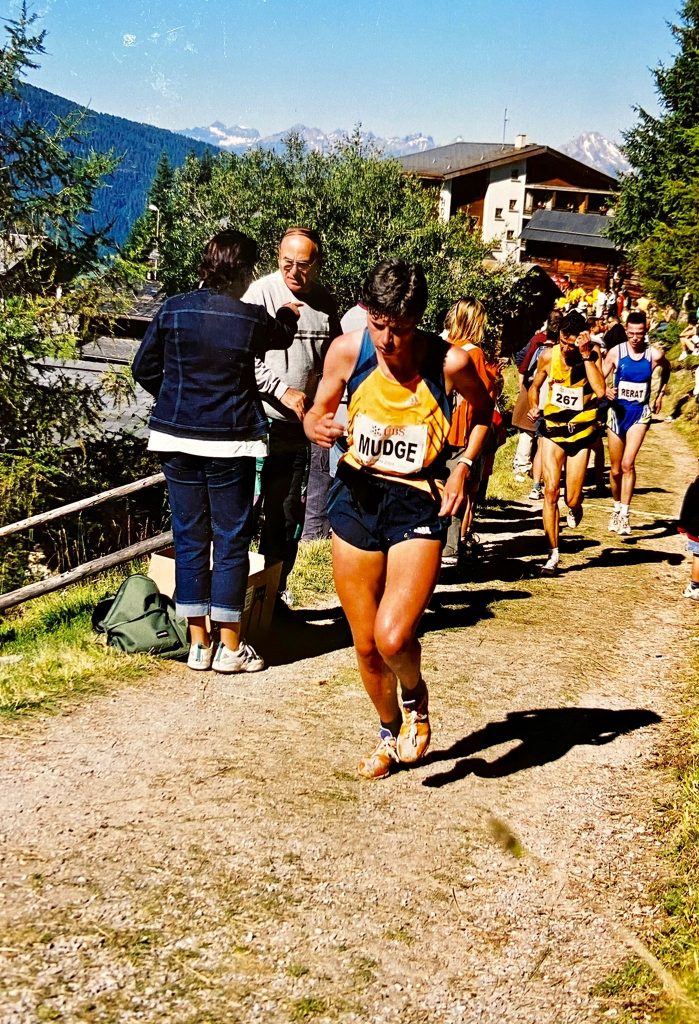 So. looking back over her career so far, what's the picture?
A very steady 'apprenticeship few years' leading through to a matured, honed, high quality athlete… who took on all-comers across the UK and into Europe, and beyond… Angela very clearly identifies a 'breakthrough' occurrence at the European Championships at Ebensee, Austria in 1997…this was an Uphill only race [there was a two year switch between 'Up and Down' and 'Uphill only' between the World Mountain Running Trophy events, and then the following year European Championship events …].
Angela's passion has been for 'uphill only races' — long, hard, steep, tough terrain…the passion and competitiveness shine through when she says this…. and it's a wee reflection of her own self-effacing admission that on 'standard race courses' she was not always capable of taking the race to the very front level… but!!!…. yes, please see the results.
Angela knew very clearly that you could only race so many, and keep a standard; she also readily admits that if you don't race against the best you will never beat them hence the regular forays into England (not unfair to say there are generally tougher fields of participants…..remembering England's Fell Runners Association had about 4,500 members compared to Scotland's 400…), sometimes Wales (and of course Ireland for championship events) but also Angela had a great passion for the Continent and further afield.
The picture emerges of an absolutely shrewd, focused, highly-tuned, calculating, driven, 'Give your absolute best' performer – who came through the ranks, and simply ''Topped the Field'' at World Class level. Make no mistake, Angela sacrificed and thereby gained. Her lifestyle and brains, coupled with some light touch but hugely valued 'coaching and mentoring' by our very own Martin Hyman (R.I.P., great man) allowed her to plan year on year, and do colossal stuff in self-fulfillment, and very shrewd physical preparation for the top World race events.
We have:
*Cross Country, Road, Hill (and Mountain), Mountain marathon events and races, local Scottish Championship races; English and Welsh (and later European) raid races, and
*Championships (British, World Mountain Trophy, European, Grand Prixes…);
*selection races for internationals; 'International' races;
*one-off championship races;
*ultra-races; spectacular ultra-long-distance travel sorties, including cycling and wild camping,
*self-sufficient 'unorganised'; triathlons;
*loads of hill walking (a much-favoured, she says 'beautiful way to spend days and weeks'!); and wild-water swimming!
A heady mix from an aspiring younger, inexperienced emerging athlete of sorts, to a colossus in the midst of the World's best.
When you look at the RANGE and SCOPE of EVENTS, thinking about how this was all planned into the weeks and months and years…the focus to peak at the right times, and get the right conditioning done for such a VARIETY of demands on the body is in my humble opinion, tending towards remarkable if not virtually unbelievable, remembering Angela had to work all the while to chase her passions and events calendars.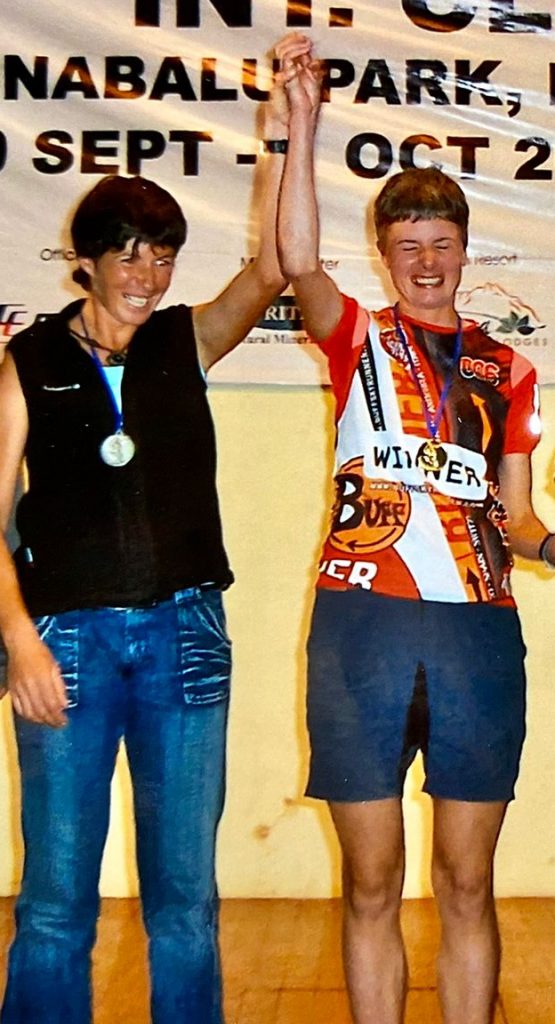 Angela's HISTORY speaks volumes.
Angela's race record HISTORY speaks for itself, as she grew, progressed and pinnacled at the very top.
Angela's persona as a MOUNTAIN LOVER shines through the most dreich day, the densest fog, the darkest night…above all else 'being in the mountains, enjoying myself ' is the unbridled passion and spirit of life. Simply, a good trip into the Hills beats everything else …even the best results of best races.
Angela is so unassuming that whilst recognizing 'she's done alright' there are others now about (Jasmin Paris, Anna Rutherford, Jill Stephen, Catriona Morrison, Stephanie Provan, Sarah O'Neill, Charlotte Morgan, Sally Wallis, Hannah Russell, Sharon Taylor, Catriona Graves, Kelli Roberts) doing marvellous things that are 'way ahead of her record'… she believes, and thinks, and says.
My thoughts are that the written history will determine whether Angela's achievements are as modest as they might seem, when she makes light of herself in comparisons… I think a colossal record over 15 years will be a tough call for anyone to equal.
The accompanying sets of 'results' speak for themselves.
Angela has had a career in athletics that is awesome.
She also committed very many years ago to work in the Sport (Hill and Mountain running) on BEHALF of others, especially youngsters but actually all-comers who want to do the sport and get better…. Angela is so appreciative of what she personally has gained and the way she was encouraged and nurtured through the tough years, developing and then injury-plagued, that her modus operandi is ''what can I do for The Athletes''; she had an exemplary figure in MARTIN, and has a very close-knit selected friends pool, who are like-minded; their commitment to this complex sport is exemplary.
Back to Angela Mudge: A Very Special Person Angela Mudge: An Overview of Adventures