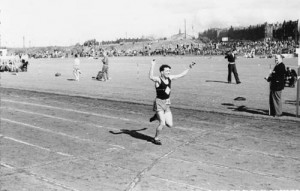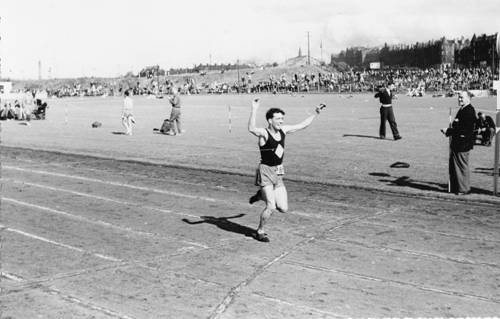 Tom O'Reilly winning the SAAA 3000m steeplechase
Andrew NEAL East Kilbride
1974 Mar 2.36.49 24
1977 3000S 9.46.6; 1979 3000S 9.52.8
A good team man for EK, Andrew ran the E to G nine times, including 1974 (8th and 'most improved' medals) and 1977 (6th).
Alastair NEAVES Aberdeen AAC
1982 10000 34.30.0; 1982 Mar 2.34.59.
Ally was a talented young runner who ran the E TO G in 1971, when the team finished 7th. He gained two places on Stage 8. In 1972, aged 20, he was faced with the exhausting challenge of the John o'Groats to Land's End Relay – and eventually AAAC became the second-fastest ten-man outfit to complete the journey. However, they were fastest North to South. In 1973, Alastair featured in the Aberdeen squad that succeeded in breaking the record for the (ironically named) JOGLE. Later on, Ally was the social spirit of Metro Aberdeen RC.
Norman NEILSON, Springburn Harriers, Hull Harriers – see full profile
Top Scottish Marathon Man in 1954 (three times in the ten fastest for the year) and contemporary of Joe McGhee.
David NELSON Motherwell YMCA Harriers
In 1951, David finished third in the Scottish 6 Miles championship. Then in 1952, having won the Scottish Junior National XC, he ran for Scotland in the Senior International championships, and was a team counter in an impressive 29th position. He ran the 1951 E to G for Motherwell.
Gordon NELSON Bellahouston Harriers
In the 1956 Junior National XC, Gordon's team won gold medals, and he was 7th. He ran the E to G five times in succession (1953-1957), including team bronze in 1956 and silver in 1957. In the Senior National XC, Bellahouston was second team in 1958, with Gordon 15th.
William NELSON Maryhill Harriers
In 1946, Willie won a bronze medal in the Scottish 6 Miles championships. Before the war, he had been in winning Maryhill teams in the 1932 (when he was 13th) and 1938 Senior National XC championships, plus team bronze in 1933 and silver in 1936 and 1937. In the E to G, which he ran 6 times between 1933 and 1939, it was bronze in 1933 and 1934, silver in 1937 and 1938 – and finally that long-sought-after gold medal in 1939.
William NELSON (18.02.57) Law & District
1981 1500 3.54.8; 1987 3000 8.20.33; 1988 5000 14.24.2; 1990 10,000m 30.59.99.
He ran the E to G in 1979 and 1982, when his team finished 8th.
Kevin NEWBERRY Motherwell, Cambuslang
Kevin was a good runner who was at his best on the roads as his fastest time on the last stage of the Edinburgh to Glasgow in 1985 showed. It was his first run in the race and his second run, while also a good one, didn't quite match up to it. He ran cross-country too and his best run there was his ninth in the youths event in 1984. A combination of injuries and studies took him away from the sport just as he was starting out as a senior.
Leslie NICOL, Metro Aberdeen RC
Les came to the sport very late but this cheerfully tough Aberdonian sparrow had real talent and thoroughly enjoyed his success. In the Scottish Masters XC championship, he won the M70 title in 2010. In 2012, 2013 and 2015, Les added three M75 titles. For Scotland, Les ran consistently well in the British and Irish Masters XC International: contributing to three M70 team silver medals, in 2006, 2007 (when he finished 4th individual and first Scot) and 2009. Les won individual bronze (M75) in 2014, leading Walter McCaskey and Bill Murray to team bronze. In 2018, recovering from injuries and race-training over a hilly Aberdeen parkrun, Les triumphed in the British Masters XC championships in Forres, winning a well-deserved M80 title.
Charlie NOBLE, Fraserburgh RC, Aberdeen AAC, Metro Aberdeen RC
Charlie was a local hero in Aberdeenshire. He ran every Aberdeen Marathon from 1979 to 1990; and did well in countless road races. In 2001 Charlie became the Scottish 100km champion; and ran for Scotland in the Home Countries 100km event. He was third in the 2002 Speyside Way 50 km trail race. He secured two silver medals in the Scottish Masters Cross-Country championships: M50 in 2001; and M60 in 2016; and Aberdeen finished second team in 1991. He featured in winning Aberdeen Veteran teams in the 1991 and 1992 Alloa to Bishopbriggs (or Twechar) Relays. Running for Scotland in the British and Irish Masters XC International, Charlie contributed to M50 team silver medals in 2001.
Cyril O'BOYLE Clydesdale Harriers and Victoria Park AAC
Cyril was an Irish runner of great ability who lived and ran in Scotland for over 25 years taking part in both Edinburgh to Glasgow and Scottish National championships where his best position was sixth. His daughter Moira also ran for both Scotland and Ireland.
Colin O'BRIEN Shettleston Harriers
1981 800 1.54.4 27 1982 800 1.54.17 19
Richard R. O'BRIEN (19.04.50) Edinburgh University, Coventry Godiva
1973 3000S 9.15.6 8
Patrick O'KANE (1.01.62) Hunters Bog Trotters
1990 3000 8.31.07i
Pat ran the E to G four times, including 1990 (8th and 'most improved' medals) and 1995 (4th).
Eddie O'Neill, Haddington East Lothian Pacemakers
A good club standard runner who was also a good hill runner.
Henry O'NEILL Victoria Park, plus Bellahouston?
In 1947, for VP, Henry won a bronze medal in the Scottish 3 Miles championship. In 1948, 'B' O'Neill ran in (his new?) Bellahouston team that finished second in the Senior National XC. By November 1949, H O'Neill was one of the Bellahouston Harriers who finished third in the E to G.
Thomas P. O'REILLY (1932- ) Springburn Harriers – SEE FULL PROFILE 1959 1M 4.23.8 27 1959 3000S 9.12.2;
Tom was ranked in first in the inaugural 1959 Scottish steeplechase rankings, having broken the All-comers' and Native records for the event. He was still listed in the 1970 rankings. He won the Scottish title in 1958 and 1959 and also gained silver in 1963 and bronze in 1960 and 1961. Between 1952 and 1977 he ran the E to G 18 times, including team bronze in 1954 and 4th place in 1971. Tom went on to complete a very long career as a well-respected veteran athlete, twice winning the Scottish Masters XC M60 and M65 titles and adding silver medals in his 70s. He ran well for Scotland many times in the British and Irish Masters International XC, including rare M60 team gold medals in 1984.
David S. ORR Edinburgh Univ, Octavians
1964 880y 1.55.6; 1965 1M 4.18.8.
In 1964 David finished tenth in the Junior National XC championships, when EU won the team title. In 1966, in the Senior National, David was tenth once more and EU won this team championship too.
James ORR (10.01.65) Cambuslang Harriers
1987 1500 3.54.9; 1986 3000 8.20.2; 1986 5000 14.29.3; 1988 3000S 9.08.51.
Jim ran for Scotland in the 1984 World Junior XC Championships. He took part in the E to G eight times, and Cambuslang were victorious in 1987 (when he was fastest on Stage 8), and secured silver in 1984, 1986, 1989 and 1991, and bronze in 1988. In the Junior National XC, Jim featured in winning teams in 1983 and 1984 (when he was 7th). In the Senior National it was bronze in 1985, silver in 1986, bronze in 1987, gold in 1988 (with Jim 14th) and gold again in 1990. In the Scottish XC Relay, he contributed to gold in 1988 and bronze in 1991; and in the Six-Stage Road Relay, bronze in 1987, silver in 1984 and 1990, and gold in 1986.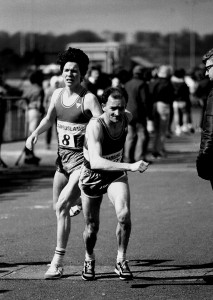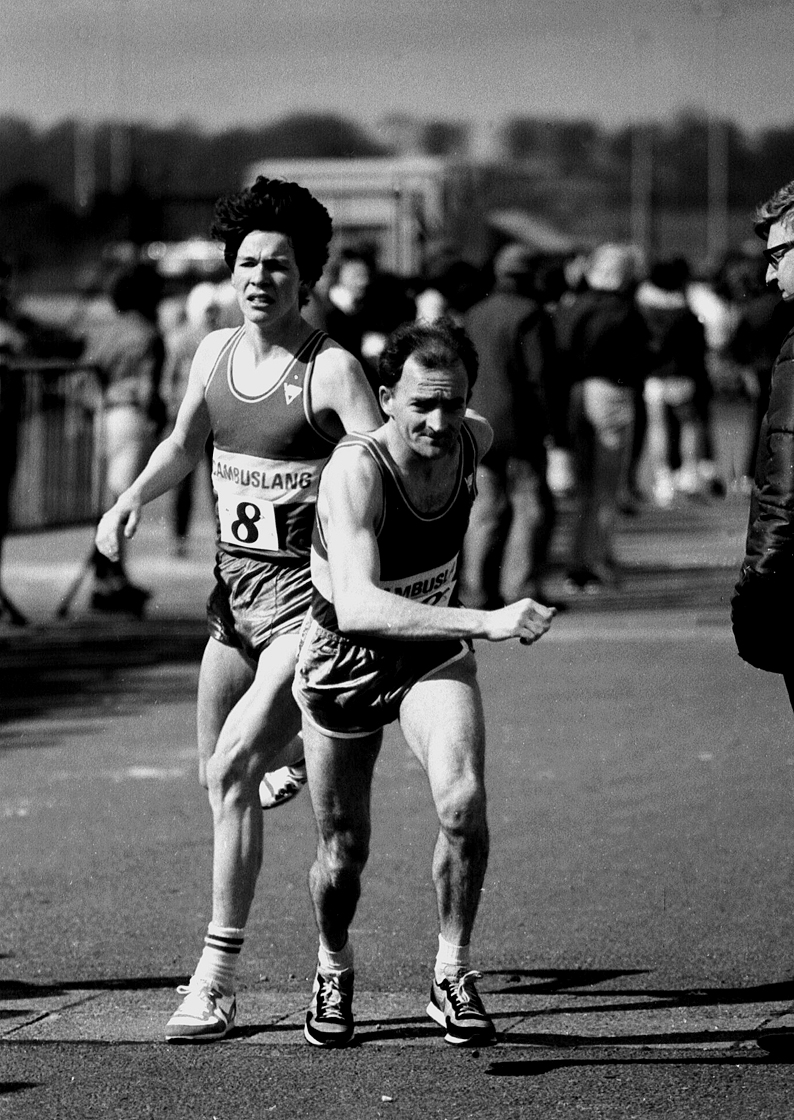 Jim Orr (8) handing over to Alex Gilmour
Robert "Robin" J. ORR (1.02.46) Aberdeen University, Edinburgh University
1969 1500m 4.00.0
Robin, a talented, friendly man who did not take athletics too seriously, ran well at Melville College, finishing fourth in the Scottish Schools 1500m Steeplechase. For Aberdeen University, he raced many cross-country races and took part in the E to G four times, including 9th place in 1970. In 1972 his new team (Edinburgh University) was 8th.
Ian ORTON (27.03.55) Edinburgh University, Heriot Watt University, Edinburgh Southern
1978 800 1.52.2; 1978 1500 3.47.0; 1980 1M 4.14.0; 1977 3000 8.24.1; 1977 5000 14.25.7.
Ian ('The Big O') was a sociable young man who enjoyed his athletics. In 1975 he won a bronze team medal with EU in the Scottish Junior National XC, finishing tenth. In the 1979 Scottish Cross-Country Relay, with ESH, he secured team gold. In the Senior National, he won team silver in 1978; and gold in 1979, when he finished 15th. In the E to G, he contributed to victories in 1977 and 1978; and bronze in 1979.
Steve OVETT [ENG] (9.10.55) Annan & District AC
1989 800 1.48.16; 1989 1500 3.37.40; 1989 1M 3.59.66; 1989 3000 7.53.49.
Of course, these are not the personal best times of the great Steve Ovett (Olympic 800m gold medallist, World Mile and 1500m record holder) – but for two seasons Scotland was lucky to see such a champion in action, usually as a star team man for Annan & District, since he lived in that area for a while. With Ovett (and another fine runner, Steve Binns), the team won the 1990 West District Cross Country Relays (with the two Steves sharing fastest time); and were eighth in the 1990 Scottish XC Relay too (with Steve Ovett being fastest on the day). In the 1990 Six-Stage Relay, Annan improved to 4th with Guess Who faster than anyone else on the long stage, when he moved from 16th to first place! He even ran the West District Cross-Country Championships; and the Senior National, twice, (4th in 1989 and 6th in 1990). His team spirit and cheerful personality won Steve Ovett many new fans.