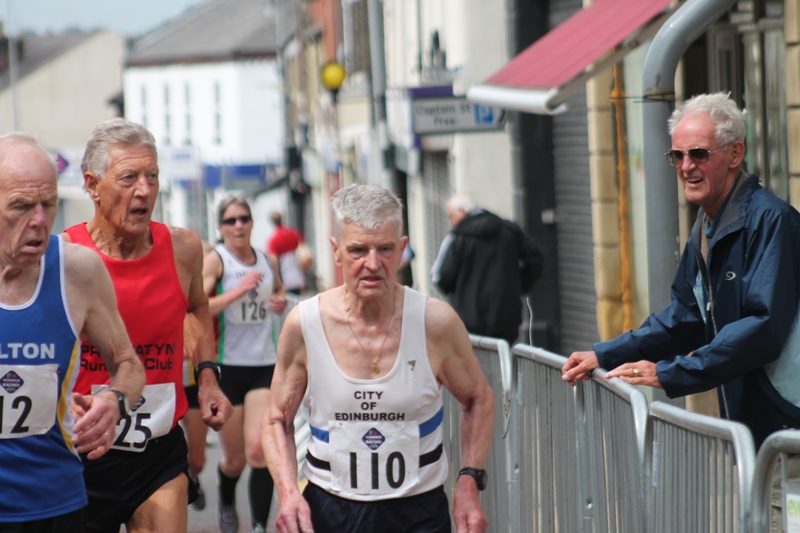 Walter (M80) heading for 2016 British Masters 5k gold
That fine Scottish sports journalist, Doug Gillon, wrote an article about Walter in January 2015; and here are several excerpts.
In the Scottish Masters Cross-Country Championships at Kilmarnock, one of the "hardy stalwarts is Walter McCaskey, making his first appearance in the over-80 age group for which three men line up.
He began by accident, running the 1982 Edinburgh Marathon to help raise funds for an exercise pool. 'I trained for four months,' he recalls, 'and finished in four hours four minutes.'
'I didn't think 26 miles sounded a lot, but it was a long way on a wet, cold day and there was no chance of stopping. You just kept going. But I enjoyed it and got the bug.'
'I have now run more than 50 marathons, but none for the last few years. I was advised not to because of osteoarthritis in my left knee. I did Edinburgh, Aberdeen and Glasgow, with just a fortnight between each. It was just about having fun.'
'I only started pushing it at 70, started training with a pal. We did the 10k together and had a real tussle. I managed to win the Scottish Veterans Championship, and then the British. I'm amazed. I never thought I was any good at running.'
His best marathon time was in Glasgow aged 53 (2.59). 'But now I focus on cross country and shorter stuff.'
Today he defends the Scottish Masters title he won 12 months ago at Hawick, and he completed the 12k course of the Scottish National at Falkirk last year (first in his age group) in a very creditable 67.12.
He was sixth in the British and Irish Masters International cross country at Nottingham in November, second Scot as they won team bronze.
He says he has no sporting pedigree or history. 'I played a little football when I was younger, in the street, up the park, and perhaps a wee bit in the Army in Hong Kong.'
He tried bowl, but in a reversal of the perceived norm, chucked it for running. 'I am really hooked on it. I only do about 20 miles a week now since I have stopped marathons, but I go down to the gym and I swim a bit.'
'If anyone tells me I'm getting on a bit, I just ignore it. Obviously you know you're getting older – you're not running as fast – but I don't dwell on the subject. Get on with life, enjoy yourself.'
The mud threatens to be difficult today, but having spent a chunk of his life working with bulldozers and other plant machinery, Walter says he is prepared."
(Ed. An inspection of sporting records reveals that Walter won Scottish Masters XC medals at M60: bronze in 1996 and silver in 1998. He won his first titles at M65 in 2001 and 2003, plus a silver medal in 2004 and bronze in 2000. There ensued four successive M70 golds between 2005 and 2008; and he was second in 2009. In the M75 category, he won in 2010, 2011 and 2014; and was second in 2013. Naturally he won the M80 titles in 2015 and 2016! Walter is an inspiration to all SVHC members!)
QUESTIONNAIRE ANSWERS:
Walter McCaskey (born 11th August 1934).
Club: City of Edinburgh A.C.
I began running in 1982. It was at my daughter's wedding and, after a few drinks, I promised to raise some money for charity by joining my brothers, who were training for the Edinburgh Youngers Tartan Marathon. Little did I know what I had let myself in for.
After marathons at Aberdeen and Glasgow, in the 1984 Black Isle Marathon I came first M50. After setting my fastest time in the 1986 Glasgow event I did not improve, probably because I was doing so many races and using them as social events, just going away for long weekends. It was about this time that I joined EAC and started doing cross country. Alex McEwan got me thinking about how I was running. He told me that I had too much energy left at the finish of races! The next event I tried much harder and won gold at Aberdeen.
It was Bert McFall that got me to join the Scottish Veteran Harriers and it was the start of a great friendship. We had some really good training sessions and the rest is history. I made it into the Scottish Masters team, thanks to Bert and, along with the rest of the age-group team, we had several good races. I really enjoy running. It has given me the chance to make so many good friends and has really helped me to get on with my life
[Ed. In the annual British and Irish Masters International XC, Walter has represented Scotland at least nine times since 2004, winning individual M70 silver in 2005 to improve on bronze the previous year. His M70 team won silver medals four times, including one loss to the Auld Enemy by a single point. Then in 2014, aged 80, he contributed to M70 team bronze! In M75 contests Walter's team won silver medals in both 2015 and 2016 (when he was 82). Amazing!]
I can say that the best races that come to mind are firstly the 2005 Scottish Masters XC Championships at Bellahouston Park, when I came in first M70 only two seconds in front of Bert McFall. It was a great contest and Bill McBrinn reckoned it was the finest contest of the day. The only thing I did not like about it was having to beat my friend Bert! Secondly, the following week I travelled to Bangor and came in first M70 in the British Masters XC Championships. The worst race was rushing to catch the bus in Glasgow to join the Scottish team! By the time I reached it I was really done in. I have only one ambition and that is to keep on running.
As for my other activities, I bike to the gym and do some work on the rowing machine and the cross trainer. I do some speedwork on the treadmill and then finish with a little swim. My training is a mixture of road and grass running. I do hill reps in the park. Each week I run 15 to 20 miles and probably a little bit more when building up for a race. Running has made me a more responsible person, and given me time to think about other people and the good they do. By joining SVHC I gained one big family of friends.