.The athletic seasons used to have a rhythm to them – on the track there were the early season fixtures which led to the National Championships at the end of June, then they tailed off in a host of highland games, sports meetings and invitation extravaganzas which usually included events for domestic athletes. On the road there was the build up to the SAAA Marathon Championship.
In each case the build up was just that – on the track there were Club, County, District, SAAA and AAA Championships in that order with other meetings of varying sizes where athletes could get the races that their programme demanded, or which were used at times to amend perceived deficiencies – eg if a runner felt that the season wasn't going as planned, he could find a shorter race or two fr sharpening purposes; like wise if he needed to strengthen a bit there were over distance races to help him do that. This season is shown in the Victoria Park AAC racing programme for 1958. Many of these have disappeared from the calendar including the Big Two of Rangers Sports and Edinburgh Highland Games.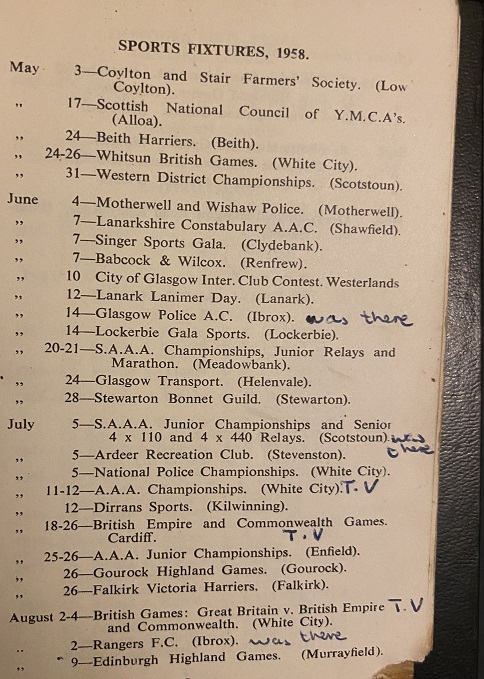 On the road, the Scottish Marathon Club had been formed in 1944 and organised a summer programme that led to the SAAA Marathon Championship at the end of June. The value of the SMC to road runners cannot be over estimated. They had their own championship consisting of races at 12 miles, 16 miles and 20 miles which all led to the marathon. They worked hard at persuading meetings with no road races to include some road race in their programme, and where one had a road race, the club tried (usually successfully) to have it over a distance that would help the progression to the full distance. Often these races came after the championship so that people reluctant to step up the distance could have a go at it when the spotlight was not shining with a view to running the marathon the following year.
Compare the programme below with races between 10 and 45 miles with current fixture lists which seem to go from 5K to 10K to 10M to half marathon with a jump from there to the event itself.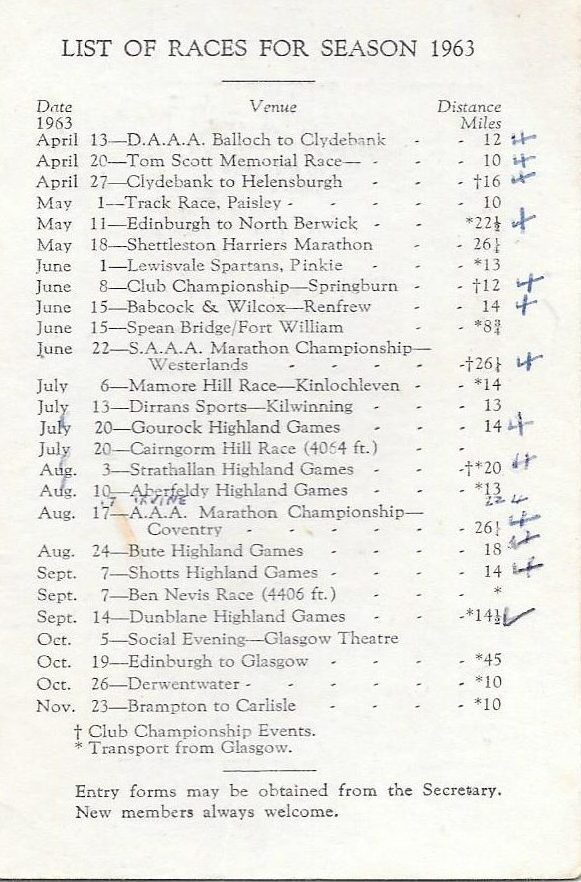 .