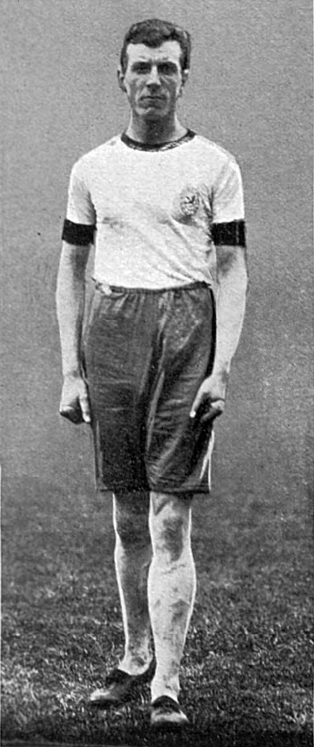 Alex McPhee, 1910, SAAA 10 Miles champion
Clydesdale Harriers uniform: White Vest with black trim, club crest on left breast
Students of Scottish miling in particular and middle distance running in particular will be familiar with the name of Duncan McPhee who dominated the distance in Scotland in the 1920's.   Few will know that his brother was a Scottish champion on the track and over the country, and only a very select few will know that their father was also a top class athlete.   They formed probably the first Scottish distance running dynasty spanning more than one generation.   The Vallance brothers (Tom and Alex were Scottish champions and record holders, Tom and Willie Maley were also great sporting brothers and along with brother Alex all became football managers, and there were other noted siblings but none of them had parents or children who followed in their footsteps.
Alex McPhee, senior, and Flora his wife had nine children: Alexander was a blacksmith of Nethercraigs, Paisley.  The smithy was on Corsebar Road next to the toll house.  All his elder brothers including Alex were evidently in the  blacksmith trade.   His dad, Alex, was himself a well-known runner in his day and competed against the likes of Robert Hindle, Cutty Smith and William Park; some of the biggest names in Scottish pedestrianism.    
Alex Wilson pointed out an article in the 'Glasgow Herald' of 8th April, 1872, of a race involving Alex McPhee, Snr.
 KILMARNOCK ATHLETIC SPORTS.  
On Saturday a number of foot-races took place in the Cattle Market.  The weather being very favourable, there was a large turnout of people, the majority of whom were from the neighbourhood.   …   The chief feature of the meeting was a Six Mile race which was very well contested, and excited considerable interest.   The following were the prize-takers:  
Six Mile Race:   1st William Smith, Paisley;   2nd Alex McPhee, Paisley;  3rd Allan Strachan, Galston.  
Two Mile Race:  1st Robert Hindle, Paisley;   2nd William Smith;   3rd Alex McPhee."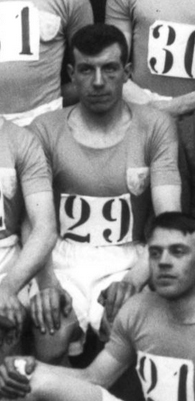 Alex McPhee with the 1908 International Cross-Country team
Alex, junior (born in 1887) won two Scottish cross-country titles (1909, 1910) and  Cross-Country International vests in 1909, 1910 and 1911.  He first appeared on the national cross-country scene in 1907 when he won the District championship in the colours of Paisley Junior Harriers.   Colin Shields in "Whatever the Weather" says: "McPhee, running for Paisley Junior Harriers, won the Western District title.   After this success, McPhee was quickly signed by the powerful Clydesdale club to strengthen their team and he won two National titles in their colours."   He showed that this running was to be expected of him when he finished second in the National on 8th May 1908.   Shields again: "Alex McPhee looked the likely winner, only for Jack to catch him on the final lap of the cinder track in the Stadium and snatch victory by less than six inches.   McPhee had the satisfaction of winning the Junior title."   Tom Jack was one of the all-time great Scottish athletes – seven 10 miles championship titles to his name, six were consecutive and be slipped back to thir before winning his seventh title eight years after his first.      He also won national cross-country titles and represented Scotyland Britain in international competition.  It can be seen that McPhee was running well against the best.   In 1909 he went one better and won the Scottish championship by 130 yards from Templeman of Bellahouston Harriers with Jack third.   In the international that year he had a bad fall at a water-jump and fell back winded to finish 34th.   The following year, 1910, he won the national by 70 yards from Duffy of Edinburgh Northern Harriers and Tom Jack again in third.   Contemporary description was that Alex McPhee was
"One of the best runners Scotland has given to amateur athletics"
In the international that year he was first Scot to finish when he was eighth.In 1911, he dropped out of the national championship but was nevertheless selected for the international where he was thirty first.
Not just a cross-country man,  he also competed in Scotland's first ever "marathon" race, the Scottish Marathon of 24th October 1908 from Linlithgow to the National Exhibition in Edinburgh.   He finished the 15 miler in 21st place of the 60 runners who finished the race.   In winter 1908/09, as well as being Clydesdale Harriers captain, he won the SCCU Championship and also won it in 1909/10
Despite all this success over the country and prowess on the roads, he was more of a track man who was second in the 1909 SAAA 10 miles at Ibrox on 3rd April in 54:04.0, beaten by a yard by the great Tom Jack.    In 1910 he again finished runner-up to Jack, this time finishing 5 yards adrift in 53:47.4, and ahead of GCL Wallach.    Two silvers were good but in the shorter track distance of four miles, he won two gold medals.   On 26th June 1909 at Ibrox he won the four miles in 20:36.6 from Tom Jack and on 25th June 1909 at Powderhall he won again, again from Tom Jack, in 20:35.0.   Note that in 1909 and 1910 he won two cross-country championships, two SAAA 4  miles titles and had two silvers for the 10 miles.   Not bad running at all.   For these and other races, he was selected for the match against Ireland on 9th July 1910 he won, again from Tom Jack with the two Irish runners unplaced, in 20:29.4 helping Scotland to a win by 9 events to two.
 I have a 9:48.8 2 miles at Hampden on 18th June 1910.    At  Hampden on 18th June, in the Queen's Park FC Sports 2 miles  team race on 18th June he ran 9:48.2 – and a J McPhee, jnr, of Paisley Junior Harriers, was second to T Jack in the handicap half-mile.
That the junior Alex McPhee was a top level runner is in no doubt – track and cross-country champion, international victor and cross-country internationalist who led the Scottish team home, able to take on such as Tom Jack and GCL Wallach on equal terms and a series of good victories in handicap races.
According to the 1901 census, Duncan was at the time the second youngest of 9 children.   Brother Alex was six years his senior and all his elder brothers were in the  blacksmith trade.   But the 1911 census reveals that Duncan was earning his crust as a clerk in a threadmill, the Ferguslie Mills Thread Works of J&P Coats being just a few streets away.
Duncan McPhee was the dominant 880 yards/1 Mile runner in Scotland in the 1920's.   He won the SAAA  880 yards in 1914, 1920, 1921, 1922, 1923, the mile in 1913, 1914, 1920, 1921, 1922, 1923; AAA's Mile Champion 1922, and represented Britain in the 1920 Olympics in Antwerp in the 1500m and 3000m team race.   A considerably good record.   He came from a good athletics background and was in many ways the best- or atleast most successful of the trio.   If there was any chink in his armour, there seemed to be a propensity to avoid difficult races.   He was maybe just highly strung.   Judge for yourself at the complete Duncan McPhee profile at www.anentscottishrunning.com/duncan-mcphee/   In any case in 1913/14  both Alex junior and Duncan moved from Clydesdale Harriers to West of Scotland for reasons unknown.
Be that as it may, it was a very talented family and it may be that others of the 9 siblings were good runners, but even if it were not so the three mentioned here were enough to make them contenders for Scotland's top athletics family.