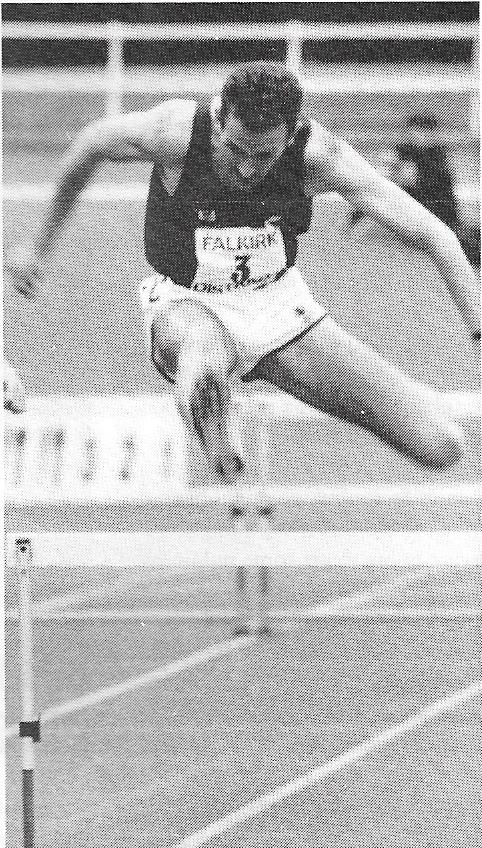 Mark Davidson winning the 400m Hurdles in the 1991 Small Nations International
It is January 2020 and only recently discovered that the last full international involving a Scottish team on Scottish soil was back on 16th June 1991. Arnold Black, the official Scottish athletics historian confirmed this when he said :
"It was the last full Scotland international in Scotland. There was a Scotland v NI v Wales v USA Juniors v a Kiev/Edinburgh Twin Cities combo at Meadowbank in 2001 across 10 men's and 10 women's events, then later the short-form Bank of Scotland Cup & Falkirk Cup matches at Grangemouth between 2006 and 2009. There were GB internationals v USA and Russia in the early 2000s at Scotstoun and there have been international indoor events."
Confirmation then that it was the last full Scotland international in Scotland. It was 21 years ago this year.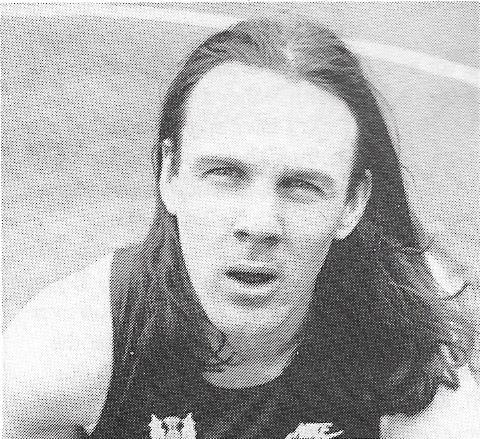 Ewan Clark, Men's 100m
The Small Nations was always an interesting one with Scotland competing against the home nations (England excepted) plus at various time Iceland, Israel, Turkey and Greece. They were useful fixtures that gave athletes, some were established stars to give some backbone to the team, some were up-and-coming athletes, some were new to the scene, a second tier of competition that was slightly less arduous than facing the might of England or any of the major European countries, or even the Commonwealth Games where the standard was exceptionally high. The Small Nations match in June, 1991 was a landmark for a different reason: the competition against Wales, Ireland, Northern Ireland and Iceland was to be the last full international on Scottish soil. Not the sort of landmark anyone in Scottish athletics was looking for. The team sheet issued to athletes and officials on the day and supplied by 1500m representative John Mackay, is below.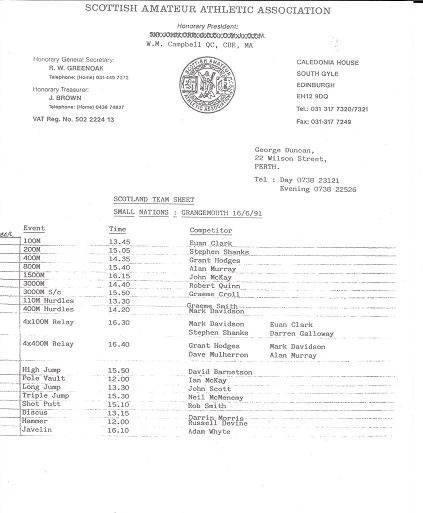 Scotland won, if that's any consolation and the Scottish athletes performed as follows.
| Event | athlete | place | performance |
| --- | --- | --- | --- |
| M100 | E Clark | 1st | 10.78 |
| M200 | S Shanks | 3rd | 21.66 |
| M400 | G Hodges | 2nd | 48.09 |
| M800 | A Murray | 2nd | 1:50.21 |
| M1500 | J MacKay | 2nd | 3:49.30 |
| M3000 | R Quinn | 3rd | 8:08.31 |
| M3000 S/c | G Croll | 2nd | 8:58.2 |
| M 110H | G Smith | 3rd | 14.97 |
| M400 H | M Davidson | 1st | 52.28 |
| M 4 x 100m | Scotland | 3rd | 41.99 |
| M 4 x 400 | Scotland | 1st | 3:14.17 |
| M HJ | D Barnetson | 1st | 2.13m |
| M PV | I MacKay | 4th | 4.30 |
| M LJ | J Scott | 3rd | 6.82m |
| M TJ | N McMenemy | 4th | 14.30m |
| M SP | R Smith | 4th | 14.00m |
| M DT | D Morris | 4th | 54.10 |
| M JT | A Whyte | 4th | 56.26 |
| MHT | R Devine | 2nd | 60.28 |
event

athlete
place
performance

W100

A McGillivray
2nd
11.7

W200

A McGillivray
2nd
23.95

W400

P Devine
2nd
52.29

W800

M Anderson
4th
2:14.44

W1500

C-A Bartley
3rd
4:32.48

W3000

V McPherson
3rd
9:40
55

W100m H

L McCulloch
3rd
14.44

W 400m H

G McIntyre
1st
61.76

W 4 x 100m

Scotland
1st
49.96

W 4 x 400m

Scotland
1st
3:41.83

W HJ

S Pinkerton
3rd
1.77

W LJ

J Ainslie
3rd
5.80

W TJ

N Barr
2nd
11.71

W SP

H Cowe
3rd
12.89

W DT

H Cowe
4th
41.46

W JT

K Saville
5th
40.24m
Team Scores were Scotland 127, Wales 119, Ireland 114, Northern Ireland 106, Iceland 88
How did the match look to the Press?
It was of course covered by all the local papers. eg the Aberdeen Press & Journal reported that
"Aberdeen AAC members Mark Davidson and Helen Cowe and Inverness Harriers David Barnetson and Russell Devine helped Scotland win both the men's and women's matches at yesterday's small nations international at Grangemouth. Davidson had an individual success in the 400 metres hurdles in 52.8 winning by 0.43 of a second from C McDumphy (Eire) \, and later anchored Scotland to victory in the 4 x 400 metres relay in 3:14.17. Barnetson took the high jump with a 2.13 metres clearance and route to a tilt at the Scottish decathlon title in Aberdeen next week. Devine finished second in the hammer (60.28) while Helen was third in the shot (12.77) and fourth in the discus (41.46 metres). Match totals:
Men: Scotland 67; Eire 64; Wales 62; Northern Ireland 55; Iceland 52
Women: Scotland 57; Wales 56; Northern Ireland 51; Eire 50l Iceland 37.
That was the local press, but how about the specialist athletic press? Maybe the best coverage was by Sandy Sutherland whose report can be read here .
Biggest coverage was in the "Scotland's Runner" whose report is reproduced in its entirety here.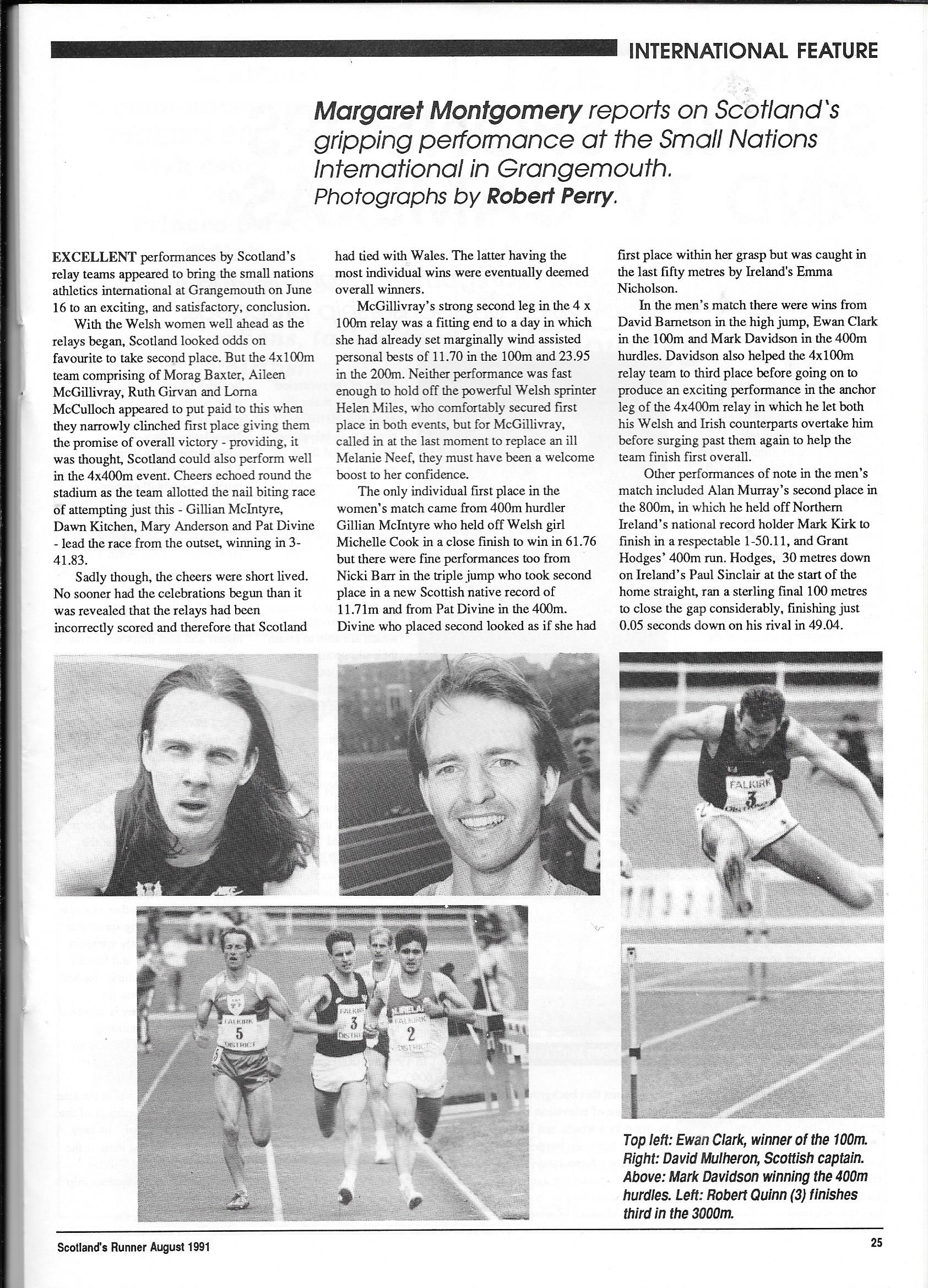 The athletes taking part did not know of course that it would be the last full international held on Scottish soil but they all liked the event, For instance Aileen McGillivary said:
John MacKay, speaking of his own event, the 1500m, described the race, and said that Gary Lough, who later married Paula Radcliffe, finished fourth, Neil Horsfield who was a very talented athlete and a GB internationalist won from John with Nick O'Brien from Ireland third. It was a slow race with a big burn up over the last 300m . They were kept waiting around for a race that was last on the programme, except for the relays. It also featured a race for wheelchair users and must have been one of the first internationals in the country to do so.
The programme for the meeting can be seen at this link . John Mackay has allowed us to reproduce the documentation that the athletes received plus a copy of the press report on the meeting, and you can see them here .