From John Myatt: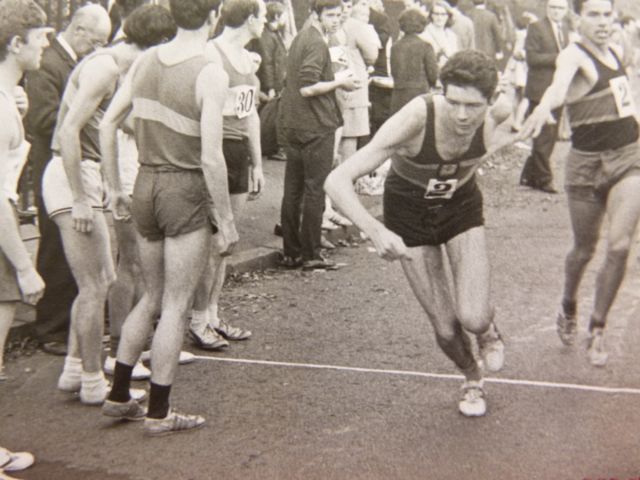 Early in 2013 while surfing the web I stumbled across the Scottish Distance Running History website and was amazed to find such an Aladdin's cave of people I had known during my time at Strathclyde from 1966 to 1970.   I was further surprised and humbled to find that my contemporaries Innis Mitchell, Colin Youngson and Alastair Johnston , had submitted my profile as a member of " the fast pack" along with Brian McAusland who trawled through the records to recall things I had forgotten or never realised .   Since then I provided some details and grainy photographs to support the narrative of my peers.   Brian subsequently invited me to provide some recollections of my time at Strathclyde for the universities section of the history; so here goes with apologies for the selective and vague recollections of those days of nearly 50 years ago.   There is no need to dwell on results in detail as these are given elsewhere and I concentrate on impressions and recollections of an Englishman abroad in the late 1960's.
Despite there being no running tradition in the family I wanted from an early age to do running in preference to the other sports available.   Like so many I was inspired by a mix of the feats of Alf Tupper in the "Rover" and the Amazing Wilson in the "Wizard" comics respectively and by the real life achievements of Bannister in the four minute mile and Chataway's duel with Kuts at the White City in 1954   .At school running was a long way behind rugby and cricket , the only gesture being an annual school run.  In spite of this Cinderella status my secondary school, Sir William Turners Grammar of Redcar, developed a fine cross country tradition in the early 1960's, winning the North Eastern inter Grammar Schools title in the years 1961 to 65.  There were regular senior fixtures against other schools and races at town, area and county level leading to the English Schools championships.  It was not until age 17 , as a first year youth, that I joined a club, Middlesbrough and Cleveland Harriers, which gave access to inter-club events in parallel with the schools system.
The choice of Strathclyde University was driven by the course in Business Administration at a respectable distance from home rather than the prospect of joining a strong running team; had that been the case I would have taken up the offer from Leeds University which was then very strong in cross country.  It would , in any case , have been difficult to identify Strathclyde's strengths, except by their absence, from Willie Diverty's column on Scottish Athletics in "Athletics Weekly" and I was only vaguely aware that Edinburgh were quite good but soon came to realise just how good they were.
So I trod the well-worn path to the Freshers' Fair in September 1966 and signed on with SUAC. Many years later I learned from George McIvor that no one could believe that a 4.22 miler had signed on as this was beyond the comprehension of the Strathclyde runners of the time.  The fact that I was nursing a knee injury and not particularly fit may have encouraged the sceptics although Bobby, "Rocker" as he became known, Thompson did vouch for me, having come up against me in the 1965 National Association of Boy's Club Championships.  A search of "Athletics Weekly" would have shown me finishing 25th in the English National Youth's Championships behind Martin McMahon (14)and Norman Morrison  (16) who led Shettleston to third team place in 1966 at Sheffield.
Prior to going to Strahclyde my exposure to Scotland was limited to a primary school day trip to Edinburgh in 1958 and short walking holidays in the Trossachs and Wester Ross which involved changing trains in Glasgow.  Apart from that I had been fed the tartan version of Scotland: White Heather Club, pipe bands ,shortbread and all but was aware that there was more to it than that and looked forward to learning more about what was, even then, a different country rather than one of a set of regions with their own identity such as the South, North and Midlands of England.  I do recall being struck by the civic and urban architecture of Glasgow having more in common with continental cities than with Leeds, Manchester or Newcastle.   Language was different too and this went beyond a question of accent  and I soon learned that a " trail" was a cross-country course; "stripping " meant changing accommodation which was, on occasion " in the back of a dyke" ( here we avoid the temptation to join the Monty Python team in their four Yorkshiremen of the Apocalypse sketch).  Post-race refreshment was usually "heavy" rather than bitter beer or Newcastle Brown Ale, while the officials favoured whisky despite the blandishments of Ba Bru who held neon sway above the Central Station in those days. It did not take long to adjust to the Scottish licensing laws with their 5.00pm opening hours timed to coincide with lectures ending ; this was offset by the 10.00PM closing time , rigorously enforced , and offset by the "carry out", another novelty as far as I was concerned.  After a few months I was able to appreciate Stanley Baxter's " Parliamo Glasgow" and could even discern some of the regional variations in accent.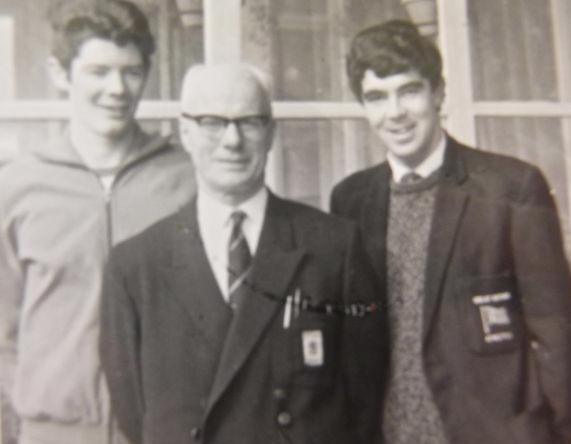 John Myatt, Willie Diverty and Gareth Bryan-Jones
By 1966 the athletic club at Strathclyde had a cross country and an athletics section and ,like the University itself,  they were in their infancy and were derived from the Royal College of Science and Technology   .Joe Walker was the founding father aided by such as Alex Johnston and the Toms: McGrenary and Gallagher, all of whom were established club runners.  They passed the baton to Dave Condie, Bobby Lochhead,  Roger Sandilands,  George McIvor and Ronnie Morrison by the time I showed up.  The older universities had well established clubs and traditions with Hares and Hounds in the Oxbridge manner rather than cross country sections and were an established force in the running world.  Edinburgh at this time were pre-eminent in cross country and road running events at every level in Scotland.  Strathclyde, as a newcomer to university athletics, was developing its own traditions from scratch.  Walter Eadie had set the standard in representing Scotland in the Junior International in 1965 while the founding fathers had developed an active social life to complement the running.  The club maintained a fairly serious running stream and an active social stream which met in the bar after races to analyse performance and to plot the downfall of adversaries.  There was some crossover between these two streams.  Away matches usually involved adjourning to a bar, normally after the race, for a review of results before bursting into song, accompanied more or less, by guitarists Ronnie Morrison and Donald McPhail. The repertoire was mainly traditional and modern folk including Sunday School songs from McPhail's childhood; like Gordon Brown he was a son of the manse but there the similarity diverged.   Sessions usually culminated with " The Song of Strathclyde" especially if the team from the other place was present.  A modified version of this song was recorded by Kenneth McKellar and rumour had it that the Beach Boys ripped off our version of "Sloop John B" ;perhaps it was the other way round, old men forget after all.  Just for the record no bawdy songs featured in the repertoire, this being left to the plumbers in the Union beer bar.
 Also new to me was the first claim issue whereby rather than running "first claim" for the university student members of other clubs could opt to represent their original club in open competition and to run for the university in inter-varsity matches only.  Many established athletes, especially those from the Glasgow, area were reluctant to represent the university on a first claim basis given an understandable loyalty to their original club.  This conflict of interest meant that the university was denied the services of many strong athletes in such events as the Edinburgh to Glasgow and National championships. Alastair Johnston is a case in point and he managed the conflict judiciously by giving priority to Victoria Park but turning out for Strathclyde in many inter-varsity races including the BUSF and the Hyde Park relay.  Albert Smith was a somewhat similar case.  Those from further afield tended to opt for the university on a first claim basis eg Innis Mitchell who was already established with Aberdeen AAC and Mike Hall of Teviotdale.  English athletes also opted for the university eg Robin Robson and John Huxtable who became part of the "engine room" of the first team along with other Scots such as Bobby Blair, Andy Pryde and Ron Paton who all blossomed, so to speak, in the hothouse of the late 1960's.It is worth noting that Innis Mitchell and Bobby Blair both joined Victoria Park once they left university where they continued to give good service; other valued exiles from Aberdeen included Kenny Laing and Dave MacFarquhar.  The first claim issue did not arise for me as my parents moved abroad in my first year , a case of home leaving me after I left home so to speak.  I left Middlesbrough and Cleveland in 1966 and ran exclusively for Strathclyde in Scotland and in races such as the English National.
I must have been a bit overwhelmed on arriving in Glasgow and coming to terms with university life and finding accommodation quite apart from getting involved in running.  There were very few English students in those days, single figures in my own year and heavily outnumbered by Norwegians  .This was not an issue for me as one was made welcome by all within the various new groups to which I was exposed.  Looking back at the training diary there is a gap from September to December and the detailed record restarts in January 1967.During the first term I was nursing an injury which kept me out of the Edinburgh to Glasgow relay in which Strathclyde finished a sorry last; not that I would have made any difference to the result which was seen by some as a highly risky ploy to win the most improved team award in the following year.  Some training was done and I had a decent début in the Midland District relays followed by the SUSB team trial and race against the SCCU ( best forgotten). There was also a second place to Adrian Weatherhead in a downpour on the HW course and a win in a three way match at Dundee in which I outsprinted Allan Faulds.
 It took some time to adapt to training from the John Street and Taylor street gym in the city centre but I eventually worked out some fartlek sessions on the golf course in Alexandra park and longer runs out to Hogganfield Loch  .The John street gym was inhabited by the " Heavy Gang" of Edmunds, Bryce, McPherson, Muir and McCue who came into their own in the athletics season after perfecting their grunting and strutting about the weights in John Street most lunchtimes.
Things settled down in January1967 with regular training and a heavy racing programme including SUSB, BUSF and Midland District Championships.   In the BUSF Edinburgh won the team race and the Scottish Universities beat the UAU.   I recall Ian Young gave me a word of encouragement as he passed me at the start of the second lap at Parliament Hill Fields.  In the Scottish junior championship I managed third place behind Eddie Knox and Alistair Blamire and was honoured to be selected for the Scottish team in the junior International at Barry in South Wales.   The International was the nearest thing to a World Championship and I was proud to make the Scottish team, something which had not featured in my thinking when I went to Strathclyde.
Prior to this selection the biggest races I had taken part in were the English and Scottish National Championships and despite the occasion, I found the International a bit of an anti-climax.  This is not to decry the class of the athletes present from the home countries and continental Europe but Barry Island in late March was scarcely a destination town and the whole event seemed a bit low-key.  The best runners in Europe heavily outnumbered the few spectators who turned out to watch the events on some flat and uninspiring school playing fields.  It was not a low-key event for Eddie Knox who won the junior race at the third go, beating fancied runners from England, Belgium and Italy in the process.  My own 19th place was disappointing although we did manage third team.  The senior race was a great contest won by Gaston Roelants, reigning Olympic steeplechase champion with Lachie Stewart 4th ahead of Dick Taylor, Ron Hill, Alan Rushmer and many other fancied runners. In the aftermath of the race some of the younger Scottish team rather overdid it on the refreshment in what turned out to be a bit of an an exhibition event.   The precise details of that evening escape me ,although Alistair Blamire  who was present much of the time, still maintains that I led him astray, unlikely as this may seem.
Fast forward to the 1967-68 season  where the highlight was, without a doubt, the Irish tour which became the stuff of myth and legend within the Cross Country Team.   Queens Belfast had a fine tradition of making a mainland tour every two years and some Scottish Universities would return the compliment with fixtures in Belfast and Dublin.  So it was that, on a dark and damp evening of 3 November 1967 , in a scene worthy of Joseph Conrad ,our motley crew made their way on foot along the Broomielaw to embark on the Burns and Laird overnight ferry to Belfast with strong first and second teams including some seasoned drinkers with "Fat Ronnie" Morrison( no irony intended) and Donald McPhail providing musical accompaniment.
We travelled steerage class which provided sleeping accommodation on the wood floor in the bowels of the ship, no mattresses of course but a thin blanket was available. McPhail had an outbreak of Long John Silver impressions in which he outdid Robert Newton and continued by setting up a card school which included the youngest member of the club, Ian Picken.   Ian had just left school at age 17 and, little versed in the ways of the world, had already been christened "The Boy".   The tale of the Boy on the Irish Tour grew in the telling and is encapsulated in the following recent email exchange between George McIvor and Ronnie Morrison.   George reminds Ronnie how
" On the 67 Irish Tour – you and McPhail taking all of Ian Picken's money before the boat left the Broomielaw must be put on record.   He had just turned 17 and had just arrived at University very fit and all shiny, clean and bright eyed from his mammy.   He was immediately keen to join the big boys card school (poker). You shameless bastards had taken all his money within about three minutes and he was immediately put into the tender care of Rocker, " Miss Helena she pay" Thompson and thereafter became his "Boy". His athletic s career then seemed to go a bit downhill.   I recall in the Union at Trinity College after the race" Boy, get 17 pints of Guinness".   As I recall it the results book noted that The Boy was sick against a tree before the start of the race in Phoenix Park. These things could happen when you fall under the influence of big boys like McPhail and Morrison. 
As the boat docked in Glasgow a rather dishevelled Boy approached me and sheepishly said " Mr McIvor, can you lend me a shilling for my bus fare back to Kirkie?"   God knows what his mammy thought when he got home.
In the Queens Union in Belfast you and McPhail thought that Sean South should be balanced by a rendition of the Sash, but it wasn't to be!I do'nt think that we recognised that the Troubles were just around the corner.
Any more detail you can get out of the great archive in the sky would be good."
Ronnie's riposte:
 "You have been developing this line of events in your mind for years, embellishing it with crap to make it sound more interesting with you as the hero.
I do not remember any poker game but do remember the Boy drinking all the time.  Where did he get the money for that? I also remember passing out on deck as we passed Ailsa Craig.   I also think it was Rocker that was sick.   I recall stepping over him and a Donore harrier saying " Oh my God"  "
The account by McIvor fits my own recollection, bearing in mind that I abstained from drink and cards until after the race in Belfast.   The weekend was a great success in that we won both matches and provided the individual winner in each case. I took advantage of the muddy course at Queens with Alastair Johnson in second place. The positions were reversed at Trinity where the flat, dry course in Phoenix Park suited him better and he had the faster aggregate time over the two races.   As for the Boy I was told by Rocker Thompson that he was thrown of the bus at Lenzie on his return being short of thrupence to pay for the full journey to Kirkie.  According to the record book, which sadly disappeared in the 1980's, it was Rocker who was sick over a tree before the start of the race in Phoenix park.
Despite, or because of, the trauma of the Irish Tour the Boy became a regular first team runner, winning the Scottish Youths title in 1968 and representing Scotland in the Junior International in 1969 but sadly seemed to fade out of athletics after he left university.
 A final tale concerns the Rowlands and Winpenny Trophy at Durham in 1968 when the Boy allowed himself to be set up against Edinburgh's Judy Dry to down a pint in one.   The smart money was on Judy , a hockey player and hurdler who had lots of match practice at downing pints and she duly trounced the Boy in a fair competition.   After the match he admitted to me that he had some doubts about his ability to down a pint in one and as part of his warm up had nipped into an adjacent bar in Dunelm House where he successfully downed a pint in one; without any suggestion of sour grapes he ruefully concluded that this may have adversely affected his own performance.
 A final note on the Irish Tour concerns the minute of a meeting of Glasgow University Hares and Hounds in 1968 when the possibility of joining Strathclyde was mooted.Willie Diverty counselled against taking part as he felt that
" Strathclyde has a disreputable element and the tour might disintegrate into a brawl" 
The meeting strongly disagreed with this analysis.  I lighted on this minute in 2013 when surfing the web and was amused as no one at Strathclyde was aware of this opinion at the time.   Had we known it would inevitably have led to an annual award of the Diverty Cup for disreputable behaviour for which there would have been very strong competition .   There are thoughts among the Old Crocks of setting up such a competition on a retrospective basis ; sadly Donald McPhail is no longer in a position to collect his posthumous award.
The 1968-69 season was notable for, among other things, my selection along with Adrian Weatherhead and Ian McCafferty to represent Scotland in the San Sebastian International Cross Country in January 1969.  This was, and remains, one of the biggest Continental races and it was a case of innocents abroad for Adrian and me when we found that the field included many finalists from the Mexico Olympics 10,000 metres.  To make matters worse the course was uncharacteristically dry and the weather was warm and sunny.  As a result we had difficulty keeping up with the leaders and even Ian McCafferty opted out of the clogging match up front, finishing comfortably in 12th place with a time of 31.43.Adrian was 31st in 33.23 and I finished 28th in 33.12; we both had the privilege of being taken by Bill Adcocks , 25th in 33.02, in the final 400 metres.   The race result was : Mike Tagg 30.49, Mariano Haro 30.54 Tim Johnston 30.57; other notable athletes : Mamo Wolde 7th in 31.33,Mohammed Gammoudi 8 th in 31.35.   It was a great experience to take part in such a race, the first of many in Scottish senior colours.   On arriving back home we were met by Ewan Murray who needed a replacement for a race in Tunis the following week. Ian McCafferty being unavailable the honour went to me even though this meant missing the BUSF on the same day.   The San Sebastian experience was good preparation for racing on the sandy Tunis racecourse along with Gareth Bryan Jones and Jim Wright ( Tipton and EAC) in Le Cross des Capitales.  We were billed as representing Glasgow according to the official programme, something which suited team manager Willie Diverty.  This turned out to be a fast race on a hard surface with a few hurdles for Gareth's benefit.   The race was won by Alan Blinston  23.18 from local hero Mohammed Gammoudi 23.22 and Roy Fowler was 4th in 23.25. The Scottish team was third : Jim 5 th  23.32, Gareth 8th 23.54 ,yours truly 9th in 23.57.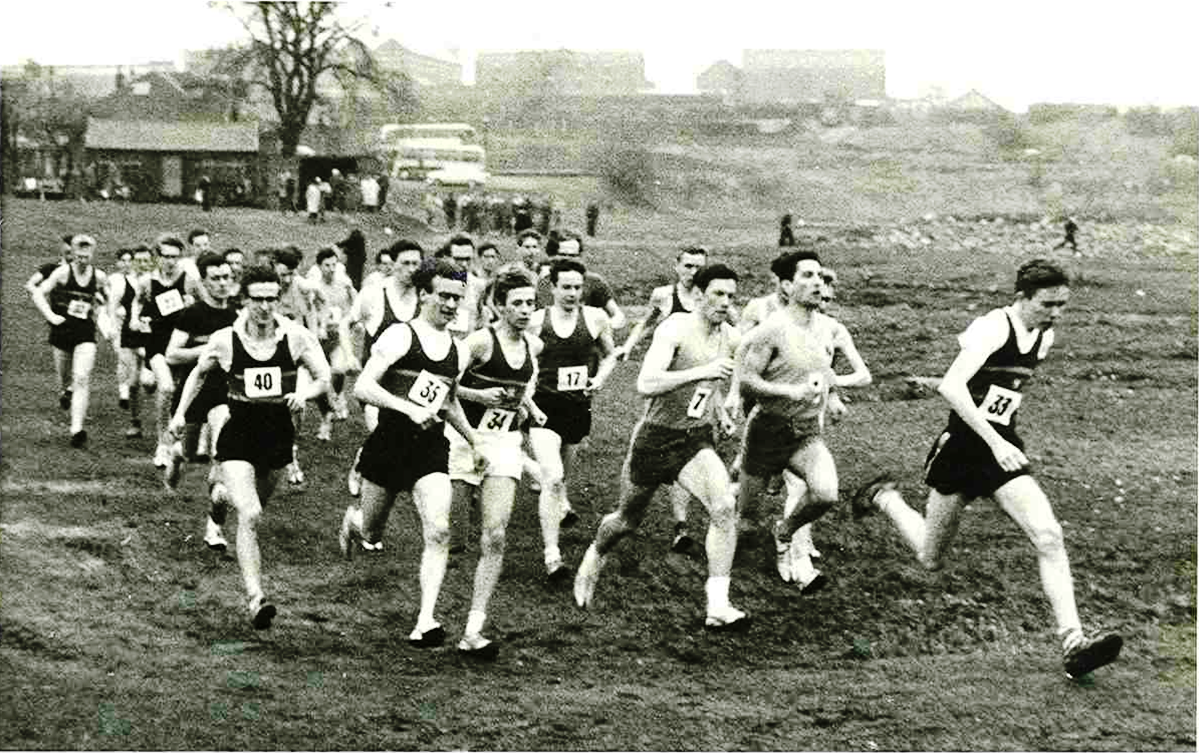 Scottish Universities Championships at Strathclydech saw us winning the Midland District and Scottish Universities Championships in 1970.   During this period we competed in the Hyde Park Relays, taking third place in 1969 and even fielded a team in the English National at Blackpool in 1970.   This was notable for Murray McNaught's famous start which put him in the leading bunch after 400 yards, as shown on the cover of Athletics Weekly.   In the same year we also took part in the Ingleton Fell race organised by Lancaster University.  Apart from the fun of the race the hard part was getting back to Glasgow on the Sunday as no trains stopped at Lancaster  and we had to thumb a lift to Carlisle to get a return train.   A small group got a lift in a mini Moke, a 60's fun car with a soft top.   We encountered a heavy downpour and high winds going over Shap Fell which gave Innis Mitchell, who was in the back seat,  a monumental soaking which he never forgot.  No account is complete without reference to the BUSF cross country championship in Sheffield in 1970 when the cream of the Scottish Universities had a run in with the Sheffield constabulary; shades of Bertie Wooster after the boat race which Dave Logue probably recalls better than I do.   And then there was the time , following the E to G relay when we adjourned to the bar with Dick Wedlock….but you can imagine the rest of this tale.
 These idiosyncratic recollections may ring a bell with some who were around at the time and were also privileged to take part in university athletics in the late 1960's. I had a lots of fun  training , racing and socialising fellow athletes from many scottish clubs. It was particularly gratifying to be part of the development of Strathclyde as a club which could compete on equal terms with the other Universities.  Even allowing for the nostalgia effect and the possibility that subsequent generations are a mere shadow of ones own ,it does seem that without noticing at the time we may have lived through a "golden age" of Scottish athletics in which the Universities played an important part.  No use bemoaning subsequent changes, the world moves on and one remains glad to have played a small part in that era.