From Johnny McCall: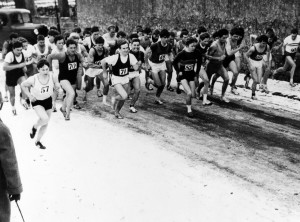 Johnny 'Buster' McCall (70)
I started Medical School at Glasgow University in 1960.   I had been running for about two years with the Clydesdale Harriers prior to that.   I had no talent, but I did manage to win the club Junior Championship in Clydebank, however there may only have been about six competitors.   At that time the running heroes were Emil Zatopek, Gordon Pirie, Chris Chataway and a newcomer, Herb Elliott.   The training "mantra" was "long, slow distance".  This was the Percy Cerutty/Arthur Lydiard era.   This was the approach to becoming a distance runner.
The first person I met at Glasgow University who was a "runner" was Douglas Gifford.   I met him in the changing room of the old gymnasium across from the Botany Department at Glasgow University.   I think this may have been within the first few days of me enrolling at the University,   Douglas, or "Dougie", was getting ready to go out for a run.   I introduced myself and we went out for a training "spin".   He, of course, at that time was already well known in cross country running in Scotland, was in the top echelons of University cross-country running and he had also made his mark at National level.   Douglas was studying English and he was the first person I had ever met who had read "The Lord of the Rings".
I joined the University Hares & Hounds at Douglas's encouragement and quickly became friends with another mentor, Jim Bogan.   Jim was also a notable cross-country runner at both University and National levels.   Both he and Douglas were seen to be two athletes who would go on to achieve "great things."   A really "class runner" at that time in Glasgow was Calum Laing.   Calum was a "Son of the Manse', his father being a minister in Alness, which is in the "Black Isle" in Sutherland.   Calum had a barrel chest and quite long legs for a short torso, but he was able to beat all of the best University cross-country runners in Scotland on a weekly basis.   He was a very powerful runner and I certainly was in great awe of him.   Calum was studying agriculture, but I think at that time he was much more interested in running.   He was a humorous guy and a real "teuchter" with a wild sense of humour and much interested in the opposite sex as we all were.
The team was managed by Bill Diverty, a bald headed guy who always wore a long trench coat.   I never really figured out where he came from and what his qualifications were, but he seemed to be a force at least at the University level in terms of his administration and organising meets and getting us from place to place without losing people.   We never had a coach and all tended to train on our own or in the company of one or two others.   I mostly trained on my own and it was my habit to go to the gym every day about lunch time and run for about one hour and then spend another hour in the gym.   I was quite often out for a run again at night.   At one point I was running about 100 miles per week.   I did not participate a great deal in track, although I would go out in the 3000 metre steeplechase along with Jim Bogan who was coaching at the national level in that event.
Cross Country running with the Hares & Hounds was mostly a social event.   We had a helluva lot of fun and we did a lot of drinking.   We were frequently found in the Arlington Bar in Byres Road on a Friday night along with the football guys, and then we would all disperse to the various dances at the Men's Union, the Women's Union, the Art School, the Maryland Jazz Club and other great places.   On Sundays I would usually surface around noon and quite often go out for a long run.  On occasion we would head up to Fort William and stay in caravans there, climb Ben Nevis and go for long runs across the moors.   In addition to cross-country running, I participated in road races such as the Nigel Barge, and of course the wonderful Edinburgh to Glasgow Road Relay.   I ran in that I think twice for the University Hares & Hounds, and at least once, or perhaps twice with the Clydesdale Harriers.   This was a highly competitive event and certainly was of a very high standard.
The people that I particularly remember at University would include Gifford, Bogan and Calum Laing, as well as Dick Hartley, Cameron Shepherd, Allan Faulds, Barclay Kennedy, Ray Baillie, Brian Scobie, Mick Rogers, Tor Denstad, Roger Clarke and many others I would have to dig deep into my brain to remember.   There were also some very good track athletes at Glasgow University during that period, these included Ming Campbell, Douglas Edmunds  and Dick Hodelet, who was also a classy road runner.   I quite often trained at Westerlands which was the University track at Anniesland at that time.   I would usually go there at lunchtime and would train with the likes of Lachie Stewart, whom I had run against with Clydesdale Harriers when I was a Junior, as well as Graham Everett, Gordon Pirie and Derek Ibbotson.
The highlight of the cross-country season were the trips we made to the other university campuses.   The one we used to enjoy the most was when we went to Ireland.   We would fly to Belfast to run against Queen's University on a Saturday and then make our way down to Dublin on Sunday, usually very hungover, to run against Trinity College on the Monday, through Phoenix Park and along the "Banks of the Ould Canal".   The Monday race was usually run in a very hungover state and even in the Sixties it was possible to find a howf in Dublin or in the countryside outside of Dublin and we were eager explorers in that regard.   There was usually a visit to the Guinness Brewery after the race and then a giant "piss-up" at Trinity College.   We would be loaded at Trinity College into rooms that had no running water and no heat.   The students at Trinity were usually "Anglo-Irish".   These were Irish Aristocracy. with close affinity to England and they were there only   because they were not usually able to get in to Oxford or Cambridge.   However they were an eccentric and entertaining crew and always had large slabs of their mother's fruit cake for us to eat as well as barrels of excellent "claret".   I remember spending time with the Shillingtons and one of them, I think Colin, was a very good miler and I think ran closeto four minutes for the mile during that period.
The other trip we used to enjoy was the one we made to Aberdeen in January.   We usually stayed at the Men's Hostel down by the Docks which we shared with the local vagrants.   We would sleep in  these large rooms with multiple small beds, however the "fry up" in the morning was worth the price of admission.   Some of us would "take the plunge" into the icy harbour waters on the Sunday morning.   We would not normally get in to the Hostel until quite late at night and often about one or tow o'clock in the morning after we had finished seeking out the Aberdeen girls at the "Union Dance".   Our arch rival, of course, at that time was Edinburgh University and Fergus Murray and Calum Laing frequently "battled to the wire" and certainly in the early Sixties, Calum was usually the victor.   Edinburgh University eventually had a much stronger team and towards the end of my period with the Hares & Hounds, Glasgow was no longer a "strong force".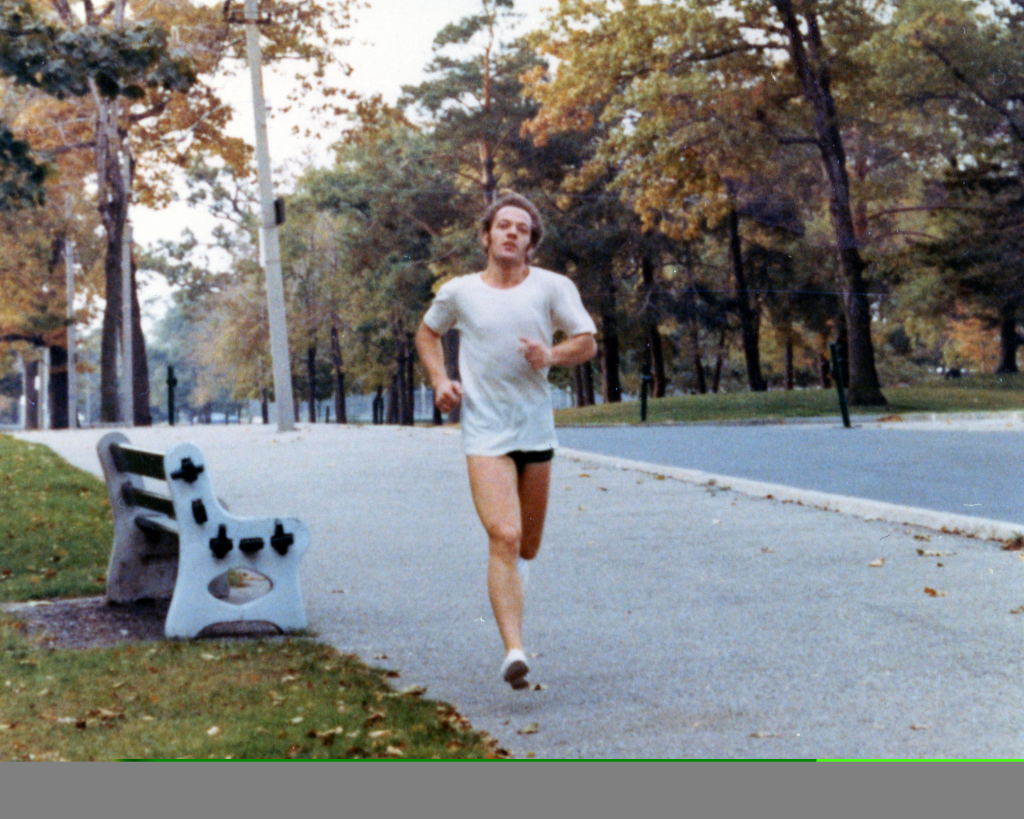 I gave up cross-country running at Glasgow University when I started working in the hospital in Glasgow as a Resident.   Residency training at that time took up twenty four hours a day, seven days a week.   I did continue to run, but did not compete.   I moved to Canada in 1969.   I continued to run and competed in several marathons, including the Boston Marathon, which I ran in 2:32.   Eventually I gave up running for "climbing" and for the next twenty years of my life I climbed all over the world, usually with a guide.   When I was 50 I climbed the Old Man of Hoy and I was also able to tackle the North Face of the Eiger in winter with an American guide, Charlie Fowler.   I climbed in China, Tibet, Nepal, all over the USA, Baffin Island and Antarctica.   Most recently I have taken up sailing and I have taken three trips to Antactica in a sixty foot sail boat; I have also sailed frequently around the West Coast  of Scotland as well as in Hawaii and in Georgian Bay, Ontario, where I now live.
Although I never attained the heights of Olympic competition, as did Fergus Murray and Donald Macgregor, nor have I had the athletic triumph that Lachie Stewart had when he won the gold medal at the Commonwealth Games in Edinburgh in 1970, beating the world's best distance runners at that time and running the third fastest 10000m of all time, I was lucky enough to be selected on four occasions to be a Team Physician at Olympic Games.   The first time being in Montreal Canada in 1976, and I was Team Physician for Speed Skating Canada for ten years, attending Olympic Games in Albertville, Lillehammer and Nagano.   I did have the good thrill of being present when my athletes won Olympic medals including several gold medals as well as many World Championships.
I have been an Orthopaedic Surgeon for over forty years in Canada but I have never forgotten the great pleasure I had when I ran across the hills and fields of Scotland in my black vest with the yellow piping as a proud member of the Glasgow University Hares & Hounds as well as an equally proud member of the Clydesdale Harriers.