Scottish Athletics statistician Arnold Black wrote the following:
"ATHLETE OF THE DAY – ROBERT RUSSELL
Winner of the Scottish 10,000m title in 2006, Robert Russell had previously won two national cross-country titles. On the road, he added two national half marathon titles. In total, he has amassed 14 championship medals across the three disciplines. On the track, he appeared in the Scottish rankings for the 15-year period from 2000 to 2014, setting bests of 1:54.55 (800m), 3:52.51 (1500), 8:21.56 (3000), 14:13.00 (5000), and 30:46.59 (10,000) with road bests of 29:16 (10k), 65:22 (HM) and 2:27:28 (Marathon)."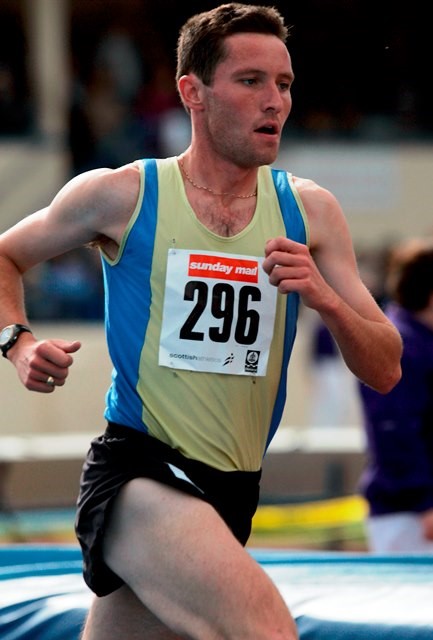 Robert RUSSELL (born 13.07.82) Central AC, Thames Valley Harriers
Championship Record:
Scottish: 1st 10,000m 2006
2nd 5000m 2000, 2004, 2005
2nd Indoor 3000m 2011.
2001 gold in under 20 5000m
Scottish 10km Road Championships: silver in 2007; and also 2012 (when Central AC won team gold).
Scottish 5km Road Championships: team gold in 2012 (when Robert was 6th).
Scottish Half Marathon Championships: Individual gold in 2007; individual and team gold in 2008.
Scottish National XC: under 20 bronze in 2001; Senior individual gold in 2005 at Irvine; Senior team silver in 2008 (when Robert was 5th); team silver in 2009; team gold in 2014 (8th).
It seems harsh that Robert, a 22-year-old first year Senior, was not selected for the Scottish team in the 2005 World Cross-Country Championships. He won the National title five weeks before the World event.
Scottish Short Course XC: 2005 individual gold and team bronze; 2007 individual bronze and team gold; 2008 individual bronze and team silver; 2009 team silver; 2014 individual silver and team gold.
Scottish XC Relay: Central (with Robert Russell) won silver in 2005, gold 2006, silver 2007, gold 2008 and 2009, silver 2010, bronze 2011, gold 2014.
Scottish Road Relay Championships: Central (with Robert Russell) won silver in 2005, gold 2008, silver 2011, gold 2012, gold 2014.
In 2008, Robert Russell ran for Scotland as a Senior at Liverpool in the McCain UK Cross Challenge, finishing 19th.
In 2010, he finished 8th in the BUPA Great Edinburgh International 4km XC, beating young Callum Hawkins.
Junior XC Internationals: 2001-4,
2001 at Cardiff Under 20, 1st individual and Scotland won team contest v Wales, Northern Ireland and Ireland.
2002 at Edinburgh. Under 23, 13th but second Scot v France, GB, Portugal, Northern Ireland
2002 at Dublin. Under 23, 10th but third Scot v Wales, Ireland, NI.
2003 at Belfast. Under 23, 5th but third Scot v Ireland, Wales and NI.
2004 at Ayr. Under 23, 4th and first Scot v Ireland, Wales and NI.
OTHER ACHIEVEMENTS:
On 3rd April 2005 Robert Russell won the Scotland Day 10k road race in New York City (rather than World Cross?)
Robert won the East District 5000 in 2000; East XC in 2008; and also the Scottish East District XC Relays.
For Thames Valley Harriers, Robert Russell raced in the British Athletics League Division 1 and for Central in Scottish Athletics League Division 1. He won races in both Leagues. Robert was a great team man: he might race any distance between 800m and 10,000m – and might even volunteer for the 4x400m relay if the club needed him!
In the 2012 English National XC he finished a good 50th.
He contested the English National and the Southern 6 and 12 Stage Relays for TVH.
His only marathon was Berlin in 2008, when he finished 40th.
In 2013 Robert Russell contested the European Clubs XC Championships in Spain, finishing 41st, which made him first man home for Central AC, the Scottish Champions.
He won several 10k Road Races, for example at Stirling, Grangemouth, Balmoral, Walton-on-Thames, Alloa and Aberdeen; and Half Marathons in Jedburgh, Dunfermline, Helensburgh and Balfron.