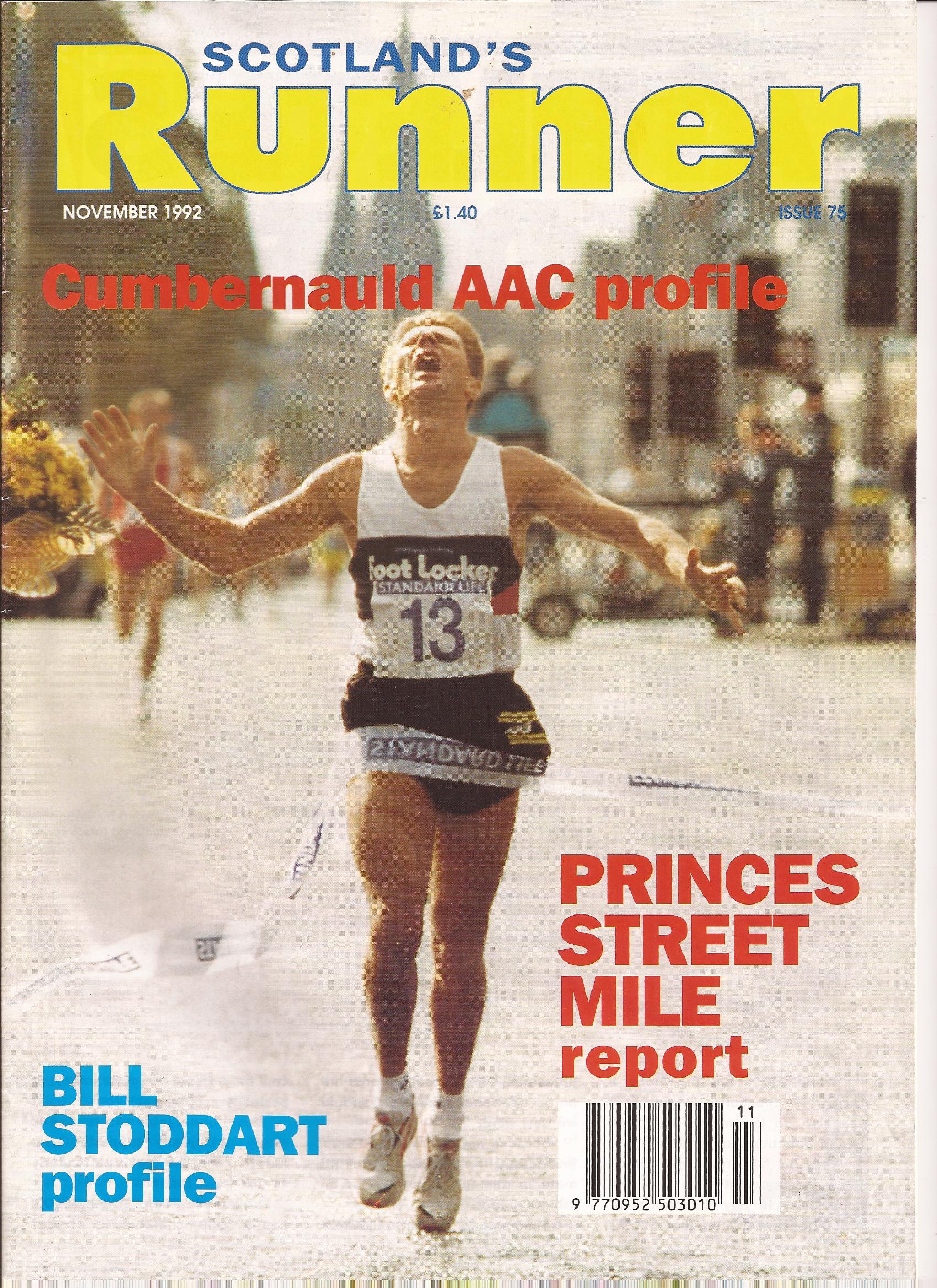 The Princes Street Mile races were held, as you might expect, on Princes Street in Edinburgh in the early 1990's.    They were glittering affairs with races for Men, Women, Masters, Juniors, Youths and Intermediates.  All were invitation only and the race organiser had a good budget to work with.  The results were class races, good coverage and live television coverage.    They were probably too good to be true.  The programme cover above was for the first ever such race which was held with great razzmatazz, celebrity milers of the past from all over the world with Scotlnd being represented by Frank Clement, Ian McCafferty and Hugh Barrow in the parade.
The starting lists make interesting reading.  The headline races were for the Senior Men and Women.  The Men's line-up was printed in the programme as follows, although there were some changes on the day, all the stars did turn out. Fermin Cacho (23) Spain, Olympic Champion;               Steve Cram (31), England, '83 World 1500m title, '84 Olympic silver, World records for 1500m, Mile and 2000m in 1985;                   Tom McKean, Scotland, 800m specialist.; Mohammed Suleiman, (23), Qatar.  Olympic bronze behind Cacho;     Jens-Peter Herold (27), Germany.  European 1500m winner;               William Tanui (28), Kenya.  800m gold in Barcelona. David Kibet (28) Kenya.  Winner of the  Dream Mile in Oslo. Joseph Cheshire (34) Kenya.  Olympic 1500m fourth in 1984 and 1992. Jim Spivey (32) USA  USA Olympic trials winner. Tom Hanlon (25) Scotland.  Sixth in steeplechase in Barcelona. Kevin McKay (23) England.  Silver in 1988 800m World Junior Championships, semi-finalist in 1992 Olympics. Steve Crabb (28) England.  Double Olympian and 3:50 miler.
The Women's field was: Hasib Boulmerka (24), Algeria.  Olympic 1500m champion in Barcelona. Ellen van Langen (26,) Holland.  Olympic 800m champion. Kirsty Wade (30), Wales.  Double 800m/1500m winner in  1986 Commonwealth Games Violet Beclea, (28), Romania.  World Indoor 800m silver medallist. Tatyana Dhorovskikh (31) Ukraine.  World 300m champion, 1988 Olympic 1500m gold, 1992 Olympic 1500m silver. Lyudmila Rogachova (25), Russia.  World bronze, Olympic silver and fastest in the world in 1992. Doina Melinte (35), Romania.  World indoor 1500m and Mile record holder,  sixth fastest outdoor Mile of all-time, Olympic gold (800m) and silver (1500m) in 1992. Yvonne Murray (27), Scotland.  1988 Olympics 3000m bronze, 1990 European champion. Sonia O'Sullivan, (22), Ireland.    World Student Games 1500m champion, fourth in Olympic 3000m Letitia Vriesde, (27), Surinam.  Fifth in world championships.
So two very good fields indeed and the Masters race had David Moorcroft, Sydney Maree, Graham Crouch, Thomas Wessinghage, Eamonn Coughlan and John Robson, at 35 the youngest in the field!   "Scotland's Runner" previewed the races in their September 1992 issue.     "It's not often we Scots get a chance to see the world's top middle distance athletes battling it out on our own doorsteps but that's exactly what will be happening on September 13th.      The Princes Street Mile, a new event originally conceived over two years ago by a small group of athletics enthusiasts including Hamish Henderson and top coach John Anderson, has found the funding it needs to go ahead on this date.  Split into five separate mile races, which will take competitors from Shandwick Place at Princes Street west end to its east end, the Princes Street Mile will provide its onlookers with an afternoon of top quality athletics against the dramatic backdrop of Edinburgh Castle.  Featuring 'past masters',  women's men's and youths' races, the Princes Street Mile should contain something for everyone.  As an invitation only event, the quality of the field in each race is extremely high.  John Anderson who has been charged with the responsibility of finding competitors for the event has already secured some major names and is waiting for confirmation from more.    "We've already got the men's and women's Olympic 800m champions in each of the two major races," reveals Jamie Henderson, project executive for Gameplan which is organising the Princes Street Mile for the Princes Street Mile Ltd, the company set up following the birth of the original idea to hold such an event. 
Among those confirmed to be taking part in the women's race alongside Barcelona two lap gold medallist Ellie van Langen are local woman Yvonne Murray, the formidable East European duo Tatyana Dhorovskikh and Lyudmila Rogachova, Doina Melinte, Patti Sue Plummer and Anne Williams.  It's a race which is potentially one of the best in Olympic year, not least from the point of view that it provides Murray the chance to redeem some pride and exact revenge for her crushing defeat in the final of the 3000m in Barcelona.    In his home city Tom Hanlon lines up in the men's race facing not only 800m champion William Tanui but Peter Elliott, new sensation Curtis Robb, Steve Cram, Steve Crabb, Kevin McKay and Europeam 1500m champion Jens-Peter Herold of Germany.  The past masters event which includes former world record holders David Moorcroft and Sydney Maree also looks as if it should be well worth watching.  There will also be two events for athletes with disabilities – a wheelchair race for athletes who can complete a mile within five minutes, and an ambulant event for athletes with other disabilities who must be able to achieve the same qualifying mark.  "I think it will be too tight for Special Olympic participants to make it back for our event," explains Jamie Henderson, "However, the good thing about this is that it gives those wheelchair athletes who didn't make it to Spain a chance they might not otherwise of had." 
Where the Youths events are concerned, a fine quality field comprising the top young men and women in the country is expected.  "The SAF is advising up on the most competitive option," says Henderson.  "Like other races youths will be invitation only and should therefore feature some of the brightest talents of the future."  As Henderson himself points out, the elite nature of each race by no means detracts from the 'Sport for All' framework of the Princes Street Mile.  With races for young and old as well as disabled, this is an event which goes further to representing the whole spectrum of the world's athletic community than many others. As such, it is good news to learn that the Princes Street Mile is set to become a regular event on the athletics calendar.  "We are already developing the idea for future years, there are lots of ideas in the pipeline," says Henderson.  This year's Princes Street Mile  is a part-private, part-public venture.  Edinburgh based Standard Life has teamed up with Lothian and Edinburgh Enterprise, who put up £50,000 to help fund a business plan, sponsor search and initial marketing, and have since agreed to put up a further £75,000 to finance the prestigious event.  Meanwhile Lothian Region have agreed to match this with £75,000 of their own. "The Region has been very helpful in supporting the idea and granting permission for the race to take place in the first place," says Henderson.  "The event will help to extend the tourist season beyond the Festival and adds to the city's profile abroad.    Other private sponsorship worth £150,000 is helping to get the project off the ground.  Ian Skelly, for instance, will be providing the necessary courtesy cars while Edinburgh Crystal will be laying on specially designed trophies.  Meanwhile Phillips and Canon will be providing equipment and furniture for the media centre and Strathmore Water refreshments for the runners.  Other sponsors in kind include Bird Semple who are acting as legal advisors, Inter Flora who will be supplying flowers for the winners and Grant Thomson who are doing all the auditing.  Most of these companies will be adding to their hands-on contribution with cash.  Television coverage, every race organisers dream, has been secured courtesy of the BBC.   "The BBC will be giving the event half an hour live coverage on Sunday Grandstand and will be previewing it on both the Friday and the Saturday," says Henderson.  "BBC Scotland will also be adding to the coverage by giving it an overview on the Sunday evening."
I have reproduced the preview in full because it give the complete range of organisation that had to go into the race, the sums of money required to get it all off the ground and names all the main participating sponsors.  On to the actual races. On the day, the programme of events for the spectators had eight races and six more items on the programme.  The order of proceedings was: Event 1.    1:30     International Parade Event 2.    2:15     UK Youths Mile Event 3.    2:30     UK Intermediates (Girls) Mile Event 4.    2:45     UK Wheelchair Mile Event 5.    3:00     Presentation of Awards for events 2, 3 and 4 Event 6.    3:10     The Standard Life Masters Mile Event 7.    3:30     The Standard Life Women's International Mile Event 8.    3:45     International Wheelchair Mile Event 9.    3:50     Past Champions Parade Event 10.  4:00     The Standard Life Men's International Mile Event 11.  4:05     Presentation of Awards for Events 6, 7, 8 and 10 Event 12. 4:10      Parade of Champions
For the actual report on the race we go back to "Scotland's Runner" of November 1992..  There were some changes to the starting line-up which is always inevitable in such an event which is planned so long in advance and with athletics injuries and illnesses and so on to contend with.      How did the races go?  "It's not often that you will find two international athletes vying with each other not to represent their country, but that's exactly what happened after the men's race at the first ever Princes Street Mile event.  Matthew Yates had just been beaten into fifth place.  Steve Cram who had locked 3:55 – a time which he 'couldn't believe himself' – had come in third.  Yates conclusion?  That Cram should go to Havana for the World Cup instead of him.  Cram however had other things on his mind and had no intention of going to Havana.  "Karen is expecting any moment," he said at a Press conference later in the afternoon.  "Edinburgh's as far as she'll let me travel.  My plans are to run the Great North Run and then a 10K  Anyway I'm more in tune for road running than the track at the moment." 
Cram's performance in Edinburgh certainly seemed evident of good road running form.  Coming in behind Kenya's David Kibet and Qatar's Mohamed Suleiman, who took first and second place respectively, he put in a strong run which appeared all the more remarkable in the light of what he had to say about his training.  "In the last few weeks all I've done is a little bit of track work," he confessed, "the first five or six hundred metres hurt  a bit as a result  but after that I settled down.  I didn't get any more tired.  I was catching people which gave me an incentive to keep the pace up."     Late entrant Tom McKean was less fortunate in his form.  Suffering from gastroenteritis and still on medication he was forced to pull out after 800 metres.  McKean for whom 1992 has hardly been the happiest in his athletics career  was planning to take a holiday before starting winter training.
In the women's race it was Olympic 800m champion Ellie van Langen who took the honours.  Despite having a gold medal from Barcelona under her belt the Dutch woman was surprised at her win.  "I don't do too many 1500m," she explained, "and I don't do many road races either."  This inexperience she thought explained what she thought was a misjudged race.  "When I got to the three-quarter mile mark I was surprised I still had another quarter mile to go," she revealed, "I realised I'd have to slow down or else I'd have blown up."  Whatever her own misgivings about the race, it must surely bode well for van Langen's proposed move from 800m to 1500m – something she hopes to do gradually over the next few years.  Behind the Amsterdam business economics students were two athletes with a lot more experience over longer distances, Sonia O'Sullivan, who placed fourth in the Olympic 3000mfinal and first in the World Student Games 1500m, and Yvonne Murray.  Although admitting disappointment at not winning such a prestigious event in front of a home crowd estimated at around 30,000, Murray said she had enjoyed herself and would be back again next year.  "I was surprised at how easy it felt," she said afterwards.  "I enjoyed it.  The crowd were right behind me all the way and I got a real lift from them."  Ireland's O'Sullivan who had caught Murray and was within a whisker of van Langen by the closing stages of the race, had perhaps more to feel disgruntled about.  "I was going at the same pace as Ellie at the end of the race but I couldn't pick it up enough to catch her," she said.  "I think I waited too long  before challenging."  
*
In an afternoon of athletics which lived up to all the preceding hype, it wasn't just the men's and women's international miles which proved exciting viewing for the spectators.  In the 'past masters' event, Eamonn Coghlan outsprinted a tiring Sydney Maree to clinch first place in 4:07.  His sudden burst of speed took the American by surprise but was, from Coghlan's point of view, easy to find.  "I saw Sydney looking around about ten times," he said.  "It's a sign that someone's tiring when they do that.  So I told myself to hang on, chose my moment and went for it.  It was a case of the hunter and the hunted."  Coghlan who said he enjoyed the race and thought the whole event extremely well organised , nonetheless had at least one refinement for next year's event which he said he would be putting to the organisers.  The 39-year-old who will be 40 in November said, "There should be a real legends race next time – for the over 40 brigade.  There were some guys running today who were in their early thirties.  There's quite a big gap between that and 40."  Coghlan, by the time the event comes around again, may have dipped below four minutes for the mile.  At any rate, this is something he hopes to achieve indoors during the coming winter season.  His chances of realising his ambition are very good.  Clocking 4:07 with self-proclaimed ease at the Princes Street event was, he said, a good indicator that he could manage his goal.  "I wasn't really trying very hard out there," he commented after the race.  "If I can do that sort of time with that amount of effort then I think a sub-four minute mile could be on the cards.  Second placed Maree said he'd be back next year – although for him, at 36, an over-40's race would be out of the question.  Maree who thought he was 'safe' when nobody had challenged him by 1200m joked that the lure of a prize car would be more than enough to bring him back to reap revenge.  (For the record, there was prize money of $20,000, $17,500 and $15,000 for the winners of the men's women's and past masters races respectively, but the bonus of a Volkswagen Golf and Polo for the first placed in only the first two of these categories.)
In the invitation intermediates and youths races there were strong performances from Isobel Linaker (Pitreavie) and Kevin Farrow (Derby).  Linaker, who  amongst numerous other achievements this year was recently named 'Young Miler of the Year', once again proved that she is one of Britain's biggest middle-distance hopes when she pulled away from a strong field to finish five seconds up on second placed Julie MacKay (Shaftesbury) in 4:53..   The international and UK wheelchair races were won by Faeke Waquna and Martin Kettrick respectively.  Kettrick, from Stoke on Trent, who is a member of the British Wheelchair Racing Association only started wheelchair racing at the end of last year and even then has participated mainly in 10K and half marathon events.  "I'm quite surprised to have won," he said later, "there's a lot of technique in wheelchair racing and didn't think I'd acquired all that was necessary yet." The overall consensus from competitors and spectators alike was that the afternoon had been an enjoyable one.  The net result would seem to be that there is every likelihood that there will be a Princes Street Mile next year.  As Steve Cram so eloquently put it, "When you get people who can cater with the roads and the police side of things, but can also understand the needs of the athletes, you get a good event. " "
 It was run on a good and successful course – so they altered it for 1993.    More later, but it had been a great success and there was really no doubt that having seen it the spectators wanted more, the council wanted more of the same publicity and having run it, the athletes wanted more.  So Gameplan organised another for. 12th September that year.
There was only a short preview in 'Scotland's Runner in 1993 but the race itself was reported in the magazine's very last issue – October 1993.    However there was an interesting build up to the women's race.  As part of the Grampian Festival of Road Running in Duthie Park, there had been a women's 5000m road race where Liz McColgan faced Yvonne Murray at the head of a good field.  They raced shoulder to shoulder – often literally – with Liz leading and Yvonne dogging her footsteps and often accidentally knocking or nudging her with her shoulder, arm or foot.  She broke away at the finish to defeat an exhausted Liz who was not happy about the way Yvonne had run the race, implying that the physical contact had been deliberate.  Both women were invited to the Princes Street Mile of 1993.  In the September issue of the magazine, the headline read ""Liz v Yvonne in Princes Street." and the article read:    "Arch-rivals Liz McColgan and Yvonne Murray are set to clash in next month's Princes Street mile road race in what will be their first contact since elbows and cross words flew at the Grampian Festival of Road Running.  McColgan presently battling against injury, has declared that she will run if fit in an attempt to avenge Murray's triumph in Aberdeen.    The Edinburgh race is living up to its billing as 'the world's premier road mile' with Philadelphia based Irishwoman Sonia O'Sullivan – currently world's fastest woman over 1500m and 3000m – and last year's winner and reigning Olympic 800m champion Ellen van Langen both confirming they will run.   Kenya's David Kibet, 1992 Dream Mile winner, returns to defend the men's race, while Eamonn Coughlan will try to become the first veteran to break four minutes when he defends the masters title.  Coughlan, who holds the worlds fastest time by a 40 year old, comes up against former world 5000m record holder, David Moorcroft, currently fastest veteran for the outdoor mile and another who would dearly love to become first vet under four minutes.  Said Coughlan, "David and I and several others, having been knocking on the door all season, and given good conditions and strong opposition, I see no reason why the barrier can't be broken in Edinburgh."     Charged with the task of ensuring that there is a world class field in Edinburgh is Kim McDonald who is also Liz McColgan's coach and is confident of 'delivering an unprecedented line-up of world class milers for what is now the world's top mile race.'" The two top Scots v the fastest woman in the world v the Olympic 800m champion in the women's race, vets going for a sub-four and a classy men's race – it really was shaping up to be possibly 'the world's best street mile!    On to the race. "A sun-filtered, thronging Princes Street provided the perfect venue for what proved, despite aspersions about the validity of the world-class billing, a true top-quality road mile.  The Standard Life Princes Street Mile was described afterwards by Matthew Yates, admittedly as winner of the men's mile a biased commentator, as 'definitely the premier road mile in the world.'  Yates' obvious delight was highlighted by unconfined celebrations on crossing the finishing line of the revised course after a controlled, carefully judged performance which he attributed to lessons learned from last year when, after trailing home fifth, he was sick on the steps of the Balmoral Hotel.  Winning in 3:56 this year he believed the round course – and the closing hill – was every bit as hard as last year, and said "I think the fact that I won was the only reason I wasn't sick."   The Kenyans struck up an outrageous pace at the starting gun with double world steeplechase champion Moses Kiptanui, last year's winner David Kibet and Spain's Olympic 1500m champion Fermin Cacho scorching to the front, but the race almost ground to a bizarre halt when Kiptanui took a wrong turning to follow a television bike through the traffic islands just yards away from the clearly coned turn.  Despite the mishap the turn was reached in 1:55 and, sprinting away from the mistake, conversely, ended their hopes and determined the Englishman's strategic win.  Later Yates explained, "they went faster off the turn and made up five metres on the rest of the field.  I stayed calm and collected at that point.  If I had gone with them I wouldn't have won.  I have seen runners take the wrong turning this year, at the Aberdeen meeting, but they should have run the course before the race like everyone else." 
The front runners who had made all the early pace faded badly.  Kiptanui hung on well to finish fourth in 3:58 while Kibet crossed the finishing line in 4:01 for eighth, and Cacho ended in ninth suffering from a muscle pulled during the earlier blunder.  Obviously the early leaders misjudged, a mistake not made by Yates. who remembered the energy reserve needed after covering the straight course last year.  "I found out about the hill last year," he grinned, with a Citroen car to give his Mum for her birthday and $3000 richer.  Yates beat countryman John Mayock into second place in 3:57 while American Jim Spivey crossed the line half a second behind, with Steve Cram, enjoying a return from 5000m to the distance he dominated through the 80's coming fifth in 3:58.   But for Yates the win indicated the world quality that British middle distance running maintains now despite slurs from past greats this year.  Steve Ovett enjoyed a race with a group of youngsters in the Race with Stars in the morning, and Yates fired a triumphant blast at his friend when asked why celebrations were so euphoric.  The 24-year-old whose season was plagued with injury last year said, "I'm getting fed up with Steve slagging of British middle distance running.  World athletics is so much harder now, especially to win middle distance events.  But we've got me and Curtis Robb who are up there," he said. 
It was interesting that Steve Scott, perhaps the world's greatest, unrecognised 1500m runner of all time, said he believed that Yates would be the man to watch for future Olympic honours at that distance.  Scott himself enjoyed his Edinburgh date, winning the Past Masters Mile with a time of 4:14, just ahead of Eamon Coghlan, both of whom are still very much chasing honours and recognition despite respective ages of 36 and 40.  Both are the front runners in the bid to be the first veteran to break the four minute mile.  Scott said, "I'm just hoping and praying that nobody else does it so I can be the first."  Scotland's John Robson provided a rare home performance to be proud of with a time of 4:17 in the Past Masters.  The Scots performances in the International Men's race was poor.  Phil Mowbray was best placed in tenth with 4:03, Glen Stewart came twelfth in 4:06 and Gary Brown and Tom Hanlon traipsed over the line fourteenth and fifteenth.
Yvonne Murray raised home hopes in the women's event but not halt the roll of Itishwoman Sonia O'Sullivan.  Winner of four Grand Prix races already this season  with a silver medal in the 1500m World Championships and a fourth behind the Chinese trio in the 3000m, the 23-year-old looked every inch what she is – world class.  Nervous before the race at the lack of motivation she felt, her failure to 'psych' herself up was not noticeable as she stuck to the shoulder of early front runner Boulmerka, the Algerian Olympic 1500m champion, before easing away with Murray hot on her heels in the home straight.  Murray hung on for much of the race but eventually began to struggle as O'Sullivan piled another garland on to her season's pile, marking a natural progression from last year's second place.  Home in 4:25, Murray was nehind at 4:26 while last year's victor Ellen van Langen from Holland was third on 4:29. Murray was not too upset by her second place and said: "Everyone says I have got home advantage, but that hill gets me every time.  It's a bit of fun at the end of the track season.  All the girls just go out and have a bit of fun."  The presence of the Scot on her shoulder was amazingly never noticed by the Irish woman who said the intensity of the track and closeness of competitors was lost on the open road.  Running in only her second road race in two years, O'Sullivan, meanwhile, recognised that her season's fun may soon be coming to a halt.  "I'm probably getting towards the end of my roll," she admitted.  O'Sullivan's season has been dogged by a continued amazing run of results from the dubious Chinese and her happiness at the win was tarnished by the news that five Chinese had beaten the 3000m world record in the semi-finals of their championships.  "I thought everybody was pulling my leg," the unofficial number one said.  "I'm not surprised at all.  We've been hitby three times already this week, so you've just got to accept it.  There's nothing you can do about it."   
In the Junior Women's event a truly striking performance stole the show.  Claire Martin from Wales knocked 17 seconds off her previous personal best for the mile, taking Lisa Palmer from England and Kirkcaldy's Hayley Parkinson by surprise.  Parkinson will be joining Edinburgh University in the autumn to study sociology and enjoyed the visit to her alma mater.      "I was quite pleased," she said, "I had hoped to do better as the girl from Wales has a slower personal best for 1500m.  I think she surprised us all."    Karen Kirk was placed eighth.     In the Junior Men's race Tom Winter of Edinburgh Athletic Club and Scott Taylor from Babcock Thorn Pitreavie were not expected to make any impression against the mighty Victor Malakwen.  Based at the same military camp in Kenya as Moses Kiptanui and with a personal best in the 800m of 1:46.6, he romped the course in 4:14 with Winters running a time of 4:18 and Taylor a second behind in 4:19.  The 19-year-old Malakwen said later: "I enjoyed the race but the ground was too hard for me, but then it was my first time in a road mile."     Heinz Frei of Switzerland had no trouble manoeuvring the turn in winning the wheelchair mile in 3:21.  The turn varied from last year's straight mile but the new course provides a better arena dor  the 25,000 spectators police estimated had turned out for the day.  Promoted by Standard Life and supported by Lothian Enterprise and the city council the event is now one of true world standing and Mike Wilson of organisers Gameplan said an announcement would be made in the next four weeks on its future.
Results: Men:  1.  M Yates (England)  3:56;  2.  J Mayock (England)  3:57;  3.  J Spivey (USA)  3:57. Women:  1.  S O'Sullivan (Ireland)  4:25;  2.  Y Murray  (Scotland)  4:26;  3.  E van Langen (Netherlands)  4:29. Wheelchair:  1.  H Frei (Switzerland)  3:21;  2.  D Holding (England)  3:29;  3.F Waque (Netherlands)  3:30. Past Masters:  1.  S Scott (USA)  4:14;  2.  E Coghlan (Ireland)  4:16;  3.  J Robson (Scotland)  4:17. Junior Men:  1.  V Malakwen (Kenya)  4:14;  2.  T Winters (Scotland)  4:18;  3.  S Taylor (Scotland)  4:19. Junior Women:  1.  C Martin (Wales)  5:04;  2.  L Palmer (England)  5:14;  3.  H Parkinson (Scotland)  5:16.
The former course of course would have prevented the leaders from leaving the straight and narrow of the race trail, had the leaders who went of the course not jogged over the route before the race as Yates suggests then they should have done.  The race organisers however seem to have done a good job – with Kibet, Kiptanui, Cacho, Cram and Yates in the field it was a  quality event; the women's race with van Langen, O'Sullivan and Murray was also of a very high standard, the wheelchair race had the same athletes competing as the year before and the presence of a 19 year old Kenyan in the Youths race was also a coup.    The fact that Youths were defined as being Under-17 is maybe a quibble.  It was undoubtedly a well organised event.  Mind you, Eamon (and was it Coghlan or Coughlan?  Both spellings were used by the various reporters). must have been disappointed that they had not taken up his suggestion of a proper Over 40's Mile with youngsters like Steve Scott and John Robson being in the field.     BUT   The race had seen its two best years.  There was no Princes Street Mile in either 1994 or 1995.  Doug Gillon reported in the 'Herald' on 17th September 1994 as follows.  "The Princes Street Mile road race was cancelled yesterday juts a week before the event which was expected to attract international athletes to Edinburgh.  The illness of the promoter, Mr Mike Wilson of Gameplan, had thrown organisation for the event, due to take place next Sunday, into turmoil.  The main sponsors, Edinburgh and Lothian Enterprise Ltd, Lothian Regional council and Standard Life went to the Court of Session earlier this week to have a Judicial Factor, Mr Mike Gilbert, appointed to take over the running of Gameplan in the hope of saving the race.  However Mr Gilbert said yesterday that after carrying out as full a review as possible, he was recommending the appointment of a provisional liquidator.  He had been unable to determine the full range of financial commitments which had been made.   The women's mile would have been a race of the highest quality.  It was to be a gala homecoming for Musselburgh athlete Yvonne Murray making her first appearance in Scotland since her Commonwealth Games 10000m victory in Vancouver last month.  There was to have been a rematch between Murray and Ireland's Sonia O'Sullivan, who beat Murray for the European 3000m crown in Helsinki, with Olympic champion Hassiba Boulmerka of Algeria dn England's Kelly Holmes also taking part.  About 25 world-class competitors had been confirmed.  The men's race was to include Spain's 1500m Olympic champion Fermin Cacho, Olympic 800m champion William Tanui from Kenya and Scotland's European Indoor Mile gold medallist David Strang.  The multi-race programme included events for the disabled, .  The local enterprise company had already put up $17,500 of its total sponsorship commitment of $27,000, Lothian Region had given Gameplan $22,500 of the $50,000 promised and Standard Life had forwarded $200,000 for this year's event.     Mr Wilson had set up a subsidiary company, Gameplan Events Management Consultancy Ltd, to stage the event and around $200,000 of the sponsorship money remained in a special trust account for the race.  "I have not been able to establish how much income was coming in and what the total cost would be," Mr Gilbert explained.  "There is not enough time to establish the exact financial position to allow sponsors to say this is the likely level of commitment for the event to go ahead.  I could not suggest to sponsors that they should enter into something that was open ended."  Neither Mr Gilbert nor the sponsors had been able to speak to the promoter to ascertain the financial position.  This would have been the third race and the third consecutive year that it has hit financial difficulties.  The Regional Council and LEEL had come to the rescue of the first race in 1992 when it had made losses of $50,000.  This was on top of $75.000 funding from each body and commercial sponsorship of $100,000.  Last year again, the Council was asked to $65,000 in to let the event go ahead with LEEL donating $50,000 and Standard  Life $150,000.  The race still made a loss which was made up by the public bodies.  It is not the first time Mr Wilson's promotions have run into difficulties.  Last year the World Robot Championships in Glasgow had to be cancelled with weeks to go when it emerged that there was "a very significant shortfall" in confirmed sponsorship deals, and at last year's European Sea-Angling Championships in Caithness, organisers discovered a promised sponsorship deal had failed to materialise a fortnight before the contest."
That was it then for 1994 and again in 1995 but in 1996 there was an attempt to resuscitate what had been an event popular with the public and the athletes.  It was down to Doug Gillon that the public knew of the possibility of the race.  Almost two years later to the day, on 18th September 1996, the article appeared in the 'Herald' under the headline "Princes Street Mile Back On The Agenda.'  It was short but encouraging and also shed more light on the finances of the first two races.  It read "Plans are afoot to revive men's and women's races along Princes Street as part of this year's Great Caledonian Run a week on Sunday.  Miguel Mostaza, the leading Iberian marathon coach who acts as Cacho's agent confirmed to 'The Herald' that Cacho would run.  John Mayock, the AAA's 1500m champion for the last two years, and winner of the 2000m at the Sarajevo Solidarity meeting this year, is also likely to run.  As yet the Scottish Athletics Federation has allocated a permit only to the 10000m , but with no counter-attraction on on the day, a permit for the Mile would seem a formality.  The Princes Street Mile was axed three years ago.  Former organiser Mike Wilson who was not contactable yesterday, may still hold copyright to the title."
Sure enough the race did go on in 1996, but it was as part of a package including the two 10K road races referred to by Doug in his article quoted above.  That led to a headline reading 'MURRAY MAKES AMENDS' in Athletics Weekly which had some of us thinking she'd won the Mile at last but instead it referred to her victory in the longer event in 33:16 from Esther Kiplagat of Kenya (29:11).  The men's race was won incidentally by Christopher Kelong of Kenya in 29:11 for the difficult course.  But there were only two mile races this time – a men's and a women's – each with good field but not with the same strength in depth as in 1992 and 1993.  The report  read:
"Ann Griffiths thoroughly enjoyed her return after a long lay-off winning the women's race by a second from European Cup champion Olga Churbanova.  Organised at short notice by thanks to sponsorship by Lothian and Edinburgh Enterprise Limited, and sportswear firm View From, the Edinburgh Mile followed the BUPA Caledonian Run.  It marked the reappearance of road miles to Princes Street after the point-to-point races folded three years ago.    Unlike its predecessor, organisers designed a course with three turning points allowing spectators regular opportunities to follow the races.  Griffiths, the 1990 Commonwealth 800m silver medallist, bided her time for a sprint finish, a strong wind blowing in the runners faces in the first half of the race preventing any fast times.  Then the relatively slow pace (440 in 75, 880 in 2:31 and three quarters of a mile in 3:56) allowed the field to stay virtually intact until the final burst for the line.  The Russian and Kenyan looked favourites until Griffiths turned on the speed over the final 200m to win by a second in 4:49.  Griffiths whose Olympic ambitions were ruined by a chest infection at Easter said, "It was a tough race, and the wind gave everyone a lot of bother.  That's why I thought I'd wait until after the final bend then go for it.  I know I'm stronger than most women."  Now Griffiths is looking towards gaining a 1500m place in the World Indoor Championships.  "I've got no injuries or illnesses.  I'm flying and winning, like today, is what it's all about." she said.     Having helped promote the meeting John Mayock was also hoping to give the race backers a British victory.  But a long hard season has taken its toll on the British number one.  After a 62 second first quarter mile, the 17 starters were still bunched together.  Like the women's event, the 880 went by rather sedately in 2:08 and three quarters in 3:05 before a sprint for the line decided the winner.  Even with 20 yards remaining that seemed likely to be Scotland's Glen Stewart.  But practically on the line Italy's Massimo Pegoretti eased his torso ahead to cross the line in 4:07.  Five others, including Mayock, remained in the frame almost to the bitter end.  The Commonwealth 1500m bronze medallist shrugged off his defeat in his final race of the summer season.  "I just wasn't good enough," said Mayock.  "I gave it my best shot but it just wasn't there.    I'm feeling really tired and I'm looking forward to a long rest." 
Results:  Men:  1.  M Pegoretti (Italy)  4:07;  2.  G Stewart (Scotland)  4:007;  3.  A Abelli ((Italy) 4:08;  4.  J Mayock (England)  4:08;  5.  N Caddy (England)  4:08;  6.  C Impens (Belgium)  4:08;  7.  R Kibet (Kenya)  4:09;  8.  B Treacy (Ireland)  4:10;  9.  D Roache (Scotland)  4:10;  10.  D Spawforth (England)  4:11;  11.  S Fairbrother (England)  4:12;  12.  S Healy (Ireland)  4:13;  13.  T Whiteman (England)  4:13;  14.  A Wanderi (Kenya)  4:14;  15.  T Martin (Spain)  4:19;  16.  M Hibberd (England)  4:20;  17.  V Wilson (England)  4:24.  Women:  1.  A Griffiths  4:49;  2.  O Churbanove (Russia)  4:50;  3.  J Kiplimo (Kenya)  4:51;  4.  S Griffiths (England)  4:52;  5.  K (Hutcheson)  Hargrave (Club Sportif Nantfl/Scotland)  4:58;  6.  A Buysse (Belgium)  5:00;  7.  H Pattinson (England)  5:00;  8.  I Sluysman (Netherlands)  5:04;  9.  M Zuniga (Spain)  5:07;  10.  T Ashcroft (England)  5:10;  11.  M McClung (Scotland)  5:17.
It is interesting to note how close so many of the men were – six within two seconds of each other and nine within three seconds!  The appearance of Karen (Hutchison) Hargraves was also a feature of the race, the former Scottish Commonwealth Games runner was racing in the colours of her French club team after having gone to stay there.
That was the last of the Princes Street Miles – Mike Wilson may well have held the copyright of the title for the race in '96 was billed as the Edinburgh Mile.  Sponsorship wasn't as good, the course was not as athlete-friendly as in earlier years with several very tight turns (almost U turns in fact) and the races shared the limelight with the mass fields of the BUPA Caledonian 10K.  It was a pity that they had to go because everyone enjoyed them but the financial demands on the organisers were probably such that they could not afford to keep it running.