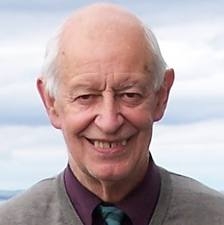 Professor N. Craig C. Sharp (born 1933) was awarded the honorary degree of Doctor of Science by Glasgow University in 2005.
The citation reads as follows. "A key founder of sports science in the UK, Professor Craig Sharp's career has bridged the clinical, academic and political world between veterinary physiology and the Olympic Athlete. University of Glasgow graduate Professor Sharp lectured at the Veterinary Faculty. He later changed fields and in 1971 was appointed to the inaugural Lectureship in Sport and Exercise Physiology at the University of Birmingham, becoming founder Director of the Human Motor Performance Laboratory there. In 1987 he collaborated with Dr Mark Harries to set up the British Olympic Medical Centre at Northwick Park Hospital and Clinical Research Centre. In 1992 he was appointed to the Chair of Sports Science at the University of Limerick, and in 1994 was appointed to the Chair of Sports Science at the Brunel University. He has been advisor to a large number of elite competitors and teams, including David Moorcroft (5000m World Record Holder, 1982), Steven Redgrave (Olympic Rowing Champion 1984-2000) and Glasgow Rangers FC. He was selected as official/coach at four Olympic Games between 1972 and 1988, three of them as a canoe coach/trainer, and at numerous World and European championships in squash and canoeing. In 1988 he was awarded the Dunky Wright Memorial Medal for research services to Scottish Athletics. In 2002 he was awarded the International Olympic Council's prestigious 'Sport and Wellbeing' award, for services to International and UK Gymnastics."
The above is dryly formal yet undeniably impressive. But what are the origins of Craig Sharp's illustrious career, during which he has received many more awards than those already mentioned?
Craig himself writes that, on a rainy day in 1948 he was a spectator at the London Olympics and witnessed an epic 5000m contest. Having started the last lap about 50 metres ahead, the Belgian Gaston Reiff only just managed to hang on desperately as Emil Zatopek of Czechoslovakia launched an amazing sprint. Reiff won his gold medal by 1.5 metres (0.2 of a second). Craig claims "That was what turned me on to Athletics!"
The young Craig Sharp became a member of Victoria Park AAC, and demonstrated talent by finishing fourth in the 1952 SCCU National Youths Championship. He is proud of the fact that he won the VPAAC Youth Championship and featured in his club's Junior and Senior teams, at a time when they were the best in Scotland. In fact he was tenth in the Scottish Junior CC in both 1953 and 1954. Had he not been entered as an individual in 1953, he would have counted in the Vicky Park outfit which won team gold medals.
At Glasgow University he was third on two occasions in the Scottish Universities CC Championships, ran for SU, and was awarded his 'Blue' in 1953. He served as Treasurer, Captain and, from 1963-1966, President of GU Hares & Hounds. In 1964 he presented a silver trophy in memory of a late friend, J. McCulloch, to be awarded to the best GU runner, decided on a points basis over the season. Allan Faulds was the first winner; followed by Brian Scobie in 1965.
By then, Craig was working as a lecturer at the University of Glasgow Veterinary School, but from 1964 to 1967 he was seconded to the University of East Africa in Kenya. While there he played squash professionally for Kenya (and later on for the West of Scotland). An outstanding athletic feat was when he established a record for the (unaccompanied) running ascent of Mount Kilimanjaro (19,340 feet / 5985 metres) in 6 hours 48 minutes, starting at around 6000 feet / 1828 metres.
He returned to Glasgow to become acting head of the Veterinary School but, as mentioned previously, changed career in 1971. His own athletic experience was useful, as well as the fact that he had some knowledge of racehorses and racing greyhounds. Craig's main aim became to develop the practical application of exercise physiology to competitors and coaches.
Many national squads came to Craig Sharp's Human Motor Performance Laboratory for testing and advice. These included GB men's artistic gymnastics, sprint and slalom canoeing, England volleyball, GB judo, GB women's and men's squash, and some GB rowers. In addition, a number of individual international competitors from track and field athletics, tennis, shooting and archery came regularly, with their coaches, for testing.
Famous athletics coaches who Craig Sharp worked with included John Anderson, Peter Coe and Harry Wilson. Craig was involved with altitude training in St Moritz before the 1972 Olympics and was also Director of Doping Control at a number of world championships. One fascinating anecdote is told about Craig happening to be next to Lasse Viren in the showers around the time that it was rumoured that Finnish athletes might be blood-doping. Craig checked the great athlete surreptitiously for suspicious injection marks and could see none – so he is to this day convinced that Viren was 'clean' and simply a brilliant runner who peaked extremely well.
One especially interesting article by Craig Sharp can be found by googling 'What have the sports scientists done for us?' Elsewhere, he has stated that there are four main gaps with respect to the quality of current sports science provision to elite sport. First, he thinks that we are very deficient in the testing and provision of sports science to highly promising athletes at school level. Second, the same applies to a considerable extent to sports science work with women. Third, likewise with the variously disabled, who have a varied set of testing needs. Fourth, he would like to see more of the accredited laboratories becoming sport specific. Ideally, he would like to see far fewer and much bigger departments of sports science, affording greater critical mass to each of the sports science disciplines.
Discussing the possible limits of human performance, Craig Sharp has said "Unless you have got tactical sense where needed, unless you have access to good equipment, medical back-up and the physiological conditions to have the winning attitude and be able to drive yourself through pain and, of course, superb technique, all the physical side will be in vain."
People who have met and worked with Craig Sharp retain respect and affection for a real expert who has remained modest and genial. Brian Scobie, formerly captain of GUH&H, a Scottish Veterans cross country champion and successful athletics coach to former GB marathon record holder Veronique Marot, has written the following. "Craig Sharp was President when I was running for Glasgow University. In 1965 I won the trophy that he had presented a year earlier. My subsequent re-connection with him was when he was heading the newly-created British Olympic Medical Centre, in Uxbridge. In the late 1980s we had a number of professional contacts in relation to my efforts to prepare Veronique for the Worlds and Olympics 1990-1992. Craig was very knowledgeable and very accessible and helpful at every point, friendly and assiduous. Through him I had a mobile lab-van trackside in Leeds at one point, doing lactate field-tests. (Try that nowadays!) So Craig was a big and positive influence for me from the 1960s to the 1990s. In student days, he seemed to bridge the gap easily between student-runners and staff. He was a good friend of Douglas Gifford, who won the Scottish Universities CC Championship in 1960."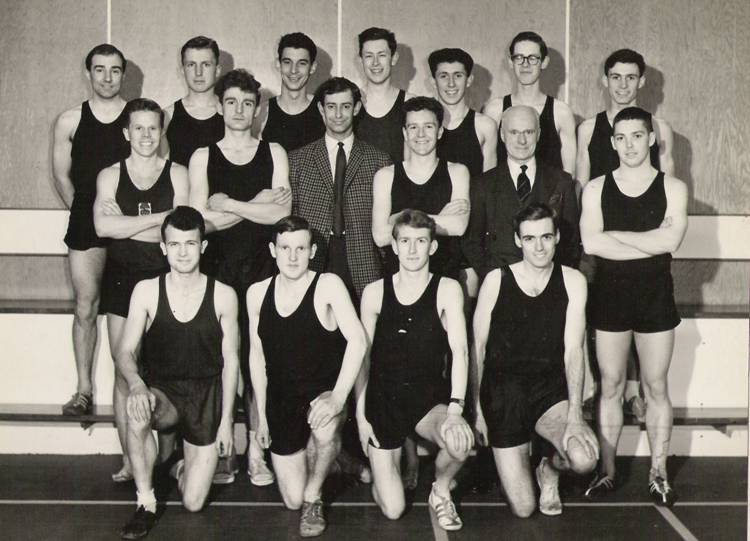 Craig Sharp third from the left in the middle row