Peter leading Geoff Main (whom he eventually beat clearly) in the 1994 Castle Series race at Haddo House. Peter won the whole series that year.
Peter Jennings and Jackie Stewart are exemplars of the Scottish club member at his very best. They started out as runners and went on to fill a multitude of roles in the sport, all of them to a very high level. Let's look at them briefly before we hear about how well they dealt with them all.
As runners: the quality of their athletics is set out below and this undoubtedly gave them an insight into the sport and a recognition of the needs of the athletes,
As administrators: these are the people who organise meetings. Without them there would be no meetings – they sit on the committees that book the facilities, lay the trail, produce the programmes, take the entries, produce the results and do all that a good meeting requires. They have been administrators at club, district and national level.
As officials: these are not to be confused with administrators although they often are. They are the timekeepers, the recorders, the stewards, the marshals, the starters and all the people on the course or down at trackside working with the athletes on race day. Again they have been active at club, district and national levels.
As coaches.
Peter and Jackie have filled all of these roles and done so diligently and like the best of them, not just willingly but enthusiastically.
Fraser Clyne wrote:
It's almost impossible to speak about Peter Jennings without mentioning his side-kick Jackie Stewart. They appear inseparable. Like Ant and Dec, Morcambe and Wise, Laurel and Hardy.

There's hardly a race finish line in the north east where they haven't been seen. Everything from small scale runs such as the Metro Proms 3k to major events including the Great Aberdeen Run, Baker Hughes 10k and the two-day Run Balmoral weekend. They have devoted countless hours to planning and marking out courses, compiling risk assessments, organising marshals, recording and collating results – not to mention the 101 other tasks which have to be carried out to allow an event to proceed smoothly. Thousands of North-East runners should be grateful for all they have done – and continue to do. Without their input, many races would never take place.
On top of that, they oversee twice weekly training sessions for Metro Aberdeen club members – and sometimes Junior training sessions as well. Peter and Jackie were founder members of the club, formed in late 1989/early 1990, and filled prominent positions on the committee for close to three decades. They have made a major contribution to the development of Metro which now has almost 400 members. Their most successful competitive spell, arguably, came when joining the Masters ranks, supporting the strong Metro squad in Cross Country and Road Running events.
Colin Youngson wrote:
Peter used to run for Aberdeen AAC, and I must have met him in the 1980s, but he joined Metro Aberdeen Running Club when it was formed in 1989, I joined in 1993 and we have been good friends ever since. Peter is enthusiastic, dedicated, friendly, very popular and has done a tremendous amount for North-East Running.
Jackie was another founder member of Metro. He was a tough man to beat in training and races, and direct and forceful in speech, but undoubtedly a cheerful, inspiring, determined guy, who also became a friend. Below, he writes about his running career, and all the good work he continues to do in the sport. He and Peter are Great Club Men indeed!
(Jackie was Metro Secretary for many years, while Peter was President. Jackie, a quietly modest character has, for years, put together twice-weekly training programmes for Metro members plus youth coaching for youngsters. Jackie, with Peter his right-hand man, has led the way with race organisation, dealing with entries and producing results. Fraser Clyne, Peter Jennings and Jackie Stewart make up the Management Team for Run Balmoral. Both Peter and Jackie have made a massive contribution to North-East running.)
Peter was always a decent club runner, but perhaps his best results were as a Veteran/Master. Between Season 1995-1996 and 2001-2, Peter won many Scottish Championship medals.
In the Scottish Masters Cross-Country Championship, Peter gained five successive team silvers (1996-99). His best individual place was 13th (1997); and in 2000 he was third team counter (23rd), two places in front of me. Our silver medal team-mates included: Keith Varney, Paul Graham, Fraser Clyne, Mark Johnston and Kevin Brooks.
In the Scottish Masters XC Relay, Peter was unlucky not to be in the 1997 winning Metro team (his great buddy and training partner Jackie Stewart was his replacement). However, in 1998 and 1999, Peter's team won silver; and in 2000, Metro (and Peter) secured gold, along with Charlie Noble, Keith Varney and Bruce Moroney.
In the November 1996 East District XC Masters Championships, Peter finished fourth (second Metro man) and the team won gold. (Fraser Clyne, Peter Jennings, Jackie Stewart).
The two Amigos, Peter and Jackie, also featured in three successive team silver medal performances at the Scottish Veteran Harriers Club 6-Stage Road Relay (1997-99).
As a Senior, Peter Jennings ran for Metro in the prestigious 8-Man Edinburgh to Glasgow Road Relay in 1995 (running Stage 1); and in 1998 (Stage 7, with his team finishing 11th from the invited 22).
Apart from Championships, Peter ran so many races, at distances from 5k to marathon, but he can list some of his favourites.
Peter Jennings wrote:
In 1955, I was born in Aberdeen but live in Westhill now. Started running aged 30. My personal best times are: 5k 15 30; 10k 32 40; Half Marathon 1.12.40; Marathon 2.45 28.
In the 1997 Masters Cross-Country Relays, I had to give up my place to Jackie as I had broken my arm at the Bennachie Hill Race.
One of my favourite races was the Bennachie hill race. I ran the very first one in 1990 where I finished in 6th place. I ran it the following year where I finished 2nd to one of the best hill runners in the country (Scottish International Graeme Bartlett). I ran every year up until about 5 years ago, But I go there every year to check the course for the organiser, then I do the timing.
I have 4 Scottish Masters silver medals for the Marathon distance: Elgin 1997 (behind Fraser Clyne, race winner); Inverclyde 1998; Elgin 2000 (behind my friendly rival Jackie Stewart); perhaps the fourth one was at Lochaber.
Two other results that pleased me were: 1997 Edinburgh to North Berwick 22 miles (1st Vet 2.22); and 1999 Highland Cross 3 48 (1st Vet).
My best performances were in Cross Country and Hill Running. One of my best results was winning the Castle Series in 1994 where I finished in front of a few runners that I could not get near to on the roads.
I was on the Metro Committee from day one for 27 years, most of the time as Chairman.
I was on the NESAP (North East of Scotland Athletics Partnership) Committee for over 25 years. I ended the group this year and donated the remaining funds (£3750) to the DEC Ukraine fund.
The first race I organised was the Dyce Half in 1991 (which I took over as Alan Fulton was looking for someone to take it on so, rather than lose the event, I said I would take it on. I was still the organiser up until a couple of years ago. I am still involved through the club.
Since then, I have been involved in organising hundreds of races. Jackie Stewart and myself are involved in almost every event in the area.
We have organised two Scottish Masters Cross-Country Championships, two East District Cross-Country Championships and have been involved in many more events.
We were on the organising committee for the very popular Aberdeen Baker Hughes 10k for many years.
We are the Race Directors for RunBalmoral, which is a festival of running in the Balmoral Estate attracting almost 6000 runners over a weekend in April.
I am a level 3 UK Athletic Coach and have been coaching for almost 30 years.
I am now a qualified UK Athletics Official. I was the Race Convener at this year's Scottish Masters Cross-Country Championship. I have also been involved in the Scottish National Cross-Country Championship at Falkirk and the National CC Relays at Livingston.
Some time ago, Jackie and I were nominated as Volunteers of the Year and were invited to a Scottish Athletics event in Glasgow, where we met Laura Muir and Steve Cram – and finished runners-up.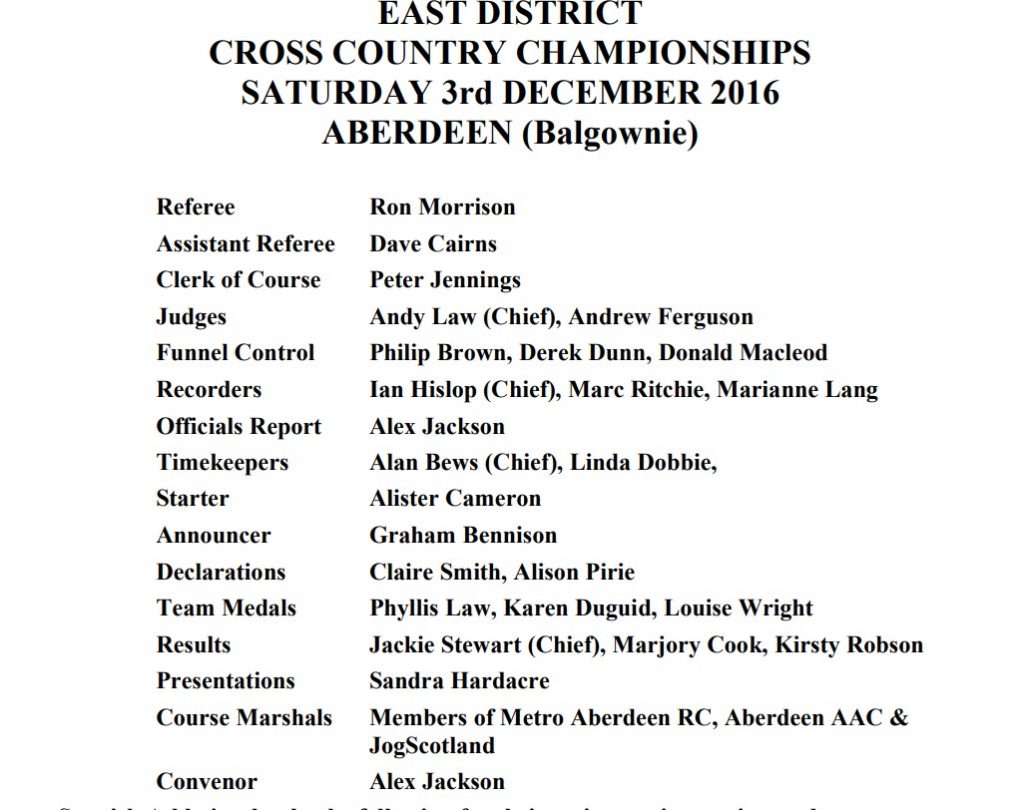 As Fraser and Colin have said above and Alex Jackson has also said, Jackie Stewart and Peter Jennings are very much a double act, and it would not have been right to write about one but not the other. So having given Peter the opportunity to comment, we should certainly do the same for Jackie.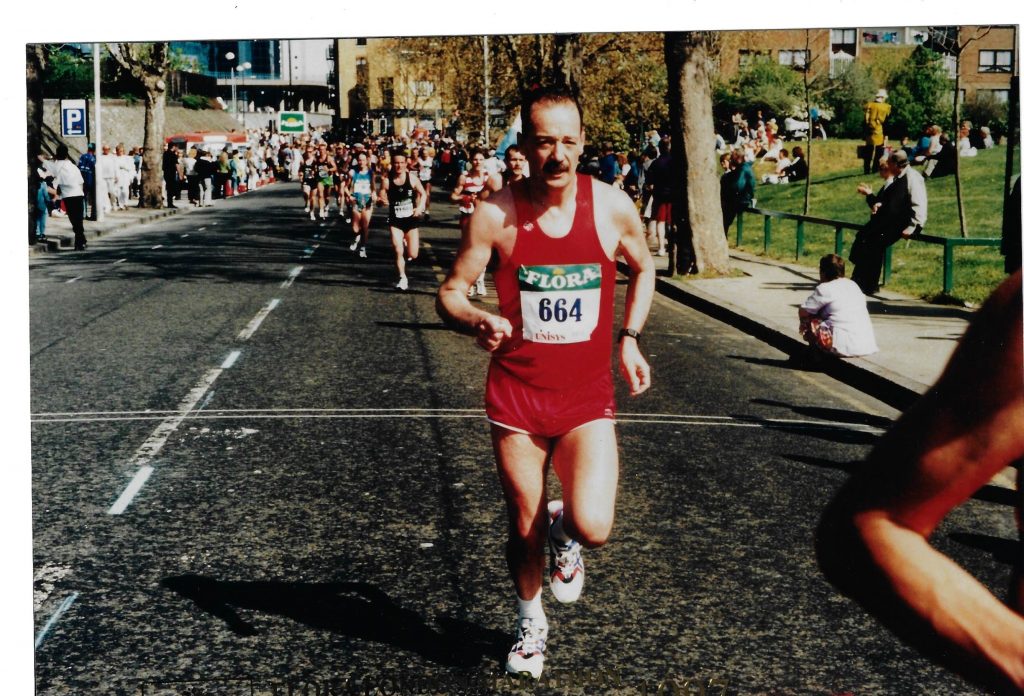 Jackie Stewart racing the 1997 London Marathon, where he ran his personal best time
Jackie Stewart wrote:
I was born September 1952 in Aberdeen. I stay in Westhill and have done so for 44 years. I started running in 1986 aged 34 after I retired from playing Amateur Football.
Personal Bests: 50K 3:26:40, Marathon 2:40:35, Half Marathon 1:14:00, 10K 33:45
In 1992, 93, and 94, after turning vet, I participated in the Castle Series, of 3 races. In those years I won 9 out of 9 races claiming 3 overall veteran titles.
1998 Silver Medal British Vets Marathon O/45 at Lochaber.
1999 Silver Medal Scottish 50K Championships.
2001 Silver Vets Medal Scottish Championship, Elgin.
Coming in 1st Scottish Premier Club, representing Aberdeen FC, in the 2001 London Marathon Football challenge.

In 2001 I developed Atrial Fibrillation, which has dogged me ever since and really put paid to my racing days. My heart has been permanently out of rhythm for 19 years. It has also curtailed my own running, so just I jog to keep fit.
I must admit I have had a few highs: Winning the Castles in my first race as a Vet; getting my pb at London Marathon 1997; securing a silver medal in the Scottish 50K Championships, when I unlapped myself from Alan Reid, and got a backhanded compliment from him, when he said he
knew that if he hung onto me, he would win the race.
As a Coach, I am proud to say I started the Junior Section for Metro Aberdeen. There were only a few at the time; and some of the women weren't coming to training. I asked why and they said they had the kids to look after. I told them to bring the kids down too and, as long as they were willing to work, I would coach them. The rest is history – we now have around 50 Juniors.
I also coach the Seniors on a Tuesday and Thursday and have done for around 25 years. There are many runners in the club who have gained PBs from the training.
I have also coached one to one and a couple of my female runners went on to gain Scotland and District vests.
Regarding organising races, it takes up a lot of time. I liked to pride myself in getting the results of races which Peter and I organised out on the same day. Peter and I have helped organise many races in the North East. We have a good reputation with Scottish Athletics; and the Local authorities know that, when we are involved, it is in safe hands. We take pride in covering all areas of a race.

I am also a Level Two Endurance Official, which is very satisfying, seeing how others work at races. I have been mentored by SAL officials to try and gain my level three and really enjoy meeting the other officials and meeting and greeting the runners as they finish. You get satisfaction in being there to help other people who ask us questions and are able to answer them. I cannot compete now, so being an official is as close to the National races that I will get.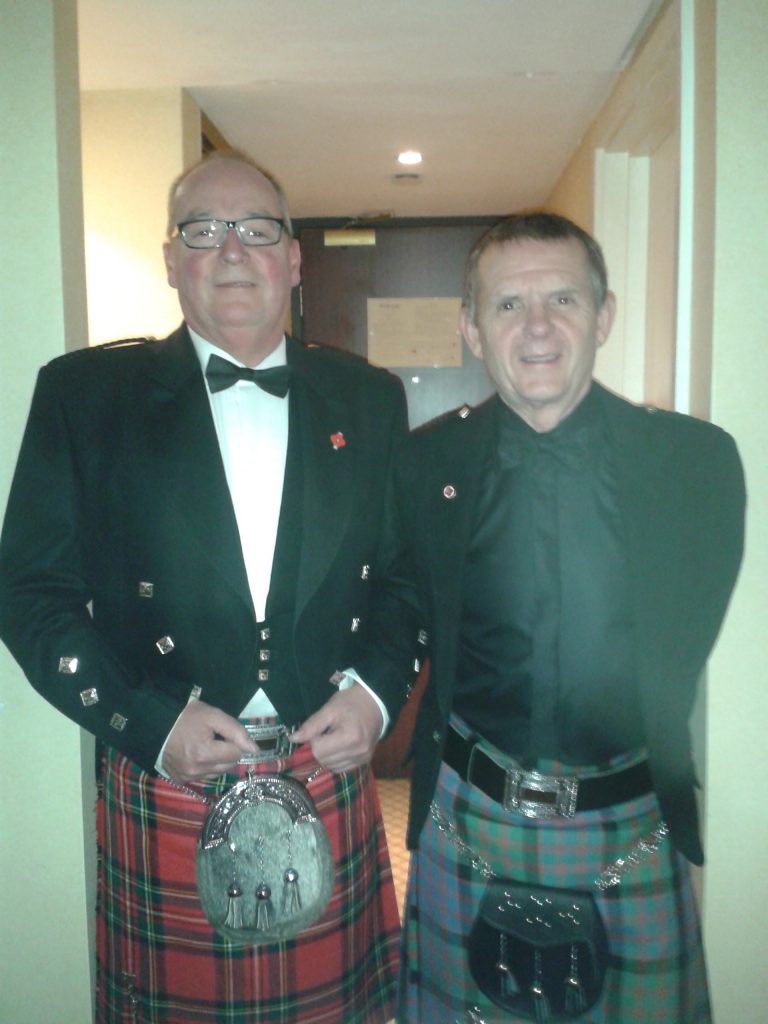 Left to right: Jackie and Peter at the Scottish Athletics Presentation evening