2016 WORLD MASTERS ATHLETICS CHAMPIONSHIPS, PERTH, AUSTRALIA
There was a medal rush from the Scots in the final day of the Championships in Perth with the stars of the show being (unrelated) Gold Medallists Claire Thompson (Victoria Park Glasgow) and Paul Thompson (Cambuslang).
Claire, following her PB in yesterdays "warm-up" 1500m, claimed her first World Title, winning the W40 2,000m Steeplechase with a time of 7mins 25.49secs to beat the top Australians by a massive 24secs. Perth proved to be an excellent hunting ground for Claire, leaving with a Gold and Silver medal.
Paul added the title of M60 World Half Marathon Champion to the 5,000m which he won earlier in the week. He also led his team to Gold medals in the team race, taking his tally of medals to four for the championships. Paul finished the half with a time of 83 mins 00secs.
Moving back to the track, Julie Wilson (Inverness), running in her first chase over the distance, also picked up her first World medal, running a very courageous race in the W45 2,000m Steeplechase, finishing 3rd with a time of 8mins 10.23secs.
Summary of Medallists
Gold – Paul Thompson M60 5000m
Gold – Paul Thompson M60 Half Marathon
Gold – Paul Thompson M60 Half Marathon Team
Gold – Claire Thompson W40 2,000m Steeplechase
Gold – Sue Ridley W50 Cross Country Team
Gold – Alex Sutherland M65 Cross Country Team
Gold – Janette Stevenson W65 Cross Country Team
Gold – Jan Fellowes W60 Half Marathon Team
Silver – Janette Stevenson W65 Cross Country Individual
Silver – Janette Stevenson W65 4x400m Relay
Silver – Ian Williams M35 Cross Country Team
Silver – Colin Feechan M55 Cross Country Team
Silver – Colin Feechan M55 Half Marathon Team
Silver – Claire Thompson W35 Cross Country Team
Bronze – Jane Scott W35 100m Hurdles
Bronze – Janette Stevenson W65 5,000m
Bronze – Julie Wilson W45 2,000m Steeplechase
Bronze – Paul Thompson M60 Cross Country Team
Bronze – Caroline Lawless W55 Cross Country Team
Bronze – Jan Fellowes W60 Cross Country Team
Bronze – Bob Douglas M60 4x400m Relay
Bronze – Debbie Savage W40 Marathon Team
Bronze – Michael Craig M50 Half Marathon Team
Bronze – Mark Simpson M45 Half Marathon Team
Bronze – Ian Williams M4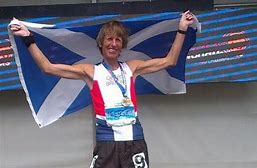 WORLD MASTERS, DAEGU, SOUTH KOREA: MARCH 2017
Paul Thompson continued his successful assault on M60 World Masters medals.
David Fairweather sent three emails about Paul's progress.
"Paul Thompson came agonisingly close to being World Masters Cross Country Champion this morning in Daegu, being outkicked in the last 40m of the 8km race, losing by less than half a second to take the silver medal. Another gutsy run saw Paul sit with the leading group over the first half of the race until deciding to stretch them out over the third lap. Reducing the group to four in the final lap, Paul managed to gain a 20m gap coming into the last 100m. However, the Pole, who had started his charge, had the momentum as they both rounded the last sharp bend. Unfortunately, by the time Paul realised the Pole was there he had run out of straight to hold on. Paul can still be pleased with his run, going two places better than in Perth last year. He also added another Bronze medal to his ever-growing collection in the Team competition.
"Paul Thompson has added another Silver medal at the World Indoor Masters Championships in Daegu this morning. Paul finished second in a time of 10:38.68, just under 4 secs behind an Irishman. Just as he was winning another medal, he unfortunately had to hand his bronze medal back from the Cross-Country Team event after an error had been made with the Italian team results. Paul will look to make it a trio of medals in the Half Marathon on Sunday."
"It was Gold at the third time of asking this week for Paul Thompson in the M60s Half Marathon this morning at the World Masters Championships in Daegu. With a determined display of running, annihilating the field, Paul won in a time of 79mins 52secs to add to the title he won in Perth last year. He also helped his team to Bronze medals. This takes Paul's tally for the week to four medals: one Gold, two Silvers and a Bronze, not a bad week's work for Paul." Scottish Athletics reported: "In fact, it was a hugely successful championships for the contingent from Scottish Veteran Harriers Club with a number of good performances helping land 21 medals in total. Among those to land more than one medal were Paul Thompson, Lynne Marr, Janet Fellowes, Brian Scally and Sharyn Ramage.
Here's a list of the Daegu haul: Gold – Paul Thompson M60 Half Marathon; Sharyn Ramage W55 Cross Country Team; Lynne Marr W55 Cross Country Team; Janet Fellowes W60 Cross Country Team; Brian Scally M50 Cross Country Team.
Silver – Paul Thomson M60 Cross Country Individual; Paul Thompson M60 3000m; Claire Cameron W55 Discus; Janet Fellowes W60 Half Marathon Team
Bronze – Janet Fellowes W60 3000m; Brian Scally M50 3000m; Jozsef Farakas M35 3000m; William Lonsdale M65 Pentathlon; Janet Fellowes W60 Half Marathon; Claire Cameron W55 Shot Putt; Brian Scally M50 1500m; Dean Kane M35 Cross Country Team; Tony Golabek M35 Cross Country Team; Paul Thompson M60 Half Marathon Team; Sharyn Ramage W45 4x200m Relay; Lynn Marr W45 4x200m Relay."
I was pleased to make the V60 team for the British and Irish XC International in Derry in November 2017 – it probably helped by being towards the younger end of the 5 year age bracket. Our hosts in Derry put on an excellent event. It was also worth going for a few more days either side of the run to take in and explore the lovely historic city of Derry. (Paul finished 6th in this prestigious 2017 event and contributed to team silver medals; in 2018 at Swansea, consistent Paul was 8th and his Scottish M60 team won silver again.)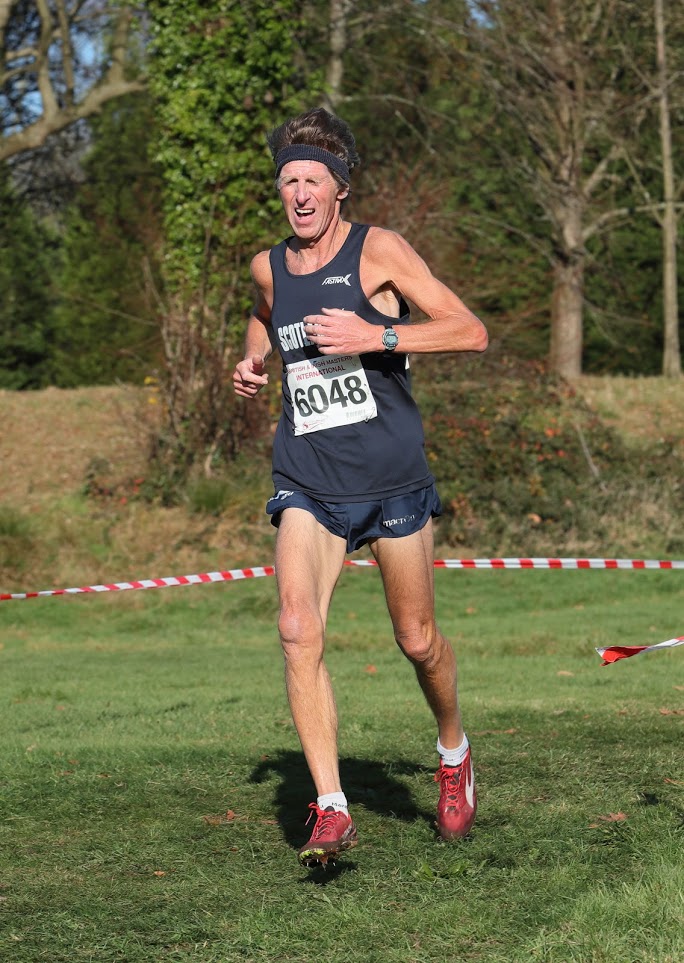 Paul racing hard in Swansea 2018
The course in Derry was generally flat but testing underfoot due to recent rain. Although sapping, it didn't turn into a mud-fest characterised by many cross- country courses in Scotland in recent years. It is interesting to compare our ideas of cross country to those of other nations, a recurring theme when watching seniors at televised World and European events. I had first-hand experience of this as I was persuaded to run in 2 World Masters Championship events in Perth, Australia (October 2016) and Daegu, South Korea (March 2017). Both championships opened with a cross country event. Both courses were pancake flat and firm underfoot to the point of suiting a road runner like myself rather than a cross country or hill specialist. No need for anything but road racing footwear. My impression for this, at least at these Masters events, is that the cross-country event and indeed a half marathon are add-ons to what are essentially track meetings and their inclusion makes such championships more attractive to road runners like myself who might baulk at travelling to potentially expensive destinations to run in just one or two track races.
Runners who have yet to participate in a World Masters event might be surprised by the lack of strength in depth in the field although most races were competitive at the sharp end. As might be expected medals generally went to runners in the younger end of the 5 year age category. Also at World events many countries outside Australasia, Europe and USA fail to have enough runners to compete for team medals (awarded in the cross country and road events) so GB athletes have plenty of opportunity to compete for both individual and team medals. In 2018 the World Championship is in Malaga so one anticipates more intense competition for both individual and team medals.
I would encourage runners to take in at least one World or European Masters Championship as the experience is interesting on many levels. They really are the Olympic equivalent for the master athlete in that they are structured along the same lines with as much rigour and organisation. Unlike the Olympics, however, we are lucky as no selection is necessary. Running in a GB vest as opposed to a Scottish one is also interesting. Incidentally, the tale of purchasing my GB vest is a long and complicated one and my wife (Jan) has the story and it involves a few tears and a lot of angst culminating in an acrimonious encounter with an unofficial team GB person which nearly resulted in a Glasgow kiss. For the first few events in Perth I ran the cross country in a borrowed female vest 2 sizes too small but the correct vest, ordered some 4 months previously, was finally purloined.
In Perth and Daegu, the Scottish contingent was numerous and tended to gravitate together helped by excellent daily reporting on the SVHC website by Alan Ramage. There was, however, a general camaraderie amongst the GB runners and many new friendships were formed which were renewed in Derry.
Paul Thompson