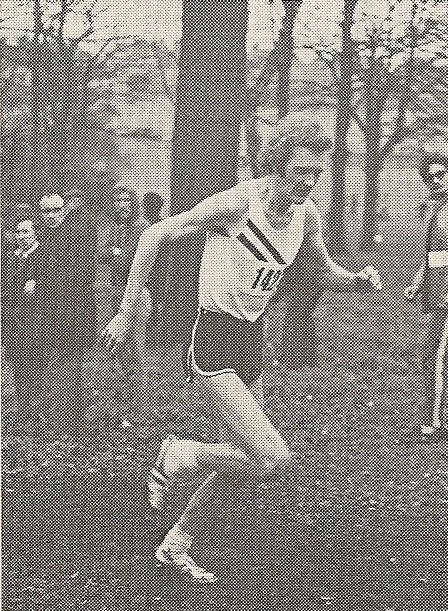 The National held in Glenrothes was the fourth to be won by Andrew McKean (Edinburgh AC – above), the third in a row, and there was a second place between the first and second. He won in 1973, 1975, 1976 and 1977 with second place in 1974. A strong first-rate athlete who had both strength, speed and intelligence. Nor was he short of courage and confidence, being prepared to take the race on from quite early if he felt it was the thing to do.
It was one of the most memorable nationals in terms of the snow and the cold – and the quality was not half bad either! It was another dreadful week for the weather across most of Scotland: "Widespread torrential rain, gales, sleet and snow brought havoc and flooding to many areas of Scotland yesterday. Road and rail services were severely disrupted by flooding, schools had to close, and one Fife village – Pitscottie near Cupar – was marooned."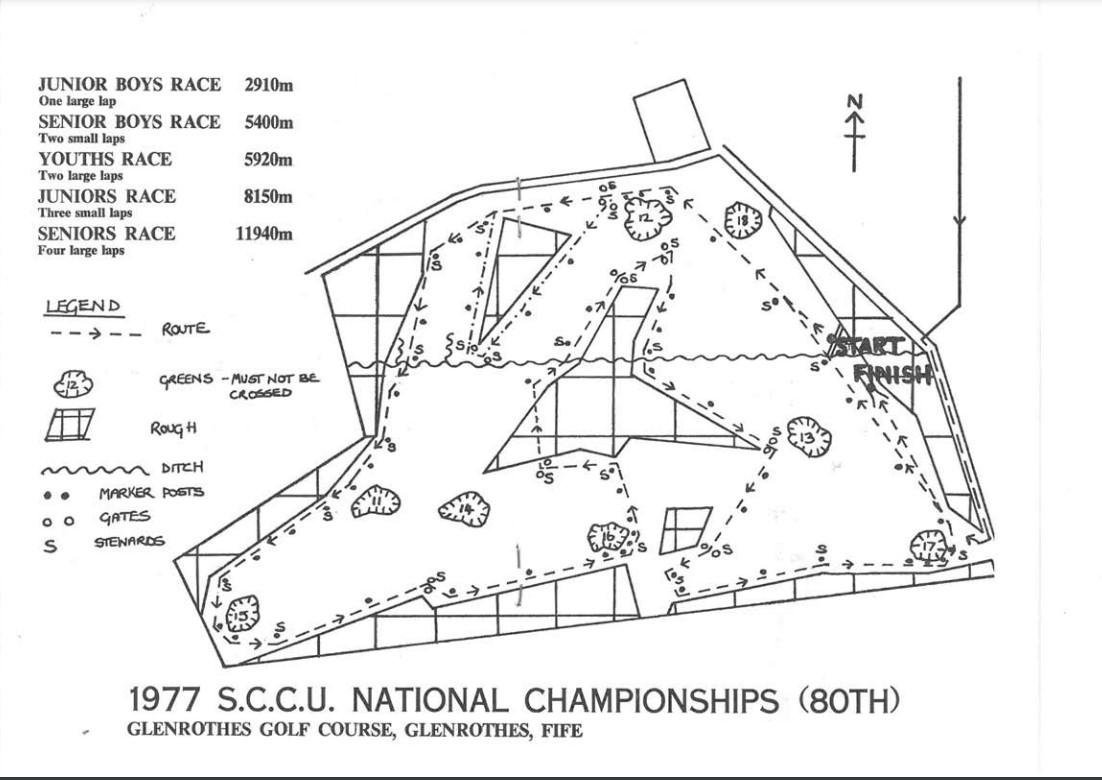 The race, held on 12th February, came during a spell of very cold weather – several athletes missed the race because of illness or injury sustained training on icy roads or, in at least one instance, on an icy track. The "Glasgow Herald" reported as follows. "McKean is a runner who is at home whatever the conditions underfoot. Glenrothes Golf Course resembled more an alpine ski area on Saturday, coated with six inches of snow, and yet the job got done by McKean, after touring fairways and boundaries in a way which almost made skis redundant. Not that he claimed the race had been simple. As the snorting, spitting and wheezing from some of the less able of his 400 opponents rasped around us, just after the finish he spoke most respectfully of the trail. "It's the toughest for a national championship that I've run in," he observed. "The hill really stretched you, whether you were going up or coming down"
Nor was he wrong! The snow was actually covering the ground except where the younger age groups had beaten it down into a mushy mess and there were several spots on the course where the ground sloped in two directions at the same time. On a good day it would have been a tough course and a challenge to all the competitors: on 12th February 1977 the challenge was multiplied by three or four. The fact that he won the race, and the way in which he won it, proved that at that point McKean was the best runner Scotland had on a rugged course. Look at the results:-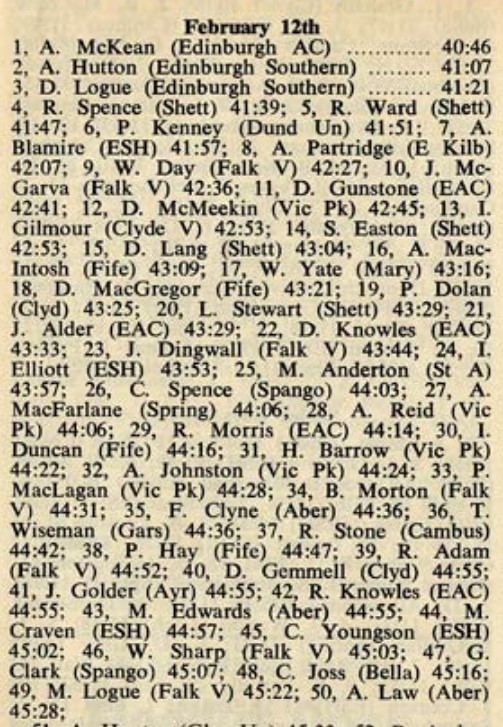 Every man there was a quality athlete. Look at some of the names – note how many were Scottish champions Hutton, Logue, Blamire, Spence, Gilmour, McMeekin, Macgregor, Macfarlane, Barrow, Johnston, Clyne, Craven, Edwards, Youngson; Lachie Stewart down in twentieth after a bout of 'flu and maybe shouldn't have been running, Jim Dingwall in twenty-third; more Scottish international runners in Phil Dolan, Stuart Easton, Willie Day, Alan Partridge … every one a class act and every one treated the course with respect and every one tried hard. But on an afternoon such as that, all finishers deserved credit.
Again the trail on a bad day was a multi-lapper: four laps, three opportunities to drop out. There were again five races and the senior men's race had 422 entries but only 270 finishers. There was fortunately nothing actually falling on the day of the race, but the changing accommodation was a short walk away from the course, crossing what seemed like a busy road.
The officials at events like this do not often get the credit that they deserve and, at Glenrothes in 1977, there was a very large number of officials known to most of the athletes by their Christian names – Alex Johnston, David Morrison, Neil Donnachie, Bob Greenoak, Des Yuill, Ronnie McDonald and many more. Look at the list below.