Michelle Sandison has run both 5000m and 10,000m for Shetland in the bi-annual NatWest Island Games four times, in Lerwick (2005), Sandown (2011), Jersey (2015) and Visby in Sweden (2017). Her Power of 10 profile lists umpteen track or cross-country races from under-23 (for Shettleston Harriers) back in 2001; onto representing Springburn Harriers from 2010 onwards. It is notable that Michelle's personal bests (for 3000m, 5000m, 10,000m, parkrun and 10k) have all come in 2017 and 2018, after she moved into the W35 age-group. In 2016 (Glasgow), 2017 (Derry) and 2018 (Swansea), she took part in the prestigious British and Irish Masters International, running very well for Scottish Masters: obtaining individual bronze and team gold in Glasgow; finishing fourth individual in Derry (team silver but in front of England); and winning the W35 title in Swansea (team bronze). Michelle also secured W35 bronze (and GB team silver) in the 2018 World Masters cross-country in Malaga.
Wow, what a weekend… Swansea British and Irish Masters International Cross Country 2018.
A flight from Glasgow to Bristol and a car share to get there but every second of travel was worth it.
Race Day – Singleton Park. As I warmed up, with pre-race music ringing through my head, I could feel the sun on my cheeks, I could smell a hint of mud which made me feel happy and I remembered how grateful I am to be injury-free and fit and healthy. So many times through my running life, as for every athlete, this has not been the case but bad times ensure that the good times feel even better. I went through my race plan, recalled my process goals and worked hard to keep the adrenaline at bay until the start line.
When standing there, I often think, "It's not too late to change your mind, you don't really have to do this" and "you need a wee" but deep down I know I do want to do it, I'm actually desperate to run it and I don't really need a wee. Weird head demons.
BANG! Elbows, elbows, elbows!! The tussle seems to have popped me out in front so I settle. I don't need to be at the front, that is not the race plan and is an unrealistic goal! All I recall about the first lap is working hard at keeping the adrenaline as low as possible, finding the hard tempo pace that I am happy with, remembering the best lines around the course and focusing on my breathing, my feet, my shoulders. The first time up the hill feels good but I know that it won't always seem that way so I prepare myself mentally for how it may feel harder next time.
Lap 2 is inevitably where it starts to hurt physically and mentally. I had planned a small "rest" period here to ensure I had plenty for lap 3 so I focused very hard on every aspect of my body…relax the jaw, shoulders down, use the arms, lean gently from the hips, switch on the glutes, listen to your feet, listen to your breathing….calm, calm, be calm. I am aware that I am leading V35 but I shove that knowledge far away. This is not the time to get carried away.
As I enter Lap 3 I am tired, I feel a bit sick and my arms and legs are starting to get heavy. "It's only a lap and a bit of Glasgow Green (one of my training areas in Glasgow) you've done that tired many times" I tell myself. Last big effort. The tannoy cuts in – I hear my name. It makes my heart jump, my adrenaline spike "shhhhhh, be calm, you need to breathe". The spotlight effect has not always been my friend so I force myself to ignore it and run away from the noise. As I run, my mind wanders, asking itself nonsensical questions, allowing demons in and losing focus on my body, another sign of fatigue for me. I work so very hard mentally to pull it back under control, to focus completely on my body and my breathing and I visualise all the times I feel like this in training. I force myself to hear the voice of my coach, Anne-Marie, in my head, I force myself to leave the reality of Swansea and go to the island I grew up running on (I am from Shetland). I visualise running through knee-deep heather with my father, as I did as a child, and force myself to block out the physical and mental pain. As I approach the final hill someone shouts "there's a medal in there for you Scotland" but I brush it off. I have a hill to climb and a "sprint" finish to complete, there's no medal if you collapse before the finish line!
Luckily, I didn't collapse and did cross the finish line and there was a medal. A gold! I was so exhausted that the overwhelming emotion at the finish was pure relief. I had followed my plan, I had kept my focus and had executed the race as I had wanted. I had run every ounce of energy out of my body (so much so that I got a visual migraine but even that was positive as I was looked after by the best team-mates you can ever hope for… but that is another story). Relief was quickly followed by elation and a final massive surge of chemicals through my body. The runner's high, I guess. And nothing beats it.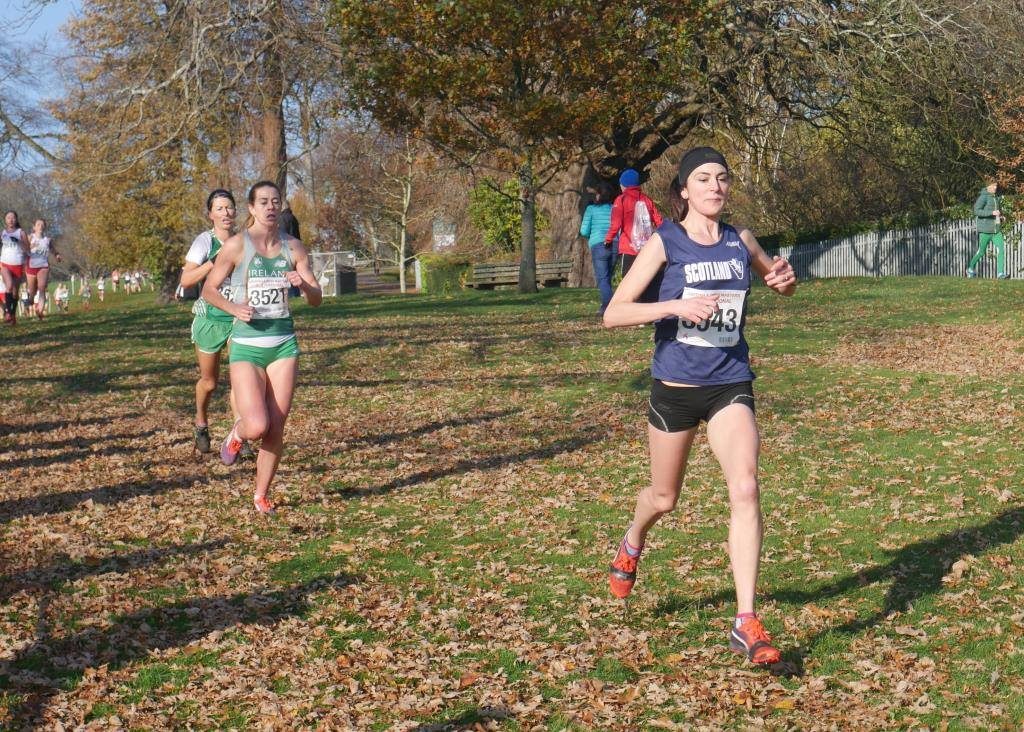 Michelle in Swansea 2018
QUESTIONNAIRE: MICHELLE SANDISON
CLUBS Springburn Harriers and SVHC.
DATE OF BIRTH 11.04.80.
OCCUPATION Additional Support Needs Teacher.
HOW DID YOU GET INVOLVED IN THE SPORT?
I have run all my life. I grew up on a small island in Shetland and running was a natural way to get to places quickly. When I was young, I accompanied my dad on his long hikes through the hills and, when I reached 10 years old, he had to give me his fly fishing gear and the water to carry – he says it was to slow me down so he could keep up! I joined Shetland Amateur Athletics Club which was based on the mainland of Shetland when I was 12 years old. For me to train on the mainland of Shetland required a lot of dedication from my parents, who had to drive me to and from the sessions. The journey consists of a 30-40 minute ferry journey and 30 minute drive, often in challenging weather conditions.
Running became a lot more serious for me when I left Shetland to go to Stirling University in 1998. I joined Central AC and had my own coach. At Uni I was selected to run for Scotland at Cross Country and I represented the Scottish Universities and East District team at Inter Districts events. I also competed in 3000m and 5000m events on the track.
HAS ANY INDIVIDUAL OR GROUP HAD A MARKED INFLUENCE ON YOUR ATTITUDE OR INDIVIDUAL PERFORMANCE?
There are four people that spring to mind.
Firstly, my parents. They have always accepted and supported my love of running even when they haven't understood it. They allowed me the freedom to be outdoors, get very muddy and to run everywhere as a child. They drove me to and from athletics three times a week and sat waiting in some awful conditions until I had finished. My father's love of the hills, nature and being outdoors certainly had a huge impact on me as a child, helped me to appreciate what's around me when I run and how to pace myself. My dad has always been my biggest fan and has been proud of me when I have won but, more importantly, has been there for me the many times that I have lost or been disappointed.
Secondly, my husband whose background in sports psychology has helped me significantly change my approach to racing and training.
And finally, my coach, Anne-Marie Hughes. Without her I don't even know if I would still be running. Anne-Marie became my coach in 2002 when I was seriously ill and had not been able to run for nearly a year. She agreed to take me on at a time when I felt like I had lost running forever. Her honesty, love and belief in me is something that shaped my future, my running and my attitude to life.
WHAT EXACTLY DO YOU GET OUT OF THE SPORT?
My husband says running for me is my "default state" and in many ways he is right. It's something that I have done for as long as I can remember and, when I can't run due to injury or illness, I yearn for it.
Running has widened my horizons and given me opportunities to travel. It is running that brought me to Glasgow, where I now live and work and where I met my husband. It has also provided me with deep, ever-lasting friendships and a busy social life. I have a lot to thank the sport for.
WHAT DO YOU CONSIDER TO BE YOUR BEST EVER PERFORMANCE OR PERFORMANCES?
The most memorable and most meaningful performance for me was when I won 10,000m gold at the 2005 Island Games in Shetland. It wasn't my fastest time or best tactical race but running (and winning!) in front of my family, friends and my community was a very rare opportunity. It gave me an experience that I shall never be able to repeat and will stay with me forever.
YOUR WORST?
My worst was in Holyrood park in 2001 when I was running for the East District in the Great Edinburgh International and Inter Districts event. I was not well and hated every step. When I crossed the line, I was a wreck physically and mentally. It was the last time I ran for a year.
WHAT UNFULFILLED AMBITIONS DO YOU HAVE?
I try very hard not to set outcome goals, as I find they tend to work against me, rather than be a source of motivation. I have things that I would still like to accomplish in my running, of course, but it won't be the end of the world if I never do.
OTHER LEISURE ACTIVITIES?
I love catching up with friends near and far, so I tend to go out socialising quite a bit and travel to see people when I can. As a teacher and a runner, I don't get much time for leisure but in the holidays I like to read.
CAN YOU GIVE SOME DETAILS OF YOUR TRAINING?
I am a low mileage runner. I usually run between 25 and 30 miles per week. I have learned over the last 38 years what my body is happy with and that I have to listen to it or I will get injured. My job is also very physically demanding so I see work as my first session of the day.
A typical week consists of:
Mon – Quality session consisting of anything from 300m reps to mile reps.
Tue- Cycle and weights session.
Wed – Hard tempo run and Kettlebells.
Thurs – Speed type session.
Friday – Rest.
Sat – Hard reps session or hills. Core work.
Sun- Either a swim or a few easy miles, usually no more than 4 or 5.
By Michelle Sandison