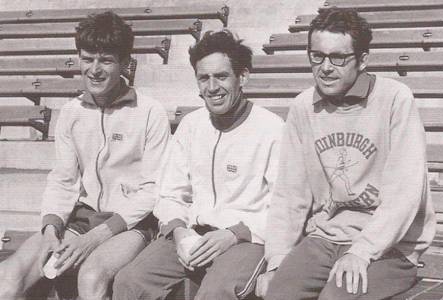 Fergus, Jim and Donald
(The picture and Donald's version of the race have been taken from Donald's excellent biography, "Running My Life" which covers his running career and much more and should be in the library of every Scottish distance runner)
Several of the men in the marathon (there was no women's marathon in the 1970 Games) have written of their experiences and their build up to the race and they all have a slightly different perspective on how to prepare for such an event – there are many ways up the mountain – and how the race unfolded.   So I will take some extracts from some of these books and place them here – the details of the books will be given so that they can be borrowed from the library or bought from your nearest book seller.   First off the blocks (for a marathon runner?) is Jim Alder's story from his excellent book, "Marathon and Chips" which was written in collaboration with Arthur McKenzie and published in 1972 by Alder Sports.  Alder had of course won the Empire and Commonwealth Games marathon in Jamaica in 1966 and was the defending champion.   Jim had been selected to be the man who carried the baton into the stadium and present it to Prince Philip at the start of the Games and he tells of that as the start to the marathon experience.   He says, ""Four and a half minutes before we marched onto the field I was whisked into a side door of the stadium and handed a small pile of non-branded sports equipment and told to change pronto.  The teams marched out and my family saw I wasn't there and passed the comment, 'He's missed the parade, typical.'   Once all the teams were lined up I was handed a silver baton and ran out into the stadium.   A tremendous roar went up, the noise was deafening and brought goose bumps to the skin and a lump in my throat.  It was fairytale stuff, on the up again and as I handed the baton over to Prince Philip to officially signify the opening, HRH said with a smile, "Have you run all the way from Canada?"   A marvellous experience and one which very few athletes have experienced and I am proud I was picked."   Just as well Youngson did not sneak the baton away on its travels in Aberdeen!
On to the race itself.   "On the morning of the marathon I awoke to hear the wind slapping the guide ropes on the flag poles, clanking away.   There was rain early on but the sun came out eventually and the humidity was high.  What had Clayton said?   I was good in bad conditions.   The line up was fantastic, Hill (England), Clayton (Australia), Drayton (Canada), Foster (New Zealand), Adcocks (England), Macgregor (Scotland), Murray (Scotland), Temu (Kenya) and a host of others, possibly one of the best line-ups ever.
Clayton went off too quickly, the pace was suicidal and most of them followed like maniacs.   I settled into ninth place with Hill; Clayton, Drayton and Singh were leading at five miles in a time of 23:45 and all three were on target for a world record.   I was going fast but felt well within myself and once again teamed up with Bill Adcocks, together we forged ahead.   At eight miles, Clayton began to move backwards, we could see he was finished so as we approached – there's that bugger Clayton – right – one on either side, we nudged him in the sides like a sandwich for shooting his mouth off to the Press – sweet revenge indeed.   At the turning point we were in about fourth place and could see the faces of the others as they passed like ships in the night.   Ron Hill with his shaved head was in phenomenal condition and I knew instinctively he was unbeatable – Drayton was out of it, written all over his face, but the Tanzanian, Stephen, caught up as I turned.   At fifteen miles we caught Drayton as he was looking behind him, once marathon runners do this they are hanging on for survival.   As we passed him, I said to Bill, "Right, it's silver and bronze."   But Stephen was still hanging on.   Hill's time at twenty miles was one hour 37 minutes and mine one hour and 39 minutes.   Stephen was dropped at twenty one miles but by then Don Faircloth had moved into third place to take over from BIll and pressing 150 yards behind.   As if by fate at the twenty one mile marker, Bruce Tulloh was standing cheering exactly as he had been in Jamaica, it was uncanny to see him there, the spirit of fortune.   Two miles to go I died, breathing became hard and head rolling but entry into the stadium and the crowd's roar lifted me enough to enable me to run in and pick up the silver."
"The medal ceremony was a moving experience especially seeing Scotland's flag unfurled, realising it was flying for me once more – and front of my home crowd.   That night I spent with the family at a friend's, Jack Carcas in Edinburgh.  I couldn't sleep a wink, running and re-running the race ……………At the village the next day I was treated as top dog.   David Coleman of the BBC approached me in the cafeteria with Clayton for a chat and Derek shook my hand warmly and apologised for his previous behaviour – this was a nice gesture and my estimation of Clayton as a man rose immeasurably."   (Clayton had said publicly earlier in the build-up to the race that Alder was over-rated and lacked basic speed).
*
Donald Macgregor has run more sub-2:20 marathons than any other Scot, he is known to prepare carefully for every major  marathon in which he takes part and this one was a really big one; he is also known for his racing tactics and ability to 'think on his feet'.   His account of the race reads as follows:
"As the race day approached I had still not decided what shoes to wear.   The reason was that my previous racing shoes were rather battered and I needed to replace them but had not been able to find a pair that I liked.   Puma had provided red racers rather like the white model that Bill Adcocks had worn when winning the Marathon to Athens race in 2:11, but the soles were too thin, and I had passed them on to Dave Logue who also took size nine and a half.   Gareth came up with the solution by lending me a pair of well-used dark blue suede Adidas racers which I was able to 'run-in' to my own specifications over the last three or four days.
'Race day dawned and, thank goodness, it was not excessively hot,' as Dunky Wright had said in 1965 in a BBC broadcast about the 1932 Los Angeles Olympic marathon.   That Thursday, 23rd July 1970 was pretty warm, however, and for just about the first time anyone could recall there was practically no  wind on the course.   The prevailing wind was normally from the west but that das wind still.   Dunky's sentence about the start of the 1932 marathon begins: 'We set off a a steady six minutes to the mile on our watches.'   The 1970 field did not.   There were only thirty starters but they included several of the world's greatest marathon exponents, such as the Lancashire-born Aussie Derek Clayton, holder of the world's best  (2:08:33.2), Jerome Drayton of Canada who had run 2:11:13 in winning at Fukuoka in 1969), Jeff Julian of New Zealand, one of Arthur Lydiard's original NZ stars, his team-mate Jack Foster, a late starter in running who was now 40, the English trio of Ron Hill, the obsessive Lancastrian, the 21 year old Don Faircloth from Croydon, who had shocked the cognoscenti by winning the 'Poly' to qualify for the English team, and Bill Adcocks the outstanding Coventry racer.   Philip Ndoo of Kenya and John Stephens (Tanzania) were the main African challengers, along with Sinkala of Zambia, Rwabu (Uganda) and Dlamini (Swaziland).   Mike Teer and Mike Cranny represented Northern Ireland, Mike Rowland, Dai Davies and Cyril Leigh Wales, while Harnek Singh and YD Birdar started for India.  Ken Grant, a former Dundee Hawkhill Harrier and S Alecio wore the colours of Gibraltar.   Fergus Murray, Jim Alder and I were of course the home favourites.
Jim had been put in a state of incandescent fury by an article in the Sunday Post under the headline 'It it's snowing, put your money on Jim.'   The basis for the headline was an interview with Derek Clayton in which the tall Australian had said that if the pace was fast, Jim would not have the class to keep up but that if the race was run in extremely windy . hot or cold   conditions, then and only then would he have a chance.   Naturally Jim resented that suggestion and was determined to hit a fast pace and give Clayton something to think about, or die in the attempt.
The initial pace was well inside five minute miling.   Four runners went through 5 miles in 23:31, those being  Drayton, Clayton, Ndoo and HIll.   Next came Harnek Singh in a very optimistic 23:57, 12 seconds up on Stephen, Alder, Adcocks, Murray and me.   Fergus and I decided that the field was 'bound to come back' as the leader Ron Hill was nearly two minutes ahead of us with 47:45.   Unfortunately some of the field had no intention of coming back.  
WE caught a glimpse of Ron Hill soon after the turn as he headed westwards into the sunny afternoon.   He passed 15 miles in 1:12:18, 59 seconds up on Jerome Drayton and 69 ahead of Alder and John Stephen.    Adcocks, Foster, Clayton and Moore made up the leading eight.   However by 20 miles we were seventh and eighth, both Clayton and Drayton having cruised to a halt by the roadside.   Our time was 1:42:02 but we were 41 seconds down on Jack Foster whose pace showed no signs of slowing.   It became a battle of mind over matter, and Fergus gradually drew away from me to finish in seventh place only 22 seconds behind Bill Adcocks.  
Ron Hill, string vest and all, had set a new UK best with 2:09.28, an astonishing performance.   He had to wait  2:36 before Jim Alder crossed the  line in a much improved personal best of 2:12:04.   So much for 'if it snows, put your money on Jim.'   Don Faircloth was another who recorded a world class time (2:12:19).   Foster (2:14:44), Stephen (2:15:05), Adcocks (2:15:10) and Fergus (2:15:32) paled by comparison, while my 2:16:53, Mike Teer's 2:17:24, and the other three sub-2:20 clockings of Andy Boychuk (Canada), Mike Rowlands and Cyril Leigh (both Wales) could all be classified as just 'good.'   Even so, I took satisfaction from a personal best.   Gareth, not long after finishing fourth in the steeplechase final, came out along the road to watch us finishing and was too tired to keep up with his own shoes, as I headed towards the stadium." 
The third Scot in action in that wonderful race was Edinburgh's Fergus Murray and here is what he had to say on it in August 2011.
Mt recollections of the marathon generally reflect that I did my best although with hindsight  of modern preparations, perhaps  ?   I am sure others would have similarly reviewed their approach.   The "buzz" on preparation for  marathon racing was an approach advocated by Ron Hill and involved carbohydrate depletion over three days followed by "loading".   I followed this but found no benefit, indeed, the accompanying tiredness did nothing for confidence!
Training had gone well with a succession of 100 miles plus a week of quality training.   I do note that I did not race on the track in 1970 which was perhaps a mistake as speed/racing had been sacrificed for training.   The race itself was notable for the exceptionally fierce pace right from the start and I never got in contention for the lead.   Caution was perhaps the right approach, as the leaders went through 5 miles in 23:31.   I was two minutes adrift at 10 miles but still reached that point in 49:34 … amply fast enough.   The Games Marathon was also graced with five of the fastest marathon runners of all time, so personal heroics might well have ended up sitting at the road side.   This relatively restrained approach bore fruit as several dropped out or came back through the field.  
Although Don and I ran relatively close together, there was no pact to help each other.   Jim was away up front doing his best to retain his title from Jamaica, coming in a brilliant second.   Don and I ran well coming home ein seventh and eighth in what was, for that era, fast times.   It was a pity that there was no team race as we would have earned silver behind England.  
One interesting feature of the race was some of the scientific work done on the distance runners from lung capacity to fluid loss.   The majority lost some 6 lbs during the race, largely fluid, which is a significant percentage of body weight.   Taking on fluid in those days had nothing like the scientific approach of modern runners.   Indeed, distance runners of that era generally trained with friends and didn't have the benefit (?) of the current support  ranging from physiotherapy through to psychological."
*
"A succession of 100 miles plus a week of quality training…" says Fergus.    100 miles a week was the common currency of marathon runners at the time – Lydiard's book "Run To The Top" with its recommended 10 weeks at 100 miles a week had appeared in 1964 and soon everybody was doing 100 mpw whether their distance was 800m or marathon.    It was the marathon men who made it their own and many went beyond that – for example Roger Matthews of England who had run in Lachie's 10000m had at one point done 200 mpw as had Jeff Julian the New Zealand marathon runner.    One man who knew all about big miles was Bill Adcocks who had been at the top for some time with an incredible record.    In the twelve months to May 1969 he had run five marathons including a 2:10, a 2:11 and a 2:12 at a time when no other British marathon runner had been inside 2:13.       If we jump to the year of 1970, he won the marathon at Otsu in Japan in 2:13:45 after ten weeks averaging 101.3 miles just fourteen weeks before the Commonwealth race.   He only averaged 94.6 in the ten weeks leading to that one. but there's a tale to be told.   Having suffered a foot injury he dropped his miles to 70, then 58 and then 50 before taking five days off.    As an indicator of how reluctant the marathon men of the time were to rest up unless totally unavoidable, it's a fairly good one!    Selected for the Games in mid-June, he recorded in his Diary on 14th June, "Must get some miles in" at the start of a week in which I ran 103 miles despite needing treatment on my foot and back.    A the end of a 126 miles week, I finished second in the Worcester 10 in 50:21 on 27th June – beaten by my club-mate Colin Kirkham.   "Result was a combination of tiredness due to first good week's training for weeks  and coming up against someone in good form," I noted in my Diary.   "Not disheartened – a guide to how it's going."   The following week I managed 118 miles and a win in the Welwyn Half Marathon, one of only a small number of races over what was a new-fangled distance back then.   Then came 122 miles in the last week before I went up to Edinburgh.   …. The following day, after a 22 mile run – 12 of them on my own – in very warm weather, I travelled up to Edinburgh.   It was a new experience to live in a village environment in the UK, but the Edinburgh University halls of residence were first class.   In fact, all the infrastructure and eating arrangements were excellent.    If only the weather had been as good!   But it was often wet.   And the cool temperatures caused some visiting teams to request that the heating be turned on.   It was a fair request but, as there were no individual controls in each room, it was not to my liking.    I developed a sore throat, for which I was prescribed anti-biotics.   Little did I realise what an effect this could have on my chances!
There is a two word entry in my training diary for Thursday, 23 July 1970: 'Commonwealth Marathon.'   No more.   No words could adequately describe the helplessness I'd felt in the race.   All the weeks and hundreds of miles of training counted for nothing after that sore throat and those antibiotics.    A struggle into sixth place in 2:15:10 was not catastrophic but it was no reflection of what I felt I could do when I arrived in Edinburgh.   Up the road ahead of me, Ron Hill proved that this was his purple patch with a resounding win in another record time.   The defending champion Jim Alder was second, almost ten minutes faster than his winning time four years earlier in the heat of the West Indies.   England new boy, Don Faircloth won the bronze medal."  
(The extract is from Bill's autobiography, "The Road To Athens"   written in 2004, published by amrec69 in Coventry.   Written in collaboration with Trevor Frecknall, with an intro by Cliff Franks (a Scottish cross-country runner from Greenock, it is an excellent book.)
Remember of course that Adcocks was the man who was second to Jim in Jamaica in 1966.    Adcocks was a wonderful runner who trained hard and raced a lot: a first class club runner who proved that you could perform regularly/frequently for your club and still do it at international level.   He was never one for excuses, and one has to feel sorry for him on this occasion.
*
In 1970 Ron Hill was undoubtedly 'top dog' in marathon running – Bill Adcocks had filled the role admirably for several years before 1970 and it was not at all clear that he could not stay or get back to that level at all.   You have read already of how, following several misfortunes, he was still in sixth in 2:15!    However Edinburgh 1970 was to be Hill's and Colin Youngson has taken the following extracts from his book, "Run to the Top".  Let him set the scene.
"On 20th April, 1970 Ron Hill had made himself favourite for the Edinburgh Commonwealth Games marathon by becoming the first British runner to win the famous Boston marathon (in a pb of 2:10:30.1).   This was to end up the second fastest-time recorded for the marathon that year.   The fastest was run on the 23rd July by the very same athlete.   After a ten-week build-up, running well over 100 miles per week, including several hard repetition sessions, a 20 mile race, a half marathon and an international 10,000m, Ron drove his family up from near Manchester, settled into the Games village, and eight days before the race, started his secret 'pre-marathon diet', which involved four days of low carbohydrate and continued training, (on the fourth day  he still ran seven and a half miles twice, despite feeling weak.)   Then he had three days on a high-carbohydrate diet.   On race day, his breakfast featured: "porridge with bags of sugar, poached egg, bacon, brown bread with jam, sweet coffee, multi-vitamin tablet, iron tablet, vitamin C tablet and vitamin E capsule."   Lunch was at 12:30 pm, "Two slices of brown bread and marmalade.   Salt in orange juice, then orange juice with sugar."   The start was at 3:50 pm prompt.   Ron had a couple of glucose tablets in the last 40 minutes.
"Bang!   It was like the start of a 1500m race.  No leisurely jog, which sometimes precedes the serious part of a marathon, but a fast drive for the inside lane of the track and immediately Derek Clayton set a rapid pace.   Three of us followed him closely.   The weather was cool but humid."   At two and a half miles, Ron inspected his rivals.   Jerome Drayton, the leader, was sweating heavily; Clayton looked pale and was not pushing the pace along as he had threatened – in fact he dropped back before long.   After a very fast five miles, the pace dropped slightly and Ron Hill felt more comfortable, running at his optimum level.   He surged up a fairly stiff hill at six miles and realised that Drayton and Ndoo (Kenya) were struggling to hang on.   However, Hill waited for them, since there was a long way to go.    Then at eight miles he decided "the time had come to make my effort.   Any more fooling around and I might make a mistake".  Drayton dropped first and then Ndoo.  "I powered on, looking five or six yards ahead at the road, occasionally glancing up to get my line, trimming the corners, shortening the line between bends.   I was fully aware, relaxing yet running fast."
After the turn, Ron tried to look alert to his rivals with a slight smile.    He thought that Drayton, Alder and Adcocks looked uncomfortably close.   "Now I knew the real race was ahead.   The twists and turns on the road up to 15 miles were helpful, I  could see the big clock ahead: 72:18.   It was still fast but it didn't worry me, I was slicing away at those sub-five minute miles.   The roads had dried now, the clouds were breaking up, the summer sun was shining through, the afternoon was heating up, and with all the water about from the rain, the atmosphere was humid.   Back along the dual carriageway I began to feel the strain of leading."
Jock Semple, of Boston Marathon fame, cheered him on from the Press bus.   Ron started to feel uncomfortable about sixteen miles: heat, the pace, flies in his eyes.   He felt better after taking his first sponge but refused drinks.   Down the steep hill after Wallyford Toll roundabout, to reach 20 miles in a very fast 1:37:30.   "This was good, it didn't frighten me, I'd been there before, faster in fact with my 1:36:28 Pemebroke '20', but my pursuers were holding me.   They were holding my lead to about 1:20.   Would they now start eating into that lead?"
Withe six miles to go, Ron Hill felt tired and worried but carried on as fast as he could.   His legs felt dead at 22 miles and he hoped he would not disappoint his family by failing.   "I looked forward to the Press bus not far ahead.   How nice it would be just to step on and ride back, then go to a bar and line up a couple of pints of cool, bitter beer, and knock them back."   Two sponges made him feel better.   "My head raised a little and my stride lengthened."   Ron's team-mate, Andy Holden, who had finished fifth in the steeplechase shortly before, cheered him on at 24 miles.
Ron's final thoughts were as follows: "Let's get home.   Don't panic.   Relax.   Nice and easy and you've won it.   Thankfully downhill to the stadium.   A sharp right turn, taken carefully, then run out into the bowl of sound and the silent, soft, empty red rubber track.   I didn't push it.   There was a full lap to go.   There was such a loud cheer that I looked round a couple of time to make sure that I was still safe, then on the back straight I risked a couple of waves at the crowd; down the home straight, and on to the tape with my fist raised high.   'Take that, take that!' I said to  myself.    The thrill of winning was nothing like that I had felt in Athens (when he came through late to win the European championship).   Rather the sentiment I had was of a job completed successfully.   Even the time of 2:08:28 didn't impress me.   Only slowly over months and years did I become proud of that 2:09."