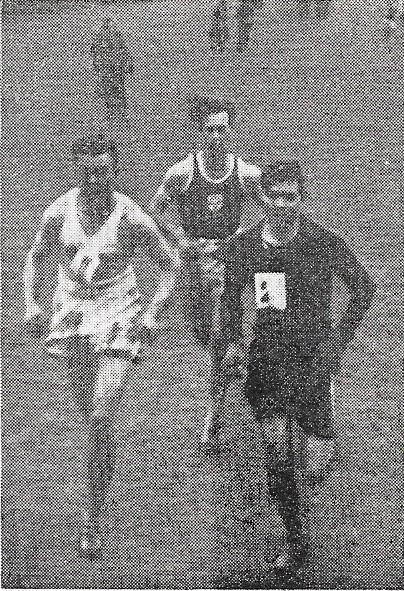 Irvine's Tom McNeish, left
Having looked at the progress of the club and its members over the period from 1924 to 1950, we can be a bit more selective for the period up to 1972 when the YMCA ceased to exist. Progress of the Senior team between 1950 and 1955 is noted in the following table.

Team for the Edinburgh to Glasgow, November 1949
Date
Event
Team Position
Comments
3/11/51
South Western Relay
1st
D Andrews/T McNeish/ H Kennedy/S Cuthbert

*

19/11/51
Edinburgh to Glasgow
12th
–
19/1/52
AHCA
1st
Kennedy/ McNeish/ Andrew/Butler/Cuthbert/Alexander

*

2/2/52
South West
1st
Kennedy/McNeish/Cuthbert/Andrew/Allan/Butler

*

1/3/52
National cross-country
Unplaced
–
1/11/52
South Western Dist Relay
2nd
Dempster/Butler/Cuthbert/Kennedy

*

-/11/52
Edinburgh to Glasgow
6th
Andrews 9/Butler 11/Alexander 9/H Kennedy 9/Dempster 6/Cuthbert 6/Muir 6/Allan 6
31/1/53
South Western Championships
2nd
Cuthbert/Andrews/Butler/Alexander/Allan/ Lawson
28/2/53
National cross-country
No Team
Youths team 5th
7/11/53
South West Relay
5th
Andrews/Leask/Allan/Cuthbert
-/11/53
Edinburgh to Glasgow
9th
Andrews 15/McNeish 19/Dunlop 16/Leask 13/Alexander 13/Cuthbert 11/Lawson 10/Allan 9
23/1/54
AHCA Champs
2nd
Cuthbert 2/Alexander 5/Andrews 8/Leask 14/Allan 18/Lawson 22
6/2/54
South West Championship
3rd
–
-/3/54
National cross-country
No Team
2 Juniors Alexander 26/Dunlop 65; Youths 3rd team
6/11/54
South Western Relay
5th
Andrews
Alexander
Kennedy
Cuthbert
-/11/54
Edinburgh to Glasgow
18th
Alexander 19/Andrews/18/Dunlop 16/Leask 16/Kennedy 16/Cuthbert 15/Banks 16/Lawson 18
29/1/55
South Western Championships
5th
Youths team 1st
26/2/55
National cross-country
No Team
2 Juniors Dunlop 58/Kennedy 59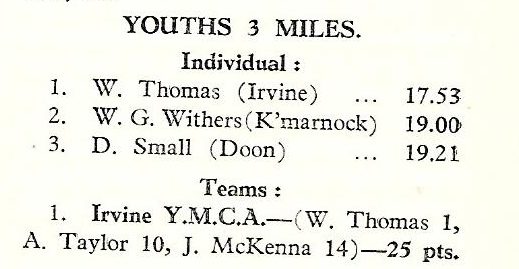 Result of the South West District Championships, 1957
Individual success came again in the late 1950's from Billy Thomas whose career as a runner in Scotland was far too short, although he did perform at a very high level in the USA where he had a scholarship to study English and Athletics. In season 1955-56 he was third in the National Youths Championship and the following year he was second in the same age group and in 1958 he was fourth in the Junior Men's race. Nearer home, he won the Ayrshire Harriers Clubs Association and South Western District Championships in 1958. His championship credentials were never in any doubt but how was he as a competitive runner? There was no more competitive environment in Scottish endurance running than the Edinburgh to Glasgow eight man relay race and Thomas ran in it three times. In 1957 he ran on the very tough second stage (probably the toughest in terms of the standard of runner put out by the various teams) and moved the team up from 11th to sixth – a quite amazing run for a Junior Man in his first go at the event. The following year he again ran the second stage, and again he picked up places – two this tims, bringing Irvine YMCA up from 20th to 18th. His last run was not a typical Thomas effort: he was on the first stage, which tells a tale on its own – you never put one of your two top men on that stage – and finished 15th. Clearly a top talent, we are told on the Irvine AC website that "Billy joined the RAF where he excelled at 800 and 1500 metres, before accepting a scholarship to study English and Athletics at Howard Payne College in Texas, where he was nominated as a member of the National All-American cross-country team in 1963, 1964 and 1965."

Result of Youths National, 1957
As a group, the club's Youth teams won the South West District championships in 1954, 1955 and 1957. The names of the 1957 team are shown above with Thomas, Taylor and McKenna all appearing in both District and National teams.
The club's record throughout the 1950's in Senior, Junior and Youth groups as very good indeed and can be seen from the following lists of results at District level. District has been chosen simply because it is not a parochial competition nor is it the highest level in the land – it is second only to the National in terms of relative importance..
Seniors in Black, Youths in Blue
Year
Team
Individual
Medal Won
Comments
Team
Individual
Medal Won
Comments
1950/51
1st
T McNeish
3rd
–

-

D Lapsley
1st
H Dick 2nd
1951/52
1st
H Kennedy
2nd
–

2nd

K Alexander 2nd
L Jermond 3rd *
1952/53
2nd
–

–

-
-
–
1953/54
3rd
–

1st

A Blackley
2nd
–
1954/55
-
-
–

1st

–
–
–
1955/56
2nd
–
-
-

2nd

W Thomas
1st
–
1956/57
2nd
S Cuthbert
2nd
–

1st

W Thomas
1st
W Withers 2nd
1957/58
2nd
W Thomas
2nd

–

– . –
–
1958/59
-
W Thomas
2nd*
W Kenny 3rd

–

-
-
-
* In this race Danny Lapsley finished first but had moved to West Kilbride: had he stayed, then Irvine YMCA would have had the first three places
* 1958/59 was the first year that a Junior (U20) award was made to the first Junior in the Senior race.
The 1960's would not be as kind to the club as the 1950's had been. In 1963 the YMCA building, home to the club, burned down and they had to the Woodlands Pavilion as a temporary home. I quote from the club website's history of the period: "Spirit was low and the membership had lapsed to no more than 10, however by 1968 the club had rallied and a few short years of success followed, with team victories in the 10-mile relay championship, the Ayrshire 6-mile team championship (twice), the Scottish YMCA 10-mile relay championship (twice) and the Scottish YMCA 6-mile team championship (twice)." The club had rallied, it was winning again, and the successes of the time should not be under valued. It was not turning out in the national cross-country championship and for more than half the decade there were no teams at all from Irvine in the National Championships.
Towards the end of the decade however the talent that was Brian Morrison appeared in the Irvine YMCA colours. His peak year was 1969 when he was third in the Scottish Junior Cross-Country Championship. This won him selection for the Scottish team competing in the international to be held in Clydebank. He was a scoring runner for the Scottish junior team when he was 19th finisher. He had local victories in the AHCA Championships in both 1969 and 1970. He was also a good class track athlete, ranked ninth nationally in 1969 for the 3000m steeplechase with a time of 9:24.0. He was also ranked in 1970 and 1971 with 9:39.0 and 9:31.2. Unfortunately, like Billy Thomas before him, he emigrated, in his case to South Africa.
Then In the spring of 1972 the club resigned from the National Association of YMCA's and renamed the club Irvine Athletic Club, eventually being incorporated into Irvine Sports Club in 1974 as a member section.
Irvine YMCA had been a good club which produced more Scottish international athletes than any of the many other YMCA clubs in the country except Motherwell YMCA and contributed to Scottish athletics for 48 years before ceasing to exist.